Listen. Really listen. To the soft song that your paddle sings. Hear the haunting call of the loon, the loud slap of a beaver's tail. The whisper of the wind in the woods. These are the sounds of paddling in Canada.
Water flows through Canada's culture, especially in Ontario. through the canoe, Ontarians have preserved the wilderness that wraps this frontier land in a cloak of ancient forest and pristine water.
As James Raffan, adventurer, author and director of the Canadian Canoe Museum, puts it with gentle eloquence: 'To put a paddle in the water is to feel the quiet power and possibility of Canada's past, its present and its future. To paddle is to plug into the energies of the place, the land, the air, the water, the ancestors, the children who are yet to be born.'
And British adventurer and woodsman Ray Mears, who has taken several canoe trips in Ontario, says: 'Canadian canoe journeys have a unique ability to purge the spirit of the unwanted static that accumulates in our technological lives.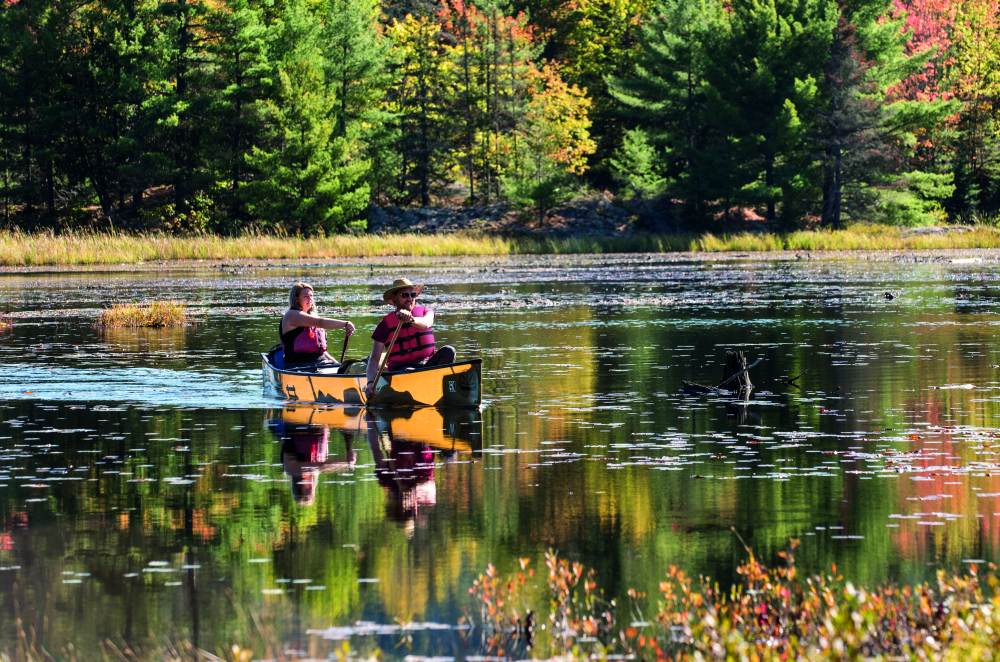 It's no exaggeration to say that there would not be a Canada without the canoe. As the earliest vehicle for travel in Canada, the canoe has been pivotal in Canada's history, from the First Nations through to the fur traders and explorers who made inroads into the vast tracts of wilderness.
And it is still inspiring new adventures for Canadians and visitors from all over the world. Here are four fantastic ways to explore Ontario from the water...
PADDLE THE PAINTED LANDSCAPES
Immerse yourself in the same magical scenery that inspired Tom Thomson and the Group of Seven – Canada's most famous landscape artists who still exert a fascination today.

Algonquin Provincial Park
Known simply as 'The Park', Algonquin is a paradise for nature lovers. Covering 3,500 square miles of maple and pine-clad hills and rocky ridges, and home to an abundance of wildlife, it offers more than 950 miles of canoe routes. A 2-hour drive from Toronto, it's hugely popular with visitors.
Must do: It's all about the wildlife in Algonquin, so paddle out into the early morning mist on a moose-spotting safari. Find out more from local experts Algonquin Outfitters, The Portage Store or Voyageur Quest.
Killarney Provincial Park
A particular 'Group of Seven' favourite, Killarney is one of Ontario's crown jewels. This is a rugged majestic, mountainous wilderness of sapphire lakes and jack pine, where animals roam wild. You might even see the odd moose in this truly magical park.
Don't miss: The deep clear lakes, nestled between the impressive white hills of the La Cloche range, are a canoeist's dream. Plan your trip and get geared up with Killarney Outfitters. Stay in comfort at Killarney Mountain Lodge.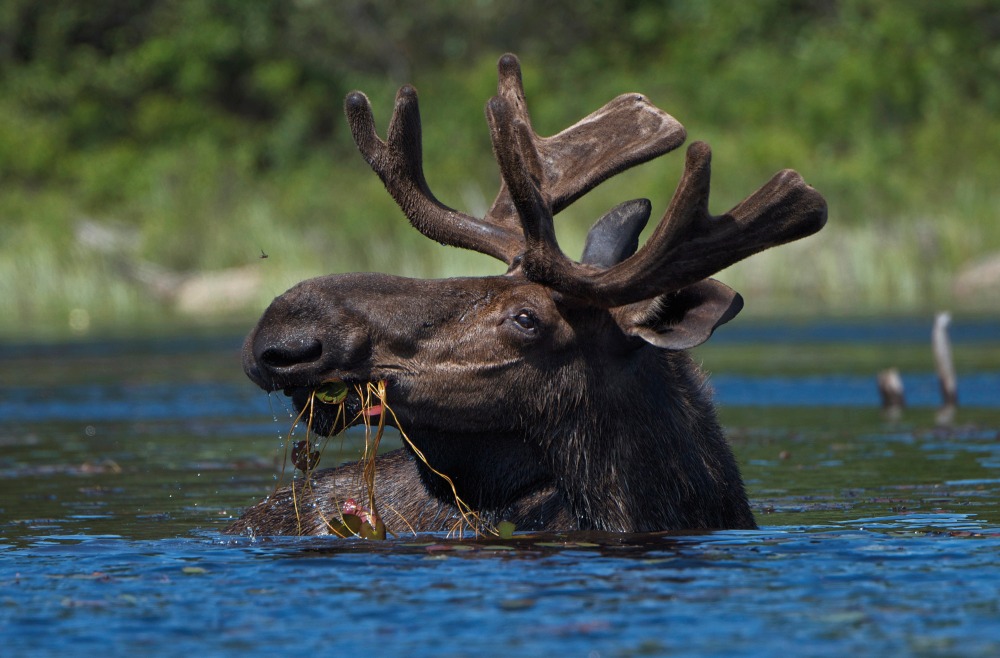 GO 'SEA KAYAKING' (BUT NOT ON THE SEA!)
Ontario is home to four of the five Great Lakes, the largest freshwater lakes in the world. In fact, they are so big they are often called 'sweetwater seas'. The coastlines of Georgian Bay, part of Lake Huron, and the north shore of Lake Superior, offer spectacular sea kayak touring.

Georgian Bay
Paddling Georgian Bay – A UNESCO World Biosphere Reserve – is spectacular, not least because the eastern shore is dotted with an incredible 30,000 islands. Explore a mosaic of open water, sheltered bays and coastal wetlands. Camp on smooth Canadian Shield and enjoy spectacular sunrises and sunsets.
Must do: Take a trip with a local outfitter. Learn to kayak, enjoy a yoga kayak adventure or embark on a 7-day expedition. Check out White Squall Paddling Centre, Ontario Sea Kayak Centre and Killarney Outfitters.
1,000 Islands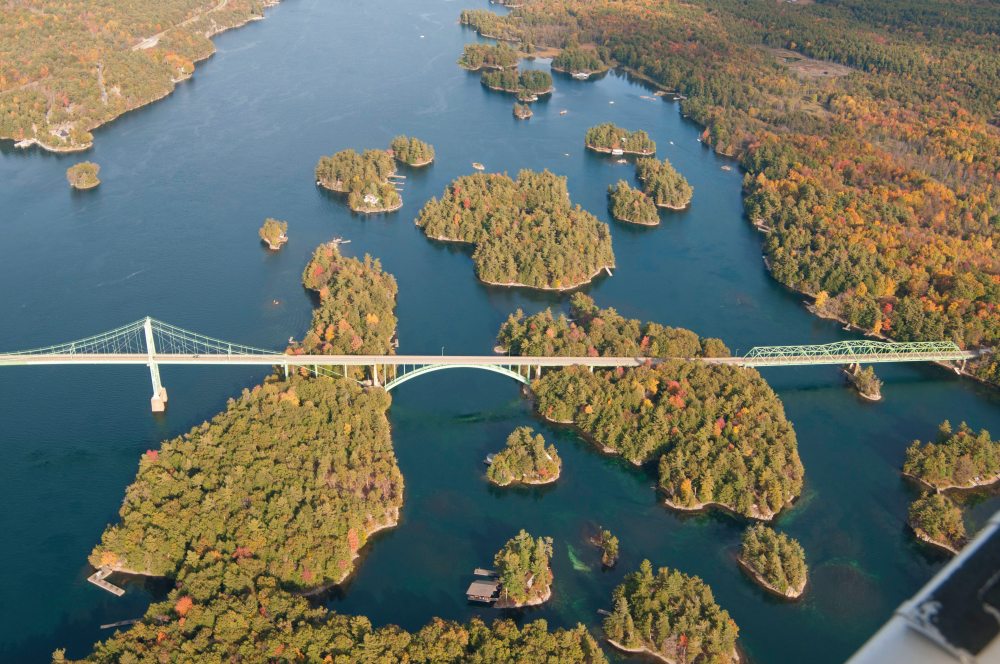 Among the granite islands, windswept pines and clear waters of the 1,000 Islands National Park, the city seems far away. But this remarkable spot on the St Lawrence River is only a few hours from Toronto or Ottawa. In this traditional home of the Haudenosaunee and the Missisauga Anishinaabe, nature and indigenous culture mingle. The 1,000 Islands region is an integral part of the Frontenac Arch Biosphere Reserve, and offers world-class sea kayaking for all levels of paddler.
Must do: Learn to kayak or take a guided tour with 1,000 Islands Kayaking – no experience necessary!
Lake Superior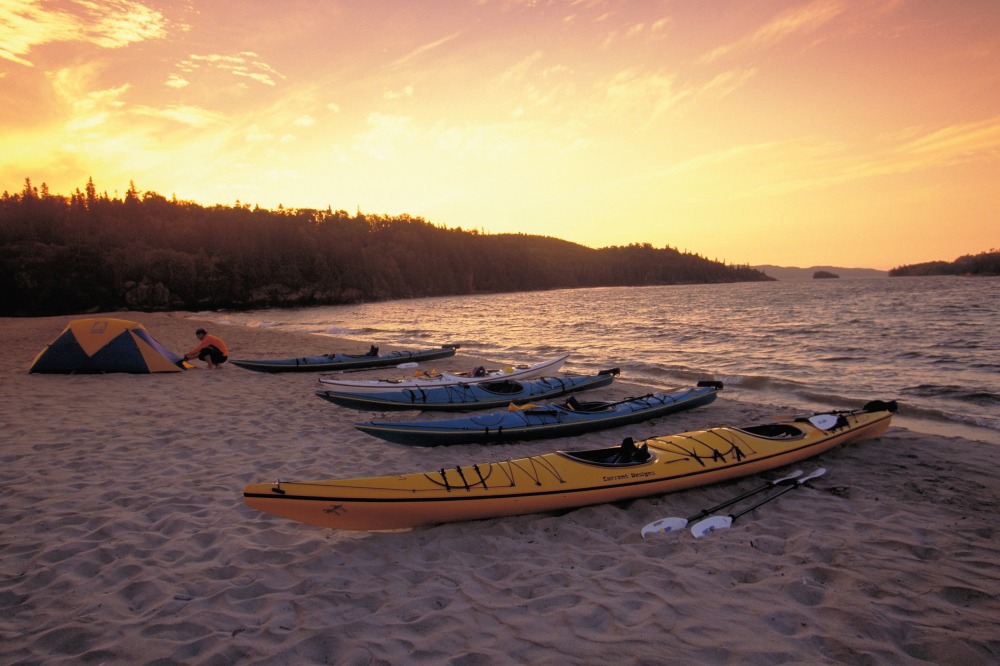 The world's largest freshwater lake, it's known as 'gichigami,' or 'big water' by the Ojibwe. In 2007, its northwest shore was the first area in Canada to be designated as a National Marine Conservation Area. Lake Superior's stony terraces, granite headlands and deserted stretches of fine brown sand, make sea kayaking its coastline a deeply satisfying wilderness experience.
Must do: A guided 7-day sea kayak or voyageur canoe trip with Naturally Superior Adventures. Kayak with caribou or discover Pukaskwa National Park.
PADDLE THE WATERS LESS TRAVELLED...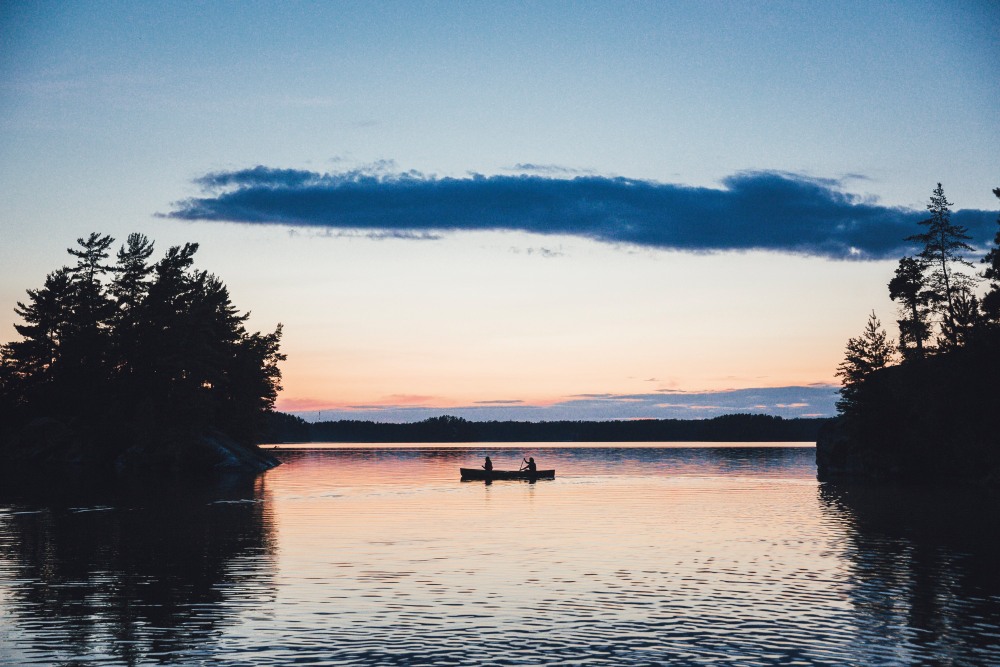 Are you looking to really get away from it all? You'll find perfect destinations from backcountry canoe tripping to exploring from a full-service lodge – the ultimate thrill for anyone wanting a true back-to-nature experience.
Temagami Region
Temagami is also known as Grey Owl Country, after the name taken by early 20th century English adventurer Archibald Belaney, who came to fulfil his dream of living with First Nations people, and became a devout conservationist. With rock ridges, cliffs and majestic white pine, Temagami is stunning wilderness territory with a vast system of canoe routes within Ontario's Parks.
Don't miss: The amazing Lake Wakimika petroglyphs – figures pecked into, not painted on, the rock. Explore the area with Smoothwater Outfitters or Temagami Outfitters.
Woodland Caribou Provincial Park
With over 1.2 million acres of Boreal Forest, this park in Northwest Ontario is the epitome of 'extreme' wilderness. It's steeped in Indigenous and Fur Trade history and is home to the elusive woodland caribou.
Must do: Paddle the Bloodvein, a stunning, rugged, wild river, that is surely one of the top wilderness canoe routes Ontario has to offer. Take a fly-in canoe trip with Red Lake Outfitters.
Wabakimi Provincial Park
Man meets the remote wilderness in Wabakimi, which lies due north of Lake Superior. The park is wild, with big lakes and few people, but it's known for its rivers, rich in wildlife. Wabakimi has no roads, but with more than 1,200 miles of water routes, it is a paddler's paradise.
Don't miss: The countless opportunities for wildlife viewing as well as the legendary fishing for walleye and northern pike. Fly into the park then stay in comfort at a Wilderness North lodge.
Quetico Provincial Park
A protected, pristine wilderness park west of Lake Superior that hugs the Canada-US border. Quetico is renowned for its rugged beauty, towering rock cliffs, majestic waterfalls, virgin pine and spruce forests, picturesque rivers and 2,000 lakes.
Must do: Explore the park for a few days or a few weeks. A specialist five-day Voyageur Wilderness Programme experience can help families strip away modern-day materialism.
Missinaibi River
One of the longest and most famous of the canoe routes in the Hudson Bay watershed, Missinaibi, in Northern Ontario, is 500km of outstanding whitewater river. It's also in the heart of the Chapleau Crown Game Reserve, the world's largest wildlife preserve.
Must do: The downstream paddle to Mooseonee and the historic Cree settlement of Moose Factory on the James Bay coast. Take a guided, fully outfitted trip with MHO Adventures.
GO WHITEWATER PADDLING...
If you're looking for a genuine sporting challenge, look no further than whitewater paddling – now an integral part of Canadian canoe culture.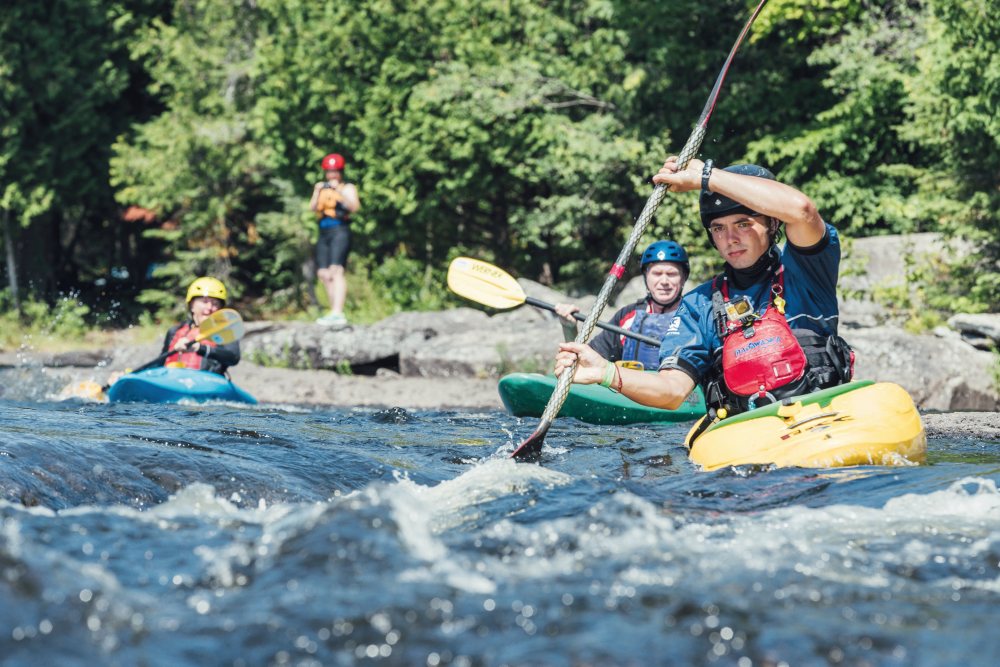 Madawaska River
This river, with its exceptional Class II and III rapids, is celebrated as one of the best and most easily accessible places in North America to learn whitewater paddling.
Must do: Learn from the best – master skills and build confidence on the rough stuff with a course in whitewater canoeing or kayaking at Madawaska Kanu Centre run by Claudia Van Wijk (10-time Canadian Whitewater Kayak Slalom Champion) and her husband Dirk.
Ottawa River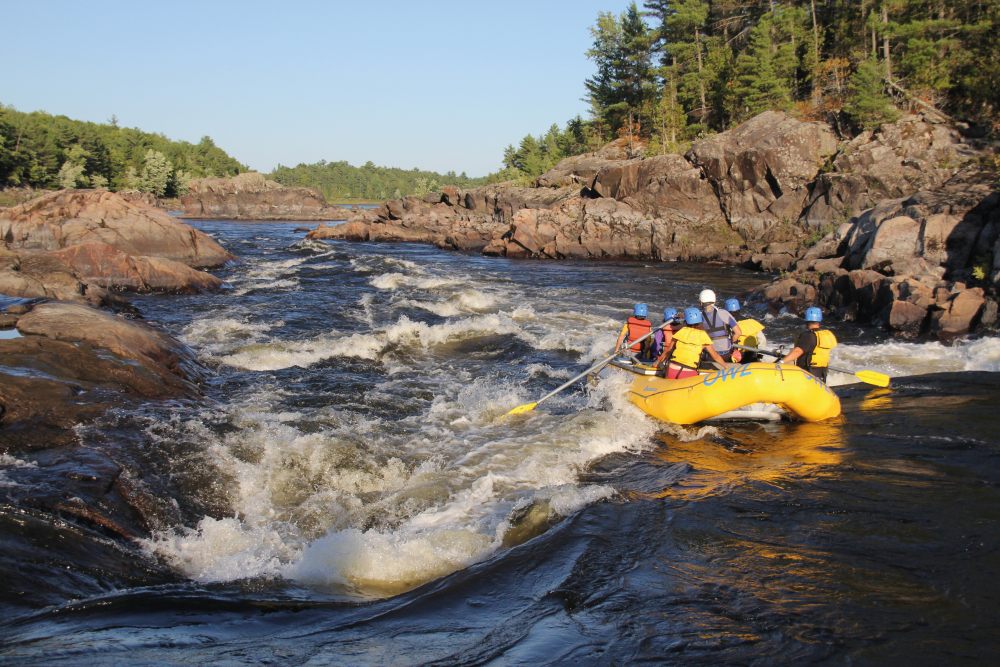 Experience the rush of adrenalin adventure just 90 minutes from the heart of Canada's capital city. The unique geology of the Ottawa River with its many islands makes it one of the world's best whitewater destinations, and whether novice or expert, you'll find there's an adventure package that enables you to experience the thrill of shooting the rapids.
Must do: Enjoy a whitewater rafting adventure package at a riverside resort with OWL Rafting, Wilderness Tours or RiverRun Rafting.
DO IT ALL
Take on the 'MKC The Canadian Canoe Route' for a fun-filled self-drive adventure. owl-mkc.ca