Want to see more great content with stunning imagery, helpful how-to guides, inspiring travel stories and in-depth gear reviews?
Buy the latest issue of the magazine below with FREE P&P or head to your nearest good newsagents including WH Smith, WH Smith Travel and thousands of independent newsagents to pick up your copy now.
Active Traveller 2022/23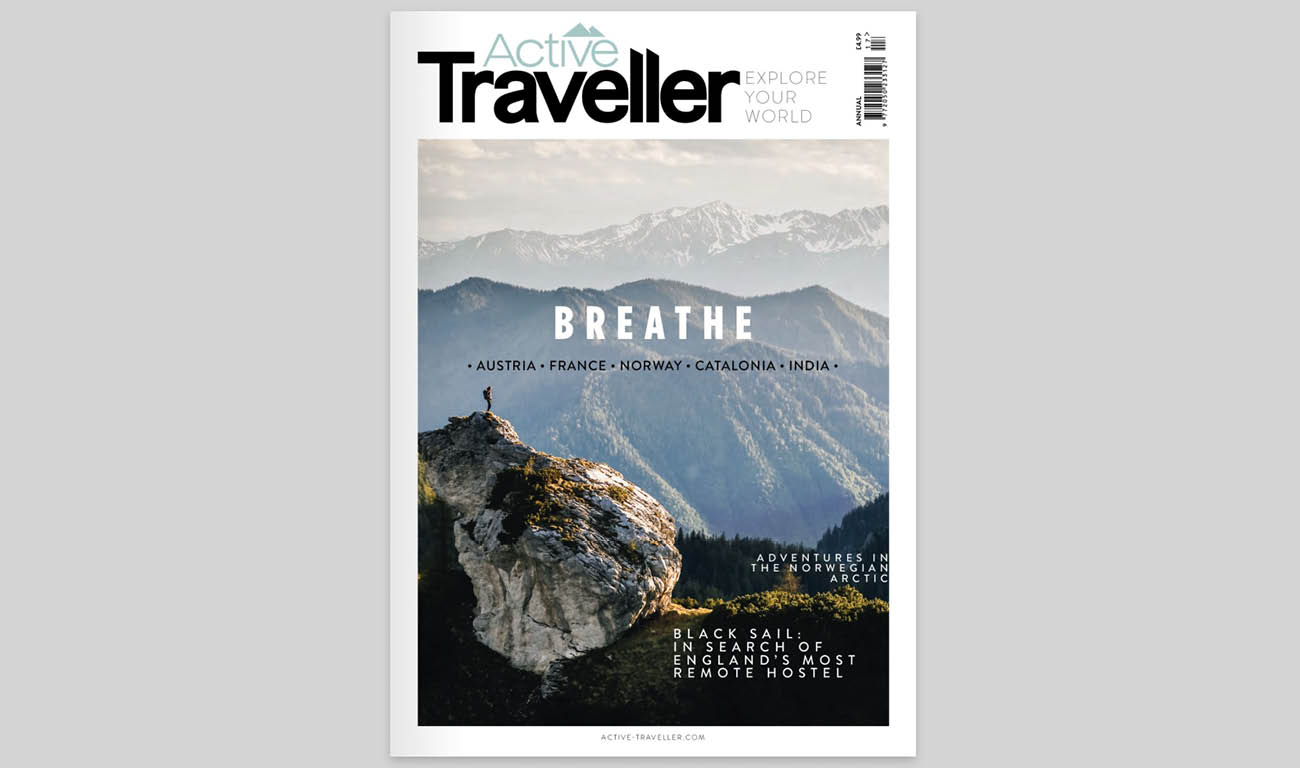 Xfrjjhhwertyuioghjkk Apologies, that's my new kitten's contribution to this year's magazine. I'm writing this with one hand as I battle—largely in vain—to keep him from clambering across my keyboard with the other. Like many small cats, he's adventurous to a fault. But when he's not offering his input as a typist, watching him learn—which bits of furniture will hold his weight, what kind of insects are OK to hunt, and which of the neighbours' cats don't want to play—has been instructive.
I was reminded of his approach (which definitely involves more 'error' than 'trial'), when reading back through the interview with adventurer Ed Stafford in this year's issue. Stafford, who's used up more of his nine lives than most, believes that humans learn many of their most useful, transferable life skills when they allow themselves to take a few risks. Accessibility activist Craig Grimes, also interviewed in this issue would doubtless agree. Grimes, a wheelchair user, campaigns against what he sees as the unnecessary sanitisation of outdoor spaces. Instead, he advocates providing disabled people with the information and the tools they need to make their own choices—even if that means they'll sometimes make mistakes.
Of course, everyone's conception of what constitutes an adventure is different. But whether it's relaxing in luxury wilderness lodge in the north of Norway playing golf on the world's scariest ski slope (p.36), or embarking a gruelling, multi-day bike marathon over 5,000m passes in the Indian Himalayas, there's one thing we can all agree on: the rewards of travelling to new places, embracing unfamiliar experiences, and pushing ourselves out of our comfort zone always outweigh the risks. Unless of course, you're a small cat, and you've just got yourself stuck up a tree for the first time.
See you out there.
- Tristan Kennedy, Editor
Active Traveller 2021
Just £4.99 including FREE postage to UK addresses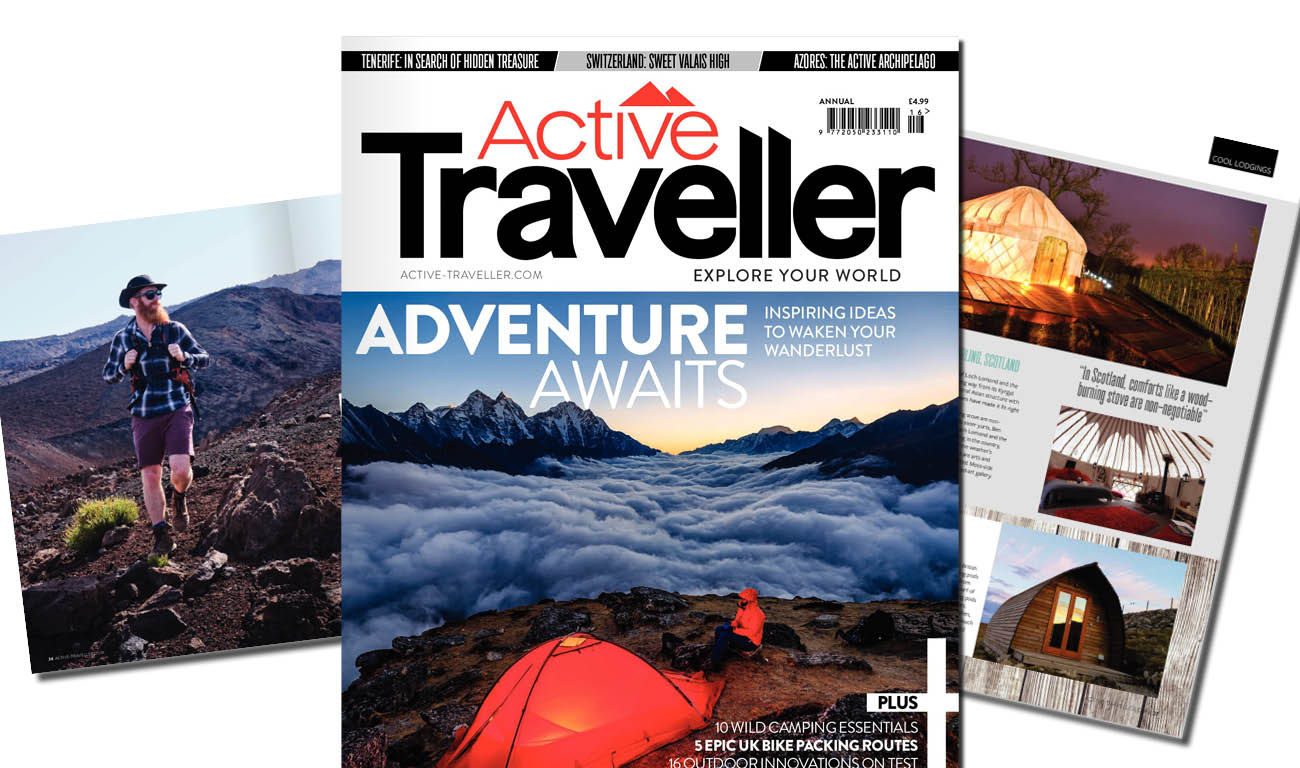 It's been quite a year. While it's safe to say that the pandemic which changed everything isn't over, at the time of writing, we do seem to be stumbling back to some semblance of normality. The question everyone's asking, of course, is what does this 'new' normal look like?
After a year when international travel almost shut down completely, there's a lot of talk about pent up demand. But I'm hopeful that, rather than roaring back with the same bad habits as before, when we do start to travel more widely, we all put a little more thought into it.
One of the best things about adventure holidays is the way they immerse you in the natural world. But it's a natural world – as the latest International Panel on Climate Change report published days before we went to press makes clear – that's increasingly under threat.
Which is why the Ramsay family decided to 'rewild' the Bamff estate in Scotland, reintroducing beavers, rather than farming it in the conventional manner. Bamff now welcomes visitors year round – and as Stuart Kenny found out (p.31), the beavers have proved quite the tourist attraction.
Elsewhere in this issue, we take an alternative trip through Cornwall (p.72) – an adventure that involves SUPing and wild camping, but also pulling plastic bottles, bags and gloves out of the water – and we explore the wild mountains of Asturias (p.64). It's the oldest province in Spain, and yet somehow, still remains relatively untouched.
Increasingly, wild spaces like this, the mountains of Valais (p.46) and the still-empty interior of Tenerife (p.34) feel vanishingly rare. Which makes it doubly important that those of us who enjoy exploring them step up to protect them. Thinking about how, when and where we choose to travel – and what activities we choose to do when we get there – can have a hugely positive impact.
After going 18 months without, here's to making this year's adventures really count.
See you out there.
Tristan Kennedy, Editor
Active Traveller 2020, just £4.99 including FREE postage to UK addresses!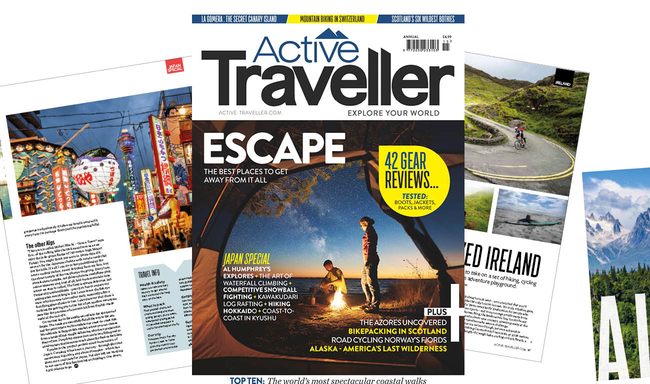 Hi there. How are you doing in these strange times?
Like so much of the new language that entered the lexicon this year ("social distancing," or "shielding" for example) that phrase has become so familiar that I've almost stopped noticing it. But it's worth remembering that these are strange times, and although we might not be able to travel as much as we'd like at the moment, normal service will, at some point, be resumed.
With that in mind, we've put together an issue that's packed full of inspiring adventure travel to help you plan your next trip. We've dedicated a whole section of the magazine to Japan, a country that's always near the top of our list of dream destinations. Three of our favourite explorers, Alistair Humphreys, Ash Bhardwaj and Sian Lewis, dig beneath the surface to bring you three very different stories, showcasing the diversity of this endlessly fascinating island nation.
Islands feature prominently elsewhere in this issue too: Dave Cornthwaite explores the Azores, and Dan Wildey heads to the Canary Island of La Gomera - both destinations that adapted impressively quickly to the challenges of welcoming visitors.
We've also brought you a few ideas for adventures that are closer to home - because if there's one positive to take from this pandemic, it's the fact the great British outdoors has never been more popular.
From bikepacking around Scotland, to Highland bothy recommendations; from Welsh walks to adventures in neighbouring Ireland, this issue contains everything you need to have incredible experiences on the archipelago we call home too. While we can't necessarily predict what the next few months will bring, we do know that, whatever happens, it won't dampen our enthusiasm for getting outside.
See you out there. Tristan Kennedy, Editor
Buy the 2019 issue of Active Traveller for only £4.99 including free p&p**
We've got a serious case of summit fever this year with our 50 page Alpine Special, jam-packed with stories that will inspire you to get out hiking, biking, climbing and kayaking among Europe's tallest peaks.
Further afield, our bevvy of travel writers have supplied us with tales of adventures in Chile, Tenerife, Norway and more. Fancy an adventure closer to home? Nicola Trup finds that there are still wild corners of Britain on a SUP trip around Scotland.
You're going to need some shiny new outdoor gear for all those upcoming adventures. Our expert test team have rated the very best tents, hiking boots, waterproof jackets and more out in the elements.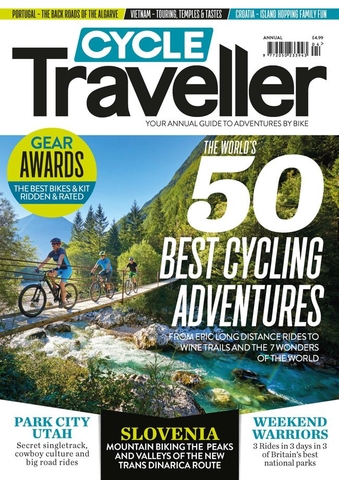 Buy the 2019 issue of Cycle Traveller for only £4.99 including free p&p**
Bike-mad travellers of the world, unite - for another epic issue of Cycle Traveller Magazine. This issue is as jam-packed as ever with wanderlust-inducing cycling adventures, whether you're a tarmac-conquering road cyclist, a mud-splattered mountain biker or just fancy a pedal followed by a pint.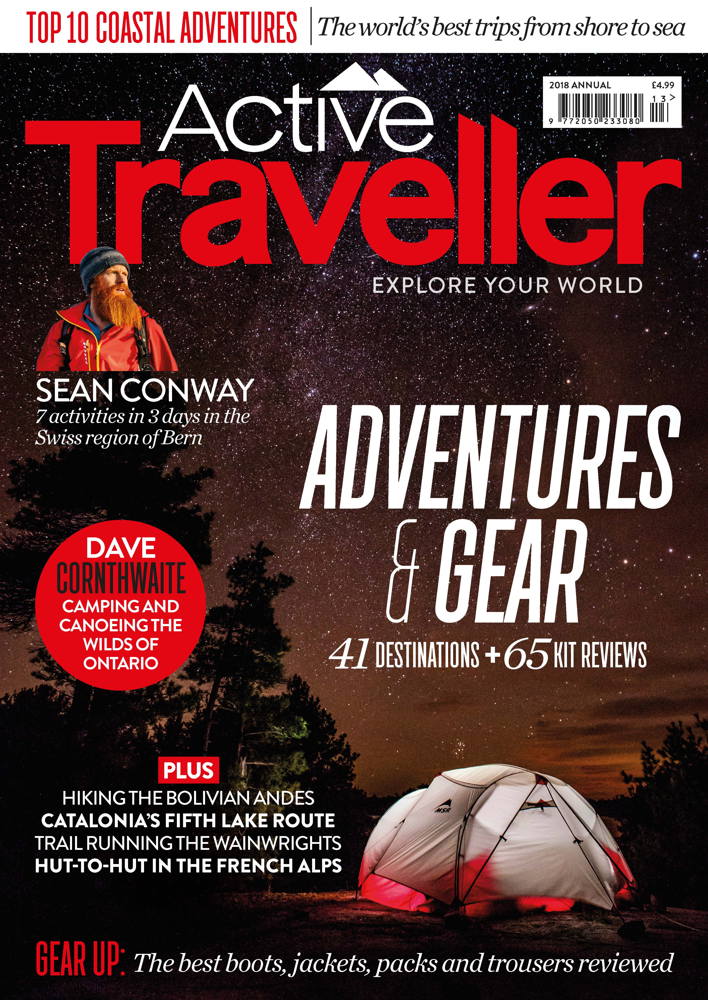 Buy the 2018 issue of Active Traveller for only £4.99 including free p&p**
We've got adventures of all shapes and sizes packed into these pages. Dave Cornthwaite falls in love with Canadian canoe culture on the glassy lakes of Ontario, Ellie Ross runs the Coast-to-Coast in England through the hills and fells of the Lake District, Neil Pedoe and son go on a proper little adventure by sticking their bikes on some inflatable boats and making their way across Dartmoor and Sean Conway heads to Switzerland's gorgeous Bernese Alps on a mission - to see how many adventures one bearded man can fit into a long weekend (the answer is - quite a few). This issue also celebrates the simple pleasure of hiking in a new landscape, and whether you want to conquer Bolivia's stunning snow-capped mountain ranges or explore remote corners of the Pyrenees and the French Alps with a rucksack on your back we've got the trail for you. Plus, we pick the ten best hiking hotels and lodges in the world to kip in, including Sir Edmund Hillary's favourite Welsh mountain hideout.
Or if you'd rather sleep under a sky full of stars, we don't blame you. Our guide to wild camping includes what to pack and where to pitch in Britain's loveliest (and emptiest) landscapes.
Thinking of upgrading your kit for all your upcoming adventures? Our expert test team has put the best new gear through its paces, including three-season boots, travel-ready jackets, trail shoes, day packs, midlayers and more, all tested in the toughest conditions.
The big wild world is waiting...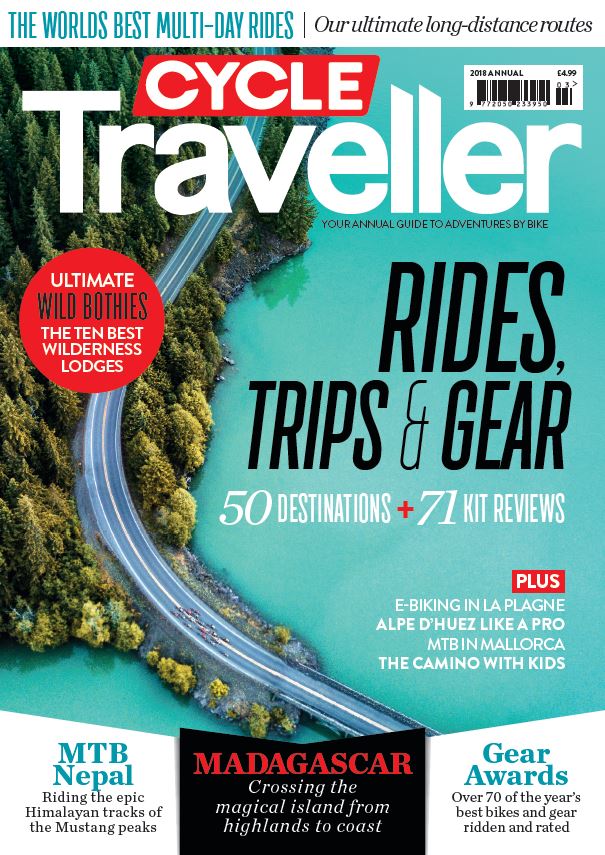 Buy the 2018 issue of Cycle Traveller for only £4.99 including free p&p**
We kick off with a chat with explorer Dave Cornthwaite about his many weird and wonderful trips on bikes - well, bike-shaped objects. Anyone for a 1,000-mile scooter ride across Japan?
Catriona Sutherland takes on a high-altitude ride along the 'roof of the world' - Nepal's remote Mustang Valley - and Matt Westby discovers why Madagascar's lush highlands, jungles and coast make the ultimate cycling paradise. We're up in the mountains of Europe, too, as Neil Pedoe and Dan Wildey take mountain biking forays into the hills of France and Mallorca. Fancy taking your kids along on your next cycle tour? Pete Coombs and family take on a chunk of the Camino de Santiago at a relaxed pace.
Adventure inspiration doesn't stop there - in Beds for Bikers we've rounded up ten wild places to spend the night, including bike-friendly bothies, bunkhouses and mountain huts, and sought out the world's best long-distance cycle routes, from Arizona desert crossing and a ride to Everest Base Camp to island-hopping on the Hebridean Way.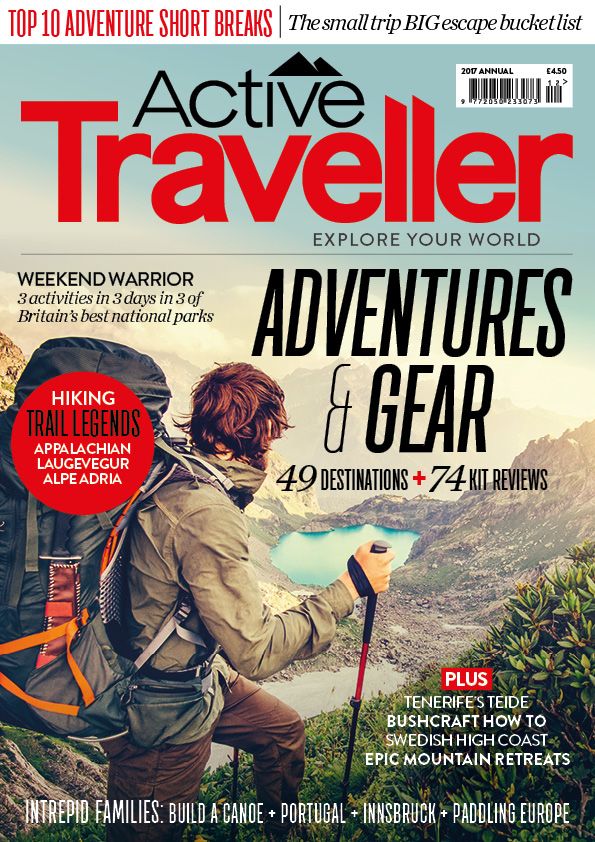 Buy the 2017 issue of Active Traveller for only £4.50 including free p&p**
With the exception of some inspirational paddling adventures, on foot travel dominates this edition of Active Traveller, with an incredible variety of countries, landscapes and cultures walked through by this most basic, yet satisfying means of travel.
Representing the old guard of must-hike world classics, we start with a hut-to-hut hike along the legendary and perhaps surprisingly challenging Appalachian Trail in the eastern USA.
Back in Europe, although only recently opened, the 750km Alpe Adria is surely a new long-distance trail classic in the making. Running from the foot of Austria's highest mountain, the Grossglockner, to the Adriatic, this trail passes though some of Austria, Slovenia and Italy's most glorious upland scenery. Inside you can read how Matt Westby fell in love with this fascinating central European trail.
Other walking stories in this issue include a tour of the extinct volcanoes and rugged coastline of northern Catalonia, a hut-to-hut hike along Iceland's other-worldly, epic Laugevegur Trail, plus an on-foot discovery of the many climates, landscapes and colours of Tenerife's breath-taking Mount Teide.
It's not just about walking adventure though: as well as backpacking, Daniel Wildey was tasked with sea kayaking, camping and via ferrata to explore the wilds of Sweden's High Coast. In a separate story you'll read how Daniel discovered his inner Ray Mears on a bushcraft course in Cumbria.
Also inside you'll find family adventure holidays in Portugal, Austria and the Lakes, as well as an inspiring list of family paddling holidays, a bucket list of awesome active short-breaks in Europe, and dreamy mountain retreats.
Need adventure travel gear? Then see our Gear Awards section where you'll find reviews of the best jackets, shoes, packs, trousers and accessories available.
It's your world – explore it!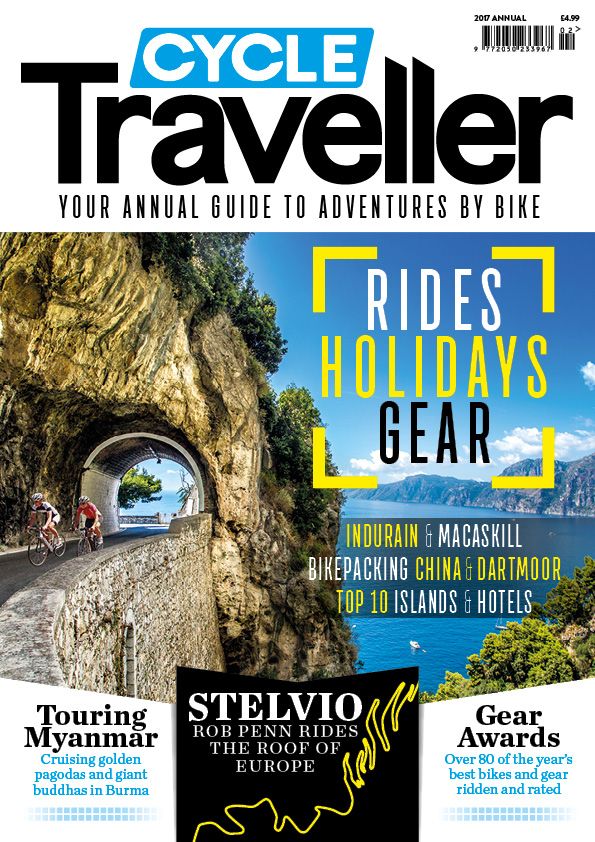 Buy the 2017 issue of Cycle Traveller for only £4.99 including free p&p**
Escapism, discovery, adventure, new horizons, physical well-being, excitement, challenge and cultural immersion… These, and so many more, are the benefits of travelling the world by bike, and you'll find them all celebrated within these pages. So, whether you're already exploring on two wheels or still dreaming, this is where your real adventure begins.
Bikepacking must be one of the purest forms of cycle adventuring; take the minimum amount of camping kit, ride out and stay out. In this issue we've actually got two inspirational travel stories showcasing this minimal gear-maximum adventure cycling mode, plus we've picked our Top 10 bikepacking essentials.
The first story sees bikepackers Ed and Marion Shoote ride into the once Tibetan province of China, wild camping among open air burial sites, wolves, vultures and sprawling Buddhist monasteries.
The second is closer to home, in the verdant, wild Dartmoor National Park. There Daniel Wildey takes on his own first bikepacking experience, discovering that you don't have to get on a plane or chase off wolves to unlock adventure travel – just a bike, a tarp and a clear night sky.
Back on the roads – some of the world's most famous – Rob Penn takes on the Alps' second highest pass, the Stelvio, crossing the mountains from Innsbruck to the glittering shores of Lake Como.
Elsewhere in this issue Graeme Green finds the bike is the perfect way to explore Myanmar's gilded pagodas and giant Buddhas, we explore Tenerife's volcanic singletrack, e-bike the Austrian Tirol, ride with a Tour de France winner on the Costa Daurada, and discover the family riding appeal of Catalonia's greenways.
On top of that we've whittled down the best cycle travel clothing, baggage, and accessories money can buy, as well as the 20 best road and off-road adventure bikes of 2017 for our Gear of the Year Awards.
It's your world – ride it!
Delivery
*We currently only offer postage of magazines to UK addresses, this includes the Highlands and Islands, Scilly Isles, and the Isle of Man. Please note, we class the Channel Islands as overseas.
**Free postage is applicable to addresses within the UK, including the Highlands and Islands, Scilly Isles, and the Isle of Man. Please note, we class the Channel Islands as overseas.
***Terms & conditions apply