If you've ever dreamed of silently paddling a canoe through the early-morning mist in the hope of spotting a moose… of kayaking on a lake that's a big as the sea…of shooting the rapids on a river in full flow… or maybe of hiking in a remote wilderness where you can walk all day without seeing another soul… you've come to the right place.
All this and much more awaits you in the adventure playground of the north – Ontario, Canada. A vast province that's as big as France and Spain put together, Ontario is a surface that's barely been scratched. An immersive land of vast wilderness, of ancient forests, countless lakes and rivers teeming with wildlife, of spectacular sunsets and beguiling solitude.
Discover the dazzling modern cities of Toronto and Ottawa, charming towns and quiet villages. Tap in, too, to the wisdom of centuries and the spiritual welcome of the Indigenous people.
And, of course, get up very close and wet to the most famous waterfall in the world – the mighty Niagara Falls.
A land for all seasons, Ontario is the place to come for adventure, to learn a new skill, to challenge yourself, and to enjoy simple family pleasures in the greatest of Great Outdoors.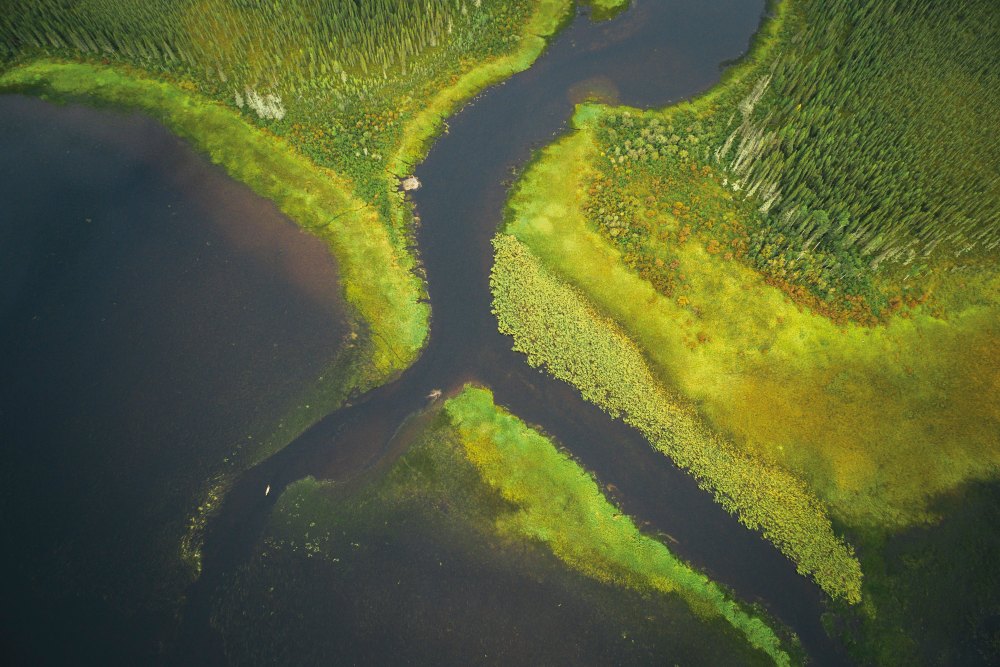 There are more rivers and lakes per square mile in Canada than anywhere else in the world. You can put a canoe into the water just about anywhere in this vast country and paddle coast to coast.
Or you can lace up your hiking boots and trek into the beautiful wilderness of ancient forests. Or discover some of Ontario's unique 'signature' experiences. The choice is yours...
You can do-it-yourself, but we recommend you go with a local adventure expert. They can help you plan your trip, with full service outfitting and guiding services. You can also start or end your adventure in comfort at a wilderness lodge.
A week I won't forget in a hurry...
There's a new contender for the triple crown of canoeing, hiking and kayaking, and this one is going to be hard to beat. As the colours of autumn set in, Dave Cornthwaite visited Killarney Provincial Park and Georgian Bay in Ontario, to get a taste of Canadian outdoor adventure.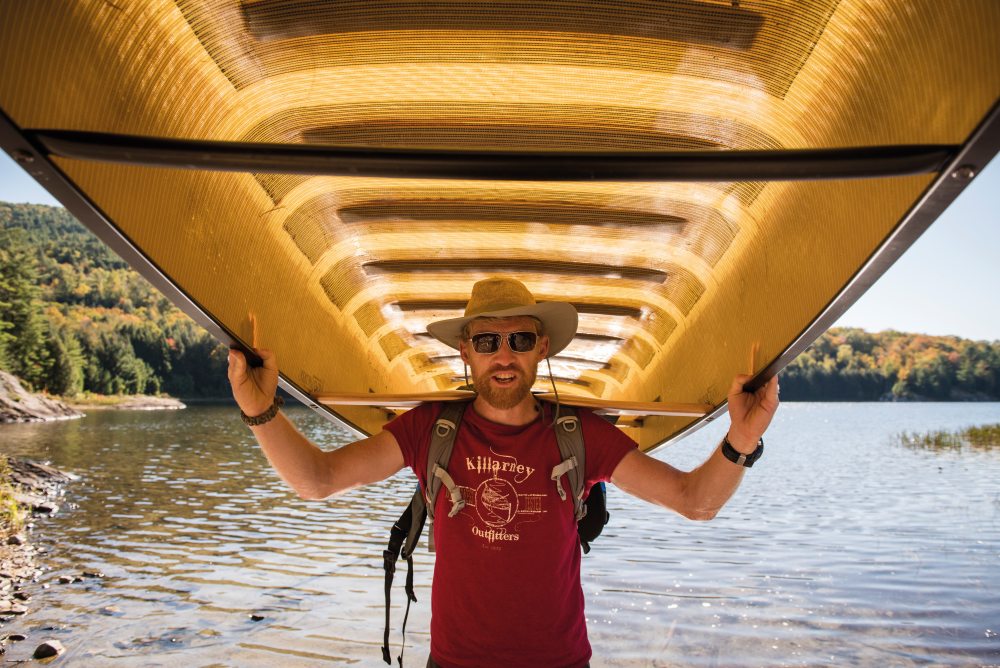 When the offer came through to visit Ontario and experience a week of paddling and hiking, I thought that it would be, at worst, a very cool trip. Little did I know it, but the Killarney Provincial Park was about to become one of my favourite places on the planet.
Kitted up and guided by Kearie from Killarney Outfitters, photographer Dan Wildey and I spent two days in a Canadian canoe, paddling across clear, emerald-blue lakes and then portaging our gear over to the next gorgeous puddle. With soaring eagles, sheer cliffs, thick forest and a decent selection of designated campsites to choose from, Killarney Provincial Park was impressively non-crowded, a result of strict prebooking policies and a limited number of daily passes available.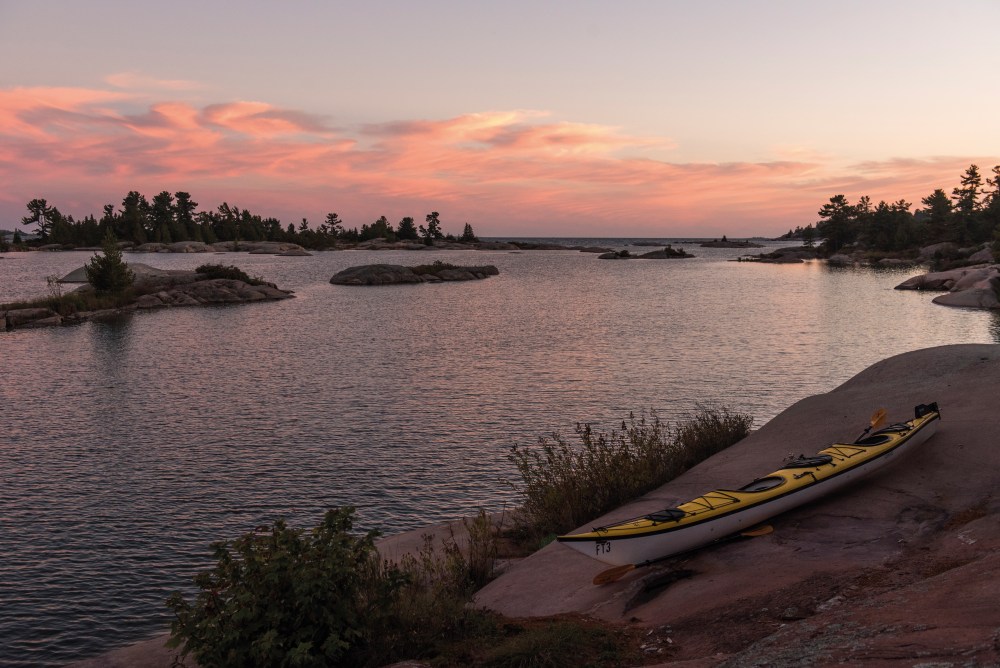 There is nothing better to ruin a nature experience than an excess of people, so Brownie points were already awarded to the region before we headed to the second leg of our trip, kayaking on Georgian Bay. The Killarney Outfitters Character-in-Chief, Ted East, drove us east from Killarney in a boat named Cyclops, as he eyed up the waterscape ahead. The shores of Georgian Bay, a UNESCO World Biosphere Reserve, are littered with thousands of islands; rounded, nearly-bare granite mounds glinting pink in the afternoon sun.
Ted weaved through the archipelago for half an hour before we slowed, coming to rest beside a laddered-stack of rock on the mainland. This would be our base for the next two nights, from where we would fish, paddle and explore. I can honestly say it was right up there as one of the best campsites I've stayed at. Battling with hungry local pike, enjoying our guide Rachel's delicious fire-cooked meals and eagerly dashing about our smooth-surfaced camp playground like kids in photographer's heaven, these were two days that I won't forget in a hurry.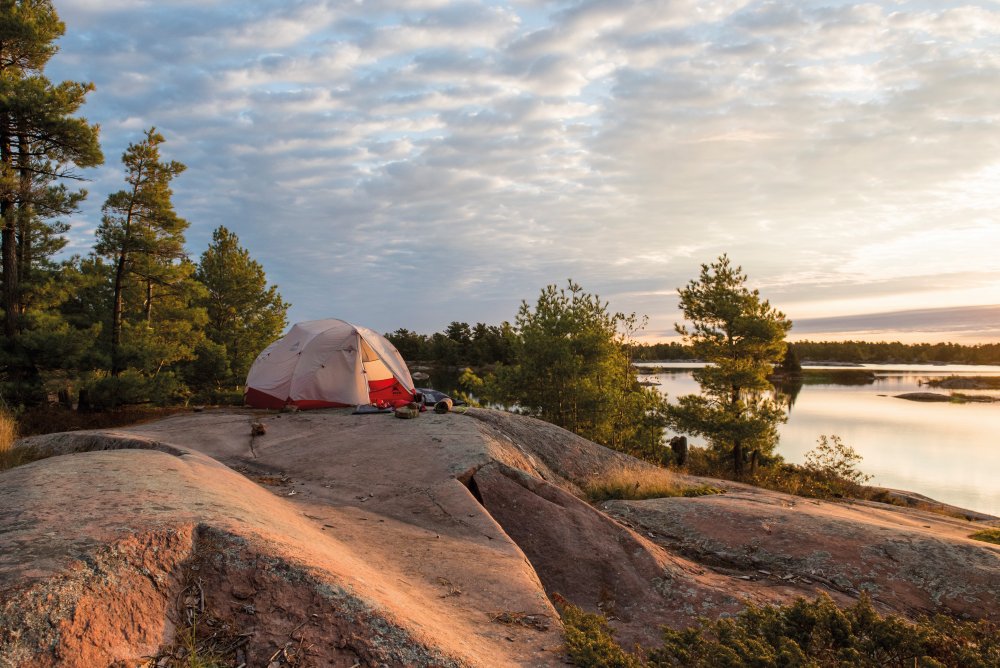 Our last activity took just three hours, a hike up a shortened leg of the local La Cloche walking trail to a famous local treasure known as The Crack. A pleasant woodland hike took us along leaf-covered lakeside tracks, and then the climbing started. Certainly not for the unfit, this is a hike worth the effort, rewarding those at the top with panoramic views over the lakes and trails we had just paddled and walked.