Imagine diving in warm seas where whale sharks swim through crystal clear waters beneath you, where dozens of devil rays swoop above and where curious blue shark and huge pelagic fish cruise the ocean currents alongside you.
This is the thrill of diving in the Azores, a remote archipelago of nine volcanic islands that sit in the mid-Atlantic Ocean 1,600km from mainland Europe. Visitors are drawn to the islands' incredibly diverse and fertile landscapes – from crater lakes and waterfalls to huge caverns, verdant plant life, sheer cliffs and fajas (flat, low lying strips of land that jut out into the sea). For divers, the volcanic geography and remote location mean superb underwater opportunities.
Warmed by the nutrient-rich currents of the Gulf Stream, the unique geography of the Azores provides the perfect habitat for a huge array of smaller fish as well as several large marine species. There are five kinds of sea turtle, more than 24 different species of cetaceans and about 600 types of fish, including large schools of pelagic fish, several species of sharks, graceful manta rays and devil rays as well as friendly dusky groupers. And with visibility in the clear waters exceeding 30m, you get tremendous opportunities to enjoy them.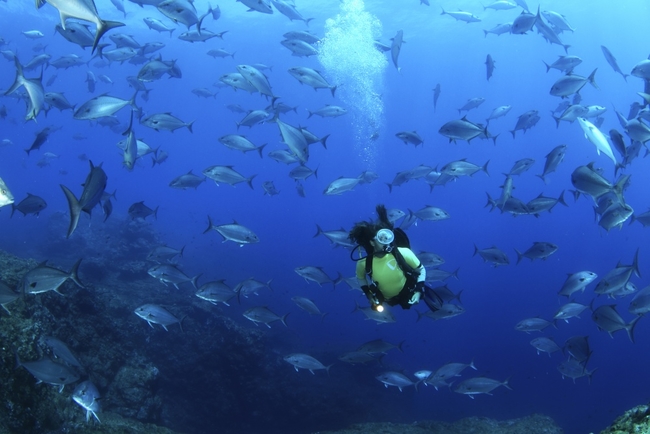 You can dive around all the islands and each is as different underwater as it is on land. There are impressive natural arches formed by ancient lava flows in some spots, whilst in others there are deep caves with interconnecting chambers. World War II shipwrecks lie on the ocean floor close to one island and near another are the remains of 15th and 16th century shipwrecks.
The Azores also offer access to isolated seamounts - underwater elevations that were either islands swallowed up by the sea or part of the ridge that did not break the surface. These seamounts, such as Princess Alice Bank, feature a marvellous variety of marine ecosystems including large schools of pelagic fish, dozens of graceful devil rays and even some species of cetaceans. It is a unique experience and truly places the Azores at the top of the list of world dive destinations.
Oh, and we haven't even got started on the wonderful whale watching...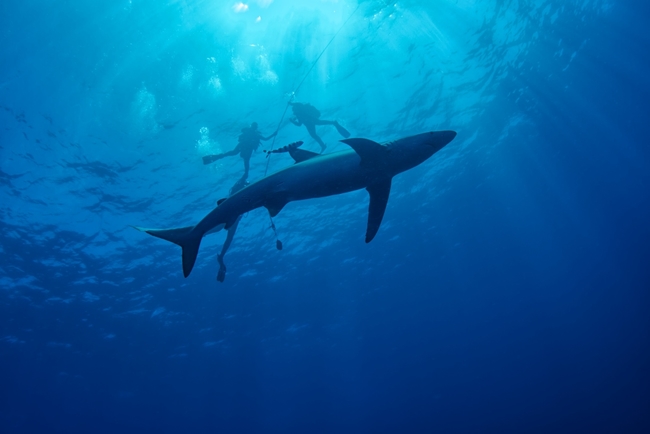 Don't miss these Six top Azores dive experiences:
Just three miles from the western tip of São Jorge, Rosais Reef is one of the best and most accessible places to dive if you want a wide variety of marine life. The top of the reef is only 15 metres deep and the waters are teeming with life.
This is one of the few dive sites in the Azores where you can be surrounded by large schools of pelagic fish as well as moray eels, octopuses and even colourful scorpion fishes. It is also particularly scenic as to reach the reef you travel alongside the fantastic scenery of São Jorge which has many fajãs jutting out into the sea.
How would you like to come face to face with a large, curious dusky grouper? The Dusky Grouper Passageway (Caneiro dos Meros) is just 100m off from Corvo in a 17km2 marine reserve that was voluntarily created by the people of this beautiful island. The dusky groupers here often exceed 1 metre in length, and it is not uncommon to spot five or more during a single dive, often competing for the attention of the divers.
As it is a protected area, all sorts of other species can also be found here; from barred hogfishes and Mediterranean parrotfishes to schools of Almaco jacks, white trevallies and yellowmouth barracudas.
Just two minutes from the sunny beach of Vila da Praia, the 'Terceirense' shipwreck, resting at a depth of 20 metres, is the most famous dive site of Graciosa. This 40m long freighter has been here since 1968 and today it is inhabited by an extraordinary mix of marine life.
Large dusky groupers move among the ship's pipes, boilers and large sections of the hull. Thousands of Azores chromis and ornate wrasses surround the main body of the wreck and smaller chunks of the wreck lie on the seabed sheltering small fish and shellfish. It is exactly what you imagine a wreck dive to be.
The city of Angra do Heroísmo is classified as a UNESCO World Heritage Site, and its historical legacy is present both above and below the waterline, where you can find the second largest number of shipwrecks from the Age of Discoveries.
The Underwater Archaeological Park is a true underwater museum with more than 40 ancient anchors, sometimes over 3 metres long and from many centuries ago, littered across the ocean floor.
And incredible wreck site plus a dazzling array of sea life make this one of the most unmissable dive experiences in the Azores. The 'Dori', a ship that took part in the D-Day landings, found its final resting place four decades ago less than 20m beneath the calm waters close to the Ponta Delgada Harbour of São Miguel.
The 130m-long ship is now an oasis of life for many small species such as moray eels, octopuses and nudibranchs, while large schools of Almaco jacks, yellowmouth barracudas and axillary sea breams weave between the propeller blades and rudder, disappearing into portholes.
Diving with the world's largest fish in clear waters is one of the best diving experiences of the Azores. Although it is possible to spot whale sharks on several islands of the Azores, Santa Maria is the island most visited by this colossus of the sea. As it slowly swims beneath divers, the sheer size – sometimes over 10 metres long - becomes apparent.
There is also the added bonus of the entourage: it is common for this shark to be followed by an escort of thousands of tunas, as well as pilot fishes and numerous other small pelagic fish. It is an unbelievable dive experience.
For more information on diving in the Azores visit dive.visitazores.com/en