Low weights are great but for long distance hiking fit and comfort are just as important. And the Gregory Optic 48 is designed to carry 14kg but weighs only 1104g, which is a good sign. Fit is good, with well-placed shoulder straps and hip belt but torso length is not adjustable so take care to get the right size.
Shoulder straps are somewhat stripped back but are still wide and sturdy enough not to bite into your shoulders, even when the bag is fully packed. The hip belt is of a standard size and fit and is very comfortable, being well-padded and having contours in all the right places and, unusually for a lightweight pack you even get a pocket on each side.
The AeroSpan back system is the ultralight evolution of Gregory's standard VaporSpan suspension system. It keeps the main body of the pack hung away from direct contact with your back, allowing a very good airflow between the two and is also very comfortable to wear.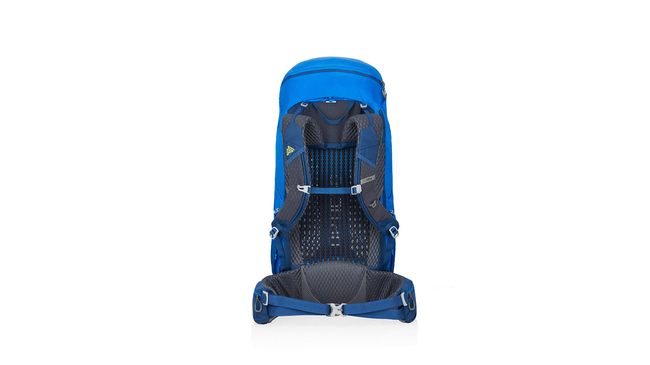 The large floating lid is removable and has a good sized pocket for bits and pieces. If you really want to trim that weight down take off the lid and there's a snug-fitting weatherproof flap underneath that does the same job - just without an additional pocket. I've not used this, as I always like a top pocket for easy access to a hat or a chocolate bar, but its a great idea if you're sure you don't need the extra storage space.
The easily accessed stretch side stuff pockets are great for water bottles or stuffing an extra warm layer into. On so many packs I've tested, these are only easily accessible by another person, not yourself, but on the Optic 48 I can just about contort myself enough to get into them without removing the pack, making them much more useful. There's also a large front stretch mesh pocket, again great for extra layers or separating out wet clothes.
Internally there's not much to say, as it's a one compartment bag apart from the hydration sleeve, making it simple and light. You can easily fill this pack with enough kit for an overnight trip or a day climbing at the crag.
The body is fabricated with 100D High Tenacity Nylon, which is tough but due to its light-weight isn't indestructible. The base is similar, but much thicker, being 210D High Tenacity Nylon. Having said this I used the Optic 48 pack scrambling over the Cuillin Ridge, on a wet day, and it showed no signs of damage even when scraped against many sharp rocks.
Overall, both the Optic 48L and 58L are fantastic packs, especially if you're prioritising weight over compartmentalised storage. Its a stripped back bag for those who don't want to be held back from a summit push by carrying too much.