We test a lot of high end hiking backpacks here at Active Traveller and are always impressed by the build quality and comfort of Manfrotto packs, easily rivalling some of the best hiking backpacks out there. Obviously the main difference here is the compartments and high levels of padding to protect your kit inside, and the Pro Light Cinematic does both of these things exceedingly well.
For the creator with a camera, a few lenses, tripod, compact sound equipment, a gimbal and a few accessories the Pro Light Cinematic is perfect. It fits all of these things neatly and logically, with easy access to everything. The main compartment zips right open in a clamshell design to reveal a series of dividers which are fully customisable to your needs. This main area fits most the main bulk of your kit with the pockets elsewhere swallowing things like ND filters, batteries, SD cards etc.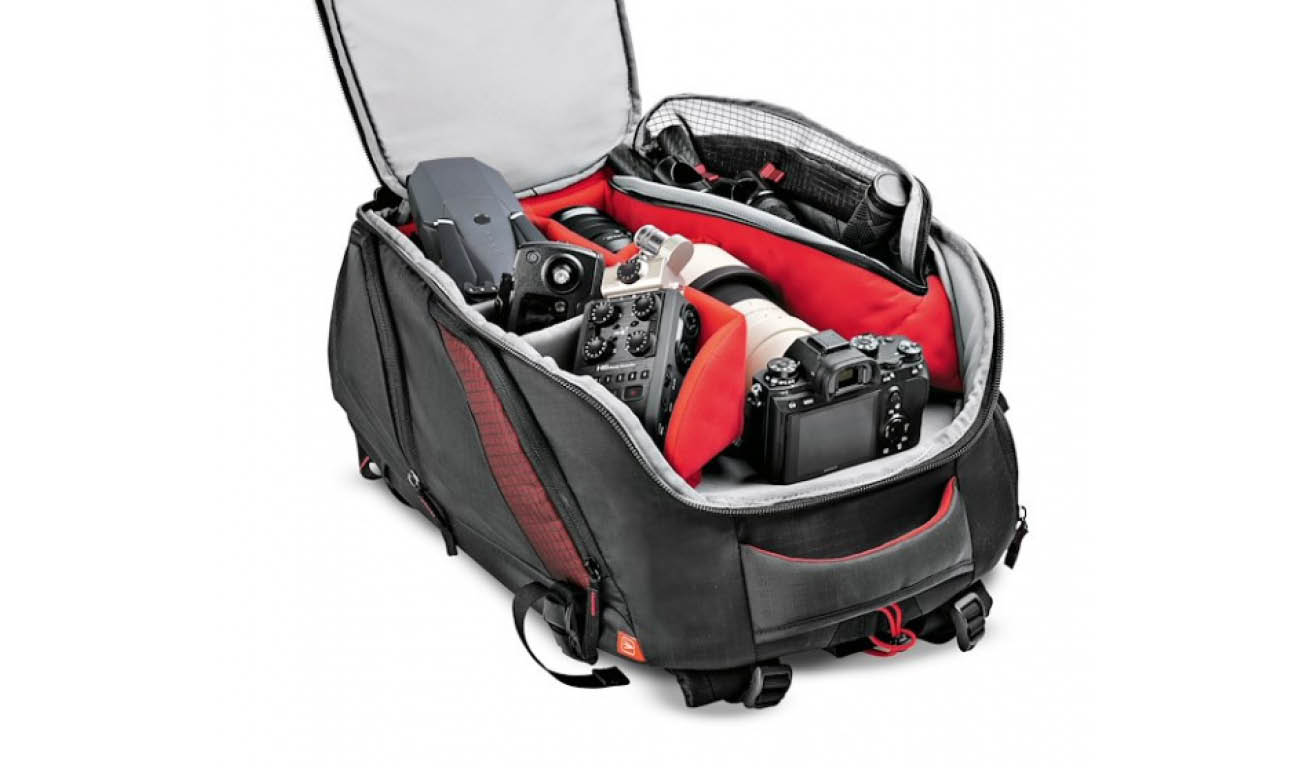 We use quite a large gimbal (Manfrotto MVG460) but this fits nicely in the bottom zipped pocket with only minimal dismantling, which means that your setup is almost ready to go when you get to location without the tedious task of having to rebalance the gimbal every time you unpack it.
The side pockets are slim and zipped so they're perfect for storing small items like batteries or filters and keeping them separated and therefore organised away from the main kit.
We use the front zipped pockets for documents, notepads and that kind of thing and the stretch side pocket is perfect for a drinks bottle. The side attachment points for a tripod are a bit fiddly and don't hold the tripod quite as stable as we would like, having the tendency to rock around a bit as you walk, but it's still handy to have the ability to quickly lash a tripod to your bag nonetheless.
Fully loaded this thing weighs an absolute ton, although obviously that depends on your kit, but the Pro Light Cinematic deals with heavy weight with aplomb. The shoulder straps are comfortable, and the load lifters and other adjustment points allow weight to be transferred away from the shoulders and down to the hips, which is vital for hours of carrying this much weight on your back. The back panel is well padded and has ventilation slots but is still warm and sweaty on a hot day.
Overall we would recommend the Pro Light Cinematic backpack, if you're a videographer looking to carry all of your kit in one hit this a superb option.