Thule make some excellent backpacks, both for hiking and for wintersports, they're also known for their quality child bike and ski trailers so we were keen to test out the Sapling Elite child carrier backpack to see if the quality and functionality matched what we've come to expect from this Swedish brand.
The Sapling Elite is Thule's top of the range child carrier so comes with all the features you could possibly need in a child carrier for the great outdoors, and a few more thrown in for good measure.
From a pure backpacking perspective the Sapling Elite ticks all of the right boxes, with an adjustable torso length, adjustable hip belt, sternum strap, load lifters, mesh back panel and adjustable shoulder straps.
It's easy to get a good fit with this array of adjustment points, something that is especially important with a child carrier that's likely to be used by more than one parent.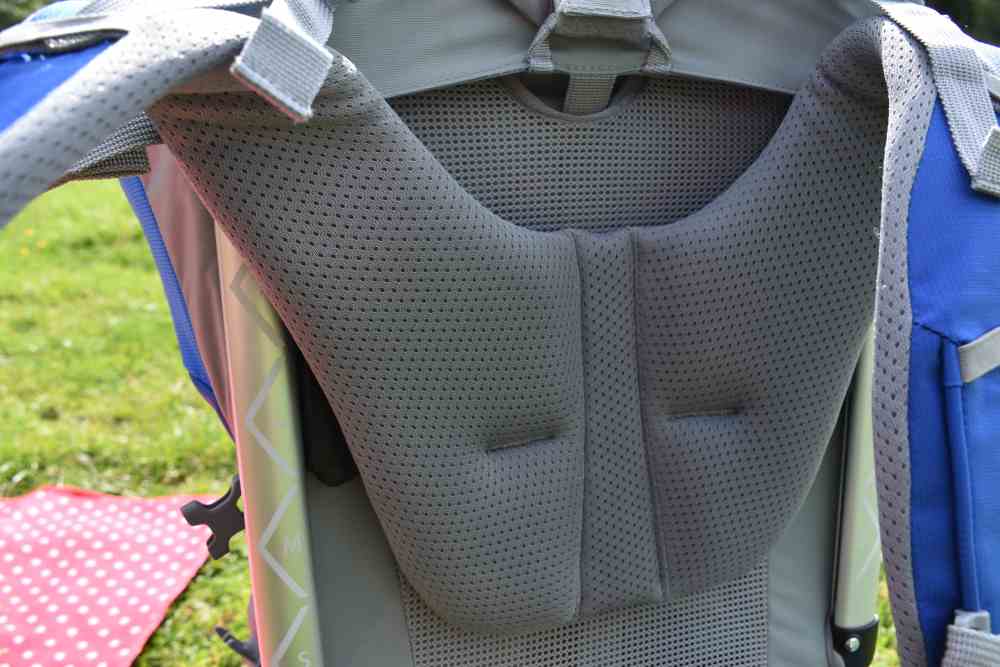 Adjustment of the torso length couldn't be easier. The buckle closures allow you to slide the shoulder yoke up and down on the rigid aluminium frame locking at four different points which is easily enough adjustment for most body sizes.
Each side of the hipbelt slides in and out and is secured with velcro, this allows you to quickly move the generous and comfortable padding to the ideal point.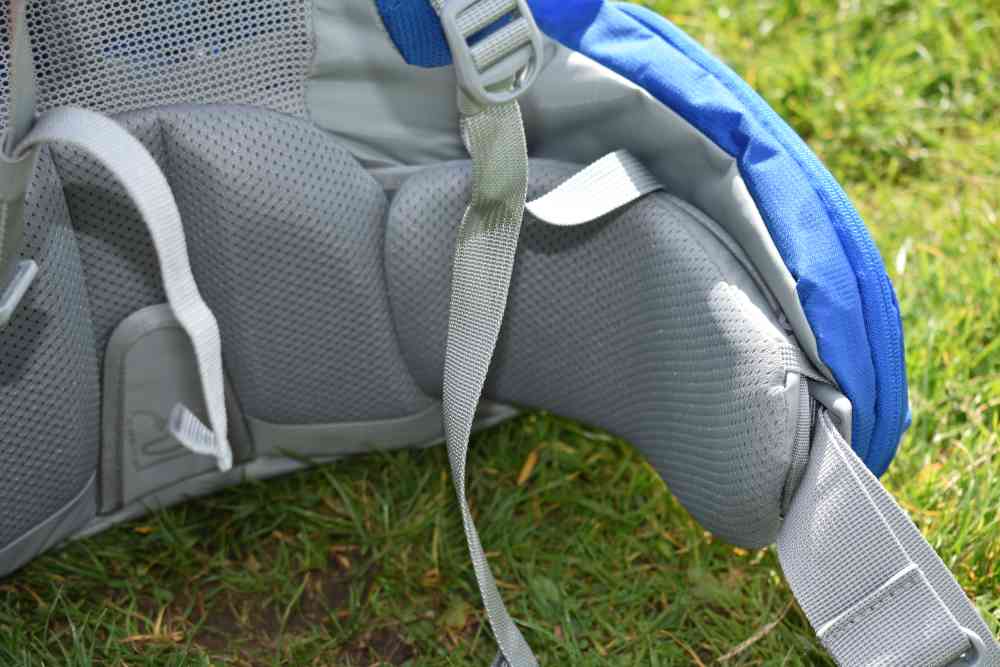 We found this system so quick and intuitive to use that we were able to quickly swap the carrier between 6ft 2" and 5ft 8" parents with our son still sitting happily in the carrier.
Talking of our son, he can quickly get fidgety and uncomfortable in car seats so it was a relief to find that he also gets the special Thule treatment with a heavily padded, height adjustable seat and adjustable ventilated side panels which cater for growing bodies. The adjustable stirrups ensure that little legs don't get achy from dangling about the place and one of the side panels releases via a buckle, making it much easier to get your child into and out of the seat.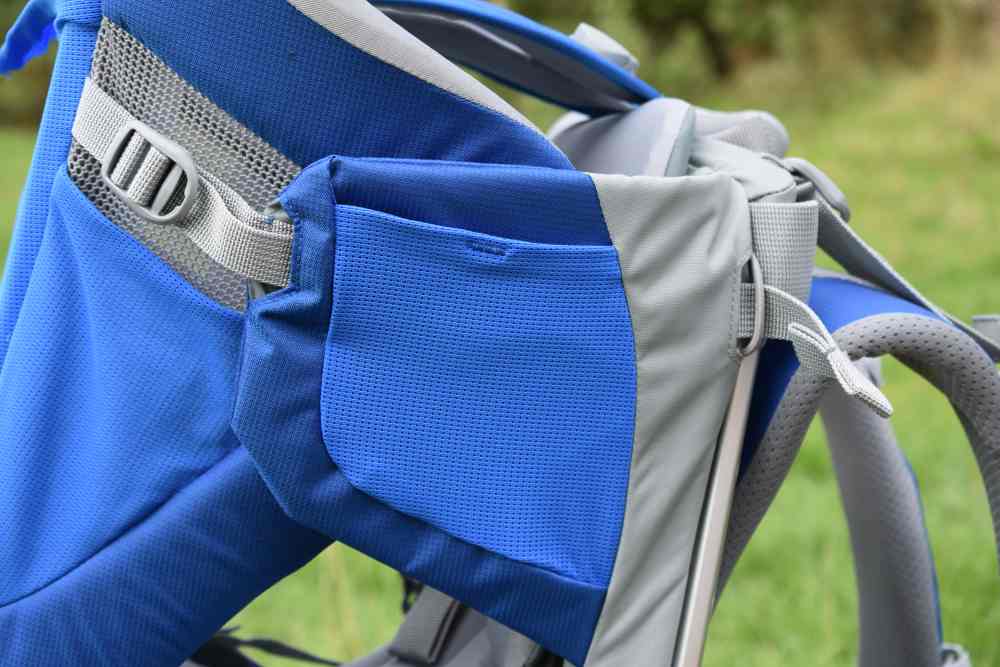 With a heavy one year old and associated supplies loaded up you wonder how any pack could possibly cope with the load, but with a few choice tweaks the Sapling Elite is good to go. The aluminium frame transfers the (not inconsiderable) weight down to your hips and the pack doesn't float around too much, even with a live load!
So the pack carries well, and Tom is comfortable and happy sitting in it, but that's not where the story ends for the Sapling Elite. £235 should get you more than just a basic child carrier and Thule certainly don't disappoint in this area.
We weren't expecting to be able to carry a child and a whole days provisions for a family of four in the Sapling Elite, but we asked and Thule delivered. Far from being an afterthought they've put some serious work into this aspect of the carrier.
To start with you have the two hipbelt pockets which are both easily accessed and cavernous in size, making them useful for storing quick access items like toddlers drinks and snacks as well as wipes and sunscreen in.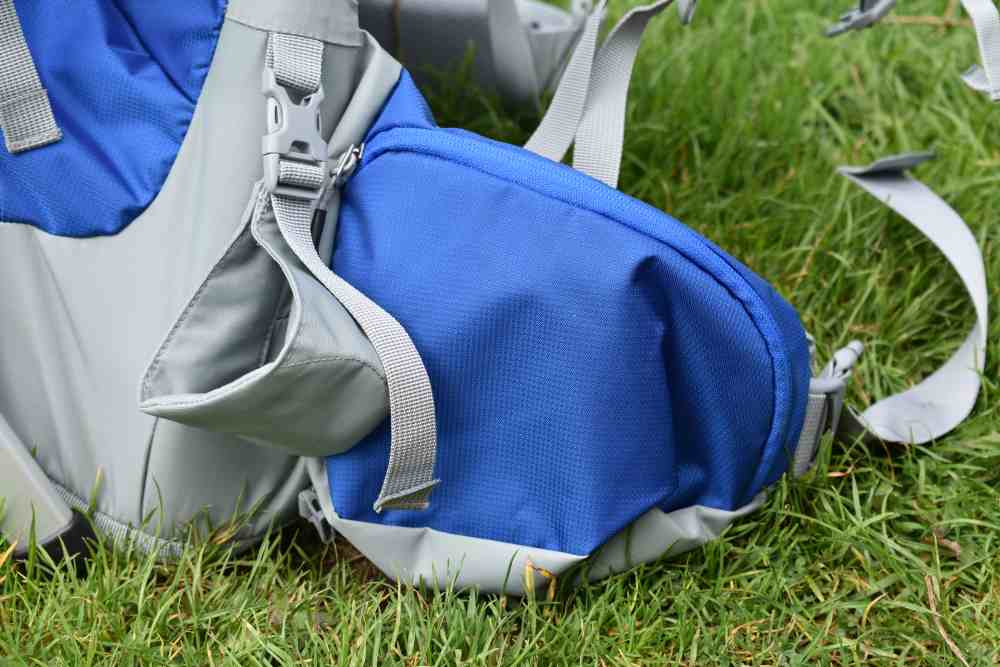 At the bottom of the carrier is a large zipped compartment, probably around the size of a 25l pack. This is a good shape and has a large opening so is capable of swallowing plenty of gear. One of the neatest touches though is the detachable daypack which sits on the back of the carrier. This clips on with four discreet buckles and adds another 18l or so of storage. It's a decent little pack in its own right, we found it great for holidays as it meant we didn't have to take another pack or changebag with us in our already bulging luggage.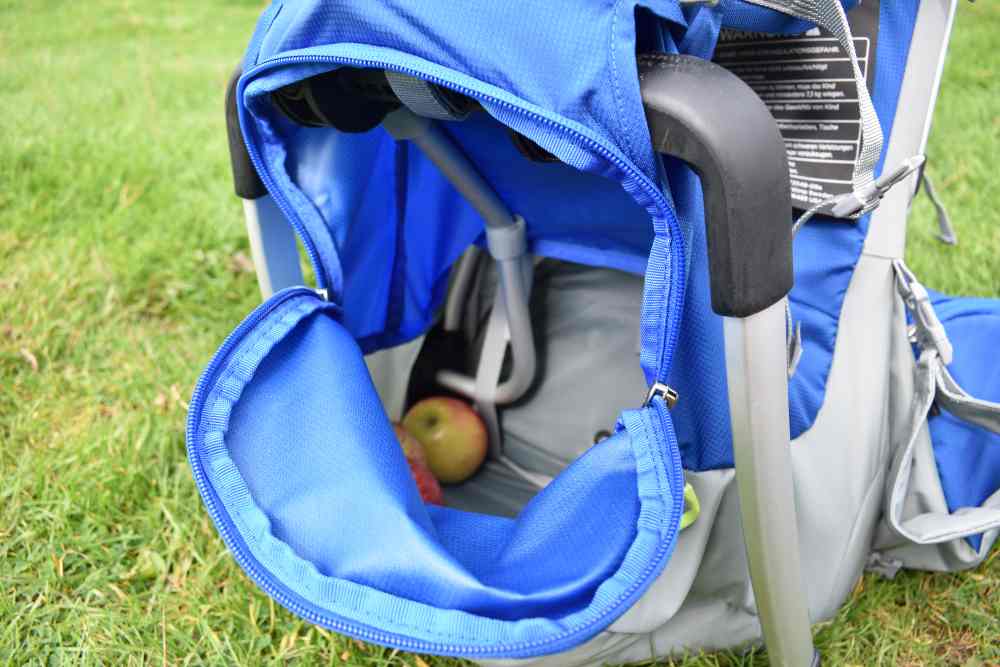 Thule have adorned pretty much every other bit of available space on the carrier with stretch mesh pockets of varying shapes and sizes so there are plenty of options for your toddelrs to stash their raisens and breadsticks in only for you to find them festering away weeks later. In fact there's so much storage space on the Sapling Elite that with it fully loaded we struggled to hoist it onto our backs, although the big lifting strap at the front helped with this.
So the practicality of the Sapling Elite is immense but it's the little extra touches that made us truly fall in love with it.
In blistering sunshine it's easy to worry about your kids getting sunburnt, when you're out for a long hike in an exposed area this can become a real problem. That's why Thule have cleverly stashed a sunshade in the back of the carrier. It's easy to miss but pull back the velcro behind the child's headrest, pull up on the hard piece of wire inside and out pops a sunshade, which also handily adds an element of rain protection. This secures down in front of the child with toggle clips and is height adjustable to suit.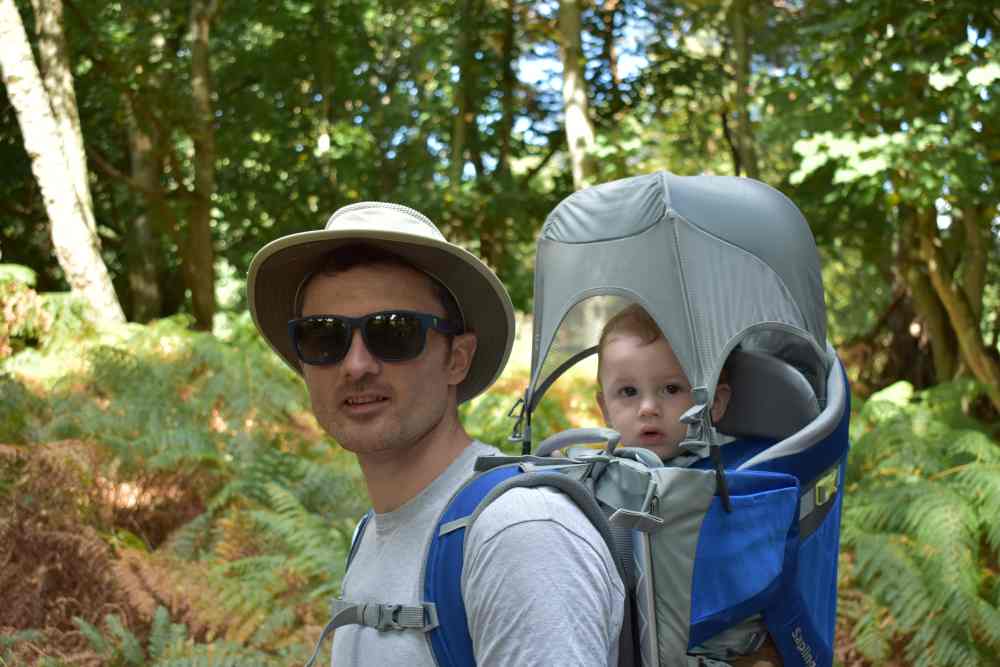 Putting the carrier down on the ground to riffle in the storage compartments is a balancing act at best. We considered this to be the only downside of the Sapling Elite, that is until we discovered the aluminium fold out stand which, when deployed balances the pack on the ground quite nicely indeed, so you can rifle at your leisure.
Our next little discovery was the mirror stashed in the hip belt pocket, any worries about your kid? Want to check if they've fallen asleep? Of course, you're going to need a mirror to do it with and we're going to make a cute little pocket in the hipbelt to stash it in.
The Sapling Elite is the pack that just keeps on giving, when you think you've finally found all the neat little touches that make you go 'oooh' and 'aaah' you come across another. This is a child carrier that's clearly been designed by people that love the outdoors but love their kids just as much and want them to be able to experience it's sublime beauty for themselves.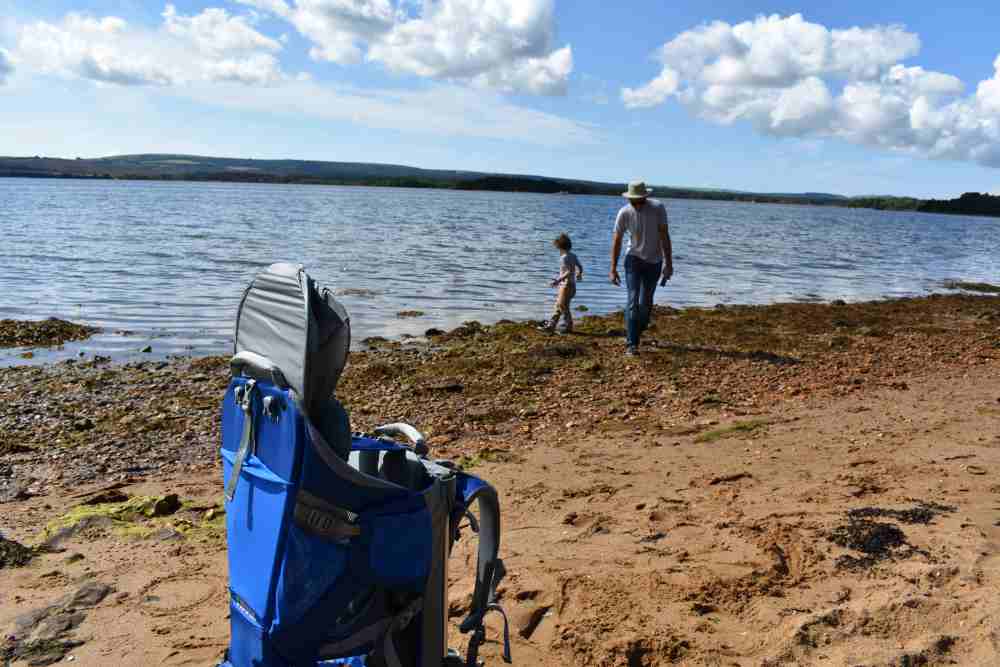 £235 may seem like a lot of money, but considering the excellent build quality, range of useful features and overall comfort for both dad/mum and son we think it's well worth the investment.