Having spent years camping with airbeds and suffering with punctures and leaks and waking up freezing in the middle of the night, we decided this camping season was time for change. The Outwell Dreamcatcher did not disappoint. With wave shaped foam, double valves for inflation and an anti-slip base - this mat is built for comfort and style.
The mat comes rolled up with Velcro straps and a carry bag. It was easy enough to carry to camp, and once there it was just a case of unpacking, removing the straps and opening both the valves. As it was the first time we had used it the mat needed a bit of help to fully inflate - but this was very simple and just took a few gentle blows in each valve (making sure the other valve is closed). So much quicker and easier than an airbed. So far so good!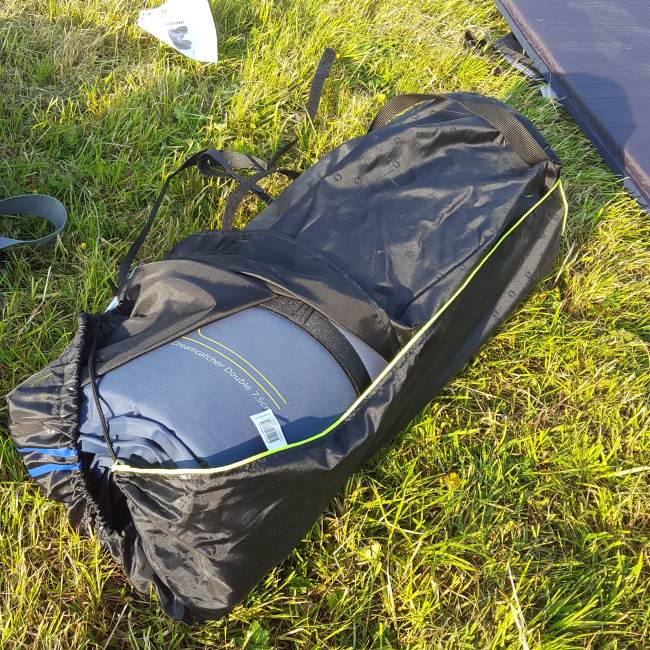 Once inflated we moved the mat in to the tent, set up the bedding and left it for two days (we were lucky enough to set up camp before the festival started - a godsend when you have a busy toddler to contend with!) When it was finally time for bed on our first night there - we couldn't believe how firm the bed was! If you're used to annoying deflating airbeds, then this mat is definitely for you. We actually had to let a little air out to get comfortable! Once the mat was at the optimum firmness we went on to have such a comfortable night's sleep. The wave shaped foam was a delight to sleep on, and the mat stayed exactly this way without losing any air for three whole nights. Brilliant! It kept us really warm and comfortable - and the usually wakeful toddler slept through all night, every night. (We think the mat must be magic...)
The only niggle really came on the last day. We were trying to pack up fairly quickly as we were racing against a toddler nap - and deflating didn't come as easily as we had hoped. We followed instructions and opened the valves to 'deflate' - left the mat a while - then proceeded to kneel and roll to squeeze out the air. We deflated it enough to just about fit in the bag but couldn't get it back to how it was before inflation. We had the car at the camp so were able to just throw it in, but this could have made things difficult if we had wanted to carry the mat any distance. Of course if you had more time you could open the valves to the 'deflate' setting a good while before departing camp and spend more time rolling out the air.
Overall this mat is a fantastic camping asset and a huge step up from our relatively high end airbeds. As long as you spend a bit of time at the end squeezing out the air then you should have no problems with carrying it at the start and end of your trip. It's so easy to set up and stays comfortable with no loss of air. The wave shaped foam and flocked surface really add to the comfort of this mat, and compared to similar spec mats it's great value too.