For a reasonably sized family tent, the Air Seconds 4.1 is an absolute breeze to pitch. The four corners of the groundsheet are pegged before inflating the three airbeams to 7psi. At this stage you already have the structure of the tent and all that's left to do is peg out and string out your guy lines, which is as simple and intuitive as it sounds. An extendable aluminium support slides into two pockets internally to strengthen the ceiling, unlike Vango's internal webbing straps this doesn't reduce head height which is a bonus. A family tent this simple is all about convenience and ease, so the Air Seconds 4.1 should be quick to pitch, and with all this done in less than 20 minutes we think it is. It's also very easy to handle when in it's carry bag and has a small pack size, so family camping holidays might only necessitate a hatchback rather than an estate car with roof box.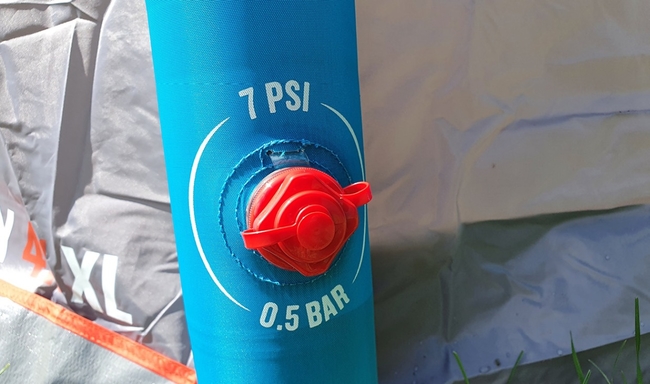 Once pitched the tent is split into two main areas, the living space and bedroom. Unlike a lot of other family tents the bedroom does not have a divider, which is not ideal if you're looking for an element of privacy. The width per person is generous though at 70cm and the length in the bedroom is sufficient for luxury camping mats like the 200cm long Zempire Megamat double we recently used. With this set up there's loads of space to move around and store stuff but with four people inside it would be sleeping room only.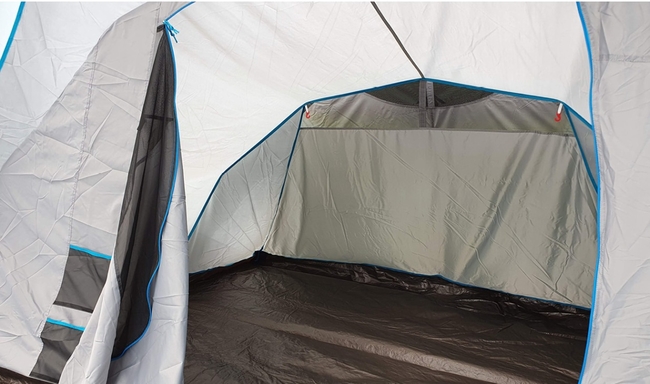 A large vent at the back of the tent flows air through the bedroom and into the living area through a partial mesh door. It would have been nice to close the mesh off with solid material, but the design does not allow this, at least it promotes good airflow. The living area is essentially all ventilated by virtue of the bathtub floor which is not sewn in, allowing wind to whip up under the flysheet and similarly heat and condensation to escape from the inside.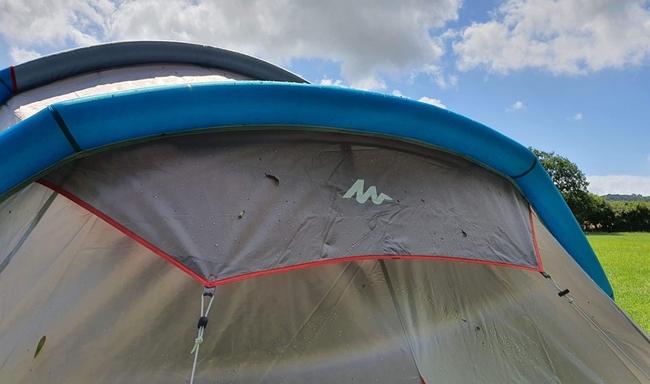 Head room in the bedroom is limited due to the sloping nature of the back of the tent, but at 6ft 2" I only needed to bend my back slightly when moving around, rather than having to fully crouch. There are two storage pockets each side of the sleeping area and a few hanging hooks for lights, making it a perfectly comfortable set up. The tent material is very light which is great during the daytime, when the inner space feels airy, but those bright mornings mean that unless you're a heavy sleeper wearing an eye mask is essential if you don't want to be woken up with the dawn chorus.
The living space is a great shape and feels spacious for a tent with such a small footprint. It isn't the best if you like to spend a lot of time in the tent with your family, for that you need a much bigger tent, but it is perfectly serviceable as an area to set up a few chairs and store some clothes.
As a space it feels very light and airy, partly due to the material and also because of the large windows which let in plenty of light. The front door spans the width of the tent and can be fully rolled back or strung out to create an outdoor shelter from the sun. The door slopes from top to bottom so If you're not careful you can drop any accumulated rain off it into the inner of the tent so it's worth taking a few old towels to mop up if you're expecting wet weather when you go camping.
The Air Seconds 4.1 feels reasonably well built but you can definitely tell the difference in quality between this and a much more expensive Vango or Outwell. Whether this affects long term durability remains to be seen, but we think it will be able to stand the test of time for long enough to reap the benefits of that much lower price tag. It's not the best 4-man family tent out there, but it might just be the best value.