Robens aren't known as well in the UK as they should be, but they make cracking tents, camping furniture and sleeping accessories. Other than some of their excellent backpacking tents the top picks for us are their polycotton options with gold diggin' names like 'Prospector' and 'Klondike' which make you feel every bit the pioneering adventurer and offer compelling alternatives to identikit family tents.
If you're looking for a family tent with a difference and you're short on storage or car space, then straight off the bat the Klondike is a good option. For such a supposedly old-fashioned tent the pleasingly old school polycotton package is small at 80 x 27 cm and weighs a shade under 17kg - not ultralight by any means but still reasonable for a '6 man'.
Inside the bag you get the single skin main body, a main central pole which holds the whole thing up and a further pole which frames the entrance door. Once the groundsheet is pegged out it's simply a case of assembling the sections of the main pole, popping the top and bottom rubber grommets on, which are used to protect the tent material, and hoisting the mast. The entrance door is framed by a shock corded metal pole which slides into two locaters either side, leaving a good-sized entrance both in width and height. Guy lines pegged you now have a fully pitched bell tent, and it's all done in around 10-20 minutes.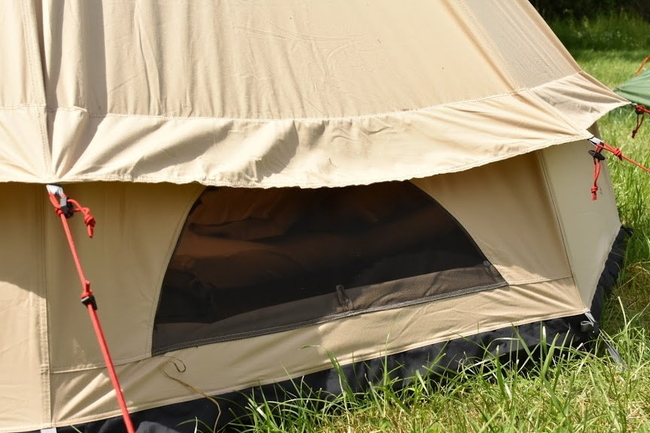 Outside, the Klondike fills a surprisingly small footprint and cuts a refreshingly natural look in the landscape against a sea of brightly coloured behemoth family tents, which only seem to get bigger every year. Despite this, when you first walk into the Klondike you're immediately struck by a feeling of airiness and space - to coin a phrase - it's Tardis like. It lacks that sickly plasticky smell that plagues a lot of new tents and just feels better - somehow healthier and more natural inside. The airy feeling is helped by excellent lower level zipped mesh vents which double up as port holes for checking out the weather or spying on the rest of the campsite from bed. Additional ventilation comes from the apex vent at the peak which is operated by two internal lines. These are a bit tough to pull on, but in previous versions the apex vent had a habit of rising of its own accord in the wind, making a bit of elbow grease a reasonable trade-off for weather protection.
A very decent height at the peak of 2.7m allows standing room right towards the edges and a cathedral like feel to the central area. The external guyline arrangement gives a good 60cm of vertical height at the base before the material tapers in, this makes an otherwise useless area perfect for storage. Being a geodesic shape, the internal space is divided up into segments, you can easily fit a double self-inflating mat one side of the central pole and a further two beds running adjacent. This leaves the entrance area clear and gives plenty of room for lounging around, but with kids in tow you'd probably want a bit of covered outdoor space, and for this a simple tarp setup outside the front door is an ideal and very compact option.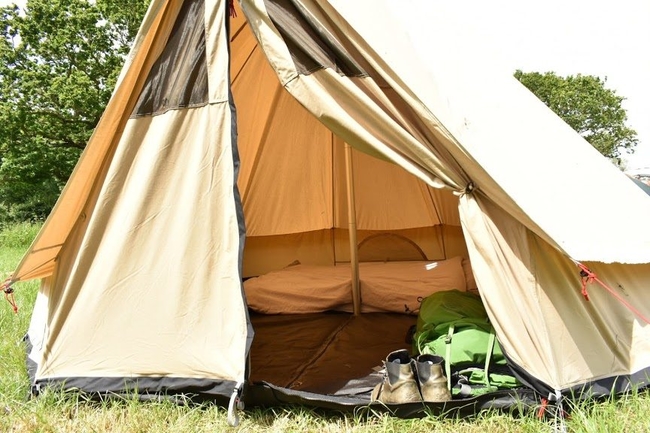 So far so refreshing, but to add a further blow to conventional family camping the Klondike has a hygge inducing trick up its sleeve - compatibility with a wood burning stove. For safety reasons the groundsheet zips back to the central pole allowing bare ground to be exposed upon which to safely place a stove, the chimney then evacuates all the smoke out of the top of the tent - simple but effective.
All in all, the Klondike has opened our eyes to a different way of camping, one which feels much closer to nature than other modern family tents. It's the perfect addition to any avid campers' armoury and although it's great for the family it's also a fantastic tent for solo, couples and groups of friends. The price is very reasonable when stacked up against the competition, a stove will add another £250 on top but it's well worth it.