Scarpa's Rush TRK GTX walking boots are built to withstand regular walks on rugged terrain but they don't fall into the trap of other cumbersome clogs. This is because Scarpa use premium materials and years of footwear-making know-how in order to craft lightweight walking boots that offer stability, support and an overall lightweight and nimble feel. 
With the focus of the whole Rush range being mountain performance, the Scarpa Rush TRK GTX boots are set to appeal to demanding hikers with enough passion for the pursuit to turn a blind eye to premium pricing. 
Scarpa Rush TRK GTX Review: TL/DR Verdict Summary
Competing with the likes of the Salomon X Ultra 4, the Salewa Mountain Trainer 2 Mid, and La Sportiva's TX4 Mid, the Scarpa Rush TRK GTX boots offer stability, all-day comfort, and an impressively lightweight feel. This makes for a versatile pair of walking boots, adept at tackling rugged terrain but also comfortable on gentler walks. 
Although these boots are ostensibly summer-focused they can also be put to use in the winter months thanks to premium leather and a waterproof Gore-Tex liner.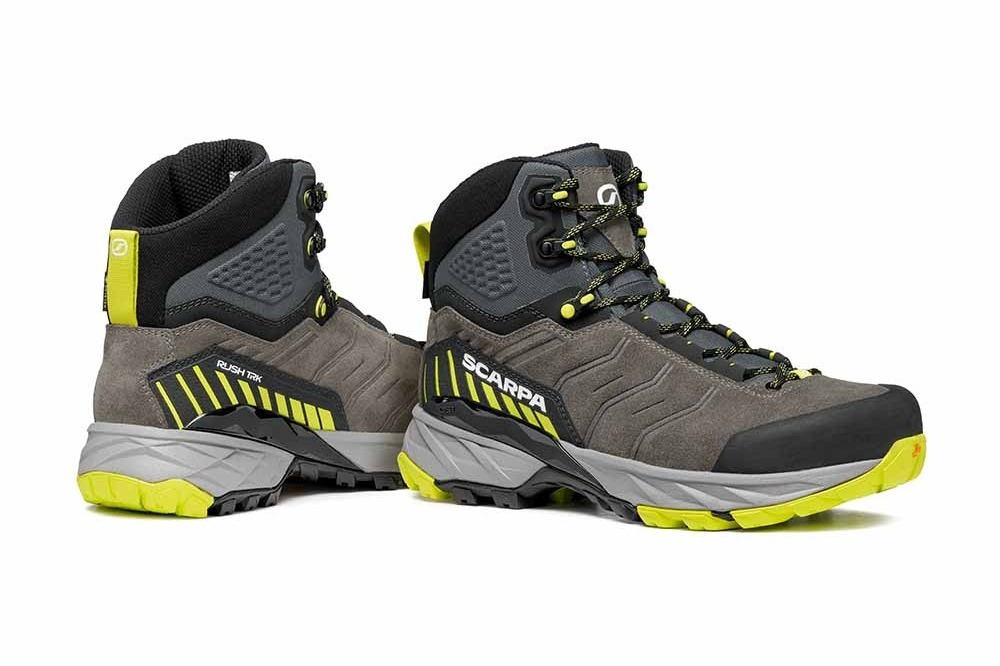 Scarpa Rush TRK GTX Review: Durability and Long-term Reliability
Scarpa are known for excellent build quality and this shines through in the Rush TRK boots. The upper is 1.6mm - 1.8mm leather and a large toe bumper protects the toe area from scrapes. Everything is exquisitely crafted, from the stitching to the lacing eyelets, and despite looking sporty and feeling lightweight, the Scarpa Rush TRK GTX boots have a bombproof feel, giving you the confidence you need on tough ascents and long treks. 
This reliability is bolstered by an Extended Comfort Gore-Tex lining, a waterproof but highly breathable Gore-Tex for use on sweaty summer walks, and a durable but high-grip Presa sole.
If you put the miles in and manage to wear out the soles, the Rush TRK boots can be re-soled, which is most welcome in today's single-use throwaway culture. The uppers are excellent quality, so we feel that the Rush TRK could be re-soled a couple of times before finally giving up the ghost.
Scarpa Rush TRK GTX Review: Performance and Comfort Outdoors 
Although it may be a surprise to find out how stiff these boots feel they soon break in to reveal a compliant upper that moulds to the foot, still supports across critical areas like the ankle, and conforms where needed like in the flex zone between the forefoot and ankle. This kind of foot shaping and hold only comes from experienced, premium walking boot manufacturers and usually at a price, but we rarely feel it isn't worth the investment. 
Internally, the Scarpa Rush TRK GTX cushions and supports, with a wonderfully supple piece of memory foam cradling the ankle. This not only increases comfort but also holds the heel firmly in place, which helps reduce the risk of developing blisters over the course of a long walk. 
Fit-wise, Scarpa haven't strayed too far from their sporty Italian heritage, with most of their boots running fairly narrow. We were pleasantly surprised by the amount of wiggle room up front though, which allows for your toes to splay naturally rather than being unduly restrictive.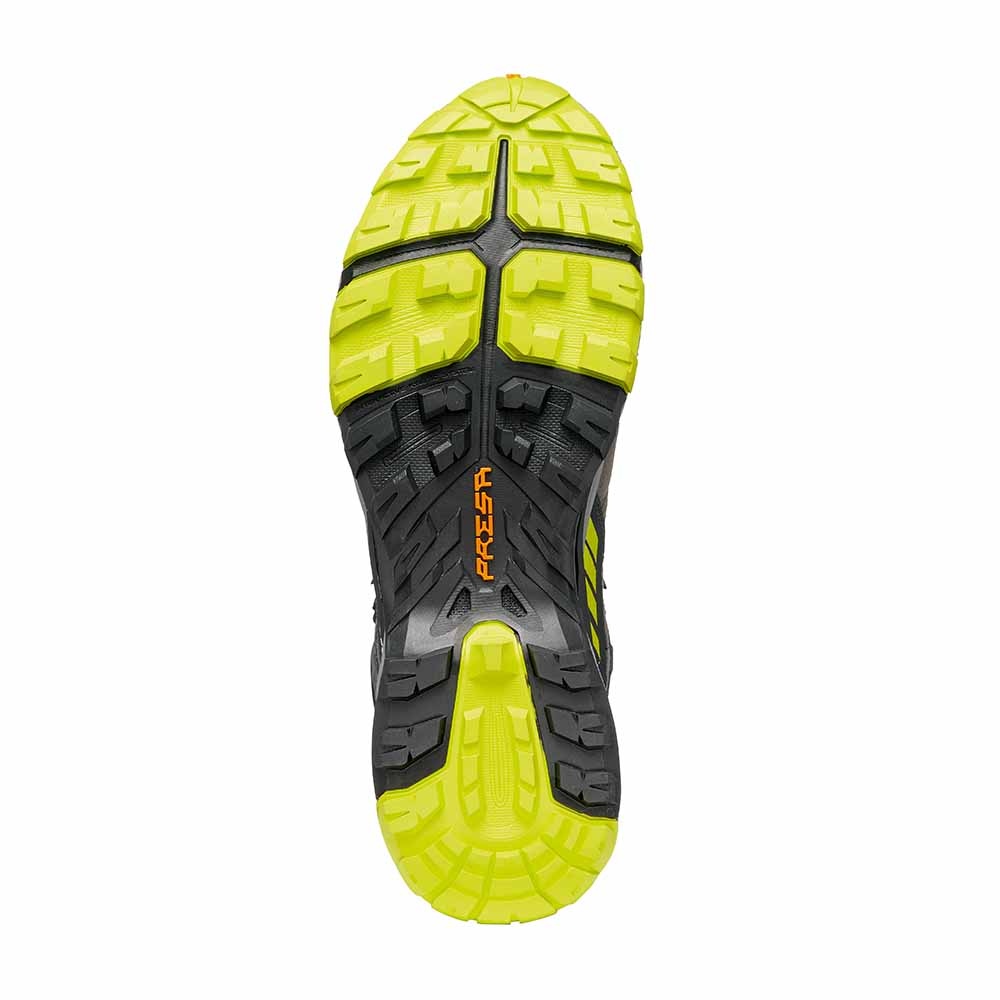 Walking boot manufacturers build targeted cushioning into their boots in the form of denser areas of foam within the midsole. Some go further than others in pursuit of comfort, and Scarpa have even coined a term for their product, calling it the IKS, or Interactive Kinetic System. These 5 shock-absorbing domes are designed to target high-impact areas of the foot and support the body in all the right ways during movement in the mountains. In use, we found the Rush TRK boots to offer good cushioning underfoot, with only a touch of trail feel. This makes them ideal for particularly rocky walks, where foot fatigue can come from repetitive pounding from below.
So comfort is great, and stability is fantastic, but what about traction? In this regard, the Presa outsole does a cracking job on a variety of surfaces. The compound is designed to be durable, and that means a tougher rubber that won't prematurely break down when you slog over abrasive rocks regularly. This harder rubber compound inevitably results in less 'stickiness' on slick surfaces like rocks and tree roots, and although that is the case with the Presa outsole on the Rush TRK boots, Scarpa have done a decent job of minimising this effect. The result is a balance between durability and performance, with the boots holding firm on all but the greasiest rocks.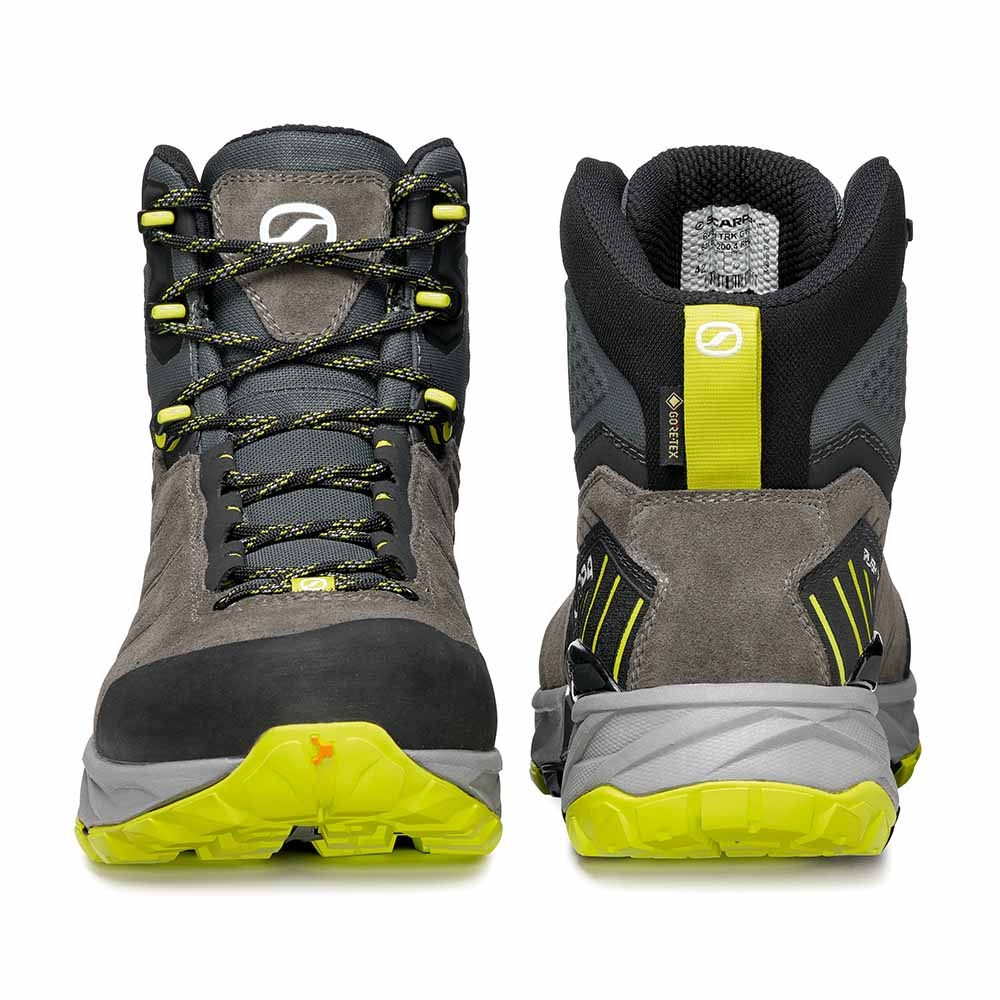 Scarpa Rush TRK GTX Review: Conclusion
Scarpa have hit the nail on the proverbial head with the Rush TRK boots, managing to combine durability and stability with comfort. Although on the stiffer end of lightweight walking boots, the Rush Trail still falls squarely into that fast and light, hard-charging category. 
In our eyes, they compare very favourably with the likes of Salewa's Mountain Trainer and the La Sportiva TX4 Mid. These are all boots designed for heading into the mountains, rather than ambling along lowland footpaths but they don't weigh you down in the process. 
So, if you're looking for durable but high-performing walking boots for the long haul and your preferred walking for activities involve hut-to-hut hikes in the Alps, climbing Ben Nevis, or fast and light wild camping trips in Scotland, then you can't go far wrong with the Rush TRK boots.

Buy Scarpa Rush GTX Walking Boots: £164.99 at Amazon.co.uk
READ NEXT: Best Lightweight Walking Boots