With a few tweaks for comfort and load-carrying, any bike can be turned to two-wheel holidaying. But, are you sitting comfortably?
Saddle and padded shorts
For spending long hours in the saddle, comfort is everything, so look after your contact points and position – namely your hands, feet and posterior! For the latter, invest in a good pair of padded cycling shorts. If you're not keen on the lycra look, go for baggy mountain bike shorts with padded liners – or wear baggies over Lycra bib shorts or three-quarters (knee-length) for warmth, support and all-important sit bone padding. Prevention is easier than cure for saddle sores, so if you're accustomed to long days in the saddle, consider using chamoix cream to prevent rubbing.
Handlebars
A change being as good as a rest, having a variety of hand positions is vital for riding all day in comfort. This is why traditional touring bikes have curly drop bars. Moving your hands to the 'drops' (the lower section of the bars) also allows you to subtly change your whole upper body position and weight distribution, thus relieving pressure points. They help you get lower riding into headwinds too.
Adding padded bar tape or replacing your handlebars with ergonomically shaped ones, or adding ergonomic bar ends to straight mountainbike handlebars if that is what your bike is fitted with, will help eliminate potentially painful pressure points on your hands too.
Pedals and cycling shoes
All the force for your forward motion has to go through your feet to the pedals, stroke by stroke, so don't ignore this important contact point. Comfortable, stiff-soled cycling specific shoes will hugely improve pedalling efficiency and help you tire less quickly. If you want to go the extra mile – literally – in comfort and efficiency, then consider confusingly named 'clipless' pedals, which use a cleat on the sole of your shoes to clip in and out of double-sided pedals. The recessed cleat means that you can still walk comfortably enough off the bike.
Which tyres?
One of the easiest ways to add some extra comfort to your bike is to fit fatter tyres. So-called 'fat bikes' with their ballooning tyres take this to an extreme but even going up a few millimetres in tyre circumference on your road bike will make a world of difference to big-mile comfort, floating you over rough roads.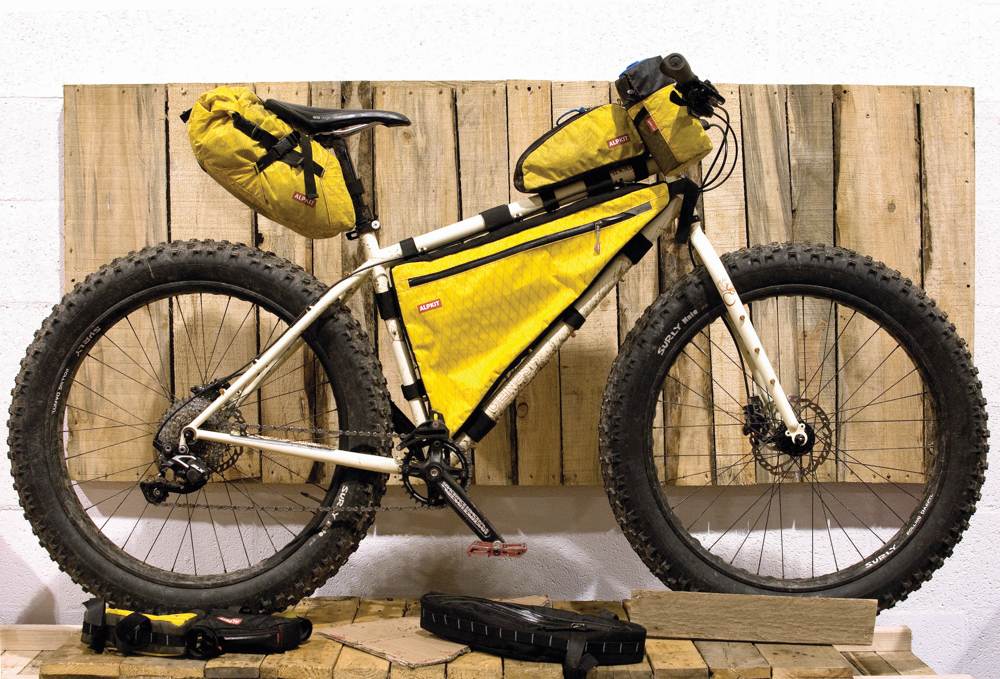 Baggage for cycle touring
As a general rule, carry all your kit on the bike, not your back. Carrying a back pack is okay for short rides but for day-in-day-out riding they can be tiring, sweaty and increase saddle discomfort by putting more weight on your behind!
Fit two bottle cages – if you're riding somewhere where water is easily had from taps, you can fill the second bottle with tools.
To carry more, and as a quick-and-easy solution for weekend tours, or when you don't have fixing points for racks, try a clip-on seatpost rack like Topeak's QR Beam Rack, or a saddle bag such as those from carradice.co.uk plus a bar bag to fix in front of your 'bars.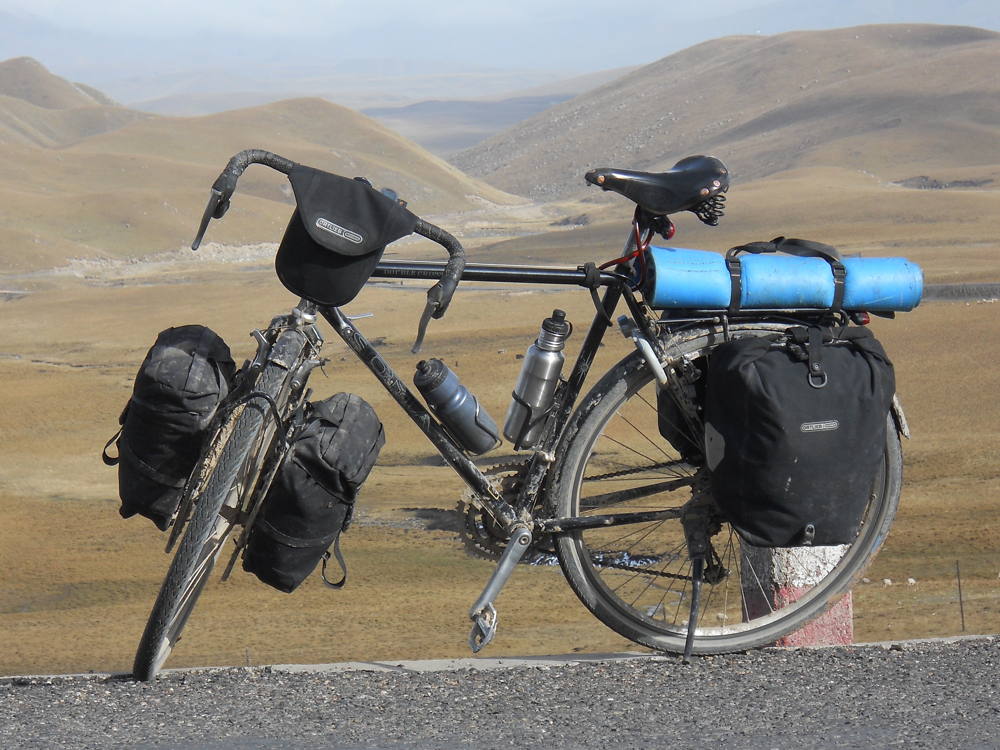 Hard-tail mountain bikes with no rear suspension can be fitted with rear racks for carrying panniers and rack-top bags. For fully-loaded expedition touring, you'll need the extra capacity of front low-loader panniers, which attach to the front forks.
How to pack for a cycle tour
In the interest of spreading weight front and rear and keeping a low centre of gravity for better handling, pack the heaviest kit at the bottom of the front low-loader panniers. Stash the stuff you need daily at the top of your packs, such as camera and stove. Fill voids for stability and roll not fold clothes to reduce creases!
Bikes for cycle touring
Any working bike can 'tour' but these are the four most popular types…
Expedition touring bikes
Usually made from tough, hard-to-break and easy-to-fix steel, these bikes are built to ride around the world in comfort fully loaded with bags and panniers.
Traditional touring bikes
Built for cruising tarmac roads such as you'd find in Europe or North America, these look like old-fashioned road bikes but with fixing points for mudguards and racks. Perfect for light touring such as UK hostelling weekends.
Mountain bikes
If your intended tour is likely to be mostly on dirt or gravel roads, then the solid build, low gearing, upright riding position and fatter tyres of a mountain bike make a good option – especially if you already own one which can be easily converted.
Fat bikes
For off-road trails including mud, snow or sand, then the voluminous, low pressure tyres of a 'fat bike' will keep your adventure rolling where other bikes need pushing. Unlike a full-suspension MTB, this will keep frame geometry fixed, so you can strap on frame bags.
5 top UK bike routes…
LEJOG
This classic long-distance bike tour is a tough but incredible way to see Britain. You'll need at least 10 days to do it, even by the most direct main roads. Better to treat yourself to a few more days off and take the most scenic routes. This will take at least two weeks but it'll be worth it.
C2C
If you haven't got time to do an End-to-End then try the famous 147 mile C2C Coast-to-Coast route across the north of England, and see the stunning scenery of the northern Lakes, the Northern Pennines, and then the Durham Dales before you dip your tyres in the North Sea.
North Sea C & C
Standing for Coast and Castles, this 159 mile ride from Newcastle to Edinburgh, does what it says on the tin The North Sea route is littered with ancient settlements, abbeys, watch towers, and castles as it passes through Northumberland and the Scottish Borders.
Wales' Celtic Trail
From Swansea to Fishguard, this is the hillier half of a route that links Chepstow on the Bristol Channel to Wales' west coast.
143 miles long with many family sections, this route has plenty of coastal gems and historic sites.
West Country Way
Taking in some of the best scenery of the south west, this 252-mile route from Padstow to Bristol and Bath includes the natural treasures of Bodmin Moor, Exmoor and more, and will take you at least eight good days to ride – possibly more if you over-indulge in the area's fine public houses on the way.