Why you might want an adventure bike
If you've ever dreamed of taking off into the blue yonder, with only the true essentials tied to your bike and an open road stretching off into the horizon for company, then an adventure bike is what you need. Although they may not win any speed records, they're usually tough and capable and lack some of the fickle fragility of road bikes. Once that open road ends and the rough stuff begins a good adventure bike will be capable of rolling on into yonder thanks to durable, field repairable components, luggage mounts and wider tyres, overall making them an essential ingredient for cycling adventure.


Where to ride an adventure bike
Adventure bikes are essentially road bikes with fatter tyres and slacker, more comfortable geometry making them more capable off the tarmac strip. Gravel roads are their meat and two veg, with 40mm tyres soaking up small lumps and bumps on the way, but they're equally at home munching through tarmac miles with little speed given away to pure road bikes. Trickier singletrack and mountain trails demand a certain level of skill due to narrow bars and relatively small tyres when compared to thoroughbred mountain bikes though. 



What to look for when buying an adventure bike
Frames
When choosing an adventure, or gravel bike, we recommend steel frames for a number of reasons. A good steel frame will have a certain amount of compliance, or spring, to reduce trail buzz, making it fractionally more comfortable than alternatives over long periods. It is also easily repairable with standard welding equipment - handy for back of beyond emergencies. Of course plenty of attachment points for racks, mudguards and bottles are essential for carrying gear.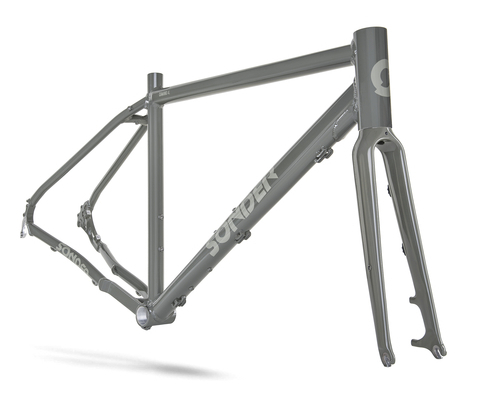 Brakes
Apart from being infinitely more efficient and less demanding of maintenance than rim brakes, disc brakes allow for more frame clearance and consequently wider tyre options, should your adventure stray over rougher terrain. If you're travelling into less populated areas it's wise to keep the technology to a minimum too; choosing cable pull calipers instead of hydraulic means broken cables can be replaced far more readily than a proprietary hydraulic hose connector when you're stuck in a remote outpost.


Gears
As with everything on an adventure bike, simplicity is king. The less to go wrong, the less will go wrong, and this applies to gearing too. While you do want to be able to winch up hills with all your gear loaded, could you get away with a single ring setup, doing away with a whole shifter/cable and front mech? Or could you even go single-speed, the ultimate in low maintenance drive train? Your choice.


Tyres
Although slower on the road, the wider and tougher the tyre you can fit into your frame the better for remote adventuring. Wider tyres give more cushioning, more grip and ultimately more comfort and open up the possibilities of detouring off the metalled surface to up the adventure quotient. If you can find a model with puncture and snakebite protection all the better as it ultimately results in less time spent wrestling with tyres by the roadside.


Essential kit for your adventure bike 
GPS
Head off-road and a good GPS can make your ride so much easier as well as adding a host of cycling friendly features. Armed with extensive cycle friendly mapping, a 24 hour battery life, USB charging, group tracking and even incident detection using accelerometers to detect accidents before alerting your nominated emergency contact, the Garmin Edge Explore 820 GPS is perfect for adventure. Make sure you check that the preloaded maps cover your planned destination before you buy.
Recommended | Garmin Edge Explore 820 | £299


Luggage 
People were strapping stuff to their bikes by any means possible and heading off in to the blue yonder way before bikepacking became a thing but the dedicated kit available now is a whole lot better than gaffa tape and zip ties. Available as seat, tube and bar packs depending on your particular load and bike requirements Ortlieb's bikepacking set provides 35.5 litres of tough, waterproof packing volume - enough for multi-day adventures.
Recommended | Ortlieb Bikepacking Kit | from £85


Multi-tool
Any cycling adventure requires a backup of tools and spares for that just in case scenario and a multi-tool should be at the centre of it. Complete with most popular tools you'll need for field repairs, including an excellent chain breaker, the Lezyne V-10 covers just about every eventuality for modern groupsets and forms the backbone of your adventure toolkit. The side plates are machined aluminium and the tools themselves are hard chrome vanadium, so it  isn't afraid of hard work.
Recommended | Lezyne V-10 | £33
3 great adventure bikes
Sonder Camino Ti Rival1 Hydraulic | £1999
BEST FOR Fun gravel riding or more serious expedition packing.
At under £2000 for a fully built, light titanium bike the Camino Ti Rival1 Hydraulic is a bit of a steal. A closer look reveals a beautifully crafted carbon fork, quality 1x11 drivetrain and some fast 37C tyres coming as standard, all of which suggests a real trail whippet.
The frame can handle much larger tyres, and an option on ordering is 47C WTB Byways which would be superb for taking the bike onto more serious offroad - a step we would be more than confident in taking with this excellent frame and laid back geometry. 
A liberal sprinkling of rack and bottle cage mounts means it is not only a fun and fast commuter or day tripper, but it can also easily be pressed into more serious, multi-day use as an expedition mule. 
VERDICT: A great example of a do-it-all, fun bike that can seamlessly transform into expedition workhorse.
Genesis Vagabond
| £1099

BEST FOR Taking adventures further off the beaten track.

Genesis hilariously advertise this bike as the "the illegitimate lovechild of a road and mountain bike, a 'Frankenbike'" and while this is true, it does have some seriously relevant applications.

Those huge mountain bike tyres give confidence on any surface and, while they may be slower than a sleek 40C model for example, if you are taking this bike onto anything more technical they will be worth their weight in gold.

The frame has rack eyes, bottle mounts and even fork mounts for even more luggage, so it really is an off the shelf, offroad adventure machine, ready to load up and disappear.

Trailside repairable materials like the Cro-moly steel frame and mechanical brakes show Genesis have really thought this could be a round the world steed, and specced it out accordingly.

VERDICT: A tough all rounder that could handle any trail you throw at it.

 
Whyte Glencoe | £1299
BEST FOR Adventures that will be sticking to the tarmac.
Capitalising on the relaxed geometry and long wheelbase of gravel frames, the Whyte Glencoe is promoted as a road going machine rather than off. With 650b road plus tyres – i.e. with a semi-slick tread pattern but large volume 47mm profile - it is aimed at those who will be sticking to the roads, but not necessarily on the best surfaces all the time.
Control if the road or trail goes south is through an impressively wide 500mm drop bar setup, giving plenty of leverage and confidence when things get bumpy or greasy under foot, further enhanced by TRP HyRd mechanical/hydraulic braking.
The frame is the same as used on their all-out gravel models, so if you are keen to fatten up the tyres and take to the trails, that option is always there.
VERDICT: A terrific winter or expedition bike for rough roads with enough rack mounts for serious luggage capacity.