STANDING in bra, shorts and running shoes in the middle of Hyde Park in central London at shortly before midnight is not an experience I ever thought I'd have: certainly not surrounded by 40,000 other women all openly sporting their underwear – and some dripping with pink feathers, sequins and jewels too. Not to mention wearing cowboy hats or face paint, carrying banners, and indulging in a mass spot of warm-up aerobics and stretching.
Such, though, is the popularity and diversity of the modern charity run that perhaps I should have been more surprised I didn't tackle my first one until I was 41. And that although the event I joined – the Moonwalk – required dressing up in fancy underwear (all runners are encouraged to wear decorated bras to demonstrate their support of breast cancer charities, which is the occasion's raision d'etre) before power walking a full marathon around the streets of the capital, it was quite tame compared to many events.
This year alone, chariteers can jog around a course to music (Run to the Beat: a half-marathon serenaded by 17 musical acts en route), run through the Amazon jungle for 200km, sleeping in hammocks (Mencap's jungle marathon), cross the UK's southwest peninsula from the coast of Exmoor to the Exe estuary by foot, mountain bike or kayak (the Prince's Trust Capgemini Wild Challenge). Or tackle 355km across difficult Arctic terrain at the North Pole by sled (Across the Divide Extreme Dog Sledding).
It's a long way from the fun run's humble origins, when it started life as a way to add colour and generate public interest in raising money, to what today encompasses serious running events such as the London Marathon, down to a simple event for schoolchildren to raise money, collecting their sponsorship cash door-to-door from their neighbours.
These new-style sponsored runs are big entertainment. There are several thousand a year in the UK – Cancer Research UK's Race for Life alone organises 230 5km-long runs nationwide every year, and they are big business for charities. In the 13 years Flora has been sponsoring the London marathon, £422 million has been raised for charity. Last year's race alone raised £46.7 million for worthy causes. Race For Life is aiming to raise £60 million this year – about 15 per cent of the charity's total annual donations, and by the far the most substantial chunk.
And even though you might imagine enthusiasm for charities would be waning in light of the credit crunch, it seems fun runs are as popular as they ever were. Claire Fleming, PR officer for Race for Life, says that runners are signing up as normal. 'We're aiming for a record 680,000 runners this year and we're doing pretty well so far.'
Certainly, entrants are taking their passion for the events to new levels of wackiness. A recent forum on the Running Bug website (therunningbug.co.uk) saw devotees of the Marathon des Sables – a six-day endurance race across the Sahara desert in Morocco – discussing 'luxuries' for the run. Posters suggested packing a few pepperami sausages, a bucket and spade, and a golfer's sand wedge to chip your way around the 240km course.
Closer to home, London Marathon fans will no doubt recall from recent runs the chain gangs, Elvis impersonators, the medical student who dribbled a basketball from start to finish and the former Girl Guide from Bedfordshire who negotiated the course perched on stilts. Not to mention the team of Masai warriors – in full regalia. (But to suggest that these charity events are just about the madness or the money – the 'putting a bit back for charity while having a good time' cliché – is to miss the way they have evolved into social phenomena. For many of us, the fun run is now about so much more than the event.
In my own case, joining the Moonwalk was about friendship. I was part of a group of five women who had been close friends at university and were now all turning (or had turned) 40. Sarah, the lead organiser, who travelled from her home in Staffordshire for the event, explains why she talked/nagged us into doing it: 'Even though the years have raced by, I like to think we still have a strong core of friendship, I just wanted to do something in my fortieth year that was a challenge and to raise money for such a worthwhile cause.'
The event starts and finishes in Hyde Park, with participants setting off at midnight to embark on a round route through London.
Sarah recalls: 'Although it was exhausting – I particularly remember struggling in Battersea Park in the early hours of the morning – it was also without doubt the most fantastic and memorable experience.' For Penny, another one of the group, the best bit was 'standing at the beginning, counting down to the start – there was an overwhelming sense of excitement and anticipation, shared by so many people.
My own memories centre on how gruelling it was; I was woefully unfit, unlike the others. But being supported mentally and physically by my old friends (particularly at the 17 to 20 mile stage) really cemented our old bond. I've long forgotten how much money we raised or our finish time, but I can still hear us laughing again and again. For my gang it was turning 40 that needed a rite of passage. For twenty and thirty-somethings, a charity run or event can be a chance to re-live gap year freedom, now they are tied down to a proper job. Some even organise their own complicated charity adventure trips abroad; this group, who have picked up the nickname 'chads', plan their own event, from fundraising to route, gaining valuable life experince along the way.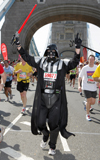 Others use charity events as a chance to socialise and meet people; television presenter Mariella Frostrup inspired many a 'Bridget Jones' when, at the age of 39, she went on a fundraising trek to Nepal and met the man who would become her husband – Jason McCue, a human rights lawyer, seven years her junior, in the group. Then there are those who are motivated by the need to get healthy. Chef Gordon Ramsay fits into this category. On the Flora Marathon website memory-joggers.co.uk – set up to celebrate the past 13 years of sponsorship (Virgin is taking over from 2010), he describes his motivation: 'When Tana was expecting our twins, I was tipping the scales at 17 stone – my father-in-law made a comment about me putting on weight in sympathy. It also hit home that the history of heart disease in my family needed to be considered, especially as
I had a growing family to support.
I needed my health.' Ramsay ran his tenth consecutive race last year and does other marathons around the world when he can. And for others, it is a chance to do something practical and positive in the memory of a friend or relation lost to a disease such as breast cancer. Race for Life runners fill in a pink 'back sign' that describes who they are running for –whether it is for a group or perhaps a much-missed mum. This is even more poignant at the local Relay for Life events organised by the charity. At these, local groups arrange a relay at a sports centre or track over 12-24 hours.
As night falls, relay participants gather to pay tribute to friends, family and other loved ones by placing around the track Candles of Hope – a bag, filled with sand and a candle, which is decorated, and dedicated to somebody lost to cancer or someone who has beaten the disease. It gives everyone a special opportunity to remember those who have died and to celebrate the lives of those who have survived the disease.
Says one participant:
'When you see the Candles of Hope stretching all the way around the track, you realise how many people cancer touches.'
Lastly, there are those who walk and run in aid of the charity that the event supports, and which relates directly to themselves. Many of the women on the Moonwalk are breast-cancer sufferers and survivors. They find it life-affirming and empowering to take part in such a public event. Former fashion stylist Nina Barough (now a CBE for her efforts) founded the walk at the 1996 New York marathon – eight months before she learned she had breast cancer herself. Since then, Nina's idea has spread around the world and raised £46 million for breast cancer charities.
Of course, as these events grow ever larger, some worry that the big charities dominate too heavily. Earlier this year, social entrepreneur Tim Campbell, the original winner of BBC1's The Apprentice, suggested that the number of runners' places in the London Marathon available to each charity should be limited.
Currently, charities purchase bonds which allow the holders to enter five runners in the race. But as the marathon and hence the bonds have become so popular, new charities find it impossible to secure any places. Campbell couldn't get any bonds for the charity he founded, the Bright Ideas Trust, which supports young Londoners who set up businesses.
'More than 700 charities benefit from the bond scheme, but there are another 500 on the waiting list and many thousands more that will never get the chance to have people running,' said Campbell, who would like to see big charities give up some of their bonds. 'I'm not criticizing large charities that make tens of thousands of pounds out of the London Marathon,' said Campbell, 'but many of them already have large reserves of money, so they could afford to take a year out or give up a few of their places to other deserving charities.'
Meanwhile there has been a slight backlash in the public mood against the seemingly endless demands to be sponsored. Daily Telegraph columnist Bryony Gordon struck a chord when she complained that she is 'inundated with emails that start: 'Hi guys, I know that these emails are REALLY annoying but I am running the Great Big 5km Race for charity and wondered if you would be kind enough to donate some money. It's for a great cause!!!''
'That it may be,' said Bryony, 'but it is 5km. That's not a great big race; it's a three-mile race. As I write this, there are people in the work gym above me doing 5km in their lunch breaks. Shall I hand them all a tenner to give to a charity of their choice?'
What isn't in question is that there are simply no limits to the charity fun run. You can run for as long as you want, like Dave Heeley, who's blind, who ran the London Marathon after spending a frantic week running six others around the world.Or, you can join in London's four-mile Sister Act Nun's Run (Sun 3 May) for Barnardo's, (Sun 3 May, £20 to enter, habit provided.) And, give or take the odd charity-fatigued donor, really, for fitness and funds, everyone is a winner.
Running Goals
When you're training for a charity run – even a short one – it is wise to set yourself targets:
Run non-stop - plan a target distance and then build up gradually to running it without a break
Twice a week – be consistent: go regularly, not lots last week, none this.
Make a mile – set yourself a distance to cover and do it
Complete a race – even a little one to get that winning feeling.
Go faster – practise speed as well as building stamina
Get sponsored – find a charity you want to support
Lose weight (if that's what you want!) – 1lb a week is fine
Keep going… even after the event. Running can become a life-long passion and a way to stay healthy
Enjoy yourself – look at your surroundings; run with friends – this is supposed to be fun
Be your best – think about how you run and aim to improve on lots of goal
Tips for beginners
Break those new shoes in even if does means they get dirty
Train. You can't rely on falling ill the day before to get you out at the last minute
Do pack a sports bra. The pretty bra you started the walk off in will chafe by Mile Four
Don't pack any extra rations. You'll forget to eat them, so they will weigh you down and make the experience even harder
Get someone to meet you. You'll want to celebrate surviving
Image Credits onEdition, shutterstock.com