Ten years ago, climbing was a man's world. These days there are new kids on the rock and they are likely to be female. A recent British Mountaineering Council study showed the number of female climbers has doubled over the past five years, a trend predicted by Louise Alexander when she set up Mountain Girl, a women-only climbing company based in the Chamonix valley in the French Alps.
Louise was hooked by the sport after spending a summer season in the Alps although she saw one downside:
'it was boring being the only girl in the hut'. While being surrounded by men is not something girls normally complain about, it isn't necessarily the best environment for women to develop their climbing ability, something Louise realized after attending a women-only climbing course.
'Not only was it fun to climb with other women but they gave each other incredible encouragement and support without being competitive.' And so Mountain Girl was born, bringing together a group of experienced female guides – 'who are both mentor and coach' – to introduce more women to the joys and exciting challenges of climbing.
But don't you need to be tough and fearless to climb? Louise doesn't think so, 'Climbing isn't about being hardcore or how hard you climb. It's about finding the beauty in the climb.' In fact Louise believes that women can benefit from having less brute force to use when they climb, 'they develop better technique instead. Rock climbing isn't just about being big and strong.' But how does a wannabe rock chick get started? We asked Louise for some tips. Her most important one? 'Stay safe, laugh a lot and have fun.'
Climbing tips
Starting out
• Join a local climbing wall and take a course to learn in safety
• Don't be put off by fear. Learn to separate the irrational 'I'm going to die' from the rational 'a rope and a partner I trust equals good protection'
• When you buy equipment, get a drop-back harness.
Continued...
---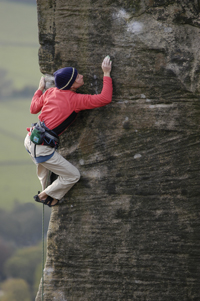 Beginners
• Build a repertoire of different styles and moves
• Learn to fall safely - like a cat - and you are less likely to get hurt
• Learn to belay (control a rope for another climber) well – a good belayer gets lots of invites to go climbing.
Intermediates

• Work on weaknesses to become a better overall climber
• Trust your instinct and listen to what your inner voice says to you
to work out which moves suit your body
• Work on mental stamina for leading climbs (where you set
the rope) . Keep calm and practise good breathing.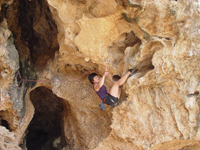 Advanced
• Train in the right way: boulder to develop more power and do circuit training to help the body deal with lactic acid build-up
• Get enough rest
• Stay motivated: setting good goals helps you climb and train better.
Mountain Girl runs courses on ice climbing, alpine rock climbing and mountaineering for all levels, year-round.