Now, I'm not saying that there's anything wrong with Glasgow, but visiting in-laws and drinking numerous cups of tea has limited appeal (especially by the time you get to your tenth annual visit in a row). So, this year I was determined that the annual Critcher exodus across the border was going to be more about bracing walks along the bonnie banks of Loch Lomond than gorging myself on deep-fried Mars bars and Irn-Bru. However, I'd forgotten about the fact that children – and my two sons in particular – refuse to put up with being bored and, unfortunately, Loch Lomond in the sleet of January is not only cold and wet, but in childspeak 'B-o-o-o-o-ring'. Even I could suddenly see the benefits of a 'nice cup of tea' as another squall of wintry damp cut through me.
So what to do? A quick hunt on the web brought me to the Xscape centre at Braehead (about five miles outside Glasgow city centre). It's got loads of things to do – snowslope, Kevin Keegan's Soccer Circus, rock climbing, mini-golf, bowling – and, even better, it's all indoors (sorry, but that continual sleet begins to get on your nerves).
The thing that caught my eye was the Skypark – a state-of-the-art, 60-metre-long aerial adventure course with swinging platforms, rope ladders, nets, a zip slide and other challenges. This was more like it, a chance for some father-and-son bonding with my eldest son Jack, who is eight (the minimum age for participating in the Skypark), and the opportunity for me to do something I'd always wanted to do – swing around in the air like Tarzan.
At the short safety briefing we were told: 'If you get into trouble, just sit back in your harness, and if it's serious a team member will come over to help.' Soon after, we were kitted out with harnesses before being led up to the start of the course. It's 15 metres up in the air, and the fact that it's concrete below you, rather than a gentle green meadow, seems to add a few metres more – I never felt this nervous climbing trees! That said, once we got going it was a breeze. Participants are attached to the ceiling on a permanent pulley by an instructor, so there's no need to clip on and clip off again as you make your way around the course. It does mean, though, that if you stop or slow down, you hold up the people behind you. The course kicks off with a strong push from the staff that takes you sailing across the heads of the onlookers below. A crash mat provides some respite before you're onto the climbing wall. It was at this stage that a small voice whispered in my ear: 'Dad, I'm scared.'
'Don't worry Jack, just stick with me.'
Continued...
---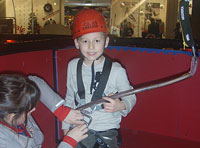 A minor panic attack on the climbing wall was all very well but, as we moved on, the added complication of a cargo net and hanging logs, combined with Jack's outstretched hand, meant I was going to have to let go of the wall and dangle from the harness in order to help Jack. Less than a metre's drop is a long way when you're 15 metres above the ground, but once the harness kicked in I felt completely safe. The circuit takes ten minutes to complete, and you can usually go round three or four times, although some people decided that once was enough (Jack among them).
There was also a Fan Drop, a fan-assisted jump 15 metres off a platform, designed to simulate free fall, similar to when you skydive. Put simply, you take a leap of faith by clipping on and jumping from the top of the course down to the ground – two large fans slow down your fall by increasing the air resistance, so that, in theory, you land on your feet – in my case, feet translates as backside. I've never skydived before, but as I fell there was a feeling of first plummeting and then slowing down – a strange sensation.
After his previous attack of nerves, I was expecting Jack to show some trepidation, but, in fact, he couldn't wait to jump. I followed him down to find a grinning child who turned to me and said: 'Come on Dad, let's do it again.' Oh no – I've created a monster!
In the know
There are three Xscape centres in the UK, located at Castleford in Leeds, Milton Keynes in Buckinghamshire and Braehead just outside Glasgow, see www.xscape.co.uk.
An hour's session in the Skypark including fan drops costs £12 per person if you book in advance online.