Get out into the countryside and escape from it all on a mountain bike. Ian Warby, from the national cyclists' organisation CTC, explains: 'Mountain biking is cycling off-road with a bike built to tackle tough, perhaps mountainous terrain. It can include anything from biking in the Welsh and Scottish mountains, riding over rocks and roots in woodlands, to cycling along a canal towpath or an urban commute to get you to and from work. Then there are the extreme elements such as downhilling.'
Downhill and Four Cross (4X) races are fast and furious competitions on a downhill course comprising various obstacles. For endurance tests, there are cross-country and marathon events, too. Races are held throughout the UK for all disciplines of mountain biking and for all abilities, whether you're a beginner and just want to ride for fun, or if you're a top athlete looking for some serious competition.
Getting started
You don't need to be super-fit to take up mountain biking, all you need is a basic level of fitness and bike control. Getting started is often simply a case of buying a bike – an entry-level 'hardtail' (no rear suspension) is ideal – and getting down to your local park. For a mini-adventure, buy a map and follow part of Britain's vast network of bridleways, a cyclist's legal pathway to exploring the countryside. There is an 11,000km National Cycle Network of traffic-free lanes and quiet roads – in fact, 75 per cent of Britons live within two miles of a route. Visit the website sustrans.org.uk to find your nearest path.
There are also mountain bike centres, often in forests, with way-marked trails – perfect if your map-reading skills aren't too clever. In these areas, you'll often find a bike centre where you can hire bikes or take a basic skills course. For example, at The Break Pad Shop near Glentrool's trails in East Dumfries and Gallaway, Scotland, you can hire children's bikes for £10 a day, mountain bikes for £12-£15 and full suspension bikes for downhill trails, plus knee and shin armour, for £33. The Break Pad also runs free Monday evening 'Trail Twister' courses where cyclists of all abilities can ride with a qualified mountain bike leader.
If you'd like to brush up on your bike control you can also enrol on a CTC training course. A half-day course, usually lasting three hours, costs around £30-£50. For weekend courses, which include accommodation and some meals, you will be looking at spending around £180-£300.
For under 18s, the British Cycling Federation has set up a national network of Go-Ride cycling clubs that organise games aimed at introducing young people to the various disciplines of cycling and to teach and test their skills (go-ride.org.uk).
Continued...
---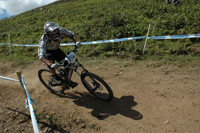 How to improve
If you get the bug, the best way to improve is to watch those more experienced and practise, which you can do by joining a club. There are 1,282 cycling clubs in the UK and 482 of them have a mountain biking section. Clubs often organise social nights, mid-week and weekend bike rides, and those with greater resources may arrange local or inter-club races. Club membership prices vary.
You don't need to join a club to compete, however. The British Cycling Federation lists races on its website, where you can enter online in advance or often simply turn up on the day. Races can cost from as little as a few quid to around £30. If you want to race competitively and collect race points to progress through the ranks, you'll need an annual licence, which you can buy along with a British Cycling membership that entitles you to a range of benefits.
Racing Tips
Most races are accessible to anyone: simply turn up, pay and ride. There is usually a 'fun' category open to anyone (from age 12 onwards). Under-18s are normally divided into Juveniles (12-14 years), Youths (15-16) and Juniors (17-18). Other categories include the Under-23s and Senior (up to 30 years). Masters (over-30s), Veteran (over 40s) and Grand Veterans (over-50s) are separated into groupings based on ability, where more serious first-timers can enter the Sport category, rather than the 'fun' race, and progress through Expert to Elite. The National Point Series' (NPS) cross-country, 4X and downhill races are generally for more serious competitors, says Richard Truman of the British Cycling Federation. 'Top athletes compete in the NPS, yet anyone can enter.'
Cross-country and marathon: Riders start together and follow a marked circuit through the countryside.
What you need: Comfortable, light clothing.  Full suspension bikes have become more popular, but a hardtail is preferred for some courses and conditions.
How to get involved: Short-course cross-country races such as Early Dawes in Walton Woods, Staffordshire are ideal. To compete, it's £10 for children, £15 for adults and £18 for elite riders (provelosupport.com). For an endurance test, the Merida MTB Marathon Series held in Builth Wells, Powys, is a good introduction (www.mtb-marathon.co.uk). It's a two-day event with free skills classes, a pasta party on the Saturday, followed by a 30km mini-marathon, or a 45km or 60 km bike ride on the Sunday. Entry prices range from £25-£30. Richard points out: 'Marathon events have a real festival atmosphere where you can compete with top athletes, your mates or just for a personal challenge.'
Downhilling: DH (downhill) riders are the ones who will visually blow you away with their stunts, speed and skill. Riders race individually against the clock, facing a succession of obstacles en route such as jumps, bumps and berms (cambered corners), often dropping between 300 and 600 metres in perhaps 2.5km of racing. Races last between two and five minutes. Hills are colour-coded like ski slopes – start with green, move up to blue; then progress to red, and eventually you'll be  tackling the blacks. The highlands of Scotland and Wales are particularly good for downhilling, however, you can find some centres in the south such as Bedgebury Forest, near Tunbridge Wells in Kent.
What you need: Full-face helmet and body armour are recommended. Designed to withstand heavy knocks and vibrations, DH bikes are strong, lightweight and highly-specialised, with front and rear suspension and heavily knobbled tyres.
How to get involved: Pearce Cycles organise days from 11pm until 4pm in three forestry areas in Shropshire, where complete novices from the age of 12 can get a taste for downhilling for £20 (pearcecycles.co.uk). Competitors will need to bring along a full-face helmet and their bike. Co-owner Lindsey Pearce says: 'You can use a cross-country mountain bike, but it'll take a hammering if you tackle the jumps, so an extra-strong downhill bike is better.'
Continued...
---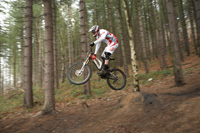 Four Cross (4X): Four people ride against each other, over a short, mainly downhill course, with a mixture of natural and man-made obstacles, lasting between 25 seconds and one minute. An event usually involves a series of knock-out rounds or 'motos', where riders compete three times to qualify for the quarters, semis and finals. Physical contact and crashes are frequent. It can be the best type of mountain-bike racing for spectators!
What you need: Protective clothing, such as helmet, gloves and body armour. Bikes tend to be hardtail, which makes them more responsive to pedalling.
How to get involved: Most competitions will have a section for novices. Chicksands Bike Park in Welwyn Garden City, Hertfordshire, runs 4X races for £21 (chicksandsbikepark.co.uk). It also organises practice days.
How to get going….
The original mountain biking mecca: Coed-y-Brenin, Wales
Coed-y-Brenin forest in Snowdonia National Park was the first location in the UK to provide purpose-built mountain biking trails in the late Nineties. Prior to development, the area received around 11,000 visitors annually. In 2007, there were 138,000, proving that, as Snowdonia mountain ranger Tony Griffiths says: 'Coed-y-Brenin is where you aim to be if you're a mountain biker. The trails are tight and technical, mostly red and black runs. We have added a route for families called the Afon, which runs past waterfalls on the Gain and Mawddach rivers. We're currently planning to introduce a more accessible blue run for less experienced riders.'
For women only
Get a Grip Mountain Biking, The Chilterns

Allan and Rachel Davey, who set up Get a Grip, provide skills courses and guided tours for novices and intermediate riders. The company also offers man-free courses in the Chilterns because, as Rachel says: 'The sport can be very intimidating to get into and some women are looking for a less competitive environment; others might want to get fit after having a baby.' Sessions are available during school hours, evenings or weekends.
For experts and champions
Fort William, West Highlands of Scotland
Following Coed-y-Brenin's initiatives, Scotland quickly caught on and now Fort William hosts the Mountain Bike World Cup. Although it offers an expert track with gondola lifts, anyone with moderate ability can give it a go. The 2.66 km course is testing, usually taking fast riders four to five minutes to cover the 525m vertical drop. If throwing yourself downhill isn't your thing, there is also a range of cross-country routes, where you might be 15 minutes from a café, but you'll feel as though you're in the middle of nowhere. Bike hire is available.

In the South: Bedgebury Forest, Kent
This centre stands out as the best in South east England because it boasts a 10km newly-surfaced cycle track for families seeking a gentle ride, and a new dirt jump course alongside the free-ride area, with challenging jumps and stunts. There's also 12km of single-track. Cycle hire, purchase and repair are available, as well as specially adapted cycles for disabled people.
Scotland's mountain biking network: 7stanes, Scottish Borders
This list wouldn't be complete without mentioning the 7stanes – the seven mountain biking areas spanning the south of Scotland, from the heart of the Scottish borders to Dumfries and Galloway. Glentress is noted as probably the best mountain biking centre in Britain, as it has paths for all, from beginners to extreme downhillers. Try the epic black-graded V trail, which climbs 600 metres to Dunslair Heights. Dalbeattie offers rocky trails of all grades, whereas Glentrool is a long, forest, road-based ride that has stunning scenery – perfect for families and beginners.

In Ireland: Craigavon Lakes Mountain Bike Trail - Northern Ireland
This bike trail was the first to be built in Northern Ireland and offers a 10km route around the lakes where you can watch people sailing or canoeing, and then continue through brambles and trees on relatively flat terrain with a few short steep sections. Instructors are also available to hire by the hour if your skills are a little rusty.
For disabled people: Cycling for All, Croydon, South London
Croydon Sports Arena provides a safe, flat environment for Monday and Saturday morning cycling sessions for disabled people to have a go and get some regular exercise. The club has 30 cycles, including standard tricycles, hand-cycles, specially adapted tricycles, tandem tricycles and child trailers. Once beginners have gained confidence, they can explore South Norwood Country Park nearby.
For a weekend in Europe: Northern Slovenia
In the summer, ski areas are often used for downhill mountain biking. Chamonix and Courchevel in France are undoubtedly great for downhill riders, but if you want to escape the crowds, head for Slovenia. A three-day bike tour with Mountain Bike Park lets you escape into forests, valleys and mountains through the country's 1,000km of bike trails. The Slovenians have also discovered the delights of underground biking, where you bike through 5km of caves with an instructor. At Bukovnik ridge, bike 1,250m downhill to the Savinja Valley and tackle the river's rapids in a kayak.