Primarily designed for off road excursions, they can equally buzz along fire roads or tarmac with, if not outright speed, then at least high levels of comfort. Wide bars and knobbly tyres combine with relaxed, sit-up geometry to make them capable of tackling steep and rocky trails with control, taking you anywhere from your local dog walking paths to steep mountain terrain. But quite what level of trail they are capable of depends on what bike you go for. Pick a basic hardtail and you can confidently ride smooth trails and most trail centres with care, with skill you can push the bike into more technical terrain. With a full suspension trail bike, complete with long travel forks and rear suspension, you can tackle steeper, more technical ground with control and confidence at higher speeds. For ultimate versatility a mountain bike is hard to beat. But how do you go about choosing between Full suspension, hardtail or rigid and do you want a cross-country (XC), all mountain or downhill mountain bike? In this quick guide we'll attempt to answer some of the questions (and get you to answer some yourself!) to help you on the road to buying your next bike, whether cheap or exotically expensive.
Frame
The first step to any sound mountain bike purchase is nailing down the type of riding you plan to do. Technical singletrack? Trail centre? Fire road bashing? This will help determine the type of bike to go for, if you don't yet know, get out in your local area, check out the terrain and take a look at what other mountain bikers are riding. Local bike shops are also an invaluable source of information on the local trails and the type of bike you'll need to take them on. In general, more extreme riding with drops and jumps will benefit from full suspension, but fire-road bashing and cross country will be much better suited to hardtails, where pedalling efficiency is favoured over ultimate compliance over rough ground.
Brakes
Given the choice of rim or disc brakes, if your budget can stretch, always go for discs. They deploy far more stopping power for much less hand grip, are far less susceptible to the rigours of the trail, don't wear your rims out and require much less maintenance than their rim counterparts. Hydraulic disc brakes require less maintenance but are less easily repairable, replacing corrosion and friction prone cables with hydraulic hoses should give you a permanently smooth and light lever pull.
Gears
Despite a trend in the 90's toward more gears on mountain bikes, peaking somewhere around 27, these days less is more. The latest and greatest groupsets are increasingly single ring, with 11 or 12 sprockets at the back and an enormous spread of ratios. This not only reduces a potentially bewildering choice when on the move, but also takes one gear shifter, cable and mech out of the repair and maintenance equation. Simpler is always better, and you still get wall-climbing gears when needed.  
Wheels
Standard 26" mountain bike wheels are fast becoming relegated to history, with the popular choice now falling to 27.5", 29", 27.5 Plus and 29 Plus. The larger the wheel the easier it will roll over lumps and bumps on the trail but that comes at the expense of more weight and less agility. Plus tyres are fatter than usual, around 2.5-3.5" wide, giving more cushioning and grip for rocky or rooty trails, but again, at the expense of weight and drag.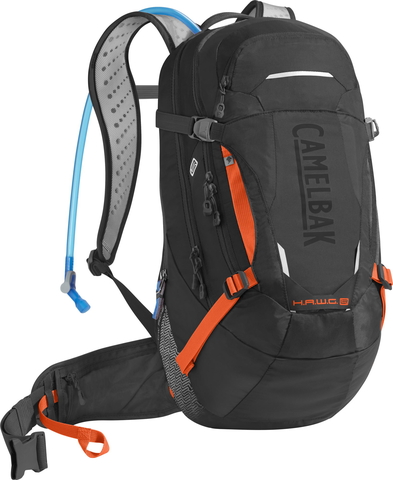 Mountain Bike Essentials
You should now be well on your way to identifying the basic criteria for your next mountain bike, but the fun doesn't stop there. You're also going to need a few accessories to help you along the way, here are three essentials for your next ride.... 


Hydration Pack
A hydration pack is considered an essential for mountain bike riding and in our opinion, you'll not get much better than the Camelbak Hawg. This innovative pack is short and wide which puts the centre of gravity lower down the back, and when combined with the excellent carry system which makes for a very neat package, we think this is one of the most stable hydration packs out there. 
Recommended kit: Camelbak Hawg Low Rider | £149.99


Eyewear
When riding offroad, all sorts of grit, mud and stones are flying, among other potentially more sinister substances, so protecting your eyes is a must. Smith's Pivlok sunglasses stick to your face like glue and sport two Chromapop lenses in the package - both with exceptional contrast and excellent tint options for most conditions.    
Recommended kit: Smith Pivlock Arena Max | £159


Helmet
There's no getting away from it, offroad riding inevitably involves some falling off so a decent helmet is a must. The Giro Chronicle sticks to your head without a wobble and features great coverage down the sides and back. It also includes MIPS which can help reduce rotational forces being transmitted to the head in certain impacts. 
Recommended kit: Giro Chronicle | £99.99
Ready to head out on two wheels? Now you know what you're looking for, check out our our top mountain bikes of the year for some inspiration.