If we had been nervous about going up the 7.5-metre-high rugged climbing wall that towered beside us, the sight of a seven-year-old girl scaling it not once but four times in a row definitely helped. 'Are you ready to be scared?' was the greeting from our instructor, Graham. We faked smiles as we watched the girl nonchalantly kick off her climbing shoes.
I'd wanted to try rock climbing and my wife, Jo, was also keen to give it a go. Along the back wall of the Brunel University gym there is a stonewash wall prepared for all levels of climbing – from the complete novice to rescue training. It also happens to be 300 square metres of the oldest climbing wall in the country, which website UKClimbing.com describes as 'can be a terrific time, and a great change from your usual wall'. Originally opened in 1972 along the back wall of the sports hall, it has undergone various developments over the decades.
Lining the floor beneath it are bright-blue, thick crash mats. A comforting thought for a rusty climber – I've attempted a climbing wall in the past, which proves to be to my advantage. But for my wife Jo, this is a totally new experience. I went along with some mates for fun a few years ago when I lived in South Africa, and enjoyed it but really wanted to learn how to do it properly.
We are instructed by Graham Coff, founder of Rock Frog, which offers climbing instruction indoors and outdoors and takes people all over the country, to some of the most beautiful and wild places. The Brunel wall, at Uxbridge in West London, is the one they use most - though its neither beautiful nor wild.
Graham is the Southeast area wall adviser on the British Mountaineering Council and says that a lot of walls are designed by architects and look pretty, but are not so good for climbing. This one, he says, was designed by climbers.
We start with a safety briefing – things like making sure that you look up to make sure there's no one else climbing above you. Then we're given orange helmets, are fitted for special climbing shoes, and Graham and trainee instructor Alex help us on with our harnesses.
Continued...
---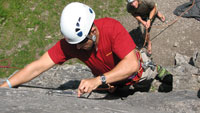 The first wall we try is mercifully sloped, making sticking to the wall easy. As instructed, we must watch our feet as we slowly position each one in the next foothold. The trick seems to be to keep moving, using our arms only for balance and our legs for lift.
Alex has attached a rope that links Jo and I and is attached to the top of the wall. As Jo climbs above me, I keep the rope taut from the ground under the instruction of Alex. As Jo climbs higher, I immediately take the slack out of the rope using a belay technique to tighten it up. That was the easy part.
Now for the descent. We don't climb down, as novices. 'Climbing down is a skill in its own right,' says Graham, 'and at this stage we want to get you both comfortable with working as a team.' So Jo sits back in her harness into a seated position, keeping her feet on the wall about half a metre apart. I find myself supporting her weight as I slowly feed the rope through the clip attached to my harness. Jo gets a nice, soft, touchdown and then it's my turn.
I find being tall is definitely an advantage, enabling me to reach further in search of a more secure handhold. Though Graham says that being tall can work against you in other situations. When it comes to the part of the wall called the Shield, I'm grateful for anything I can get my hands on. It's by far the most difficult part that we try. It's curved and there's not much to hold onto. Thank goodness for our special climbing shoes. The design of the shoes means that my foot will more easily stay where I put it, as the whole of the padded heel is made from rubber.
'Different people find different things hard', says Graham. 'The way people are built can mean their bodies are geared to specific things – some people are quite good at using their balance and have good technique, while others rely on brute strength to get up.' Men in particular, he says, often rely on upper body strength to ascend, 'but actually they should be looking down at the way they are balancing and what they are standing on.'
After we conquer the Shield, it's time for a break and to get some circulation back into our fingertips! So a quick trip to one of the many vending machines and we're ready for the next obstacle – which turns out to be the highlight.
Continued...
---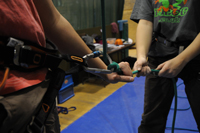 We're introduced to the prusik. The prusik is a knot commonly used to ascend a rope instead of using a mechanical device called an ascender. It resists being moved when being pulled from the bite of the rope hanging off it, but it can be slid up the rope by pushing it up from the base of the knot. It can be tied at any point on the rope. This device is designed to be used by your foot. Although progress is at first slow, we find ourselves relaxed and enjoying this new technique. And, surprisingly, it's not tiring at all. First to the top, I check my equipment and begin to ask a question I should have considered while on the ground – how do I get down? It's a good technique for going up, but as I was wearing a back-up safety device I couldn't go down the same way. Instructor Graham has a solution though. He calls it 'Just count to three.' Naturally, neither Jo nor I expected to get to three. Basically, Graham (down on the ground) releases the knot holding us from the wall and down we go, at speed. Half a second and four metres later, our stomachs are on the ceiling. Graham has caught us just before we hit the mats. My wife's reaction? 'Can we go again?'
Our climbing experience over, it's time to head home. Walking back to the car, we take a note of all the other activities available at the campus. Netball, sports fields, and the all-important sports therapy centre, to name but a few! Brunel University in Uxbridge is certainly the place to go for anyone looking for a sports degree or to hire out their facilities. And with the Zest Bar right outside the sports hall reception, it has everything a sports enthusiast needs. Although it's time to head home, it's whetted our appetites. It turned out to be something nice to do with the missus or a few mates. We've certainly added climbing to our list of things to do with our spare time.
Going Equipped
What not to wear:
No jeans - you need something slightly stretchy, such as thin tracksuit bottoms, the main thing is that your clothing must be flexible
No shorts - you need to have your knees protected
No gloves - you need to be able to feel your way up the rock face
Savell and Jo's two-hour novice climbing session was arranged by Rock Frog, based in Ascot, Berkshire.
Brunel University Sports Centre, Kingston Lane, Uxbridge, Middlesex UB8 3PH 01344 622918