'I GUARANTEE YOU WILL BE GETTING WET TODAY,' says my kayaking coach, Sarah Lind, ominously. Having come to the Bala Watersports Centre in North Wales for a crash course in negotiating rapids, this isn't exactly what I want to hear.

But if anyone knows what they're talking about, it's 36-year-old Sarah. Having started her kayaking career at the age of 11, she was representing Wales by the time she was 14, before winning a gold medal for Great Britain in the 1997 Camel Challenge – a ludicrously tough endurance event combining kayaking and white-water rafting.

As for me, my previous experience involved a gentle meander down the River Wye in a canoe, and before that paddling up and down the River Thames a few times at university – in a 20-year old kayak that I'd rescued from the rubbish tip.

The sleepy Welsh town of Bala is the white-water capital of Britain. Local residents include Matt Cook, who came fourth in the freestyle world championships in 2004, and former European freestyle champion Lynsey Evans. They're attracted here by the huge number of rivers that cascade down from the Arenig Mountains, creating a natural playground for paddlers.

One of the most ferocious stretches of white water lies on the River Tryweryn, which cuts straight through Bala. Graded '4' out of six (six being impassable for mere mortals), it is a swirling mass of furious foam, interspersed by slippery boulders designed to break limbs. This is the site for the annual downhill racing world championships, where the world's best paddlers pit their wits and strength against Mother Nature in a bid to prove who has the biggest kahunas. And later on today it will be the venue for my maiden white-water voyage.

Despite my trepidation, Sarah is confi dent that she can get me to paddle it in one piece. 'As long as you follow my example, you'll be fi ne,' she says confi dently. 'But you need to believe that you can do it.'

Before being allowed near any white water, Sarah insists that we head out onto Bala Lake to learn a few basic skills. At 4.5 miles long and three-quarters of a mile wide, this is the largest lake in Wales. A stiff breeze is blowing as I paddle my fi rst few strokes, causing my boat to bob about alarmingly. I'm having trouble simply going in a straight line.

The most important thing you need to master before venturing out into white-water is the 'low brace turn', which breaks down into three basic elements. The fi rst is the 'sweep stroke': a swift swipe with the paddle, out to the side of the boat, which causes it to turn sharply in the opposite direction. While doing this you need to 'edge' – or cause the kayak to tip slightly towards the side that you wish to turn. This is achieved by straightening the leg that corresponds to the direction in which you wish to turn, while bending your other leg and bracing it against the top of the cockpit. Finally, you need to put your paddle into the 'brace' position: bar against your stomach, arms parallel with your shoulders. The idea is that if, at this point, you fi nd yourself tipping over too far, you can use your paddle as a 'crutch' in order to prevent capsizing.

Despite my best efforts, I end up in the drink almost immediately. I fl ounder around in the freezing cold water like an ant stuck in a puddle, and my breath is snatched away. After eventually mastering the basics, it's time to tackle some world championship white water, at Tryweryn. Psyching myself up, the sound of the raging torrent crashing over rocks is so deafening I can hardly hear myself think.

The first section of the course involves crossing a segment of high-speed water punctuated by slippery stone slabs. This is where the 'edging' technique that I learned earlier comes into play. As I paddle across the cascading current, I lift the left edge of my kayak in order to let the water pass underneath – preventing me from capsizing.

The next section involves traversing an even angrier patch of white water. I make it across as fast as possible and turn my boat around to face downstream. After this, it's a bit of a blur. All I remember is paddling like a lunatic through a narrow corridor of rocks, as the water splashes up in my face and my boat bounces its way through the swirling torrent. Only a shout of 'right paddle!' from Sarah saves me from going over again. Eventually, things slow down slightly and I'm able to take stock. This is it. I'm off and running: racing down the river at ridiculous speed. Oar truly, this is an incredible rush...
---


How to do it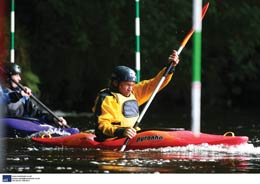 Work out where you are going. Look in front of you and mentally plot a course. Head straight towards the white water, keeping your eye on your chosen course.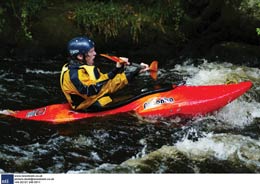 It is important to paddle in fast, confi dent strokes which will help you keep the boat as stable as possible. This is not the time to hesitate or dawdle.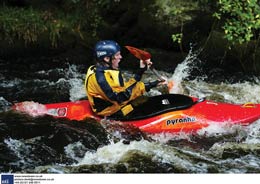 Use your paddle to steady your kayak when it is necessary. The fl at side of the blade pressed against the water can stop you capsizing.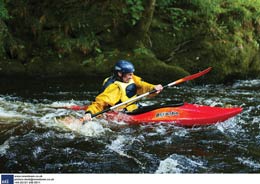 It is crucial to keep your momentum up. Try to fight the fl ow of the water as little as possible and use the fl ow of the river to give you added momentum







Three other places to paddle white water
 
Llandysul, Wales
 
Llandysul Paddlers runs various introductory courses to white-water kayaking.
01559 363209
Nottingham

The National Watersports Centre runs courses for all abilities, on its man-made white-water course.
0115 982 1212

Nene, Northants

Nene Whitewater Centre runs courses on a dedicated man-made white- water course.
01604 634040

Bala Adventure and Watersports Centre runs various white-water kayaking courses. Courses from £65 a day. 
Stay at Bodiwan, a grade 2 listed building overlooking Bala town from £70 per night.