Climbing on an indoor wall is one thing; getting outside on a real rock face is quite another. I am at Cheddar Gorge in Somerset to get some tips from Matt Helliker, one of Britain's best alpine climbers.

It's been a few years since I've done any climbing at all, so to avoid complete breakdown due to excessive rust, Matt suggests some ground-level performance coaching as a warm-up. Before long he's placed a crash mat at the base of the rock and is 'bouldering' across the face in front of me with gracious ease, while calmly offering me advice on body position:

'Try to keep your arms straight whenever possible – don't hug the rock. That way you're able to look down and see your own footwork.'
It sounds – and is made to look – extremely easy, so I am probably slightly over-confident when my turn comes around. Needless to say, I fall straight away and am extremely grateful for the mat. 'It's about precise foot movement,' advises Matt. 'Climb in a slower, more controlled manner – nothing too snappy.'
The warm-up before a climb gets the blood flowing and is important in the prevention of injury, so I am keen to make the most of it before I tackle the 'real rock'. After a bit more practice and further useful titbits of advice, I am getting more confident, so Matt suggests we move onwards and upwards, literally.
After running through some safety precautions and checking my helmet and harness are secure, Matt goes up first to show me how it should be done: the specific skill we are focusing on is how to lead a climb. The location for this was Overshoot Wall, a vertical limestone crag.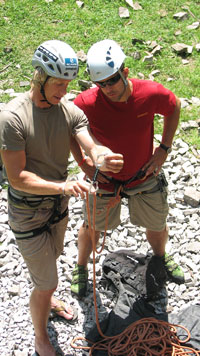 Leading a sport climb involves ascending with a rope tied to your harness. Your partner on terra firma handles the loose end of the rope, known as 'belaying' – an insurance policy should you fall. Also attached to the harness are a number of 'quickdraws' – a climbing sling with a carabiner at each end.
As you reach each bolt in the rock, you must clip one end of the quickdraw into the bolt, and then the rope into the carabiner at the other end, before continuing to the next one.
Matt stresses the importance of the 'orientation' of the quickdraw. A carabiner has a spine on one side and a gate at the other. The gate is hinged, and allows the rope to be clipped in. However, it is essential that the spine of the carabiner faces towards the route of the climb – if the next bolt is up and to the right, the spine must face to the right, and the gate to the left. Remember 'spine towards the line'! This is to ensure the rope is putting pressure on the spine, not the gate, preventing 'back-clipping', a rare but dangerous situation where the rope snaps against and opens the gate, effectively unclipping itself.
I belay for Matt as he effortlessly scales the rock face, suggesting routes for me and demonstrating the quickdraw clip-in as he passes each bolt. The route I am to attempt is a short, six-bolt ascent, supposedly 'well within my capabilities'. As I look up at Matt, about eight metres up on a vertical face I'm not so sure.
As I climb up to my first bolt, Matt reminds me how important it is to be near the clip-in point before attaching yourself so you don't have to be pulling up too much rope. 'You don't want to leave too much slack,' he stresses.
I gradually scale the rock face on my chosen route, trying to remember everything Matt has taught me, the key being to stay calm and take my time, making sure I am comfortable enough in my positioning to also carry out the technical tasks. Easier said than done. Matt continues to shout out useful advice as I get higher: 'Also, remember that you want to be clipping the quickdraw off a reasonable handhold, because you will always be doing it one-handed.'
On a simple sport climb, the bolts should be placed next to substantial handholds for this specific reason.
Finally, I reach the top bolt on the ascent and by this point it's starting to come more naturally. It reminds me of a golf swing – lots of different things to remember, but the more you practise, the more naturally it comes to you. The analogy only goes so far, though, as I am reminded when I look down the 10-metre, vertical rock face I'm clinging to.
The sense of achievement (and relief) is palpable, and I want more, but Matt is off to the Alps for considerably bigger and better things. Armed with my new skills, I might get there one day.

The warm-up
Bouldering is a good way to warm up before a climb...
1 Keep your arms straight so it's easy to check your own footwork.
2 Try not to hug the rock
The climb
An important skill while learning to lead climb is
clipping in a quickdraw...
1 orientation of the quickdraw is key – make sure the spine of the carabiner is facing your next move – 'spine to the line'.
2 get close to the clip-in point so there isn't too much slack in the rope and ensure you have a solid hand-hold.
3 clip in the rope single-handedly before making your next move.
As the clipdraw becomes second nature, you can concentrate on your climbing...
4 body positioning is important – move up the rock face in slow, controlled movements, nothing snappy. Make sure foot placements are precise and try to keep your arms straight wherever possible

Top Tip!
Safety is paramount when climbing. Make sure your equipment is checked and of the required standard, you are climbing with someone who has the appropriate experience, and that the route you are attempting is well-bolted and in a good condition.

Now it's your turn
For more information on Matt Helliker, see the Alpine Climbing section of patagonia.com.
Learn to rock climb with Rock and Sun (UK) – see www.rockandsun.com or email This email address is being protected from spambots. You need JavaScript enabled to view it.