I feel like such a wuss. All I've got to do is let my bike roll over the rocks and we can get on with the rest of the ride. But for some reason I've been gripped by 'The Fear'. While experience tells me that the obstacle is a piece of cake, my head is screaming that this is madness. Ahead of me lies a treacherously slippery trail made up of bone-breaking boulders – and if the rocks don't get you, the trees surely will.
'Just get on with it, you'll be fine,' says my instructor for the day, double Downhill Mountain Bike World Cup champion, Steve Peat. His face may be hidden behind an intimidating full-face helmet, but I can tell by the gleam in his bright blue eyes that he's struggling not to laugh. To be honest, I can't blame him – I'm being such a wimp.
Even though I've been mountain biking for more than 15 years, this is really a whole different league. I'm used to riding cross-country – where the object is to get from A to B, via any climbs and obstacles that come your way. Today, however, I'm learning how to downhill. This is mountain biking in its most radical form: a short, sharp blast down the steepest descents you can imagine. There's no time for carefully considering how to avoid rocks and roots; the idea is to blast straight over them without braking. And I'm scared.
Having met Steve in Wharncliffe Woods, Yorkshire, he's taking me on a route that involves all the obstacles I hate – from soap-slippery rocks to steep descents littered with slimy tree roots. Normally I'd discreetly dab a foot down to get me out of trouble (either that or get off and walk), but with those beady blue eyes scrutinising my every move, taking the easy way out is not an option.
To be fair, the terrain in Wharncliffe is pretty full-on. Located about five miles north of Sheffield, it's something of an MTB (jargon for moun-tain-bike) mecca for bike-heads in the north of England. It's littered with several downhill courses that plunge into the valley, each one containing rocks, jumps, drop-offs and berms (banked corners). Even the cross-country stuff is rated 'black' – just like the steepest ski slopes. Having ridden from Steve's farmhouse, just a few minutes' ride away, we duck off right and head into the trees, which is where I come unstuck for the first time.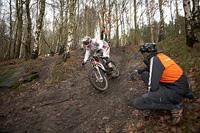 'The trick is to focus at least two metres ahead,' says Steve, having blasted over the boulders without batting an eyelid. 'Never look at the front wheel, because you'll just end up focusing on each specific obstacle, which will put you off.'
After finally throwing caution to the wind, I make it over in one piece and we carry on our descent into the woods. Watching Steve in action is awe-inspiring: where I see multiple obstacles, he simply cruises through at seemingly impossible speed.
Prior to becoming one of the best downhill racers on the planet, Steve was busy winning championships at cross country. Next up is a steep downhill section, with a camber that encourages my bike to head for the scenery. Steve waits at the bottom and analyses my riding position. As I'm six feet six tall, it's imperative that I get my weight low and as far back as possible. Any grabbing of the brakes will send the bike sliding off course (as I find out to my detriment).
The scary thing about downhilling is that in order to be quick, you have to go against your body's natural instinct to preserve life and limb. Let go and loosen up, however, and you suddenly realise just how capable these bikes are. Front and rear suspension units have between 18 and 25cm of travel – enough to gobble up any bumps that lie in your path – while powerful disc brakes will stop you in seconds, should it all go wrong. Once I realised this, I finally stopped being such a big wet blouse and ended up having the biggest bike rush of my life.
Rocks:
Do keep your head up, and focus (as Steve is shown doing) at least two metres in front of you. Never look down at your front wheel – it will just put you off.
Don't go slow. Without sufficient speed the bike becomes unbalanced, and Matt is forced to 'dab' a foot on the ground.
Roots:
Do any braking before the slippery stuff, so you can let the bike glide through the bend. If you brake mid-corner, you'll upset your bike's balance. Keep focused on the exit.
Do keep your fingers poised over the brakes, just in case. Matt focuses and makes it over and round in one piece.
Steep descents:
Don't let your weight get too far forward. As Steve demonstrates, this upsets the balance of the bike and gives you less control over the steering and less efficient braking.
Do get your weight over the back of the saddle – your bike will be more balanced, and your braking will be far more effective.
Jumping:
Do push down on the bike forks to increase your lift when you come into the jump. As you take off, relax and let the bike come up to your body. Focus on your landing point and try to land both wheels together.
Don't be faint hearted. Matt is clearly not committing to the jump – holding back on the brakes and focusing on his front wheel, not where he wants the bike to go.
Now it's your turn
If you'd like a slice of the action yourself, keep an eye on Steve's website for information on academy days he'll be running soon. Visit stevepeat.com or see britishcycling.org.uk for info on cycling clubs and coaching.
Images: James Stewart