Sea safety
1 Know your own ability. Don't risk a journey that is beyond your capabilities.
2 Know the weather forecast. Intimately. Various websites can provide you with this information, including Windfinder.com, Xcweather.co.uk and Metcheck.com.
3 Check in advance how the tide will be running for the duration of your trip by consulting the local tide atlas, maritime charts or Easytide.com.
4 Make sure there are ideally at least three people on your trip, although not too large a group.
5 It is much safer to go with someone who is a qualified coach/instructor and therefore able to deal with any on-water incidents.
6 Inform the coastguard (or at least someone onshore) of your trip and let them know you are back safely.
7 Make sure your trip leader has the necessary safety equipment, including VHF radio, flares, tow rope and belt, as well as a mobile phone.
Sea kayaking
The British Isles has a coastline to rival the most spectacular on the planet and there's no better way to explore its wonderful geography and nature than by kayak. Rob McKinlay dips his paddle
Thanks go to…
The Eskimos of North America and Greenland who, some 5,000 years ago, built a craft on which to negotiate the seas while hunting for seals, walruses and other edible marine creatures. These vessels were made of wood, covered in mammal skins and are the earliest recorded examples of the sea kayak. The materials used barely changed until about 50 years ago, when fibreglass became popular.
Thanks also go to... Chris at Clearwater Paddling (clearwaterpaddling.com) for his expert help with this article.
In the same boat?
There is more than one type of kayak:
Single – kayak designed for one paddler; shorter than a double
Double – designed for two paddlers; typically more stable; often with a rudder steering system
Touring kayak – great for more sheltered water; shorter, wider and tend to be flat-bottomed for stability; doesn't handle bigger swells so well
Sea kayak  – tend to be narrower with more 'v'-shaped hull, which helps with tacking upwind
Continued...
---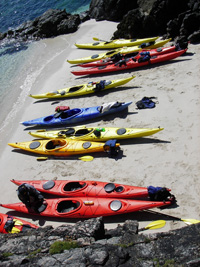 Paddle Patter
Bulkhead – vertical partition that creates separate chambers in the kayak, usually watertight, to store gear
Coaming – rim of a cockpit, which has a lip onto which a kayaker's spray deck/skirt fits, to keep him/her dry
Cockpit – semi-enclosed area where kayaker sits
Deep Water Rescue – where rescuer is able to empty a capsized kayak and then get the kayaker back in their boat
Dry Bag – waterproof for personal items
Eskimo Roll – use paddle to right a capsized kayak without falling out
Hatch – waterproof storage hold
Overfall – when a tidal stream creates rough sea conditions, sometimes including large breaking waves
PFD – Personal Flotation Device; life vest
Put In – getting into the water
Re-Entry and Roll – means of getting oneself back into a capsized kayak
Seam – one-inch-wide line around the middle of the kayak where the deck and hull are joined together, usually a different colour
Spray Deck/Skirt – fitted, waterproof fabric that creates a seal between kayaker and coaming, keeping water out
 Continued...
---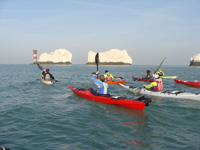 Simply the best
Some of the top spots to go sea kayaking in Britain & Ireland:
Outer Hebrides
This undisturbed corner of Scotland offers the best (and most peaceful) sea kayaking in the country – as good as anywhere in the world – and is a haven for wildlife, including seals, otters and golden eagles. 
Pembrokeshire, Wales
Paddle alongside towering sea cliffs and into caves along this thrilling stretch of coastline, making the most of sheltered beaches, remote offshore islands and clean, Atlantic water.

West Coast, Ireland
From the rugged, wave-sculpted coastline of the Donegal Islands to the spectacular coastal architecture of County Kerry and the coral beaches of the Connemara, Ireland's West Coast is ripe for exploration. 
Cornwall, England
The Cornish coastline is a natural paddling playground, offering fantastic wildlife and an incredible diversity of environments, which means whatever your level, the right conditions can usually be found.

West Coast, Scotland
Scotland's inner islands and sea lochs provide the stunning, and often sheltered, backdrop for some exciting and beautiful paddling for all abilities.  clearwaterpaddling.com
And in the World…
Canada's west coast
Norway's fjords
Dalmatian Coast, Croatia
Fjordland, New Zealand
Alaska, US