The romantic notion of sleeping in the mountains in a lone little canvas tent doesn't just have to be a fantasy. Wild camping is the fine art of setting up your tent in the back of beyond and waking up in a pocket of nature that's all of your own, far from busy campsites, crowds and civilization.
Wild camping is the perfect way to explore some of the most remote and beautiful corners of Britain, too. Hiking onto Dartmoor with my tent packed in my rucksack, sleeping under a sky full of stars and waking up to a pristine and empty landscape (except for the occasional inquisitive pony) is one of my all-time favourite ways to get outdoors. Sleeping wild is addictive, and it's easier than you think.
Going back to basics does require a bit more thought and preparation than regular camping – use our guides to finding the right spot, leaving no trace and packing the essentials, then go and pitch up in one of Scotland's dreamiest wild places, recommended by Wild Guide: Scotland.
The Legal bit
For the most part, wild camping is unfortunately illegal in England and Wales, with the exception of some parts of Dartmoor National Park. You can, however, camp anywhere in Scotland in accordance with the access rights established by the Land Reform (Scotland) Act 2003, although note that East Loch Lomond is the exception to this, as the area is subject to its own bylaws.
In Europe and beyond it's best to check online and ask locally before sleeping wild, as rules and laws differ massively from country to country – for example, in Poland bivvying is tolerated in the mountains, and temporary wild camping is totally legal in Finland due to a law charmingly called the 'Everyman's Right'. In Croatia, however, illegal camping is punishable by law.
On Dartmoor, 'backpack' or wild camping is accepted for one or two nights on moorland, provided you stay well away from roads and settlements and leave no trace of your visit. dartmoor.gov.uk has a useful interactive camping map that shades the areas of the park where wild camping is permitted.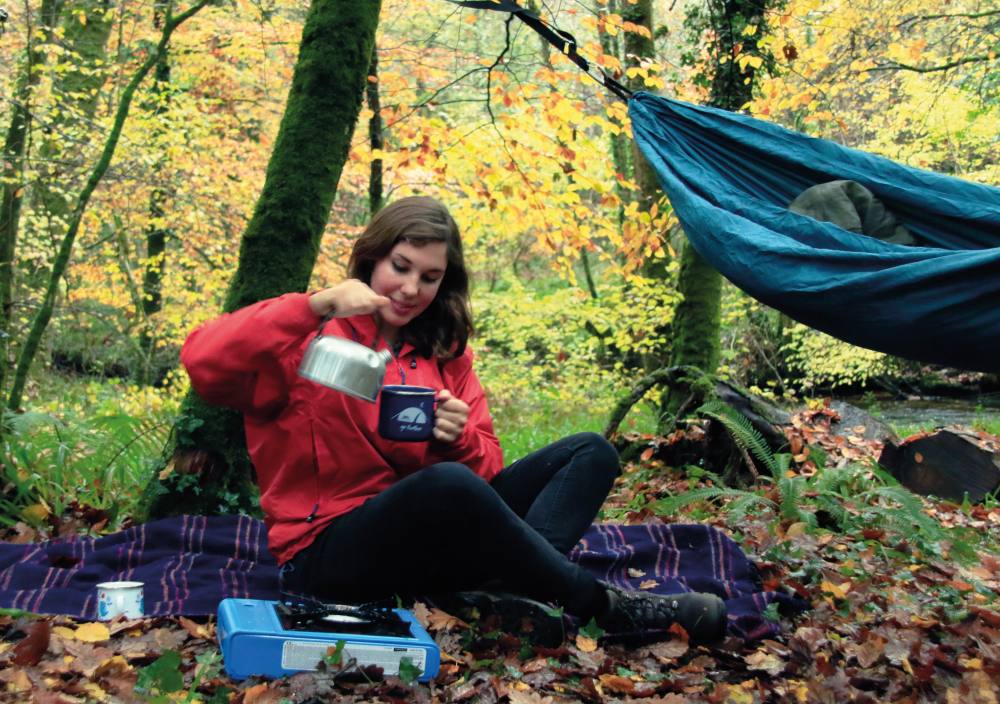 The golden rules of sleeping wild
Travel light
We've compiled a packing list below, but the less you can carry in and out of your chosen camping spot the better. Keep your group to one or two tents, and move camp each night.
Set up late, leave early
It's good manners to set up your tent at twilight and leave your camp early in the morning.
Take a small tent
You're aiming to blend in with the landscape.
Leave no trace
Pack out all rubbish with you – there should be no trace of your visit. Take away tampons and sanitary towels rather than burying them, and bury poo with a trowel.
Don't light fires
Use a small stove to cook on instead.
Avoid camping on farmland
Be sensible and don't camp anywhere that looks like it's in use, is located near houses or farm buildings or that has gates or signs up.
Do your research
Check online that wild camping is legal in the part of Dartmoor or Scotland you're heading for, and be aware that bylaws can change seasonally.
Be safe
Let someone know where you're going and carry a charged phone and a first aid kit.
Ditch the tent: other ways to wild camp
Bivvy bags
Bivvying (from bivouac, a temporary shelter) is the hardcore, no frills version of camping. Essentially, it's just wrapping your sleeping bag in a waterproof bag, known as a bivouac or bivvy, and sleeping out in the elements. Bivvying may look chilly, but it's not significantly colder than camping. It's also a great way to feel a lot closer to nature. If you're planning to wild camp this is the subtlest way to go about it, too. Zip your bag up and draw it tightly around your face if it's a bit nippy.
Tarpaulins
One step up in the comfort levels from bivvying, and useful if you're camping on a night with a dodgy weather forecast, thus avoiding the Chinese water torture of rain dripping on your nose all night.
A tarpaulin can be suspended from trees or walking poles to make a makeshift roof over your head – just slide in below to be protected from rain and wind. Tarps are also much lighter and easier to transport than tents, and double up as groundsheets on balmier nights.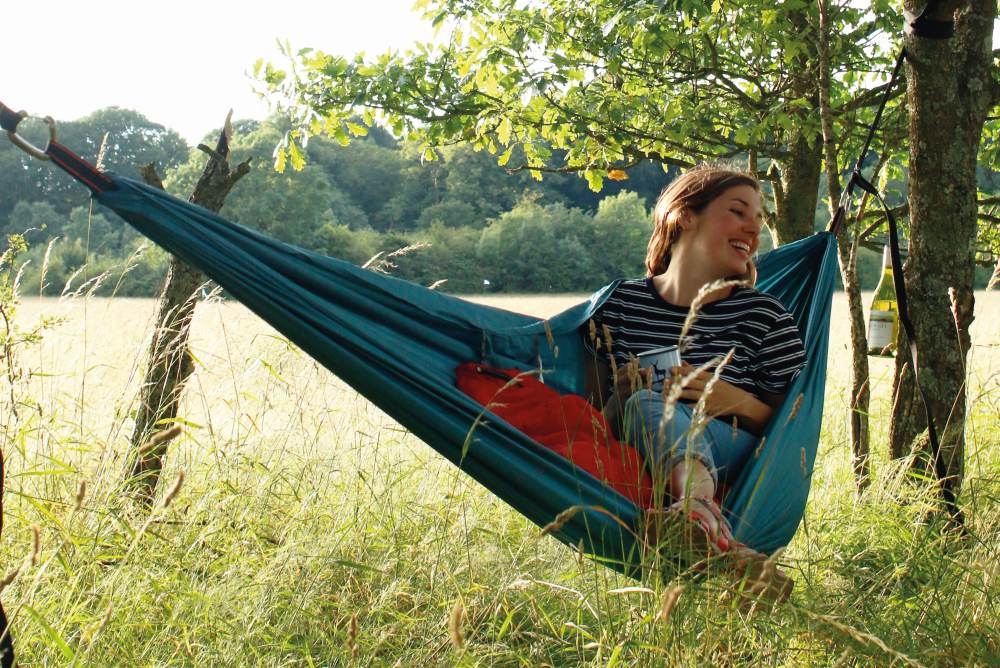 Hammocks
Hammocks are lightweight, easy to carry, quick to hang from trees and, in my experience, much comfier to sleep in than a tent. Rain doesn't need to stop play, either - just string up a tarpaulin, as above, above your hammock.
Check there are handy trees at your planned wild camp spot, and hang your hammock as high as you can (whilst still being able to get into it) between two trees spaced four to five metres apart. If your hammock didn't come with some, buy some tree protection straps to ensure you don't do any damage.
Pop your sleeping mat and sleeping bag inside your swinging bed and you're good to go. Keep belongings dry by leaving them in waterproof stuff bags tied to trees.
Wild camping packing list:
- Tent/bivvy bag/hammock
- Sleeping bag
- Groundsheet - if your tent doesn't have a built-in one
- Inflatable sleeping mat
- Sunscreen
- First aid kit
- Stove
- Fuel
- Lighter or matches
- Shovel
- Loo roll
- Small bin bag to take rubbish away with you
- Travel towel
- Head torch
- Small camping lantern
- Camping pots and pans
- Cutlery, plates and cups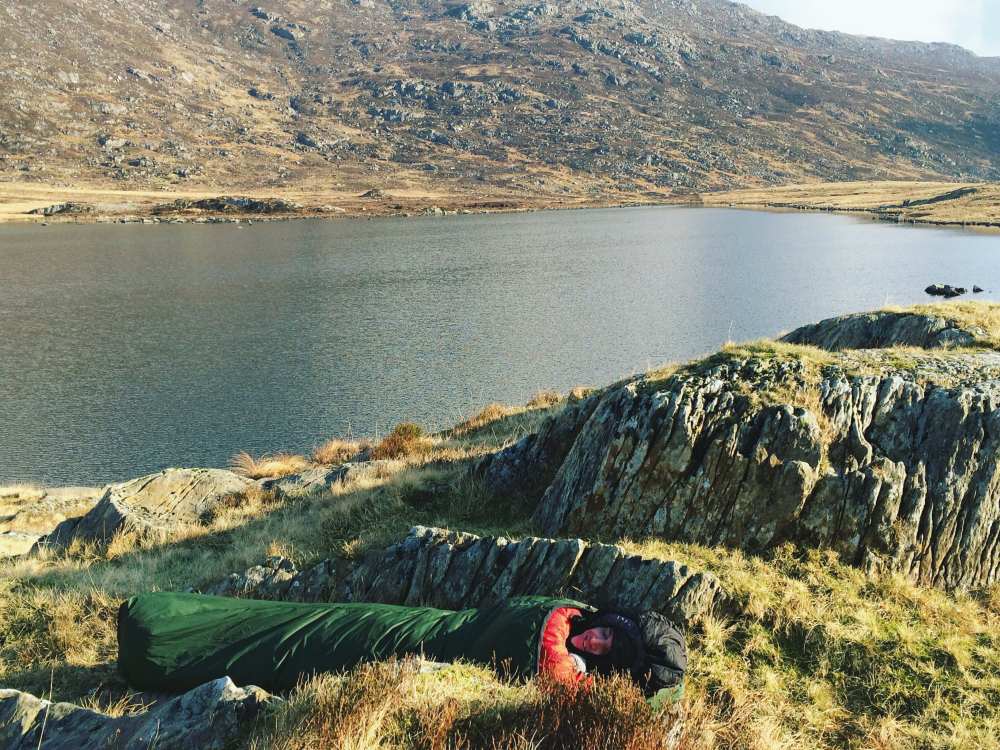 Four places to go wild camping in Scotland:
The Lost Valley, Glen Coe
The otherworldly and atmospheric hanging valley of Coire Gabhail has a dark past: it was here that many members of Clan MacDonald took refuge in the immediate aftermath of the massacre in Glen Coe in 1689.
It is an incredible place, full of suspense and drama, and completely hidden from Glen Coe itself. Hemmed in on all sides by towering peaks, it is the perfect place to camp, with a flat alpine meadow, picturesque stream and giant boulders to shelter behind.
Get there: Park in one of the National Trust car parks on the A82 in Glen Coe, 3½ and five miles east from PH49 4HX. The Lost Valley is the left of two valleys between the Three Sisters, the giant prong-like ridges jutting out into the glen. A decent path heads down into the valley floor, crosses the River Coe and winds up into the Lost Valley itself. Some mild scrambling is required to gain the upper valley.
Loch Beinn a' Mheadhoin, Glen Affric
Stunning freshwater loch with promontories and islands just east of Loch Affric. There are plenty of great spots on the foreshore to camp and swim, including a beautiful and romantic sandy beach dotted with ancient tree stumps, which make great seats around a campfire.
Get there: From Cannich on the A381 take the road signed Glen Affric past IV4 7NB. At about eight miles, roughly a quarter of the way up the loch, there is a large layby. Head down the bank towards the island linked to the shore by a sandy beach with tree stumps.
Peanmeanach, Ardnish Peninsula
A lonely stone bothy stands between the ruins of an abandoned village in this small bay on the Ardnish peninsula, emptied after the railway inland replaced boats as transport. The flat turf plateau and lovely sand and shingle beach also make it a great spot to camp for the night. The interesting coastline here is popular with kayakers.
Get there: Drive North on A830 from Lochailort for two miles and park in large layby on left before PH38 4NA. Follow the path signposted right-of-way. Ignore paths leading left and follow the trail downhill, crossing a humpback bridge over the railway line and a footbridge over a burn. Beyond here the route to Peanmeanach is perfectly clear.
Sandwood Bay, Cape Wrath
One of Scotland's most remote but iconic wild beaches - a magnificent long stretch of pink-hued sand bounded by cliffs and the Am Buachaille sea stack and backed by a broad belt of rolling dunes perfect for camping. Occasionally the waves uncover a Spitfire engine in the sands, the last relic of a 1941 crash landing. Rip currents can develop here.
Get there: From turning for Oldshoremore follow the road ½ mile beyond turning to Polin, to Blairmore and John Muir Trust car park on left. A well-marked three-mile track to Sandwood across moorland begins over gate opposite.
Extracts takes from The Girl Outdoors: the wild girl's guide to adventure, travel and wellbeing by Sian Lewis, available from Bloomsbury, and Wild Guide: Scotland, available from Wild Things Publishing.