Bromptons are made for adventure!
A bike is the ultimate adventure tool, capable of taking you and your gear great distances at a decent pace. A Brompton folding bike can do all this plus has the versatility of being able to pack down small and be carried anywhere in almost anything. This versatility is only really rivalled by pack rafts, which in fact combine perfectly with Bromptons, both capable of carrying the other as well as you and all your adventure gear, plus much more.
Ultimate packability
A Brompton's ingenious design lets you fold the bike into a package that's only slightly bigger than one of its 40cm diameter wheels – only the saddle protrudes from the top of the folded package, making a handy carry handle.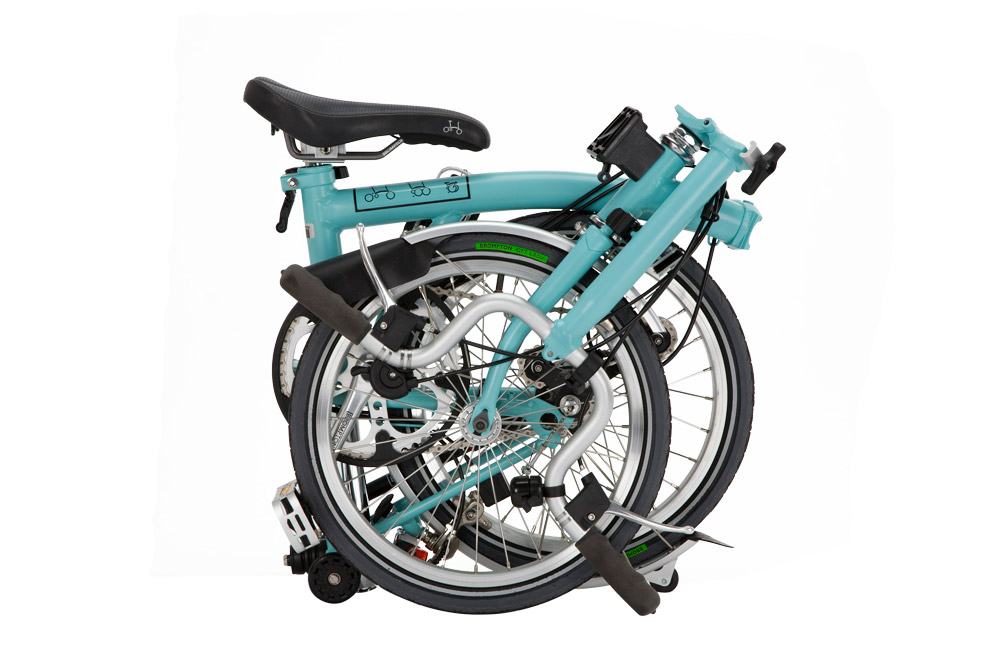 The fold itself is done using a series of hinged and screw-lock catches which, with practice, can make for a fold or unfold of less than 30 seconds.
The resulting folded bike is 58cm high, 56cm long and 27cm wide and weighs from 9 to 12kg depending on its specification. Portability is improved by everything being locked in place when you slide down the seat post so the bike doesn't unfold as you carry it. The only thing that can be unfolded without pulling out the seatpost again is the handlebar. Left extended it becomes a useful handle for wheeling the folded bike on the mudguard wheels.
A Brompton is easy to carry on a public transport and planes
What this means in practice is that you can stash a Brompton in spaces you wouldn't normally dream of trying to cram a full-sized non-folding bike into. This includes trains, buses, the smallest of cars, and in your suitcase for flights. Some people even take the bikes on planes as their carry-on luggage. And then there's boats of all shapes and sizes too, from yachts to pack rafts.
Bromptons ride well!
Bromptons always surprise with their agility and speed, and depending on the terrain you want to tackle can come with a choice of gearing options, from single-speed simplicity for flat riding, up to a six-speed drive train which opens up long-distance, hilly and even loaded touring.
Bromptons cost from £785.