Yvonn Chouinard, the 81-year-old founder of Patagonia, and all-round outdoor sage, once said that real adventure is something which only happens "when everything goes wrong". He was, of course, referring to that uniquely rewarding feeling you get from overcoming adversity as an individual, or in a small group. But in a year when things have gone catastrophically wrong on a global scale, his words have taken on a whole new meaning. Surveys suggest that over the course of 2020, people have been taking up outdoor pursuits in record numbers. We're not just experiencing adventure when things go wrong, we're actively seeking it out.
Part of the reason adventure sports have become so popular is practical, of course. Even during the strictest lockdown, the UK's rules allowed people out to exercise. But with team sports off the cards, and gyms closed, lots of people took up hill-walking or trail-running instead. In June, a survey conducted by Active Traveller and Maier Sports found that 30 percent of respondents had taken up a new outdoor activity during lockdown, and 48 percent had invested in new gear.
Cycling also experienced a huge boom, as empty streets encouraged people onto their bikes, often for the first time in years. Bike shops reported a huge spike in demand, and record numbers bringing in rusty old bikes for repair. In cities, where the risk of infection from public transport is worse, cycling became the obvious Covid-safe alternative. But it isn't just commuter bikes that have sold well. Evil, a company which makes carbon-fibre mountain bikes for £5,000 a pop, also reported record sales this spring.
As lockdown eased, and people were able to travel, we took these new-found enthusiasms on the road. In our June survey, 55 percent of respondents said they had been inspired to go on a walking holiday, and 25 percent said they were more likely to go camping than before. Campsites across the UK and in Europe were booked solid for much of July and August.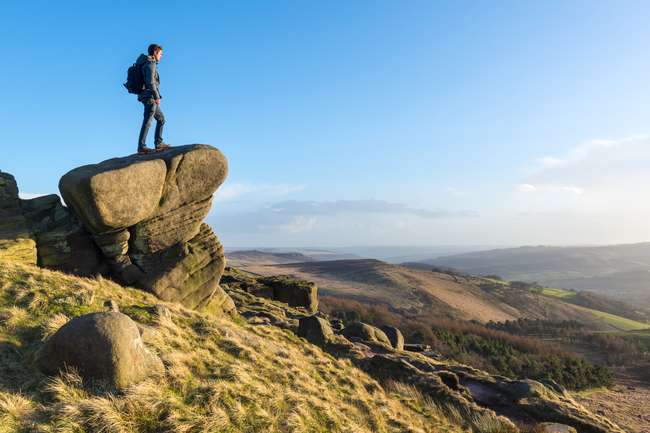 These are trends that look set to continue. Right now in October, social distancing is still de rigueur, indoor gatherings are cause for concern, and with a newly-imposed "rule of six" ruling out casual kickarounds again, exploring the great outdoors with a bike, a tent, or a pair of walking boots definitely feels like the best option.
But I would argue that it's not just because it's practical, or permissible, or Covid-safe, that people have been turning to the outdoors in record numbers. Getting outside, as countless studies have attested down the years, is good for the mind as well as the body. Exploring wild places, and taking the time to truly appreciate the natural world, has always been a great way to de-stress: a fact that's become more obvious than ever in a year when so many of us have spent so much time cooped up inside.
But adventure also has a great way of making you take stock, and reassess your priorities. It can help you put small problems in perspective, but it's just as helpful when thinking about larger issues. Re-evaluating your work-life balance, perhaps, or really thinking about the impact that we're having on the planet.
You might think it's trying a bit too hard to see the silver lining on this enormous, Covid-shaped cluster of cumulonimbus, but if the pandemic has encouraged more people than ever to get outside and embark on adventures, then that's a positive. Not a net positive, not even close. But as we begin to look beyond 2020, and think about how we might build back better, the idea of adventure becoming "the new normal" can only be a good thing.