What was it like growing up on the Isle of Skye?
Awesome! Skye is rural, but I had the best time. My parents gave me loads of freedom to ride out into the wilderness.
What sort of riding did you do most as a kid?
Like many children on the island, I always rode my bike to school and to visit friends. Also like most kids, I would learn some tricks along the way such as skids and wheelies. But it wasn't until my teens that I found out what street trials was.
When was the first time you realised your attitude to risk was different to other children?
I always had lots of energy as a kid. I was always climbing the trees in the garden and would be the first person to volunteer to try new contraptions such as slides and swings I'd built with my friends. I wouldn't say I am more fearless than others, in-fact I always try to look at things realistically. Like in all other sports you spend a lot of time learning the basics and you progress from there.
Do you remember the first flip you did on a bike?
The first time I landed a flip to wood was over a jump box in a skate park in Dunbar. From the day I landed it, I had them dialled for the rest of my life.
What was the most difficult 'trick' or skill to master?
It takes lots of time and patience to learn the basics. Fakie nose manuals took a fair while to learn. They involve rolling backwards on the front wheel down a hill with the rear wheel up in the air. It is a really satisfying trick to pull off so worth it! But like any sport, learning bike skills takes a lot of practice.
Whether it's rooftops in Gran Canaria or the Ridge on the Isle of Skye, we've seen you balance on many edges where a fall might have been fatal. Have you ever actually fallen off any of these ledges?
Obviously not, because I am still here! (laugh). All the stuff I do in my videos is well calculated by myself. I don't ride any edges without being absolutely confident that I am capable of staying on them. But obviously mistakes can happen. Everyone drives in cars at what would be fatal speeds if they got it wrong and don't think twice about it.
Is there one stunt or sequence that you've done that was so 'risky' you'd never repeat it?
No, not really. But most of the time, they wouldn't be worth repeating, because they are done. I couldn't justify it.
Do you use mental techniques preparing for a ride?
Yeah, a lot of time when I am doing the big tricks there is a lot of fear involved. It might look like I have fear in control, but that's because I'm handling it. One of the techniques I use is to play a song that I know well through my mind. When the chorus kicks in, I use it as a cue to set off and to commit to the trick or jump over the edge. Even with the cue it can take a number of run-ups to commit to bigger tricks though.
How important are your roots in Scotland and on Skye to your life now you're a globe-trotting star rider?
Scotland and Skye are always going to be home, no matter where I live in the world. I always love coming back after trips, even though I like to spend time in different places in the world. It is where my friends and family are.
With so much travel under your belt now, have you ever been tempted to emigrate? And if you had to live outside Scotland, where would it be?
Yeah, for sure. These days the world seems to be getting smaller and smaller. I would love to spend more time in central Europe or in the States. I would quite happily live abroad; always knowing that Scotland is only a flight away.
What kept you in Scotland?
I have wanted to move to different places, but apart from friends and family living here, I have also had projects I wanted to get done here. It's difficult to find somewhere else that is good enough and has the perfect set up.
If you could only have one type of bike on a desert island, what would it be and why?
That would have to be my trials bike, just because it is the most versatile for all the kinds of riding that I love.
Does riding mountain bikes always come second best to riding trials bikes for you?
No, I actually like riding mountain bikes and trials bikes pretty equally. On my mountain bike I'm usually riding more in the winter and it tends to be with a bunch of friends in a group. You simply can't beat that feeling of blasting down a muddy, sliding trail through the woods and everyone getting to the bottom with a story to tell. Even in the pouring rain – which is common – it's a whole lot of fun. The trials bike is more my thing though, and I tend to ride it more often on my own around Glasgow where I live. Both are equally good fun.
Why did you choose to ride your mountain bike in your latest film, Wee Day Out rather than your trials bike?
The film before that, The Ridge, was pretty extreme, set on and around the Isle of Skye's Cuillin Ridge, and I wanted to do something that appealed more to the regular weekend rider. I wanted to include problems that we all face on day-to-day mountain bike rides, such as crossing gates, or riding through puddles, and then taking them to a more extreme level. Which is why the puddle I ride through in the film just happens to be six-foot deep… But I see myself as a mountain bike rider as well as a trials rider and want people to see me as both.
What is your favourite local ride?
I love the trails at Aberfoyle in Scotland. They are steep, muddy, rooty and challenging. Once you get into that style of riding they are great fun to take on.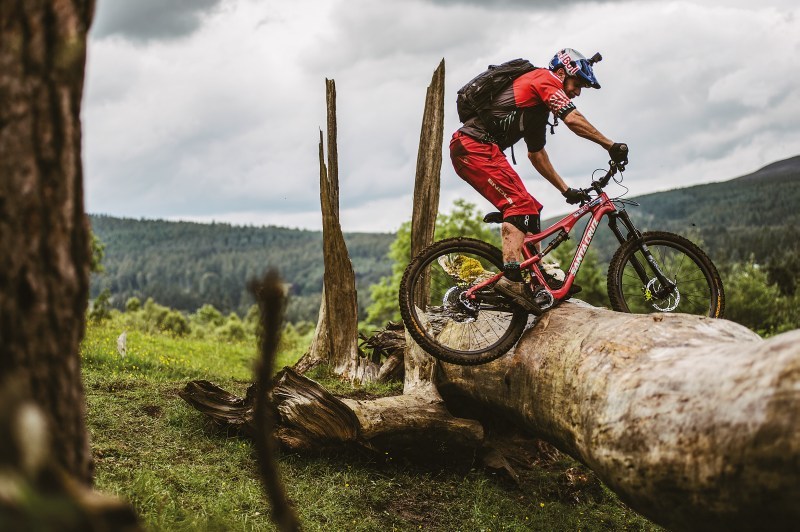 Of all the places you've ridden, what is the most scenic location you have ever pedalled a bike in?
Riding in the mountains above Davos in the Graubünden area of Switzerland was pretty amazing.
Was riding Skye's Cuillin Ridge a long-held ambition from growing up on the island?
Yes, as a kid I always wondered what it was like up there.
Where do you wish you'd had more time to ride?
I was in the Philippines last year with the Drop and Roll Tour. I got to ride my trials bike a lot, but I would love to try the mountain bike trails out there.
What is the Drop and Roll Tour?
They're the live shows which I and my mates, plus street trials pros Duncan Shaw, Ali C and Fabio Wibmer have been taking around the world to bike festivals for the last two years.
You're known for your urban trials riding but given the choice between a mountain and roof, which is best?
That's difficult to say. It depends on the day and what bike I am riding. Both would be equally satisfying to me.
Do you have a trials riding bucket list – is there anywhere that you've always wanted to ride and shoot a film in but never yet been able to?
Yeah, I have loads of different locations on my list. But sorry, I tend to keep them secret until I go and start filming!
Can you see your riding style, creativity and ambitions evolving as you get older? In a good way?
Yeah, of course. By growing older and gaining more experience, everything has to evolve in order to progress to bigger, better projects and to develop new ideas.
You're only 31 but can you even imagine what your later life will look like? What will you be doing when you get to trials bike legend Hans Rey's age (50)?
Well, I'd been riding for 18 years before I got my first YouTube 'break through' in 2009 and I definitely want to carry on riding my bike as long as I can. Whatever happens though, I am sure I will involve bikes in some way.
Did you ever imagine that messing about on a bike would carry you so far in your life?
There are definitely moments when I've had to pinch myself. Riding my bike has taken me all around the world to places I would never have even dreamt of just riding my bike for a living – and I'm still going!
To follow Red Bull sponsored athlete Danny's continuing globe-trotting, stunt-pulling adventures, see redbull.com or dannymacaskill.co.uk. His memoir At The Edge: Riding For My Life, is available in hardback for £10.49 on amazon.co.uk