The tell-tale signs are unmistakable. A line of grass up the middle. The sound of birdsong. Oak, ash and beech trees rising overhead, their branches linking into a green tunnel with dappled sunlight beneath the canopy. Verges dotted with wild flowers: jewel-like snowdrops and primroses in early spring; the early summer tricolour of bluebell, stitchwort and red campion; delicate clouds of cow parsley, garish eruptions of hawthorn blossom and the purple spires of willow herb.
Britain's network of quiet country lanes accounts for as much as a third of the length of the country's entire road network but carries just a tiny fraction of the traffic. This makes them perfect for cycling. My own love affair with lost lanes began as a teenager, when I'd hop on the train from London out to the green belt for a day's cycling with my schoolmates or, if we were feeling more adventurous, an overnight bikepacking trip in the Chilterns.
Ever since then I've been hooked on quiet trails, and the Lost Lanes series of cycling guidebooks is my way of sharing my passion by seeking out the very best of Britain's lanes.
Main roads don't offer the touring cyclist much pleasure - speeding cars heedless of cyclists and prone to burping exhaust fumes in your face can make them feel more like an endurance test. But if a busy tarmac road is for travelling between places, then a lane is a place in itself.
Winding around hills, beside rivers and through forests, lost lanes rarely take the most direct route. Instead, they invite us to embrace slow travel. Cyclists experience the landscape with a detail and definition that is just a blur when travelling by car or by train. As Ernest Hemingway said, "it is by riding a bicycle that you learn the contours of a country best, since you have to sweat up the hills and coast down them".
It's not just geography, but history too. The story of our ancient lanes is the story of Britain itself, from Stone Age trackways to dead straight Roman roads, from medieval pilgrim trails to long-distance drovers' roads. When riding an ancient way I can't help thinking of all the feet, hooves and wheels that have passed this way before. Linking town and village, farm and pub, there is always something to see on a country lane. And from spring to autumn, hedgerows offer up a moveable feast to the keen forager of wild garlic, elderflowers, blackberries, chestnuts, cobnuts, sloes and more.
Ready to get off the beaten track? Planning a day ride or a longer tour on the quietest country lanes while avoiding busier roads requires a bit of preparation. The best paper maps for identifying them are Ordnance Survey's Landranger series, where they appear as thin yellow lines. The website cycle.travel shows them in white, and its clever routing algorithm strongly favours quiet lanes and traffic-free cycleways.
In an often hectic and sometimes stressful world, lost lanes are superhighways for the soul, a chance to forget the worries of work and daily life and embrace full immersion in the here and now, riding through sun, wind and rain, with every sight, sound and smell as vivid as it can be. You may never take to tarmac again.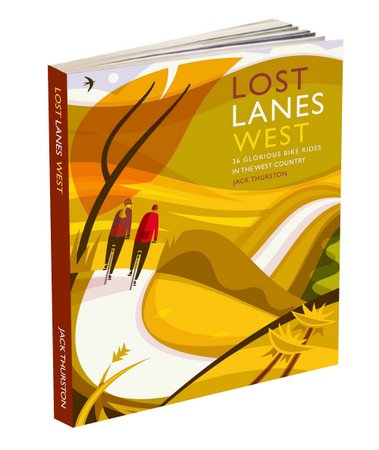 Lost Lanes West Country, by Jack Thurston, is out now for £16.99, available from Wild Things Publishing.
Lost Lanes Southern England and Lost Lanes Wales are also available.