When did you start pulling tricks on bikes?
I grew up in Emmendingen in the Black Forest in Germany. My mates and I wanted to have Trial Motos but we were only 12, so we started on bicycles and kind of stuck with it, then got into competitions across Germany, UK and Spain.
Where did the 'No Way Rey' moniker come from?
When I was 20, I retired (the first time!) from competitive trials riding, after being one of Europe's top 10 riders for many years. I thought it was time to get a job and move on with life, when I received an invitation from an American Trials rider named Kevin Norton, who told me about a new sport in America called mountain biking. In those days, a typical MTB event also included a Trials event. Trials was a European Sport, unlike MTB and BMX which came from the USA. They had never seen a rider of my calibre, and used to challenge me by saying, "No Way" as in "That's not possible to ride". Of course I always at least a tried – pretty soon the name stuck.
You left university early: any regrets?
Well, when I was invited to the USA I had just finished my first semester at uni, so I applied for a sabbatical, planning on returning to school after a few months in the US. I had immediate success and offers and decided to stay a little longer. I thought it would be a good opportunity to see the country and learn the language. I never thought my career would last more than a couple of years, but things kept going and then the mountain bike boom happened in the late 80s (I arrived in '87). I was torn between getting on with my life, pleasing my parents, and living my dream.
It wasn't easy: nobody, including me, could imagine making a living with this 'profession'. Extreme sports careers were unheard of. Definitely no regrets – I'm still living the dream. I'm just so happy nobody hired me for an apprenticeship when I applied at 17!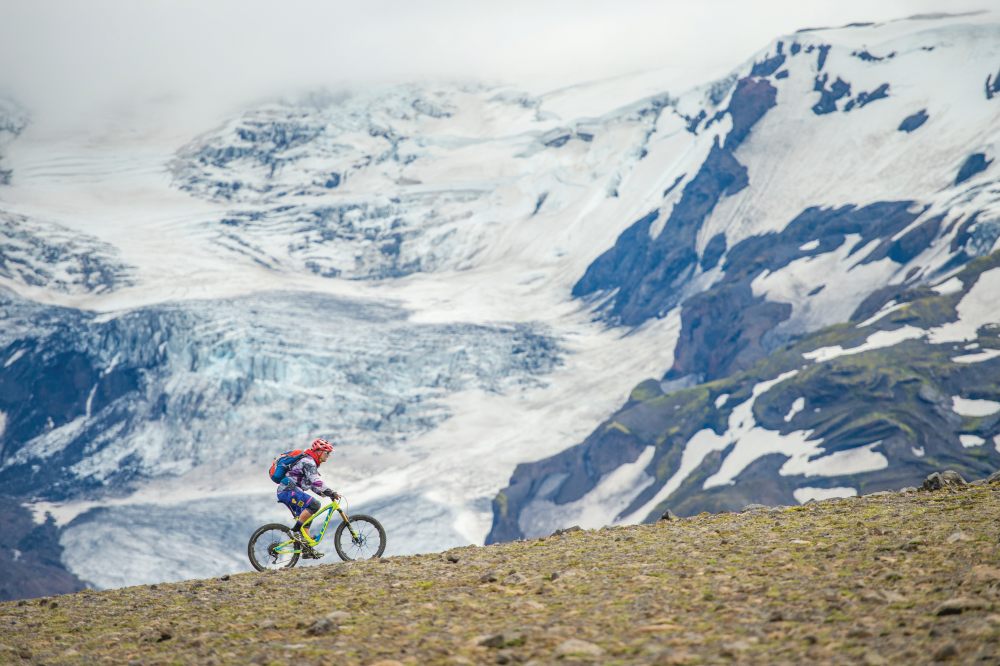 How does the riding in California compare with Europe?
It is quite different. I've been lucky to visit over 70 countries, and I've seen many different mountain biking cultures. California is surprisingly behind Europe in terms of 'purpose built trails' and trail centres, but at the end of the day, we are all riding bikes in the dirt.
You must have been one of the first trials riders to make a living - how important was landing Swatch?
Swatch was the first big corporation to support extreme sports, long before anybody had heard of Redbull. It was a major factor for me, as matter of fact, the only reason I extended my first visit to the US, was because they had agreed to let me do an internship (which never happened). I was sponsored by Swatch for 19 years. I did a lot of Trial Biking Shows all over the world but it started with a tour of shopping malls across the United States to do demos with top skateboarders like Rodney Mullen and Rob Roskopp.
And GT bikes?
GT Bicycles also became my sponsor during my first few months in California. Next year marks my 30th year with this legendary bike brand. It's something I'm very proud of – there can't be many, if any, extreme or outdoor athletes with major sponsorships this long.
And what's this about being a Hollywood actor?
Living in Southern California we would get the occasional casting calls for TV commercials or bicycle related stunt work. Some of these TV ads paid big bucks. Eventually I joined the Screen Actors Guild. I'm still a member of the Union, and I even qualify to receive a pension from them! My biggest Hollywood show was probably the TV Series Pacific Blue (mid to late 90s) which was about the Santa Monica Bike Police. Initially I did a lot of stunt work for them, doubling as one of the cops or crooks. Eventually they gave me my own part, to play myself as the bike coach for the officers. I had full on speaking parts. The show was very 'cheesy' but it was (and still is in some places) broadcast in over 100 countries.
You're almost 50 and you've been a lead player in mountain biking (in its various forms) since the 80s, how?
I try to keep it fun and relevant, reinventing to make myself valuable to my sponsors. I was one of the first to realize that there are ways to promote through mountain biking other than just racing. In fact, most people who owned an MTB didn't know or care about racing. A big breakthrough was when I switched from a 20 inch wheel trial bike to a regular 26 inch MTB, as more people could relate to my riding.
I also looked for ways to use my trials skills outside of competition, riding impressive obstacles or locations. Later my videos were the first of their kind. What YouTube is for Danny MacAskill, VHS was for me, long before X-Games or Internet. After that it was my adventure trips to exotic locations, putting my trials skills in real situations, mixed with culture, mystery and modern Indiana Jones vibes.
Has technology helped or hindered your career?
Well, bike technology has helped my career, and it was quite a journey to be part of most of mountain biking's evolution. From a media point of view, it has changed a lot too. Some things are much easier – who would have thought 15 years ago that we would take top quality photos and videos on our mobile phones? Of course that opened the door to more competition but the days are over when there were only five top biking photographers in the world.
What is your take on 'fat bikes'? Have you ridden one?
I think fat bikes have their place, especially in countries with long winters. I have only ridden one a bit and I'm not infected yet, but I always fancied the idea of riding some area in the world where there are no trails and where one has to ride cross-country, like in some of the great parks in Canada or in Africa.
Where does adventure and travel fit in?
I've always had a big interest in travel and also in mystery and history, combining my extreme biking skills with different cultures. Combining these with some sort of mission was the goal when I transitioned from competing to the 'Hans Rey Adventure Team'. Sometimes it was more about the ride and other times about the mission, be it on a first descent from Mount Kenya, a difficult Transalp route, or the crossing of the Sinai peninsula.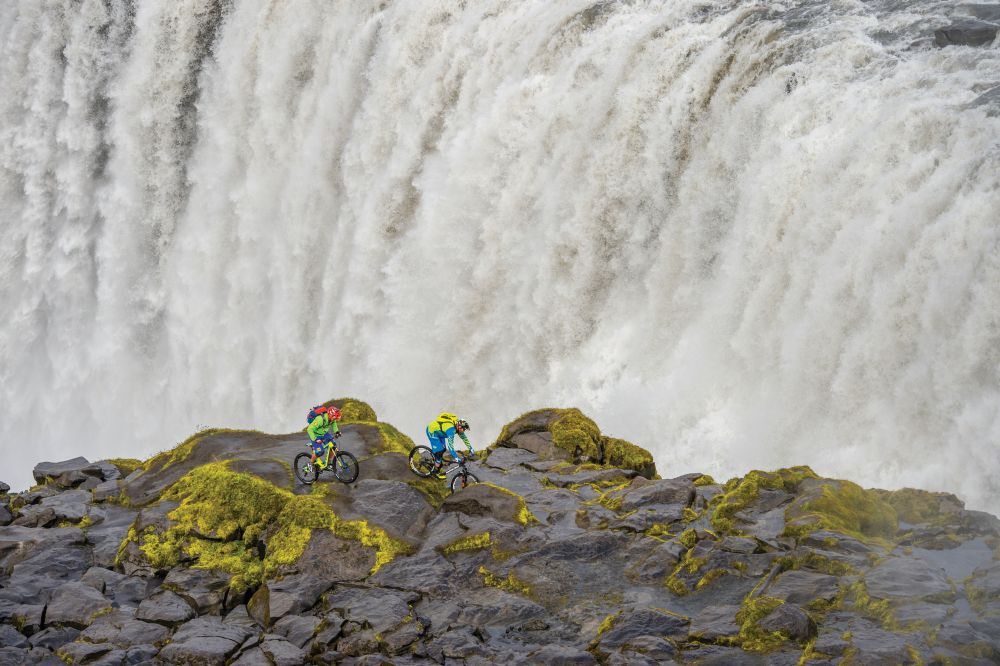 Are most of your adventures essentially about journeys?
Yes, new and cool places, and challenges too – but often deeper. For example, we shed light on some pyramid mysteries in Egypt a couple of years before they made global news. Other times it may be routes that have never before been attempted on a bike.
And how come you can still ride such amazing stuff?
I'm as good as ever, but the level of riding has risen to where I can't keep up. There was a time when I would boldly claim that I could ride any line anybody could ride, then came a time when I would say, I could ride any line anybody could ride twice. Now the level where riders like Danny or the Ramage crew have taken it is amazing and I'm stoked to witness it. It's now far beyond my abilities or healing tolerances, but I'm proud that I was able to inspire some of these guys to push the limits and others to simply ride a bike.
Have you become more cautious with age?
I was never out to kill myself. Yes, with age you realize what you can lose and that it's not worth it. You need to know your limits and calculate your odds. Riding Ireland's Cliffs of Moher, for example, had huge consequences, but really it was as easy as riding on a pavement.
Where is the craziest landscape you have ridden?
The traffic of New Delhi and on hot larva in Hawaii.
Does a great natural ride always trump a man-made one?
That's safe to say. This summer I did a North-South Traverse of Iceland with Steve Peat – it was beautiful and challenging.
What is Wheels 4 Life, and what does it mean to you?
Wheels 4 Life is my wife's and my baby. We started the non-profit charity 10 years ago to give bicycles to people who need transportation in developing countries. We have given over 8,000 bikes to people in 30 different countries so far. This is not a career move, I simply want to give back. The bicycle has been good to me, but for the people in Third World countries, it can change their lives.
Will you ever retire?
Retirement is out, as I have just extended contracts with GT Bicycles, Adidas! I'll keep saying "just another three years"….ha! Why retire from a dream job that I love, as long I can have fun and can stay relevant? And anyway, all I want to do when I retire is ride my bike in remote and mysterious places…
What next?
Plans in the pipeline include descending Kilimanjaro and a History of Freeride film. Watch this space!
To follow Hans Rey's continuing adventures, see hansrey.com. To support his and his wife Carmen's charity work, see Wheels4life.org