What was your first 'real' climb?
I grew up in the Lakes, and I used to do a bit of scrambling in the fells with my dad. But my first real climb was Shepherd's Crag in the Lake District when I was 10. One of my dad's friends took us, showing us the ropes. With stunning views over Derwent Water, this Borrowdale slab is a great place to start climbing. It certainly worked for me!
Junior British indoor climbing champion at 15 and the first Brit to freeclimb Yosemite's El Capitan... What a start!
At that age I thought I was invincible – I could do anything. But in 2002, when I was 21 I fell about 20 metres and crushed the talus bone in my foot on an expedition in Patagonia, South America.
How did this accident change you?
You could say I had it coming and was lucky it wasn't worse. I learned some vital lessons from that fall – not least when it's appropriate to push and take risks, and when it isn't. That was a remote climb, and it took me three days to crawl back to the road. I didn't even have travel insurance, so had to make my own way back to the UK. They say there's a fine line between bad ass and dumb ass. It was two weeks before I could get back and get operated on. The doctors said I wouldn't walk easily again, let alone climb, and I was on crutches for four months. But even once those initial fears that my climbing life might be over had passed, it was still clear that whether I made it back to climbing or not was down to me: how much I wanted it, and how hard I was prepared to fight at getting fit again.
This must have been a difficult period?
Positive things often come out of what seem like disasters at the time and this year of recovery proved pivotal in several ways. For starters it cemented my relationship with Berghaus, who stepped up and unreservedly backed me for the year, even though I told them I wouldn't be able to climb. That support at such a difficult time is the main reason I have such loyalty to them. It's also when I met my wife!
Didn't it also spark your TV career?
That's right – during that time I got my first exposure to working in mainstream TV. The BBC made a documentary of my recovery called My Right Foot and since then I've made about 50 TV shows. Indirectly, it also led to me climbing Everest for the filming of an epic period drama about Mallory and Irvine's ill-fated expedition on the famous mountain. I played the character of Irvine in the film The Wildest Dream and the scenes involved climbing at 7,600m, which turned out to be one of the highest filmed drama shoots in history.
Can we believe everything we see in adventure TV?
To be honest reality TV is a load of bollocks! It's all smoke and mirrors. What I really love to do is high production adventure films. Films about hardcore adventures with real difficulty and real danger in amazing parts of the world on spectacular mountains. This is what I set out to do with film maker Alastair Lee for our expedition to Mount Asgard deep in the Arctic on Baffin island, and it worked, The Asgard Project winning loads of awards.
You seem to have worked with Alastair Lee a lot!
We've actually done five major projects together, including the first ascent of Ulvetanna Peak in Antarctica in 2013, and the film of our expedition The Last Great Climb came out at the end of the year, again winning loads of awards. That climb really was my wildest dream – the most demanding peak on the world's toughest continent, and in my opinion Ulvetanna is simply the most amazing mountain in the world. But Alastair and I are taking a break at the moment – much as we like working together, and I'm sure we'll team up again, he can't be my personal filmographer.
You went back to Patagonia in 2005 to tackle the Cerro Torre again – did you feel like you had unfinished business?
I didn't exactly feel like I had any demons to slay but it would have been nice to finish the climb. Unfortunately the peak wasn't in the right condition, so we made a first ascent on the nearby north pillar of Fitzroy instead.
You're a father now. That must have been a big change too!
Of course! I actually found out I was going to be a dad as we were about to come down from the first ascent of Ulvetanna in Antarctica in 2013 – you can actually see it in the film we made with Alastair Lee of the expedition called The Last Great Climb. You can see me in the background showing one of my best friends and climbing partners Jason Pickles my phone and saying "Shit. I'm going to be a dad!" It was surreal.
Another of your best friends and climbing partners Sean 'Stanley' Leary died soon after. That must have hit you hard?
It shook me up a lot. Stanley died in a BASE jumping wingsuit accident the year after I became a father, in 2014. His wife Mieka was pregnant at the time and it's particularly poignant that I know his son Finn and he doesn't. That was definitely a formative happening in my own life. It's only recently that I've been able to remember him with a smile rather than just tears. After he died I stopped BASE jumping.
What affect did these events have on your climbing?
You'd be a fool not to question your values when things like this happen. But they don't just affect me – nor do I just worry about risk to myself: on this latest expedition to Greenland it was so remote I felt danger keenly throughout for both myself and the rest of the crew – some of whom were working with me for the first time.
Since that first ascent of Greenland's Mirror Wall last summer you've done some serious looking back…
Yes, the last two years have really shaken things up, so the climb was aptly named for where my mind's at. But reflections on my life of adventure and new life as a father have been inconclusive. I know I am more risk averse and I know I do not want to miss out on the ephemeral joy of my daughter Freya's childhood.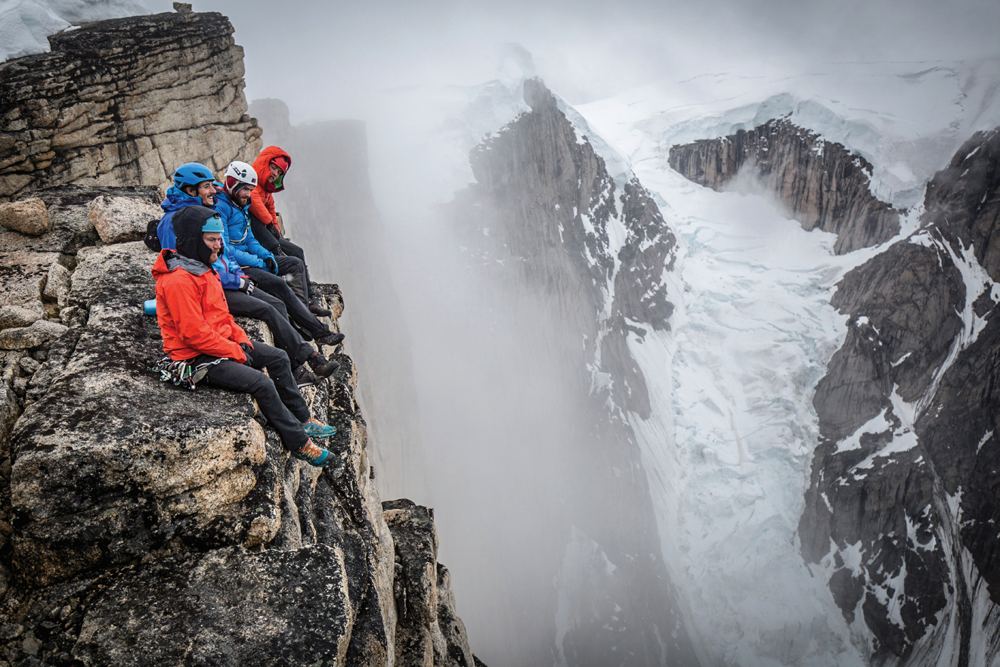 There's a 'but' isn't there…?
But I also know that expressing myself in this landscape is a part of me. You also get perspective from other events that happen beyond your control, regardless of how careful you are being. For instance, despite 20 years of first ascents and wing suit flying and base jumps, the closest I've ever really been to dying was in 2014. I had a seat booked on the Malaysia Airlines Boeing 777 that was shot down by Ukrainian separatists. It was by pure chance that I changed my plans and decided to fly out to Borneo four days earlier to prepare a climb for a Discovery Channel shoot, booking a seat on a different flight.
So you've managed to justify the risks?
Stuff like this helps you rationalise the risks. Stanley died doing something incredibly dangerous that he loved, proximity wing suit flying but I could have been sitting on that plane, minding my own business watching the movie only to be shot down. It gave me more confidence going out and doing dangerous stuff – life is dangerous; risk exists in the world regardless of what you do. There's no point shying away from adventure, as you might just get shot down by Russian separatists anyway.
Does luck – or lack of it – play a role in climbing too?
Of course. I had a reminder of that on the Mirror Wall climb itself.We'd all settled down to sleep on our portaledge's hanging from the rock face, when a cricket ball sized lump of rock fell out of nowhere to hit me in the 'privates'. It made a big hole in my sleeping bag and hurt lots – but not so much as to keep me from expanding my family, if you know what I mean. If the rock had hit me in the face it could have killed me though, so I guess you could say I had a lucky escape, though it certainly didn't feel 'lucky' at the time. As you can imagine, I slept the rest of the night with my helmet over my face.
How long can you keep climbing these extreme peaks?
Well, Sir Chris Bonington still calls himself a 'professional climber' and he's over 80! For now though, the good news is that Berghaus has just renewed my sponsorship for another five years, which is an incredible commitment these days. That will take me to my 40th!
What are you plans next then?
There's this 2,000m peak in Queen Maud Land in Antarctica called the Spectre, which must be the most remote peak in the world. The only way to the 700m main wall is via the South Pole and 1,000 miles of Antarctic wilderness. So we're looking at kite skiing options. I keep being drawn back to these cold rock faces, which is surprising really, as I don't even like the cold.
We spoke to Leo at the launch of Berghaus' new Extrem clothing range, which he helped develop. To follow his globe-trotting, cliff-climbing adventures, see leohoulding.com and Berghaus.com