Was being a professional climber always part of the plan? Is that why you joined the army straight after school – for the travel and climbing opportunities?
I didn't actually start climbing until 16. To be honest, my early career was more accidental progress rather than part of a plan. Doing my military service, I realised I liked, and was suited to the way of army life. Before I joined I actually had my heart set on becoming a pilot. I passed all the necessary tests but when I finally took the controls it was patently clear that I had absolutely no aptitude for flying at all.
Was university or further education ever an option?
I had wanted to go to university and study History at UCL in London but I had terrible exam nerves. I still do get terrible nerves for tests and deadlines. Never for climbing though – it just goes to show that everyone's different!
So instead I ended up graduating from Sandhurst and taking up a commission with the Royal Tank Regiment, which took me to North Germany for three years.
How did the climbing expeditions start?
During my time in Germany I did a lot of climbing in the Alps, which is a fantastic mountain range with a huge variety of types of climbing that's easily and quickly accessible. And then a job came up for an Army Outward Bound instructor – against the advice of my commanding officer I went for it.
Did you have a bucket list of climbing ambitions to tick off?
My climbing CV illustrates the development of my climbing career and opportunities simply as they came up. Brought up by a single parent in London I never dreamed I'd be able to climb in the Alps even, let alone the Himalayas. Before the army I only really had the opportunities to climb in the UK but it turned out to be a great training ground.
Did you ever try to lead a 'normal' life, with a regular job, working regular hours in an office?
After I came out of the army I went for a job with Unilever. I had to jump through lots of hoops to get in against serious competition and then didn't last nine months. After I'd asked for yet another leave of absence for a climbing expedition they said I really needed to decide what I wanted to do. I had convinced myself that I could be a weekend climber but when the big expedition invites came in I just couldn't resist.
In 1962 you were the first Briton to climb the North Wall of the Eiger. Does this go down as one of your greatest climbs?
Well, it was complex and very serious but not overly technical. We knew the route because it had already been climbed.
Which of your climbs is you greatest achievement then?
Leading the South West Face of Everest expedition in 1975 – my successful second attempt on that particular route – is probably the climb that I'm most proud of.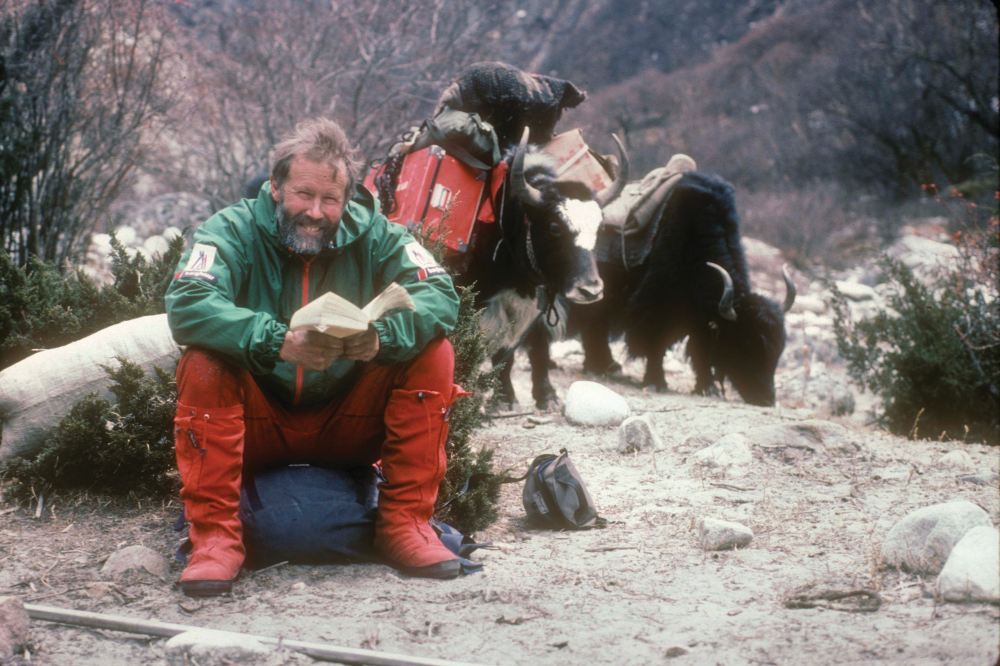 Was the Everest challenge the same then as it is now?
In the 60s expeditions in the Himalays needed 8 to 9 week trips. They were huge logistical undertakings considering the lack of roads, so siege tactics were the only way to tackle them. But the biggest challenge of that kind of climb is that you need both technical climbers and a huge logistical effort. After that trip the expeditions have become smaller and smaller. But it wasn't until the mid to late 70s that 8,000 footers were being summitted in the light and fast self-sufficient 'Alpine' style. Messner [who, with Peter Habeler was the first climber to summit Everest without supplemental oxygen, in 1978] was the first real modern individual climber.
Many of your climbing friends have died doing the sport. Do climbers have a different outlook on life – and death?
As a climber you've got to have a different philosophy on death. Climbers are attracted by the adrenalin rush of risk, so if you want or need that kind of stimulus in your life, you have to accept the potential consequences. There must have been eight or nine times that I've got away with it myself – times when I really thought that my time was up.
Has technology made climbing 'easier'?
Kit has certainly improved across the board. Clothing is lighter and more breathable, nutrition is better and sports science is better. The technological improvements have almost acted like an evolutionary development. Communications have been revolutionised too, of course. In the 70s we used to have to use mail runners to get letters in and out and to file copy to editors.
Is all this technological 'progress' always good?
Not in my opinion. Now you can get a mobile signal on Everest things have gone too far, with too much contact with home expected from both family and sponsors. Now, when you get back down from a summit you're expected to start filing copy and stories and keep sponsors happy. Before all that we used to be able to read or play bridge while we recovered.
Which of your climbs would you say was your favourite?
My favourite climb of all time has to be the 1983 first ascent of the West Summit of Shivling, in the Western Himalayas. It was an Alpine style expedition with Jim Fotheringham and we only had a very tight window of time to be on the mountain. In the end we had fourteen great days out of the sixteen we were on the mountain. There were just the two of us and we changed our objectives on the ground. It was very free and pure with lots of very technical challenges and no support. It took us five bivvies, and the descent, also an accidental first, was very difficult and challenging. But we made it.
What about the Old Man of Hoy?
Climbing The Old Man of Hoy sea stack to celebrate my 80th birthday last year was certainly important for me. I also did it to raise awareness and funds for motor neurone disease charities in memory of my wife Wendy, who died of the condition a month before. I certainly wasn't as flexible as I was when I made the first ascent in that famous live TV broadcast 49 years ago in 1966. The disc I slipped doing it the second time around is only just starting to get better…
Are your children into climbing too?
I love being able to go into the hills with my children and their children. I went up Kilimanjaro with my son Daniel in the 90s, and that was a great experience for us both.
Do you miss the expeditions to exotic far-flung mountains?
I walk in the fells of the northern Lakes every day and the Lake District has mountains as beautiful as any in the world, just in miniature. It's never the same two days running. Even in late November when the days are short, there's horizontal rain and it's blowing a gale, I still love it. I love travel and seeing the world but always want to come back home to the Lakes.
You recently took part in the Community Action Nepal charity 24hr ice climb at the King Kong indoor climbing centre in the Lakes. What do you think of indoor centres like these?
Climbing walls are a great way of keeping fit. And they're packed with kids, which has to be great for the future of British climbing. My grand daughter Emily is a member at the King Kong Climbing Centre and loves it. The important thing with climbing is that you find your level and enjoy it.
Sir Chris is a Berghaus ambassador and you can follow what he's up to on his own blog, at bonington.com