Craig Grimes was still a university student when an accident left him using a wheel-chair. Chatty and disarmingly straight-talking, with his long hair pulled back in a pony-tail, the accessibility advocate explains over Zoom that he was "just messing around after a few beers" when he fell out of a tree and landed badly. Yet despite suffering what are usually described as 'life-changing injuries', what's remarkable is just how little the accident seems to have changed Grimes' plans. 
"I had my accident on 1st May. On the 1st August I discharged myself from hospital. A friend and drove to Hull that night and caught a ferry to Holland" he says, "where I spent two weeks wandering from hostel to hostel". That experience ignited "a travel bug," Grimes explains, and he spent the next few years travelling the world, despite being sedentary. "I flew off to Spain by myself a couple of years after my accident. I went to Barcelona for a month to learn to teach English as a foreign language, and ended up staying for almost seven years. From there, I ended up moving to a place called Matagalpa, in the Cloud Forest of Nicaragua, well off the beaten path". 
These adventures, Grimes says, helped enormously with his physical rehabilitation. "As a disabled person, if you just stay at home all the time, you've got a routine. You do the same transfers, from the chair, to the same bathroom, and so on. Whereas for example, I learnt on a camping trip how to transfer from on the floor, back into my wheelchair. Which is a really useful skill".
Travelling also helped him mentally. Grimes learned a lot, he says: about himself, about the importance of independence, and the restorative power of adventure. It was these lessons – rather than the accident which left him disabled – that really changed his life. And when he returned to his native Yorkshire after eight years away, he was determined to encourage others to embrace adventure in the same way.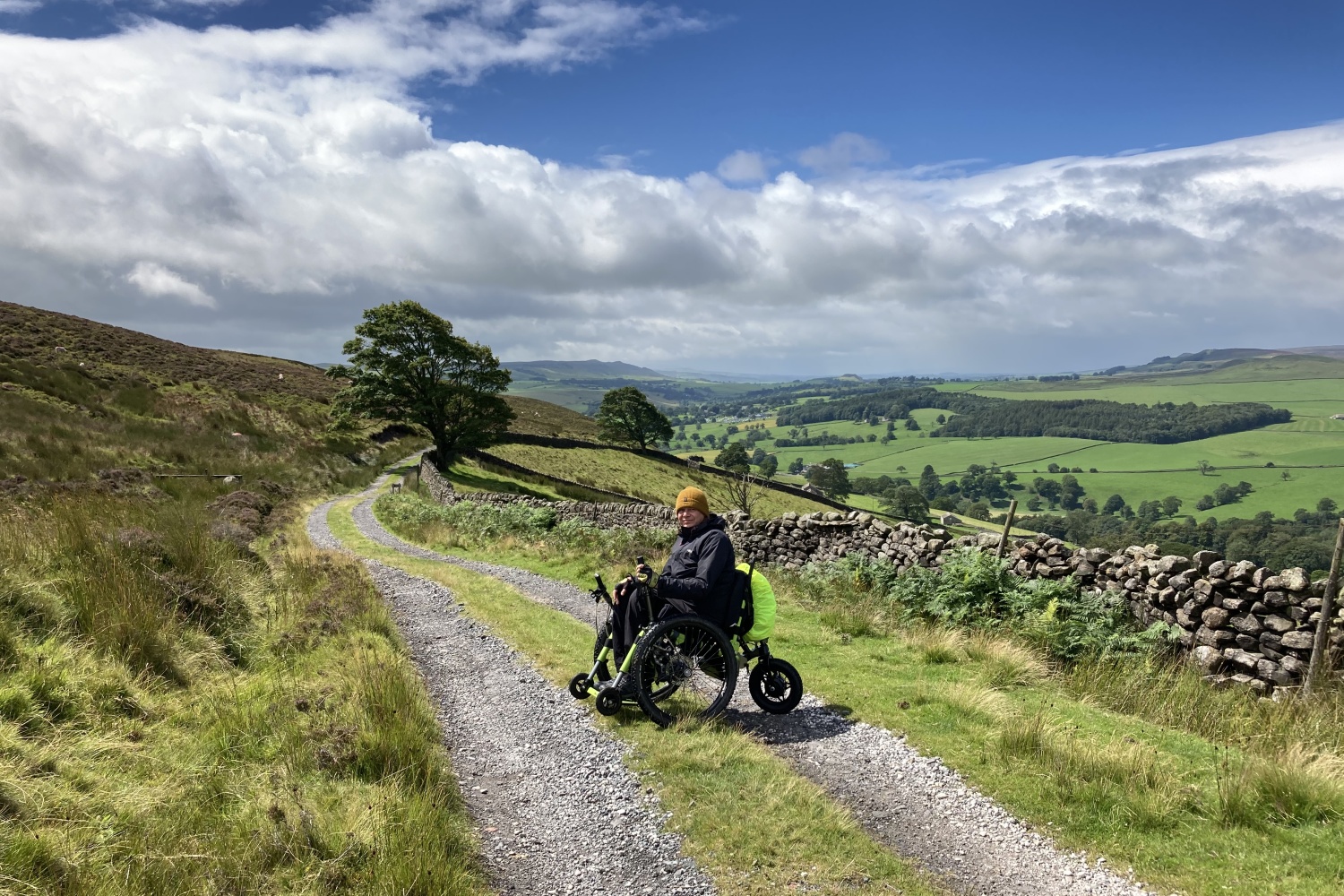 A hands-on approach
Grimes founded Experience Community, a not-for-profit which takes a practical approach to getting disabled people outside, in April 2011. But things started small. "It began as a volunteering project," he explains. "I went to this Access the Outdoors conference, where someone asked me how I'd describe routes for disabled people. I said 'well, I wouldn't, I'd make films'". His idea was that it would be far more more useful – and far less patronising – if people with varying levels of mobility could see what challenges a route posed, and make choices for themselves rather than just being told "this is accessible" or "this isn't accessible". 
To begin with, he says, "it was literally just me, filming myself with a Canon camera and one of the early GoPros, and using iMovie to edit the footage". Did he realise at the time that this project might turn into a full-time occupation, I ask? "No!" He laughs. "Honestly, I had started a PGCE – a masters in education. But then we got three years of grant funding from Kirklees Council, and it grew from there".
Today, Experience Community continues to produce videos, but also organizes regular rambles for hundreds of disabled people – starting from different locations across the UK – and offers equipment hire and loans so people can head off on their own adventures. As the recent video produced by Craghoppers, an outdoor brand for whom Grimes is an ambassador, shows, the not-for-profit is now the proud owners of some of the most cutting edge recumbent mountain bikes, and off-road wheelchairs anywhere in the world. "We've now got something in the region of £300,000 of different bits of equipment," Grimes says – all of which enable them to offer people adventurous experiences of the kind they might not otherwise be able to enjoy. 
Challenging assumptions
Yet for all the organization's popularity and progress, Grimes still finds himself banging up against some pretty old school attitudes. "Back when I started, people – including disabled people – were just talking about the need to provide what they called 'a brew, a view, and a loo' at National Trust sites and the like. The conversation was about being able to go to a place with a nice view, have a cup of tea, and make sure there were facilities there to use if you needed them. That was it."  
The approach might have been well-intentioned, says Grimes, but it was also spectacularly unimaginative, not to mention limiting. It wasn't just that disabled people were being treated as a single, monolithic demographic – it was that they were assumed to want only a safe, sanitised version of the outdoors. "That's not what I want from the countryside!" says Grimes, who lists jumping busses in Guatemala among his favourite experiences, and loves getting muddy on his mountain trike. 
Worse still, sometimes local councils and other organisations over-react when it comes to providing disabled access. "They'd see a muddy bridleway and in the name of making it accessible, they'd flatten it out and tarmac it," Grimes explains. "There are some examples where councils have sanitised famous bridleways that mountain bikers used to enjoy. They claim that the work has been done in the name of disabled people, but the tarmac section doesn't connect into anything that's suitable for disabled people. It really doesn't make any sense.'"     
Experiences like this have seen Grimes redouble his efforts to raise awareness of the real issues, and he's begun offering his offer his expertise as a consultant. Experience Community now works with everyone from the National Trust in the UK, to the National Parks service in Australia. "When Parks Australia came to us with their idea, we had a two hour conversation and they completely changed their project".
Again, the intentions had been good, but Grimes spotted issues in the proposed implementation. "They were just going to get six mountain trikes, put them in three different National Parks and advertise them. I said, 'well actually what you want to do is employ a disabled person to teach other disabled people how to use these bits of kit, otherwise they'll just sit there gathering dust'". 
Grimes' approach tends to concentrate on how he can make a practical difference, and the nitty gritty details. But his work makes a larger point about the lack of representation too – one that applies not just to those managing parks and public lands, but to the entire outdoor industry. "You've got to really engage with this stuff," he says, "you can't just give it lip service".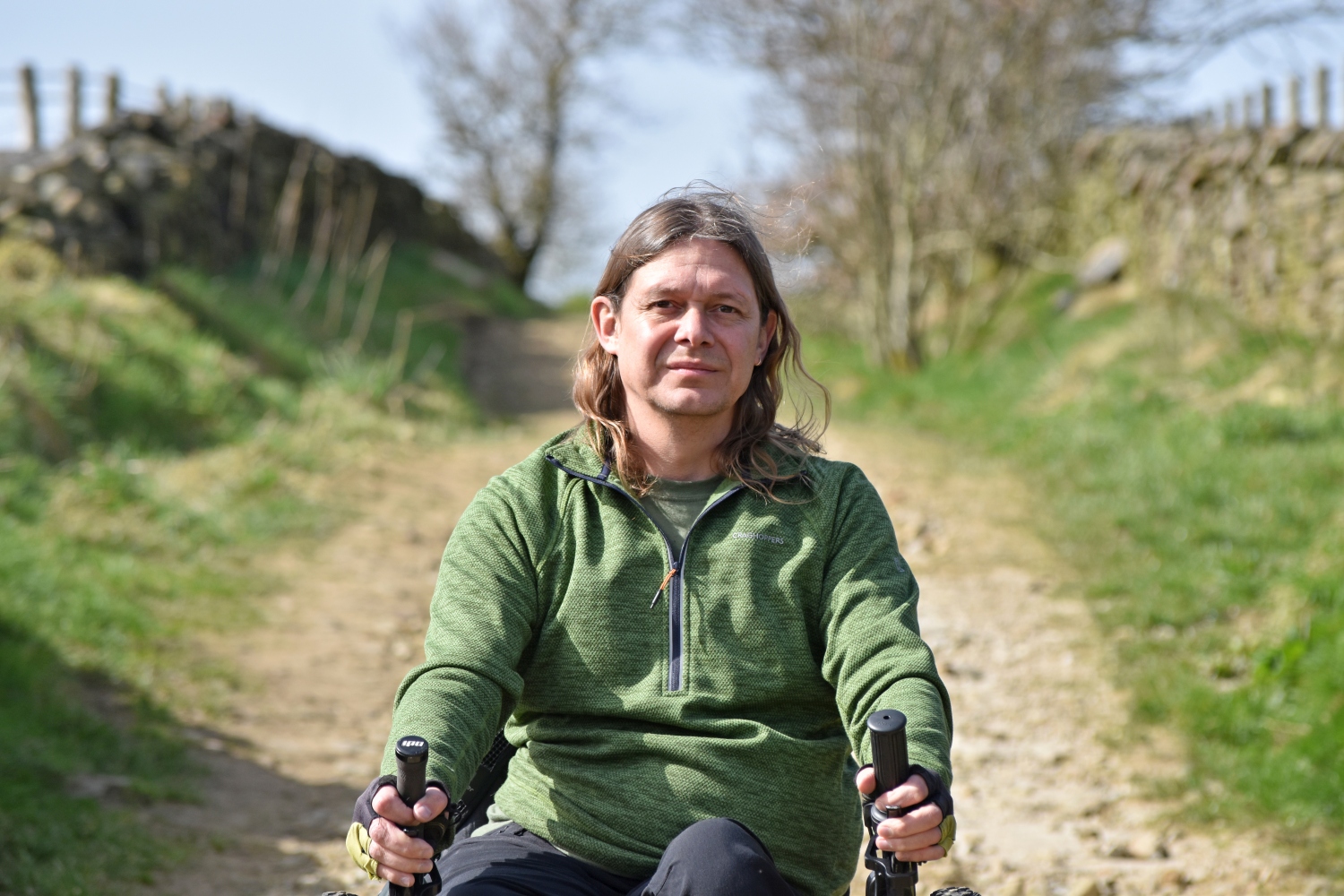 Embracing adventure 
Of course, encouraging disabled people to embrace adventure, and reject the sanitised version of the outdoors, means accepting an element of danger. The consequences of this aren't always comfortable, Grimes explains. "Someone we know fell out of their wheelchair at a nature reserve and hurt themselves quite badly. They wanted to sue the reserve," a move which Grimes, diplomatically, had to talk them out of. "I said, if you do that, they'll just blanket ban all wheelchair users from that part of the reserve, and you'll do a huge amount of damage to everyone else."   
Thankfully incidents like this are few and far between. And they're far outweighed by the positives that adventure offers – the feelings of independence, escape and excitement, which Grimes feels so many disabled people are prevented from enjoying. 
In the end, the popularity of the Experience Project speaks for itself. "We've got about 250 - 300 disabled people officially on our books," Grimes says, "but when you include people just popping in to try stuff, that increases massively. And when you consider their personal assistants, or family and friends, who also benefit from them being able to get outside more, you're probably impacting thousands rather than hundreds."
On a recent, hand-cycling trip in the Yorkshire Dales Grimes was pleased to see two people signing up from Holland. "We've had people come on our trips from Ireland before too," he says. "It shows how unique it is when people are willing to travel those distances to come and get involved in what we're doing." It's not just Grimes' life that's been changed for the better – but countless others too.