What was your first experience of cycling?
Like most of us, I got my first bike when I was little, but I must admit those stabilizers hung around for a surprisingly long time! Besides the odd football match I actually dropped out of doing any real sports or activity until my mid 20s. Then I had an epiphany, quit my old life and started adventuring. I came up with a project called Expedition1000, twenty-five 1000-mile journeys on different kinds of non-motorized transport. My first proper cycling tour was the third trip, a tandem ride from Vancouver to Las Vegas in 2011. That was a trial by fire!
It sounds it! How did you train for it?
I didn't - there's a bit of a theme building here, I don't train for my journeys, instead I'll usually take the first week nice and slow to build up. I'm not racing or competing so there's no rush. The first time I ever sat on a tandem was the first day of that journey. We did 40 miles out of Canada and then literally fell across the border and into the States. We didn't really plan the route, we just needed to get to Las Vegas, which was roughly 1,400 miles away. So we decided to aim for 100 miles a day and navigated with free WiFi in McDonalds. It was an incredible trip – we camped along the way and the landscape changed so much as we cycled from the Nevada desert and up into the Cascades mountain range. I woke up after camping in the mountains one morning and found wolf footprints all around our tent.
Tell us about your remaining Expedition1000 journeys. How many are left and how many will be on two wheels?
So far I've completed fourteen trips over 1000 miles, so there are eleven left to go. I'm not in a hurry and only start thinking about the next one when I'm good and ready – they're soul food for me and a journey or two each year is such a nice way to take a break. I haven't actually done one on a traditional bike yet, I'm saving that as a treat! But there have been plenty on two-wheeled contraptions, including a tandem, a scooter, an ICE Trike, a whike (a recumbent tricycle with a sail), and even a Schiller water bike along the Norwegian coast. That one was tough. You cycle it like a bike, but pedalling on water without the feeling of speed you get from a trail makes you feel like you aren't getting anywhere. I got pretty saddle sore on that journey, and promised myself no saddles for the next few trips!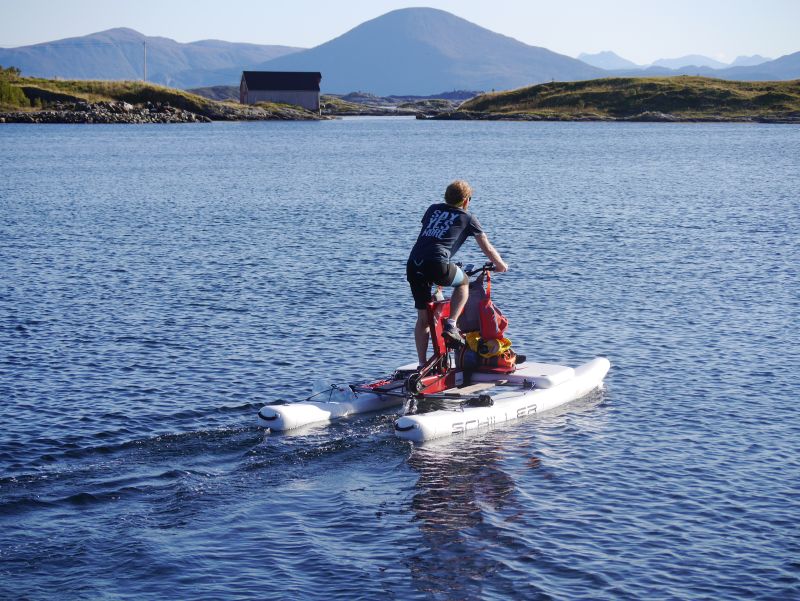 Why are two-wheeled journeys special?
I've done a lot of slow travelling – two of my 1,000 mile journeys have involved swimming (the Missouri river) and kayaking (from Oslo to Helsinki) and it took longer to see progress on those. The beauty of traditional cycle touring is you cover so much more ground and enjoy how the landscape endlessly changes. You can see a lot more on a two-week cycle tour of the US than you can swimming down the Missouri!
What kind of bike do you own now?
You know, I don't own a traditional bike! But I do have a whole bunch of toys from my different trips. I live on a boat in London and they're all on the roof. I've still got my ElliptiGO (a running bike), my Swifty scooter (which I rode 1052 miles across Japan) and my trike. And I use the waterbike to go shopping and clean-up our marina and local waterways.
Your expeditions are massive undertakings but you always look like you're having fun! Do you a bit of silliness is important in the often serious world of adventuring?
I think it's so important to have fun and enjoy what you're doing. I'm a positive chap on the whole! Some of my journeys have been huge challenges – a 1000 mile swim is no joke – and they've all had hairy moments. I do probably make them look easy, and not like endurance tests, but perhaps that's because I choose not to race anyone or set targets besides distance. That means I can travel slow, soak up my surroundings and really see the world I'm travelling through. I don't really see the point in doing something if you're not enjoying it most of the time – so many of us are really lucky to be in the position to make a decision to go on an adventure, so I'll be damned if I'm going to choose to do something that makes me miserable!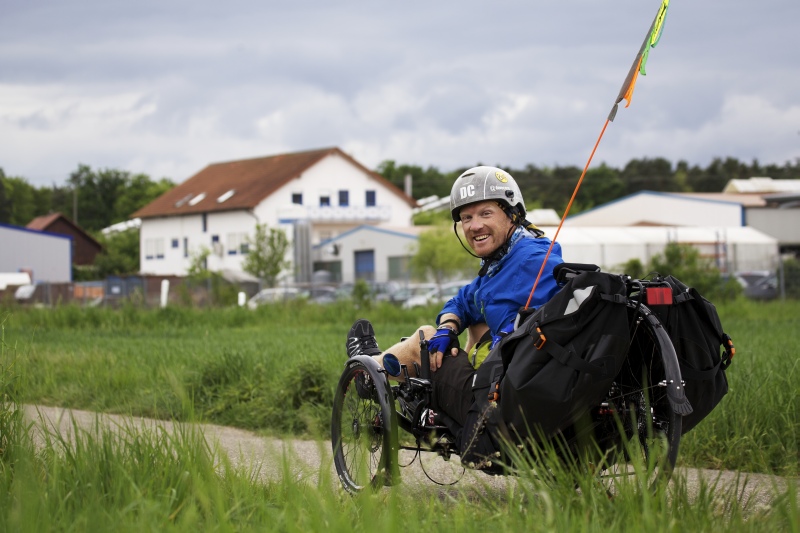 What's been the craziest cycle journey?
Probably travelling by bikecar from Memphis to Miami. It's an unglorified go-cart really, with space for a passenger, so I picked up hitchhikers as I went. It was built by a great chap called Paul Everitt, who rode it around Europe and across Canada before I hopped on. The American South is such a weird and wonderful place! Travelling on unusual bikes means I get a great reaction wherever I go, they're real icebreakers, and the friendly people I meet on my journeys are a reminder that the world can be a good place. That was the toughest journey too, though - I was hit by a car early on, and chucked 30 metres off the road. I'm definitely lucky to still be around. But I still totally love exploring by bike – it's just important to be visible and to calculate the risks of your route.
How do you pack for your cycle trips, and what tips would you give newbie bike packers?
Firstly, don't put pressure on yourself to go fast or cover massive distances. Give yourself a chance to enjoy the journey. Don't be afraid to take a comfy sleeping bag and pillow - there's no point suffering through the trip, and it's so important to look forward to going to bed! I don't really pack any luxuries but I do like having my phone with me, so I can make little films of my adventures. My top tip if you aren't sure what to pack? Do a weekend test ride in the UK and then take out any items you didn't end up using – it'll help you save a few precious kilos.
What's been your favourite cycling journey so far?
It has to be the Hase Pino tandem (a semi-recumbent tandem touring bike) trip from Germany to Hungary with my fiancée Emms. We actually got engaged at the end of a trip that featured a few slow-motion comedy falls. That must be a good sign, as they call the Pino tandem the 'divorce bike' because it's such a trust exercise - the person on the front has no control of direction whatsoever.
I also loved travelling across Japan on a Swifty scooter – it's wonderful standing upright and whizzing downhill, a nice break from saddles! Swifty fashioned some racks for me so that I could carry my gear. I was pretty unfit at the start of the journey and immediately spent five days climbing up the Japanese Alps. But when I got to the top, there were 80 insane miles of uninterrupted downhill in front of me, which was tremendous fun.
Have any other cycle tourers inspired you with tales of journeys by bike?
I love reading anything by Dervla Murphy – all of her travel books are inspiring, but her journey through East Africa on a bike in The Ukimwi Road: from Kenya to Zimbabwe is a favourite.
For more information on Dave's adventures visit davecornthwaite.com
Four more inspirational cycle travellers
Thomas Stevens (1854-1935)
The dashing Thomas Stevens was the first person to circle the globe by bicycle, a feat even more impressive given that he rode a large-wheeled Ordinary, also known as a penny-farthing. Illustrations abound of the mustachioed Stevens on his epic trip, which took him from April 1884 to December 1886 to complete. What did a Victorian gentleman explorer take on a bikepacking trip in the 1880s? Apparently, he filled his handlebar bag with socks, a spare shirt, a raincoat that doubled as tent and bedroll, and a pocket revolver.
Frank Lenz (1867 – 1894)
Lenz wanted to follow in Thomas Stevens' footsteps and circle the globe by bicycle, but ended up having a pretty rubbish time of it. Hired to write up the story for magazine Outing (a title we rather wish still ran), it took him two arduous years of getting lost on the tough roads of China and catching malaria in the jungles of Burma to reach Turkey in 1984, where he promptly disappeared under mysterious circumstances (he's believed to have been ambushed by bandits on the road) and was never seen again.
Annie Londonderry (1870-1947)
Annie Kopchovsky, more famously known as Annie Londonderry, was a pioneer of female cycling, and the first woman to bicycle around the world. In 1894 two Boston businessmen wagered $20,000 that no female could achieve the feat. Annie disagreed – she hopped on a 42-pound Columbia bike, adopted the surname Londonderry from a spring water company in return for $100 worth of sponsorship and hit the road, returning successfully in 1895. Her great-grandnephew Peter Zheutlin reckons "if a mother of three children, ages five, three, and two, were to suddenly disappear for 15 months on a bike trip it would raise eyebrows today. In the 1890s it was practically unheard of."
Dervla Murphy (1931-present)
The much-loved Irish travel writer and cycle tourist is best known for Full Tilt: Ireland to India With a Bicycle, an incredible overland journey through Iran, Afghanistan, Pakistan and India, travelling solo and relying on the hospitality of locals on the way. This tough cycling cookie has been attacked by wolves in former Yugoslavia, threatened by soliders in Ethiopia and robbed in Siberia but still thinks falling over her own cat was worse. Her books are fascinating and funny, but also highlight serious issues - in 1992 she cycled from Kenya to Zimbabwe and reported back on the devastating impact of AIDS in Africa.