Where did the idea for the trip come from?
We were both obsessed with the thought of going to Japan as were intrigued and inspired by their music. But as we like to be a bit different we thought why not cycle there so we could meet some amazing people and create an incredible musical travelogue that will be the subject of a feature length documentary. To compliment this we will also produce an album with the people we meet on the way. On a personal level we wanted to find a way to raise money for the Alzheimer's Society, a charity close to both of our hearts, and a condition that we first hand have seen how the power of music can help evoke emotions and feelings in sufferers.
Many would say why cycle when surely there is an easier way?
Well we are both keen cyclists who have enjoyed some cycle tours together in the past so we thought why not! Plus the bikes have allowed us to take all our music equipment along for the journey and easily stop to make music with people, which is a key part of what we want to do.
What bikes and kit are you using?
I (Adam) am riding a Thorn Sherpa and Tim is on a Kona Sutra, both second hand. We've had great support from some amazing British companies. All our cycling gear is from Stolen Goat, our panniers are hand-made by Carradice and our outdoor gear is from Snugpak. It's all been amazing so far and would recommend it to anyone. Oh and we also have wide selection of electronic instruments, samplers and recording equipment which aren't on the regular cycle touring check list!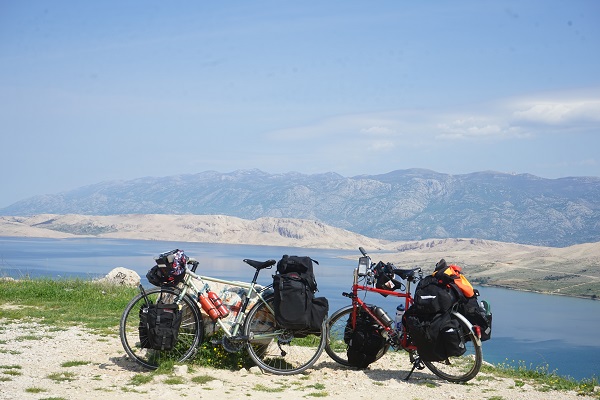 What training did you do before heading off?
In all honest, we didn't really have a training schedule. I commuted to work every day on my bike and Tim spent a winter trying to cycle every day in Wales. As we said we have cycle toured in the past, a couple of long weekends, but nothing close to this magnitude. It's hard to know what to do for the best and I think this kind of shows that anyone can cycle tour in the way we are, especially as we knew that we had France up first which is familiar territory as well as having very flat cycle routes.
As this is a relatively new adventure, are you worried about the journey ahead or any upcoming challenges?
We've started facing high temperatures in Croatia and definitely get the feeling that extreme heat will really challenge us further down the road and it's inevitable that we'll both get ill on the road. How we deal with that on the bikes will be a bit of an unknown area! We also need to start planning our journey post Istanbul and which visas we'll be able to successfully apply for and rehearse for our gigs as well. We just have to remember the good times will make any of the stressful ones worth it.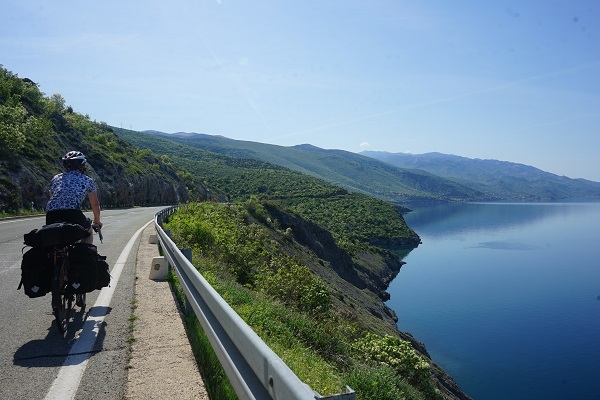 You are just two months in now, have you learned anything so far that you will use going forward?
Yes for sure! Pace is a big challenge. We've found it really important to know when to slow down and make time for music production but also when to know to push the cycling and get from A to B at the right speed without burning out. We also have found that although google maps might look like it's a great navigation tool around the world, it's not for cyclists. It's also very tough to find alternatives. We now use Map Out on our iPhones and it's an amazing tool that lets you draw your own routes onto a very detailed map as well as importing other people's suggestions.
Oh and you don't need four pairs of pants to travel world and Jaffa Cakes are a godsend.
You mentioned good times, what have been your highlights so far?
There are so many great experiences when you're out on the road but highlights would definitely include teaching music students in a school near Milan and collaborating with some amazing musicians in each country we've visited. We've both also loved discovering the miracle of a website that is WarmShowers and how many amazing people exist on there. If you've not used it, it's essentially an always-free version of Couch Surfing for cyclists that is mega easy to use.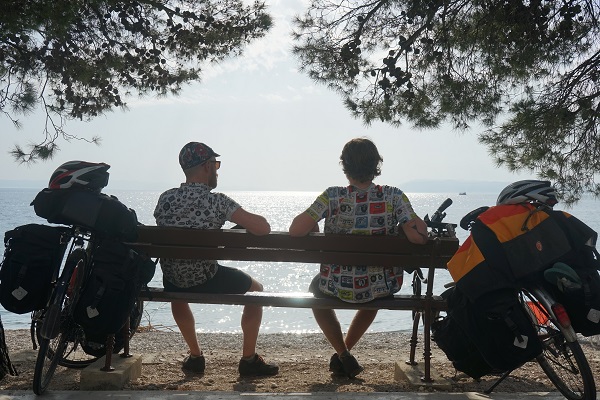 What are you both looking forward to?
We're both very familiar with Europe and we're really excited about crossing over into central Asia and then to India and exploring these countries is a very exciting prospect. Some of these countries are seen as the 'holy grail' of cycle touring but for us it's equally as exciting a prospect to meet musicians in these far flung countries and make music with them.
Are you able to blend your love of music with your pedals as you cycle along?
We actually spend a lot of time singing made up songs on the bikes usually inspired by road signs. We've also got some unexplainable ear-worms that veer wildly from Talk by Coldplay to On The Buses theme tune. We had a really nice moment when we were touring with some friends in Brussels, we all changed gear at the same time and it sounded musical and rhythmic which really made us think that you could include something like that in a track.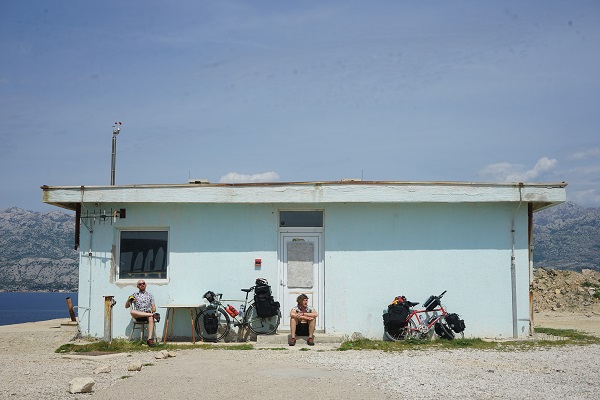 Tim and Adam are currently travelling through Europe and will head through the Middle East, Central Asia and South East Asia before arriving in Japan in March 2019. We will be checking in with them in another couple of months to see how they are getting on.
You can track their progress at totalbikeforever.com and donate via their Just Giving page.