Mount Asgard is located in the Auyuittuq National Park on Baffin Island - the largest of the Canadian Arctic Archipelago. Towering 1600 metres above the valley floor, 2015 metres above sea level and with the eye catching twin one kilometre vertical faces, Mount Asgard dominates the sky line. These enormous natural climbing walls have long been inspirational to rock climbers and were an obvious challenge for Leo to undertake. We caught up with Leo to find out about his love of climbing, his advice to those who want to get in to the sport and his Asgard experience.

When and why did you start climbing?
"I started climbing when I was 10 in the Lake District where I grew up. My family were always into hill walking and scrambling – easy climbing without ropes – and then when I was 10 years old a friend of my father's took me rock climbing. I fell in love with the adventure. You might be right next to a tourist path, but the moment you get 20 feet up, you're in your own world".

Where did you go from that first taste of the sport?

"I climbed a lot with my dad and friends from school. I did climbing competitions, which are held indoors so it's not really rock climbing, and that was a great way of meeting other young climbers. Then in 1997 I became a professional climber."

How does indoor climbing on walls compare to outdoor rock climbing?

"Indoor walls are good to learn and improve on. For most people their first experience of climbing will be on a wall – most cities don't have rocks. The techniques are the same, you use the same knots and relay techniques and for training, it's fantastic. What's different is it's not an outdoor experience and the joy of climbing for me is not the movement, it's the aesthetics of being outside, feeling the wind on your face."

How would a newbie start climbing?

"If you've never tried climbing, then a wall is a great place to start. There's a few things you need to know for rock climbing – a few things your life depends on! An induction course will teach you how to tie knots and relay – the British Mouintaineering Council can help you find one. In a weekend, someone can teach you the basics."
Continued...

---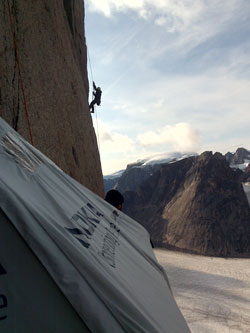 What tips would you give someone who climbs?

"Climbing is all about your feet and keeping the weight on your legs. Often, if you take a slightly built woman and a stronger man, the woman will be the better climber because she has no upper-body strength. A big, strong bloke will try to drag himself up the wall with his arms, but his arms will get tired. We can all stand on our legs all day, but even a professional climber can only hang on by his arms for a couple of minutes or so. Also, put safety first. Rock climbing can be dangerous. It's very safe if you do it correctly but anything with height involved has risks. Make sure you always clip into something. It's safer than people realise because you're always clipped into a rock face, so you won't fall far."

Where do you climb in the UK?

"Where I live in the Lake District, there are lots of places to climb – Langdale and Borrowdale are good. Possibly my favourite place to climb in the UK is Llanberis Pass in Snowdonia."

And where's your favourite place to climb?
"There's hundreds of places all over the world."

But if we offered to send you somewhere tomorrow, where would you go?
"Yosemite Valley in California."

What other sports do you do?

"Mountain biking for general fitness, and most exciting outdoor sports! BASE jumping, skydiving, snow sports. But it's all secondary to climbing. One of the nice things about climbing is it's so diverse. On one side you've got bouldering where you never go more than a few metres off the ground – and you might only be a few minutes walk from your car. Then there's somewhere like Cerro Torre in Patagonia – a 3,000m climb where two of you will be out for days and days and it's a huge adventure. And then there's sport climbing where the rocks are bolted and the climbs are never more than 30m – it's convenient."

You've climbed Everest – what's it like compared to other climbs you've done?

"Everest isn't a hard climb technically. It's hard because of the objective dangers and the altitude. A climber would call it a technical walk. It was nice to top out the world, but it's not my cup of tea."
Continued...

---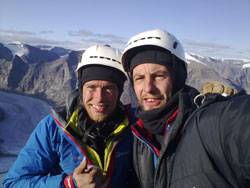 What are you proud of? What's your greatest achievement?

"I think pride can get you into a lot of trouble. But I climbed El Capitan and Half Dome in Yosemite in 24 hours in June 2008 with Stanley Leary – to give it a bit of perspective, it takes most climbers more than a week. About 4,000 people have climbed Everest, but only three people have climbed those two peaks in 24 hours."

Tell me about the film you just made…

"That's one of my greatest achievements. I led an expedition to Mount Asgard on Baffin Island in the Arctic Circle. We sky-dived in, which I think is a first. Three of us jumped out the plane and landed on the glacier, where we established a base camp. The rest of the team spent four days walking there. The north west face of the mountain is what climbers call a 'big wall'. We spent 14 days on the rock face – it was -10 degrees centigrade, there were 60 mile per hour winds and ice storms. In the end we managed to get to the top and BASE jumped down. The film captures what it's like to go somewhere like that and the stresses and joys it involves. We're taking ultimate extreme sports to ultimate extreme environments."
Click here to watch The Asgard Project trailor.
Leo used a Nokia N86 to document his trip. Click here to find out more.
So what's next?
It's going to be a hard act to follow and for the next year I'm going to focus on rock climbing in more reasonable environments. With expeditions, there's a lot of time getting yourself in position for big climbs. I'm going to spend some time in Yosemite this year then we have got some big ideas for 2011.
We've been getting into climbing big walls, fast. Things that used to take days, we're climbing in hours and descents that would've taken days take seconds with BASE jumping. In places like Yosemite and Norway, we've developed our skills and tried new techniques. Basically we don't take anything with us. To climb El Capitan for example, you'd typically plan to do it over five or six days and take 160 kg of water, food and sleeping equipment. And then you have to haul that behind you, and hauling it up takes longer than climbing. We don't take a bag, we go super-lightweight and we have to get to the top. We can't stop and sleep and we only have a couple of litres of water with us. We climb fast by committing to the wall and going light.
To find out more about Leo click here - Leo Houlding