Where did it all start? What are your earliest memories of climbing?
My father loved escaping to the mountains and climbing with him was almost a right of passage for my brothers and me. Right behind our house was Ogden Mountain, with the School Room Cliffs a regular training ground for us. Later we'd all go bouldering at Pete's Rock in Salt Lake City with the Wasatch Mountain Club, led by Harold Goodro - a man who led the hardest free climb in the country in 1949 in mountain boots. Thirty years later Goodro's Wall was listed as 5.10c in the guidebook.
That first climb of the Grand Teton at seven years old, roped up with your two brothers and dad must have been quite an experience.
I really enjoyed the climb, even the scary step across a big void from the Broadway ledge to get onto the ridge. For many years I was the youngest person to have climbed the Grand. On the summit I thought I could see the curvature of the earth on the horizon. But on the way down I actually fell and hit my head. It bled a lot and scared me, giving me nightmares for several years after. For the next few years I turned more towards other sports, like judo, baseball and ski racing. It wasn't until I was about 12 that my desire to climb again overcame everything but ski racing.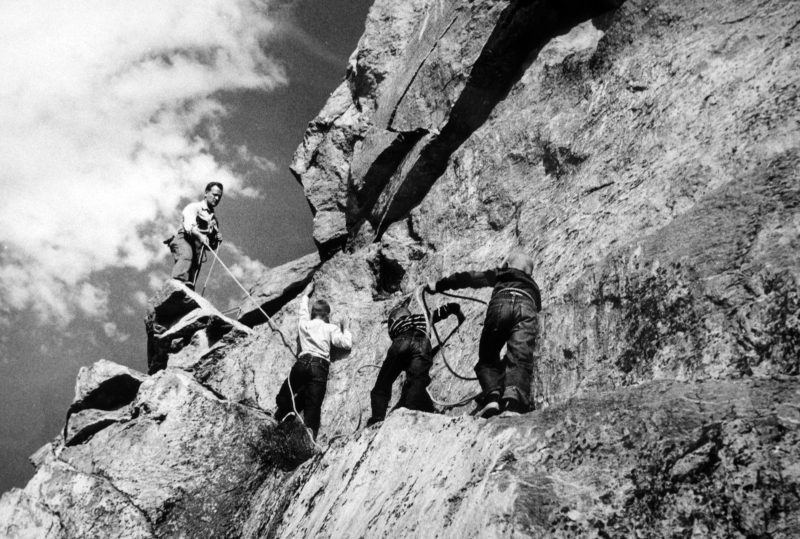 What was the big appeal of climbing in those early days?
It was all an adventure and I was hooked from the get-go. The way the landscape changed as we hiked up through thinning pines into the alpine zone of moraine and snow fascinated me. The sound of furry marmots and gurgling runoff water; alpenglow and a can of beans at high camp; the Milky Way and a billion points of light on frosty nights.
It sounds like an idyllic childhood?
I loved it all. From my earliest memories we went camping, rode horses on our ranch, went canoeing and hunting, had camp fires and cooked outdoors. I gave up hunting when I was 20 though, even though my Dad was a responsible and ethical hunter, using every bit of the animals. He modelled great respect and curiosity for all of the creatures and the complex wonders of the earth and the heavens.
What about the risk? Wasn't your father taking a huge risk?
I can't remember any close calls. My Dad's climbing skills were old school but he seemed to have things under control and instilled in us the absolute need to be responsible for our own actions. Those days were simpler times safety was not looked for nor found in equipment but rather was expected of each individual. His trust in our judgement made us feel the more responsible for our decisions.
What was your mother's role in this adventurous upbringing?
Mom was always supportive. She made my first climbing bag, packed my food for that first overnight solo and supported me over the next 50 years of adventures. In the early 2000s, about the same time that I started developing symptoms of my neurodegenerative disease, she started suffering from debilitating arthritis. One of the biggest gifts of my life was to be able to move back to live with her in Utah for what was the last 10 years of her earthly presence.
After the climb on Grand Teton, was there another pivotal moment in your childhood that flamed your passion in climbing?
When I was 14, Patagonia founder Yvon Chouinard gave a climbing seminar to the Steinfells Climbing Club in Ogden. After the seminar Yvon let me free-climb with him. That acceptance as a fellow climber was an honour that marked me. Soon after I set out for my first solo overnight bivouac and a first ascent on the also rocks of Mount Ogden.
You were a fantastic skier with Olympic potential - what made you give it up for climbing?
The college I raced for closed and the US Ski Team coaches wanted me to cut my hair and leave my girlfriend behind on the racing circuit. So I chose climbing!
In the 80s you became fascinated by alpine-style climbing in the Himalayas. What was your motivation?
I started to form an idea of a progression of climbs that would lead up to doing some of the harder and more beautiful routes on the highest peaks. The motivation was simple: the climbs I got most from were those where I pushed my self; climbs that are at or slightly beyond my limit so I have to rise to the occasion. Otherwise they were just another climb. Some of the most satisfying were the free ascent of a 2,000-foot pillar on 18,500-foot Puscanturpa Norte and free climbing the Trango Tower in Pakistan.
Is it fair to say that your first ascent of the Metanoia route on the Eiger's North Face seems to represent a career high at what was an all-time personal low?
I read Heinrich Harrer's book The White Spider when I was a boy and in February 1991 wanted to climb the North Face in a style that honoured its pioneers. I was going through a divorce and I wanted to stack the deck against myself: go alone, in winter, without bolts, and try the hardest unclimbed route I could find on the highest part of the wall.
Why did you call your new Eiger route Metanoia - a Greek term for 'spiritual conversion'?
Because that is what I had, high on the Eiger's North Face, trapped by a storm in a tiny hermit cave. I'd been on small rations for days. Shivering in waves, I stared at a picture of my two-year-old daughter Sonja, feeling remorse for the mess I'd made of my marriage and the sense of abandonment that she would face. My awareness detached itself from my body and I could focus on any place or time and instantly be there. The clarity of sight, hearing and consciousness was like nothing I'd ever known. I experienced a fundamental change of thinking and an opening of my heart - a Metanoia. Suddenly my path was clear, so I completed the final 1,000 foot of the face and let a helicopter take me down without climbing the relatively simple 300 foot to the summit.
Jeff Lowe's Metanoia - Official Trailer (HD) from Jeff Lowe on Vimeo.
With this debilitating illness does adventure still have meaning for you?
Absolutely. Adventure is about not knowing the outcome and requiring the best of me to engage with the experience. Every day now is an adventure. On a deep level my life is so interesting and worthwhile. Again, something I learned from climbing is that it doesn't have to only be fun to be worthwhile and rewarding.
Lowe Alpine is 50 years old in 2017.
Jeff Lowe timeline
1950 Born 4th of 8 children in Ogden, Utah, USA to ex-RAF pilot turned lawyer Ralph and dancer Elgene.
1958 Youngest person to climb Grand Teton (aged 7), with father Ralph, his brothers Mike and Greg - the latter founding Lowe Alpine 10 years later.
1964 First solo bivouac and overnighter to climb new route up Mt Ogden, aged 14.
1969 Moves to Colorado, where his brother Greg soon joins him. Both Jeff and Mike Lowe join the company Lowe Alpine Systems in the early 70s.
1974 Pioneering European ice climbing techniques in the US, Jeff makes the first ascent of Bridalveil Falls, Colorado with Mike Weiss.
1976 Opens International Climbing School in El Dorado Canyon, near Boulder, Colorado.
1978 Climbs highest route to date on Pakistan's Latok 1 with Michael Kennedy and George Lowe.
1979 Joins father Ralph and brother Greg on Ama Dablam expedition in the Himalaya, where he climbs first solo first ascent of a major Himalayan route.
1981 Climbs Everest cementing his preference for solo or two-man alpine style climbing over mountain 'assaults'.
1989 Climbs Nameless Tower of Trango, Pakistan with Catherine Destivelle.
1994 Starts up the Ouray Ice Festival with second wife Teri Ebel.
2000 Jeff experiences first debilitating symptoms of a neurodegenerative disease.
2013 inducted into the Mountaineering Hall of Excellence at the Bradford Washburn Museum in Golden, Colorado
2014 Collaborates in the award-winning biographical documentary Jeff Lowe's Metanoia about his climbing, his life, the phenomenal Metanoia climb itself and living with a neurodegenerative disease.