Isn't it….just…flat. And wet?
Misconceptions are funny. They take on a life of their own and before you know it you didn't go somewhere because you heard something about it once.
I spent a few of my childhood years in Lincolnshire and every time I return I remember just how much I like it. Long, sandy, hazy beaches. The wind that doesn't sit still or let you do the same. Those endless dry months with the odd heavy downpour. And the sky, it's so impressively big!
Very soon this will be home again and in the meantime my wife Em and I have become full-time house and pet sitters, passing the time before we have a roof (and animals) to call our own.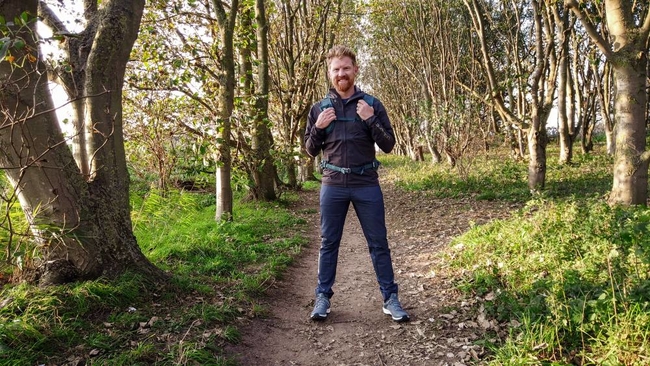 We've recently spent a few weeks on the Lincolnshire coast, bedding down in a beach cabin a stone's throw from the sand. Post-lockdown work opportunities have risen and I've been spending perhaps a little bit too much time on the laptop so, after a challenge from the team at Salomon I decided to head off on a little adventure.
Saloman's #AnyPathChallenge invites people to share their journey to a favourite place, and I decided to take on this journey during my favourite time of the day, as the sun dives towards the horizon and the light is golden.
Usually I'd be working out how to complete a journey on some random form of non motorised transport. A scooter, SUP or Waterbike would be the usual fare but in this case there is nothing simpler than heading out on foot with a wild swim finale to look forward to.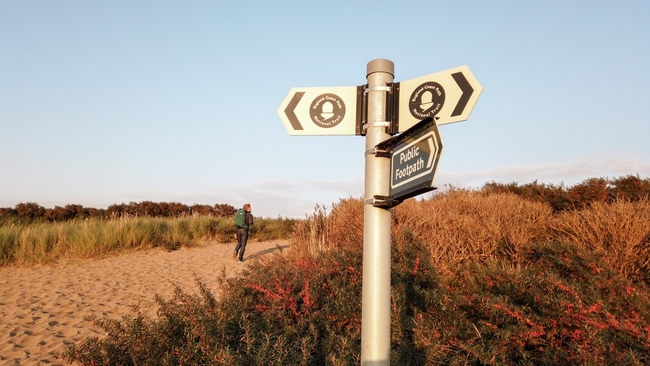 When the workday finishes playtime begins, and I love that deep dive into what might seem on a map to be plain and boring, but in reality is full of variety. I walk dusty tracks, cross vast flat fields and wander through woodland, occasionally finding myself back on one of the newest stretches of the England Coast Path between Skegness and Mablethorpe.
Probably my favourite part of hiking the east coast are the dunes, a rising levee separating sea and beach from the flatlands stretching west towards the opposite horizon. These dunes are protected by marram grass and I've always enjoyed wild camping in sandy clearings, with the grass all around acting as a screen to the outside world.
It's a little early for the seals to be gathering at Donna Nook although I swear I catch sight of a few enjoying a swim when the sea comes into view. In November and December they cover the beaches and I make a mental note to come back later in the year for one of Britain's coolest migrations.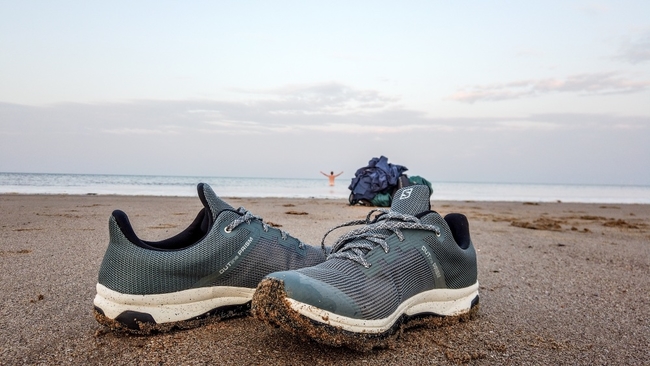 Inspired by my mammalian friends it seemed only fitting to end the day in the water for a refreshing, if not chilly, wild swim.
Pack off, ditch gear, check that the coast is clear - mostly for the sake of any other beach walkers - and then a bounding, splashing, screaming dash into the North Sea!
The gear I used:
There's no doubt about it, if the gear's right the adventure is better. On this #AnyPathChallenge I was kitted head to toe in Salomon.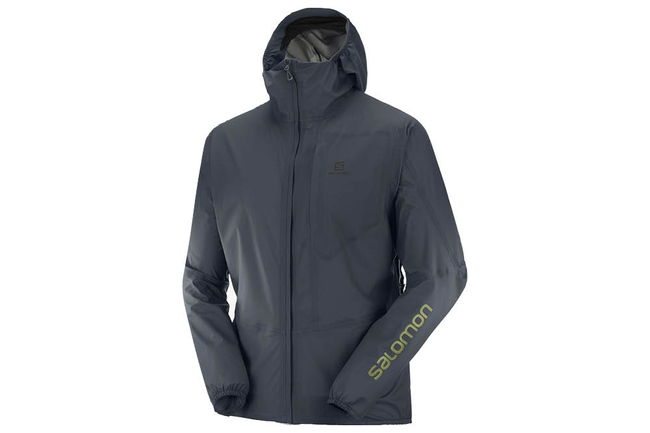 Jacket - Outspeed360 3L
Super light, waterproof and breathable, this jacket packs a punch considering it's so thin. It's a perfect option for a balmy evening and the advanced skin offers protection against wind, rain (or sea splash) and cold, at the same time retaining full mobility.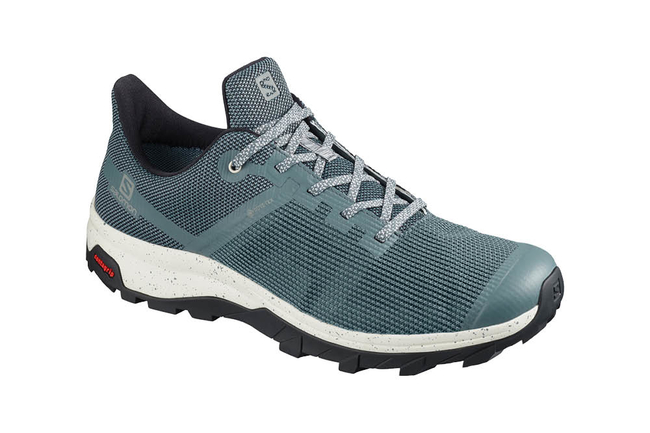 Shoes - Outline Prism GTX
Flexible, breathable and versatile for the adventure of your choice, the Outline Prism and its Ortholite comfort foam insoles is as comfortable as any running shoe. It also comes with breathable mesh, a waterproof Gore-Tex membrane and…perfect if you're as clumsy as me…a protective toecap, just in case.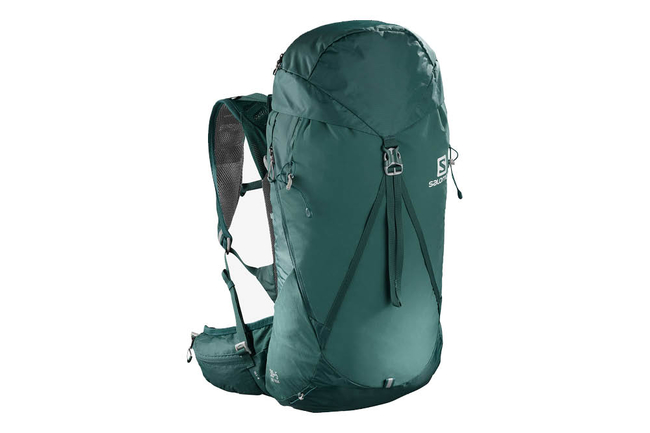 Pack - Out Night 30+5
This is a pretty solid choice for a micro adventure. The MotionFit harness system backs up Salomon's description: 'A pack so comfortable, you'll forget you're wearing it.' Also, no excuses if you forget to drink on your journey, the hydration bladder pouch and stretchable bottle pockets have you covered.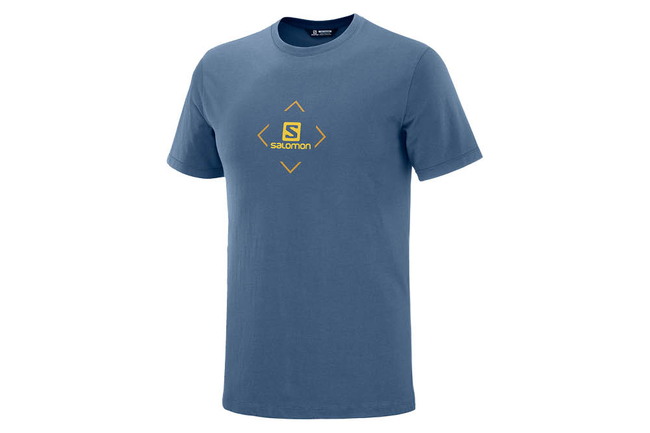 Cotton Logo Tee
Breathable, casual and fitted. It's a fine baselayer but I'll be honest, I chose it because it looked smart and blue is my colour!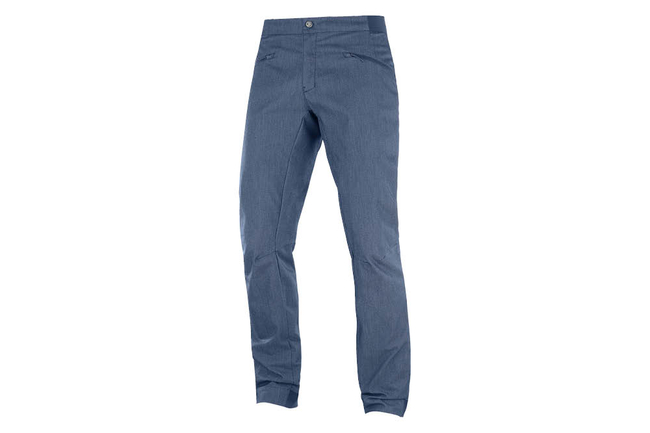 Pants - Wayfarer Alpine Denim
The Wayfarer Alpine Denim feel like they'd be cool on a Summer's day but offer enough protection in a thrashing storm. They also look like everyday jeans, so off to the pub I go. Oh, and for the gadgets, keys and phone, I'm really happy with the pockets; slimline pants with an inbuilt Tardis.
Want to join the #AnyPathChallenge and possibly win a pair of Outline Prism shoes and an OutNight 30 + 5 pack? All you need to do is share your non motorised journey to a favourite place and tag @Salomon, #AnyPathChallenge and #TimeToPlay. Good luck!
Follow @DaveCorn on Instagram for loads more adventure, and check out some highlights from his #AnyPathChallenge here.