Cycling abroad might be difficult right now, but when restrictions ease and we're able to explore further afield again, the French region of Isère is one not to be missed for keen cyclists. 
Famous for spectacular mountain passes, legendary climbs, and memorable moments on the Tour de France, Isère is a spiritual home of road cycling. But it also offers plenty for mountain bike riders and eBikers too - as well as some fantastic bike-friendly places to stay.
This lush département in the Auvergne Rhône Alpes boasts a wide variety of terrain, scenery, cultural riches, and natural treasures. Whether you're a leisure rider cruising along the more gentle cycle routes or a hardcore roadie intent on clocking up some serious miles, remember to look up from your handlebars and take in the magnificent surroundings. The splendid plains, lakes, and mountains of the Isère region will undoubtedly leave you with lasting memories - just don't try to take pictures while you're riding!
Where is Isère?
If the name leaves you scratching your head, then two words should bring instant recognition to any cycling fan: Alpe d'Huez. Initially famous as a winter ski resort it is, of course, the summer home of one of the most famous stages of the Tour de France. The hopes and dreams of many a Tour favourite has lived or died on the epic climb through 21 vertiginous hairpin bends up to the resort.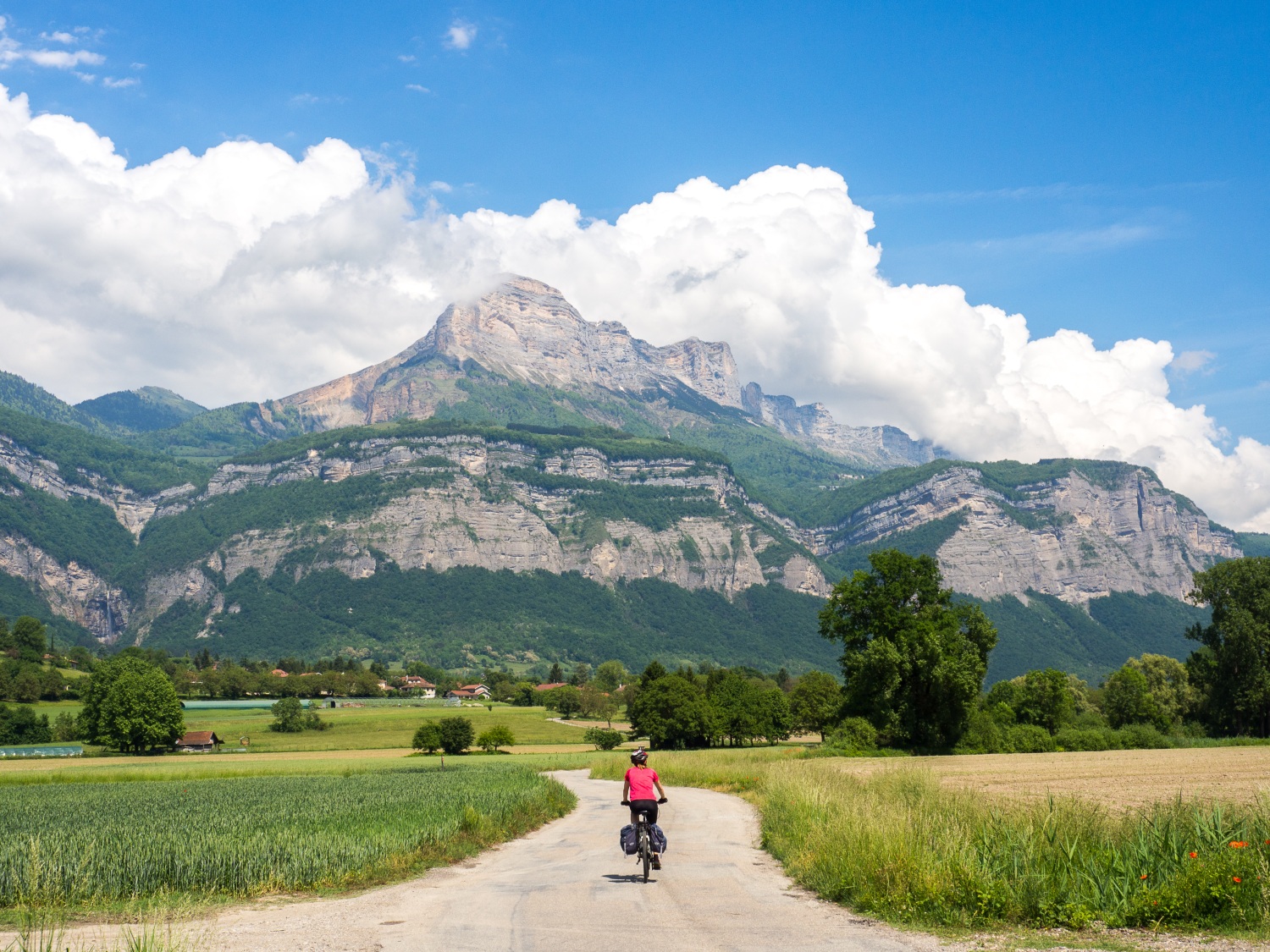 Isère lies on the south-eastern edge of the Auvergne Rhône Alpes region, where the mountains rise from jagged foothills to soaring peaks. It's covered in green Alpine meadows, meandering rivers and streams and features lovely with historic cities and towns, including the regional capital Grenoble. It's also the third biggest mountain region in France, spanning four spectacular massifs – Chartreuse, Vercors, Belledonne and Oisans.
If you're loading up the car, Grenoble is about an eight-hour drive from Calais, or by train it's a three hour journey from Paris. For Winter visitors, the quickest way to get there is to fly to the Alpes-Isère airport in Grenoble. Ryanair and Jet2 are among the airlines which offer flights to Grenoble.
For year-round flights from the UK, Lyon St Exupéry airport is a great alternative to fly into at just a 1 hour car or train journey to Grenoble. Transfers from Lyon to Grenoble via train are easy to organise, or you can hire a car.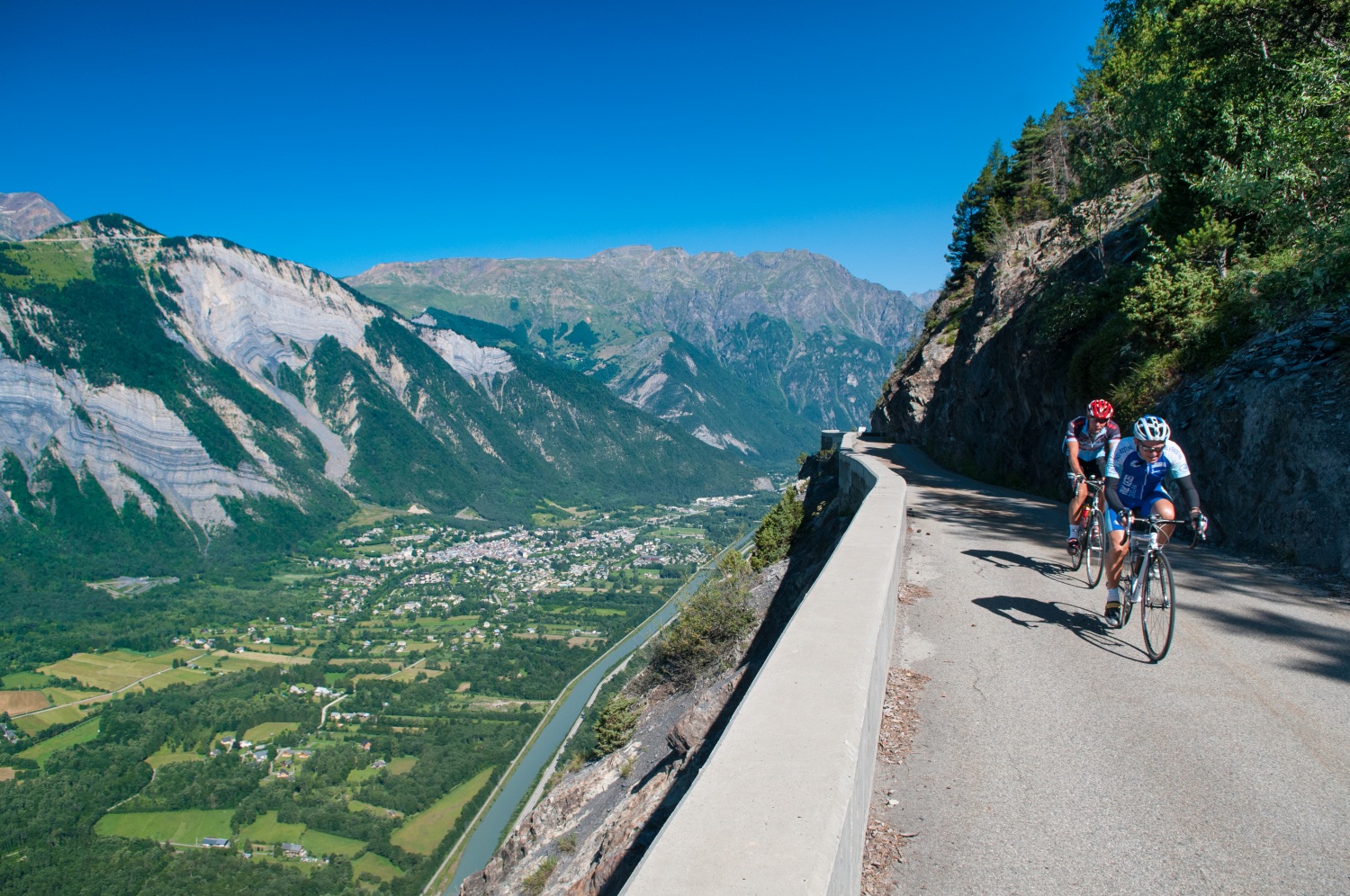 Road cycling in Isère
With more than 850km of looped, signposted cycle routes, Isère offers casual and experienced cyclists a great array of unforgettable outings. From the banks of the Rhône to the summits of the Oisans, you'll find some of the top cycle routes in France, taking you through valleys, around lakes, up to inspiring mountain passes and down picturesque descents.
Here are our five favourite road cycling routes in the region:
The hidden back roads of the ViaRhôna
Location: Vienne
Distance: 120 km
Time: One day
Discover unexpected and beautiful places along the ViaRhôna cycle route on a guided bike or e-bike tour. This excursion reveals little-known wonders or seemingly inaccessible spots in Vienne, such as an unusual jousting pool, vineyards and local products, along the ViaRhôna which follows the Rhône riverside for more than 120km in Isère. Here the V63 cycle route runs from Vienne to the Île du Beurre Nature Reserve, preserving a section of the wild Rhône area to be enjoyed by nature-lovers. Book the trip and hire bikes at the Tourist office in Vienne or with ViaRhôna.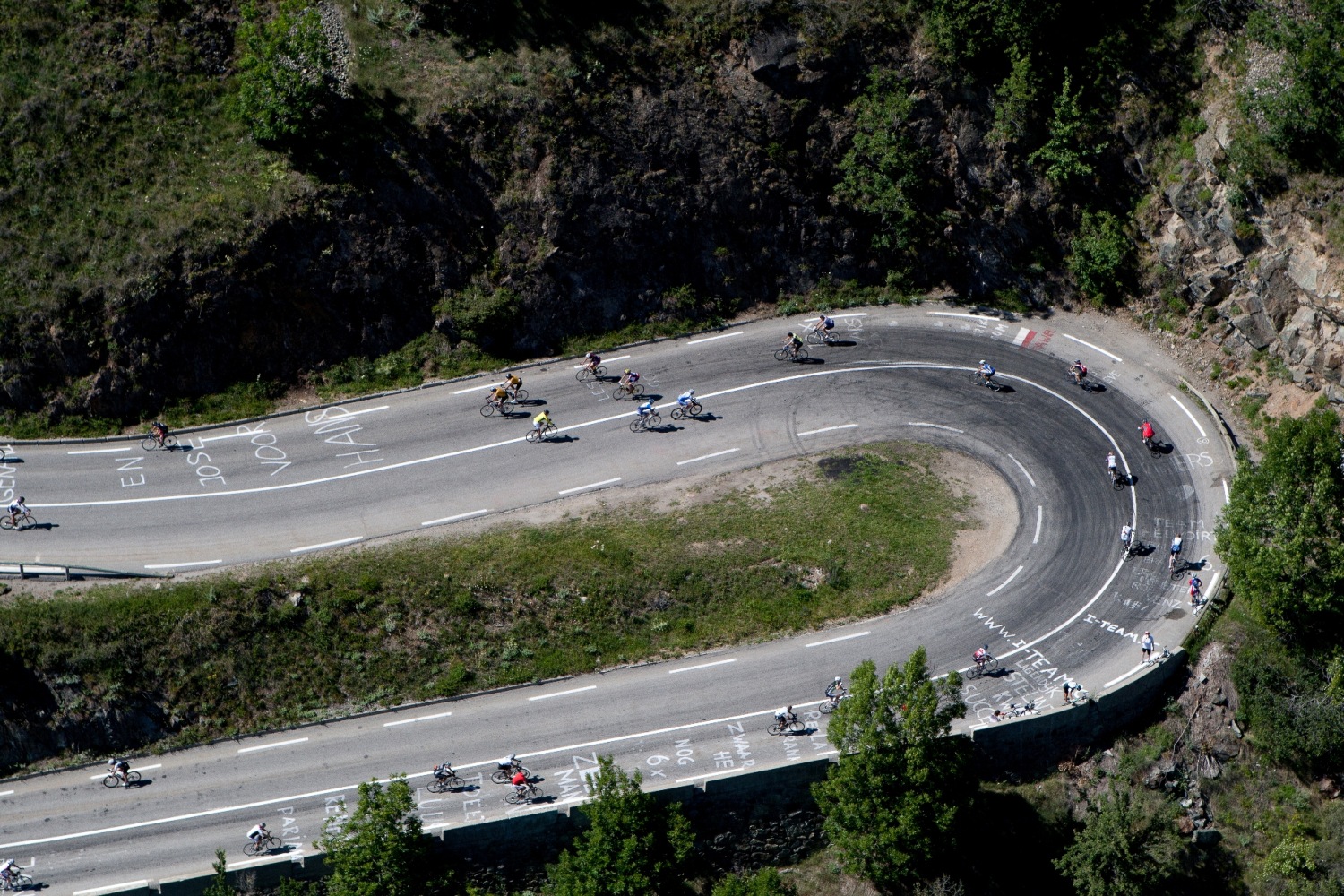 Alpe d'Huez Climb
Location: Bourg-d'Oisans
Distance: 31km (13.8km up the climb)
Time: 2 hours - or as long as it takes!
This is the classic ascent that is pretty much a rite of passage for any serious road cyclist. Start on the flat in Bourg d'Oisans and follow in the tyre tracks of many a Tour legend before pitting yourself against the 21 hairpin bends to Alpe d'Huez.
If you want to know how long it takes to cycle up Alpe d'Huez, no one has ever beaten Italian rider Marco Pantani's record of 37mins 35secs. If you have any energy left afterwards you can carry on to Lac Besson (5.5 extra km and 250m extra height gain). You can also descend into the Ferrand Valley via the Col de Sarenne and continue along the Auris balconies, from where you get a fantastic view over the Romanche Valley.
Col de la Croix de Fer - Col du Glandon
Location: Oisans
Distance: 80km
Time: 3 hours 45m
Another spectacular cycle route for road bikes that follows in the tyre tracks of some of the great Tour de France mountain stages. Rated black - very hard - this is actually a quite beautiful tour in the Eau d'Olle Valley that will lead you to the borders of Oisans on the Savoy side.
The climb is steep up to the Lake Grand Maison, and your calf muscles will certainly remember some of the sections. But once on the top, what a joy! The start and finish is in Bourg d'Oisans.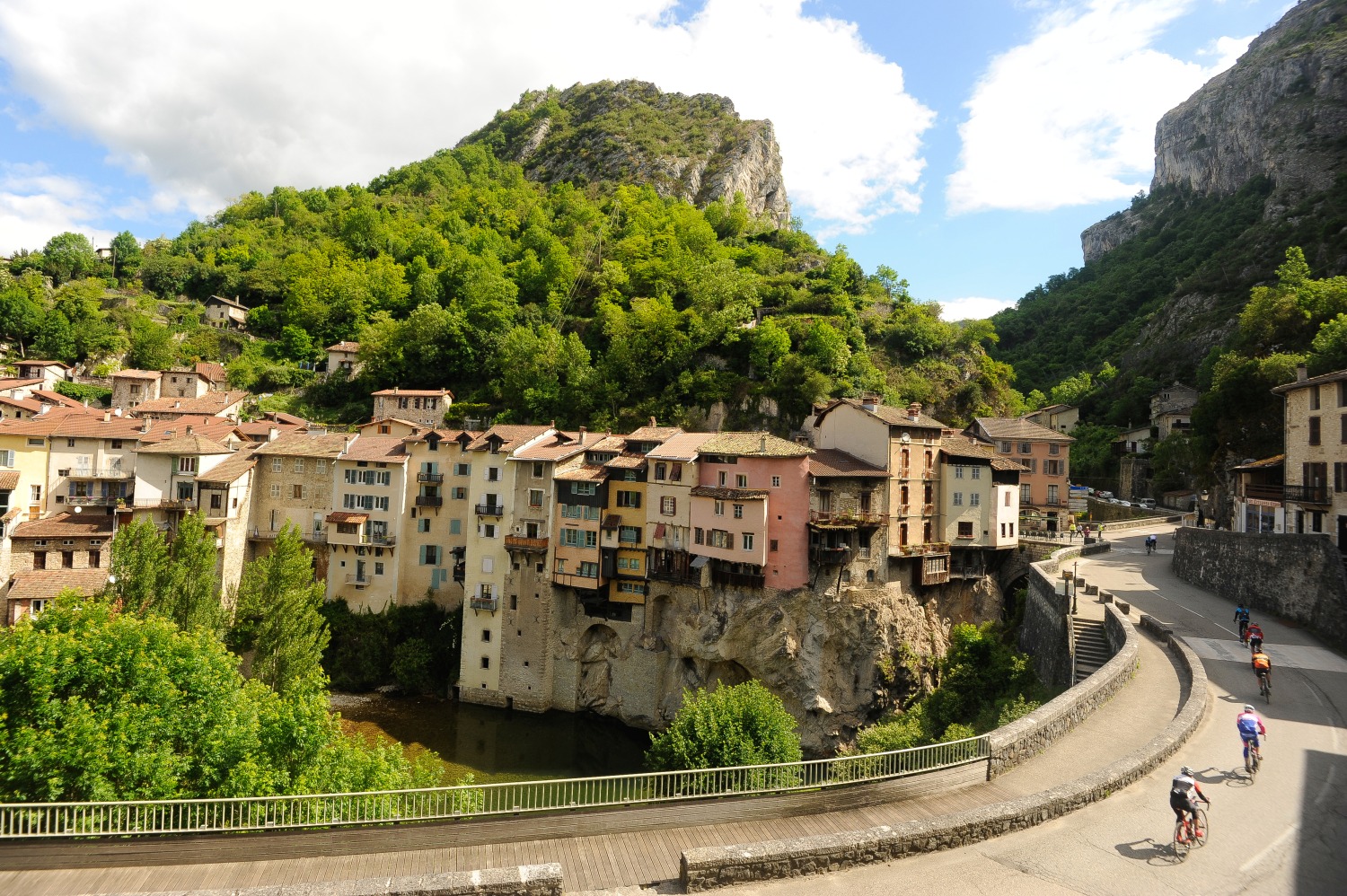 East to west across Isère on the V63
Location: Grenoble to Valence
Distance: 122km
Time: 1 day
A Véloroute is medium or long-distance marked and secured cycle route that sticks as far as possible to dedicated cycle paths and quiet secondary roads. The V63 cycle route crosses the region by following the Isère valley along the right-hand bank of the river, running through walnut orchards as far as the eye can see, before passing through Pont en Royans with its spectacular suspended houses.
The full V63 extends 200 km across the three regions of Savoie, Isère and Drôme, and connects with the European ViaRhôna route. Recently upgraded, the V63 has secure points vélo parking so you can easily stop for a picnic and visit nearby restaurants and attractions.
The Four Mountains circular route
Location: Vercors
Distance: 42km
Time: 3 hours
This circular loop is a good introduction to the many cycle routes of the Vercors massif. The Quatre-Montagnes route goes from village to village in this scenic part of the Isère region, taking in Méaudre, Autrans, Lans-Vercors and Villard-de-Lans on the northern side of the Vercors.
The route crosses vast meadows bordered by forests and there is ample opportunity to stop and enjoy the tranquil shade. Also labelled "Vélo et Fromages" (Bicycle and Cheese), this itinerary combines two of our favourite things.
Find even more fantastic road cycling routes in Isère at alpes-isere.com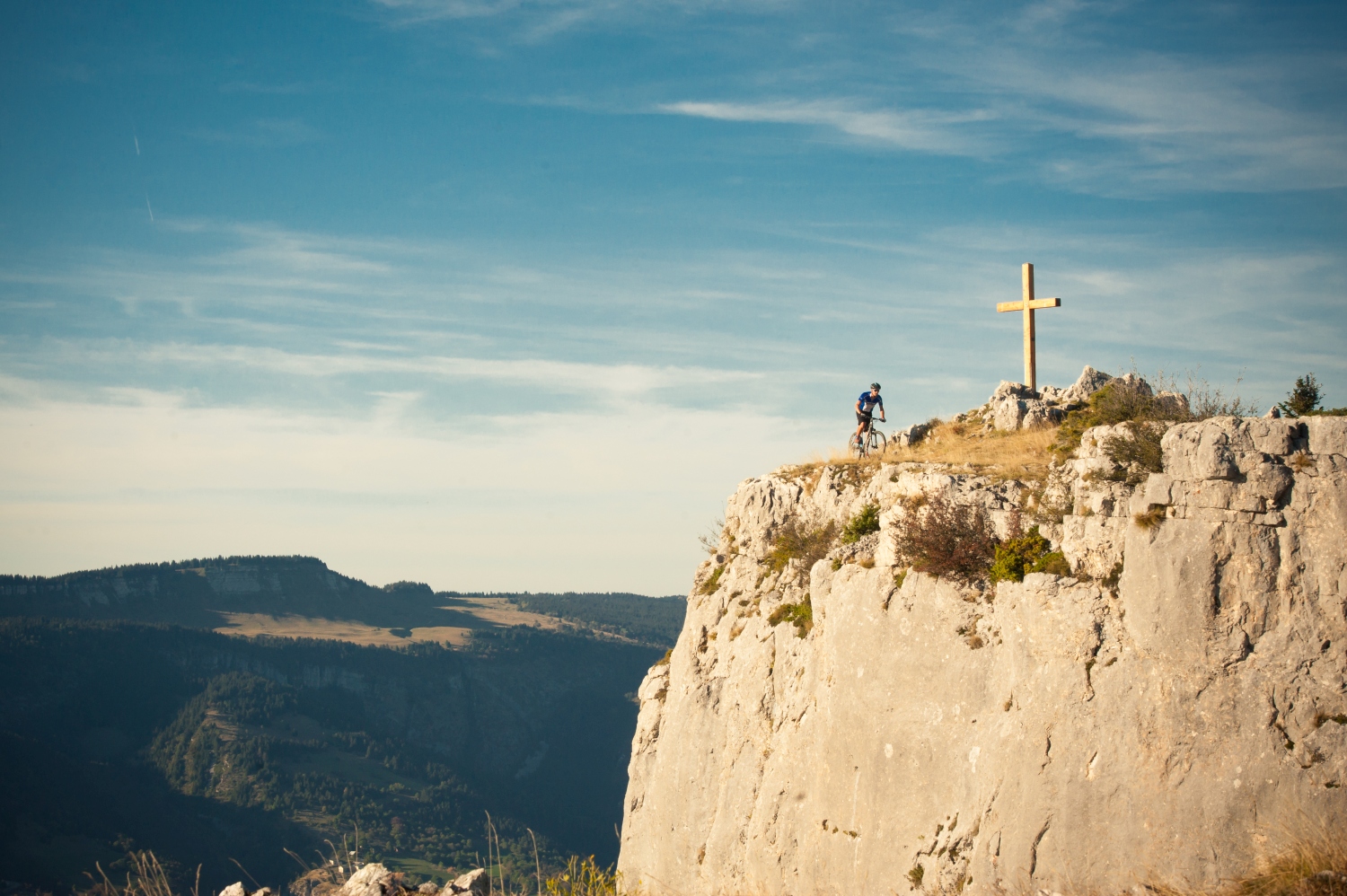 Mountain biking in Isère
If you like to get off the tarmac for your two-wheeled thrills, Oisans is the Mecca for mountain bike riding in the Isère region. This untamed area of the French Alps is where the words mountain biking take on their true meaning.
Oisans offers three challenging bike parks - at Les Deux Alpes, Alpe d'Huez and La Grave (on the border of Isère and Les Hautes Alpes) - plus kilometre after kilometre of both seriously steep terrain. But it's not all gnar - there are also fun paths weaving their way through spectacular scenery that families and all abilities can enjoy. Whether you're looking for simple rides, XC, enduro or DH… you'll find what you're looking for in Oisans.
Here are our top five favourite mountain bike routes in Isère:
The Mad'Oz
This new MTB endurance trail between Alpe d'Huez and Oz-en-Oisans links the Col de Poutran from the Quartier des Jeux in Alpe d'Huez to Oz-en-Oisans. A tough, red level endurance trail in a wooded, rocky landscape, the 4.5km route follows the Roubier stream with sections on gravel, through woods and along the water above Oz-en-Oisans. This previously unexplored area makes this route one of the future flagship trails in the region and a new must-ride.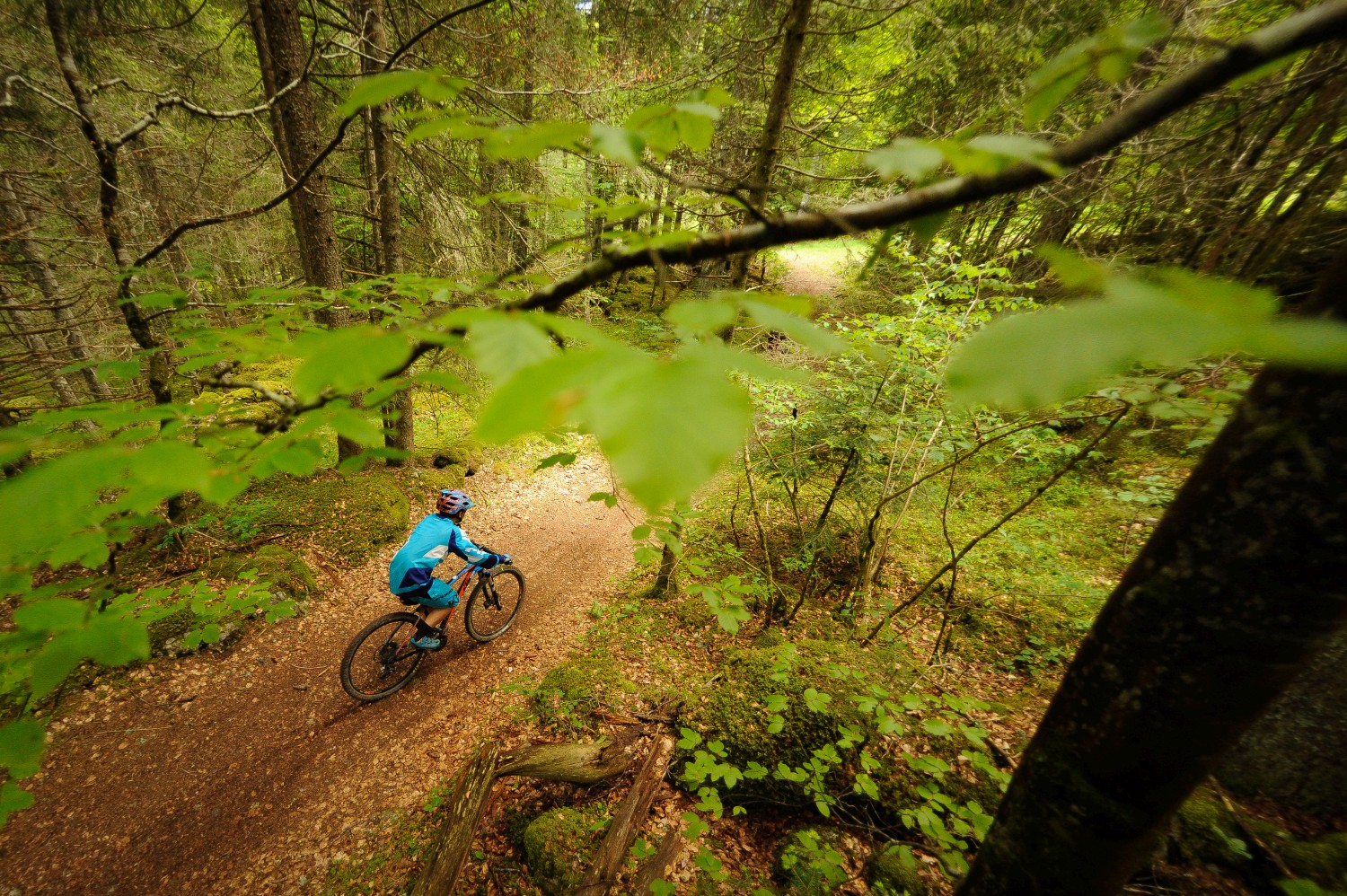 Buclet to Bourg d'Oisans
This trail has recently undergone big improvements to makes use of a multi-purpose cross-country track for mountain bikers and joggers. Made up of different terrain features such as bumps, hollows and bends, this track is designed for the most demanding of riders, taking you 4.5km through the heart of a beautiful national forest.
Running along the banks of Lake Buclet, it then descends further south to make a loop towards the Vénéon river, close to the Pisse waterfall. From Bourg d'Oisans, you can then follow the greenway to the Lac du Buclet. The entry to the trail is located at the crossroads of the dam and the greenway and is open all year round.
Bike'arc trail center in 7 Laux
Just 40 minutes from the centre of Grenoble, Les 7 Laux bike park was something of a pioneer when it came to mountain biking in the area, and in late 2021 the resort is opening an exciting new 1.2km-long blue-level course with a 300m gradient at the Bike'arc centre.
This adds to a 1.7 km long green-level trail with a gradient of 150 created last year. The routes are designed to offer the maximum fun with good flow and a variety of terrain features that are rarely found on natural trails. Access is open to all, and free of charge.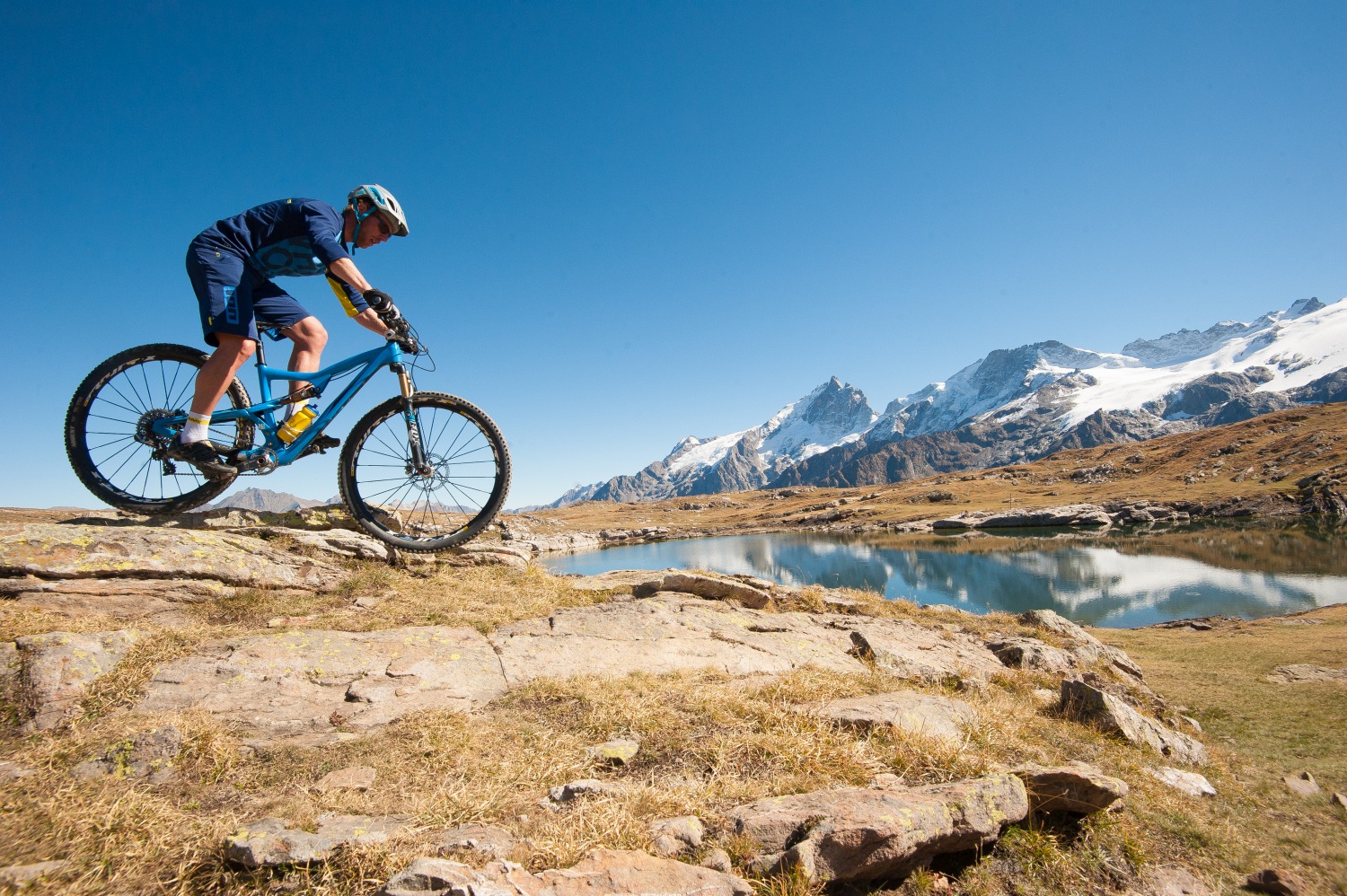 Descent from the Col du Galibier
This is a lovely beginner's descent on the old road down from the pass, with a view over the spectacular peak of La Meije. With a distance of about 15km, all the landmarks are there for you to admire, including the Glacier de l'Homme, Glacier du Fauteuil, Pic Gaspard and the Doigt de Dieu. Make sure you allow about 90minutes to give yourself time to enjoy the wonderful views on the descent.
The Malaine track
One of the finest mountain bike rides in Isère that will really test your technique. Starting in Oulles, the track winds its way through the heart of an ancient beech wood with twists, turns, dips and tree roots for you to navigate.
One bend leads almost immediately to another as you clock up 84 switchbacks and 700m of height loss over 2.5 km of the 6km route, which finishes on a fast, straight section that comes out onto a track. It's graded red - hard - and takes about an hour.
Find more great MTB routes in Isère at: alpes-isere.com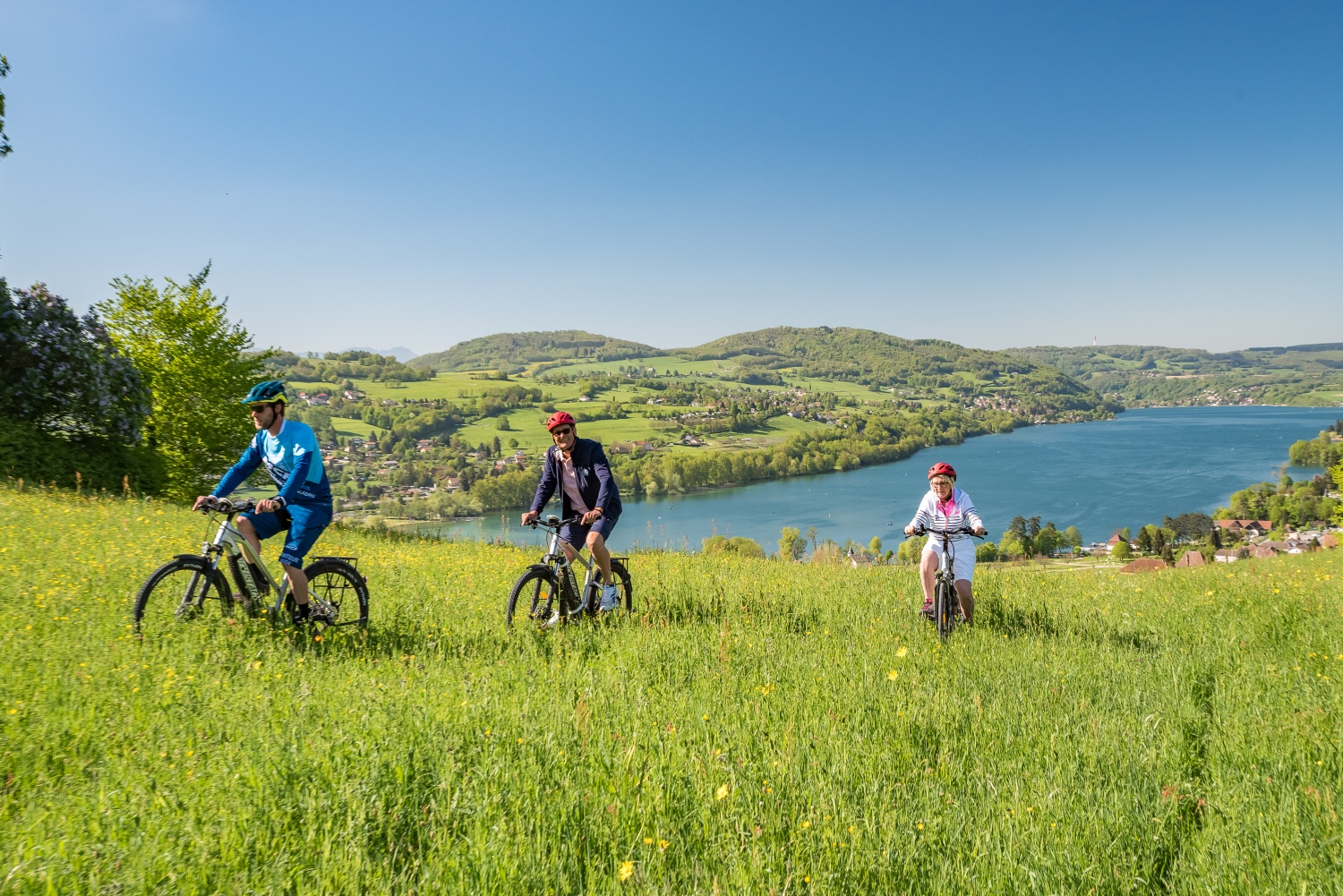 E-biking in Isère
If you're not blessed with the leg muscles to tackle daunting climbs or lengthy cycle routes, you can ease your way up the mountains on an e-bike - you can even make light of the famous 21 hairpin bends of Alpe d'Huez (although good luck beating Pantani's time, even with the bike set on turbo).
Isère's signposted e-bike routes showcase the region's major natural and cultural highlights between the banks of the Rhône, through the Isère valley and up to the peaks of the Alps. They're especially suitable for beginners and families.
To boost this growing e-biking trend, Isère Attractivité is currently ramping up e-biking facilities in the region and developing an online booking tool for e-bike rental. Maps and route itineraries are available on the Isère Outdoor app, on the website: alpes-isere.com, and in the digital version of the 'Electric Tours in Isère' brochure. This year, Isère has added another five new brilliant e-bike cycling routes. 
Take an e-bike for a spin on one of these great routes:
E-MTB tour of Allevard farms
This gourmet e-mountain bike loop tour around Allevard - a short 15km ride - combines sport and food tastings at local farms. Starting from Allevard, the climb begins above the Chapelle du Bard, stopping at the Grangette Farm to sample its delicious cheeses.
After a gentle cycle down the Braida valley and an effortless climb up the Bramefarine, head towards the Bessard Farm which produces rillettes, sausages and duck foie gras. Finally, finish your adventure by riding down to Lake Flumet for a refreshing last stop at Il Gelato Di Monica for a wonderful locally-made ice cream before returning to Allevard.
The Via Chartreuse: Greenway from St Joseph de Rivière to Entre Deux Guiers 
This new 12km greenway, perfect for a relaxing family outing, links St Joseph de Rivière to Saint-Laurent du Pont and ultimately to Entre-Deux-Guiers.
Using existing paths, the surface is made of natural materials, which reduces the carbon footprint. It's a great way to get away from it all and reconnect with nature in the Chartreuse Regional Nature Park, and the route is dotted with wonderful surprises. There's the Plantimay Farm, the Herretang peat bog, Villette, the Sources du Guiers waterfalls, and superb views of the contours of the surrounding landscape.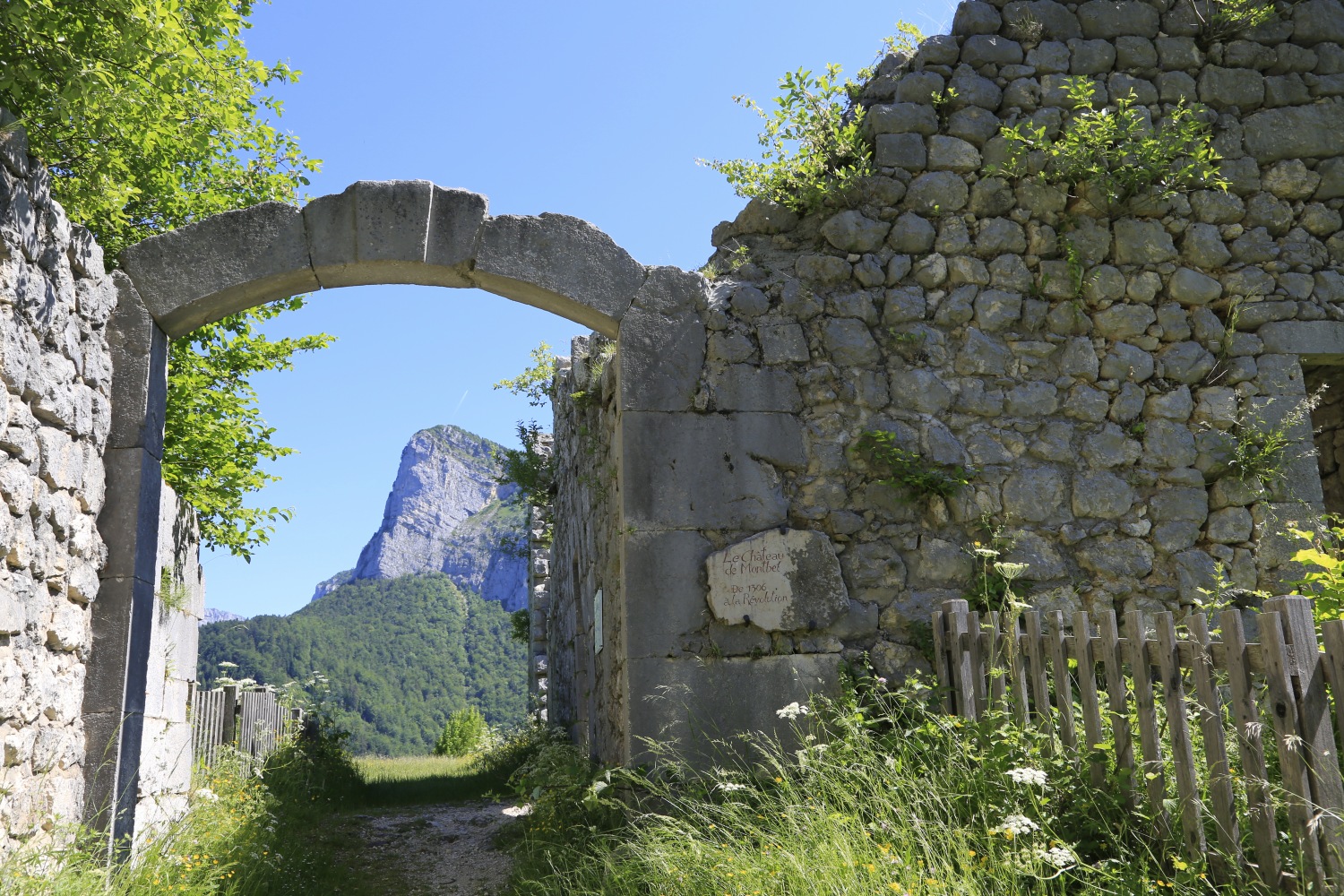 E-trip under the Dent de l'Ours in Chartreuse
Starting from Saint-Pierre d'Entremont in Chartreuse, this is one of five new e-bike routes launched in Isère this year, and is is an easy 13km route offering a must-see view of the Hauts de Chartreuse Nature Reserve, where you can explore the surrounding villages. Noteworthy features of this excursion are the view over the Grand Som (at km 2), the hamlet crossings and the Arcabas Museum of Chartreuse.
E-bike lake tour from Alpe d'Huez
It's good to get up high to make the most of the magnificent mountain views, and this beautiful ride starting from Alpe d'Huez takes you gently from lake to lake, offering a succession of lovely views over the surrounding valleys and mountains.
You can either stay on the wide tracks or return via a single track cycle route. You'll also find refreshments and restaurants along the way on the Lac Besson road and at the lakeside.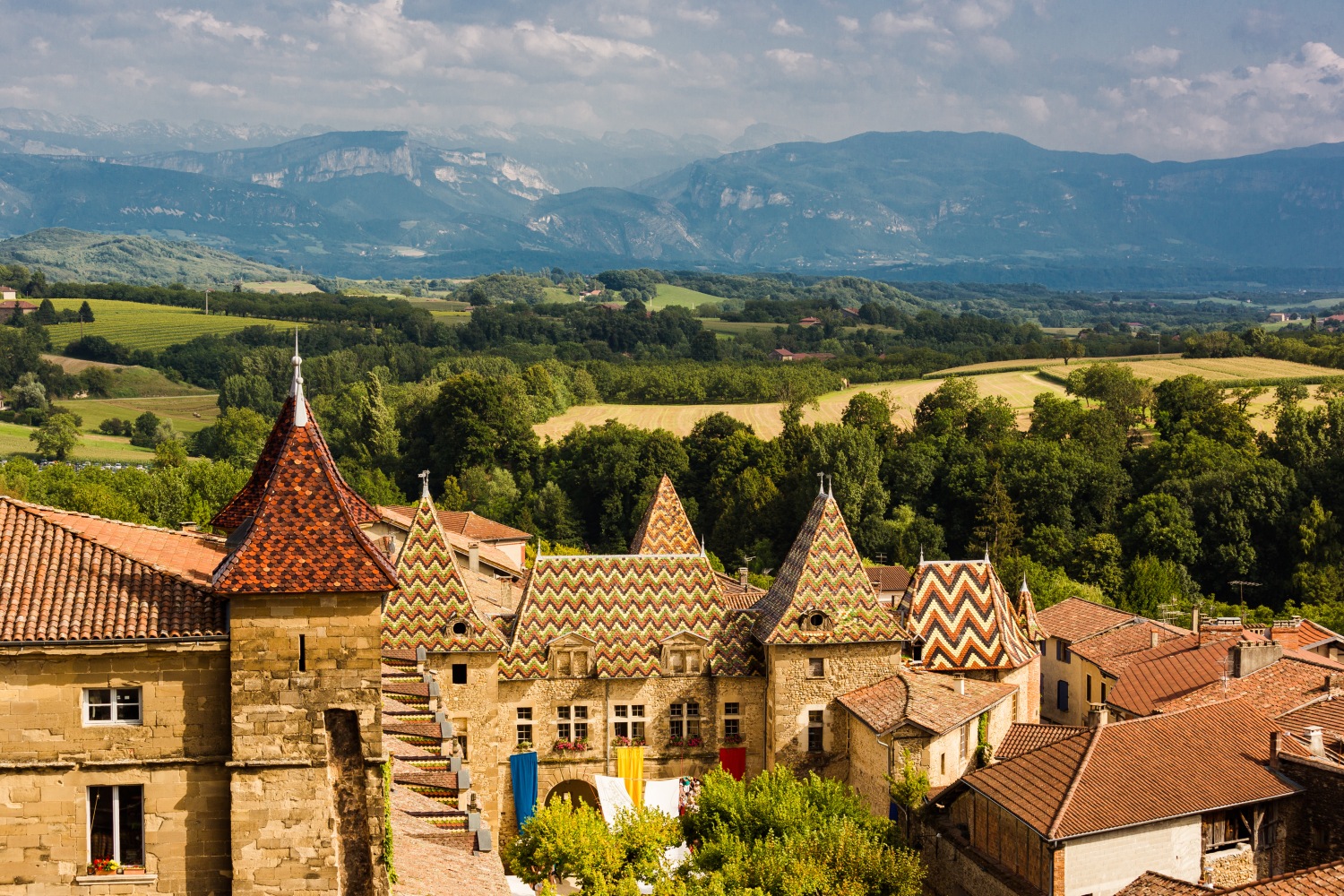 Saint-Hilaire-du-Rosier to the medieval city of Saint-Antoine-l'Abbaye
Another of the brand new signposted e-bike cycle routes established in the Isère region. This one combines town and countryside along a 30.6-km route through the heart of the hilly landscapes of Chambaran, before reaching the medieval city of Saint-Antoine-l'Abbaye, ranked among the most beautiful villages in France.
BONUS ROUTE: Les Deux Alpes E-bike Ultimate Challenge
New for 2021 and taking place on 7 - 8th August, this is Les Deux Alps' first enduro-style e-MTB event, and one not to be missed if you like to take on a challenge on two wheels. Race almost 100km in 20 hours as you climb around 6,000m and tackle 10,000m of technical descents, all with the spectacular mountain scenery of Oisans as a backdrop. So, are you up for it?
To see more great e-bike routes in Isère, visit: alpes-isere.com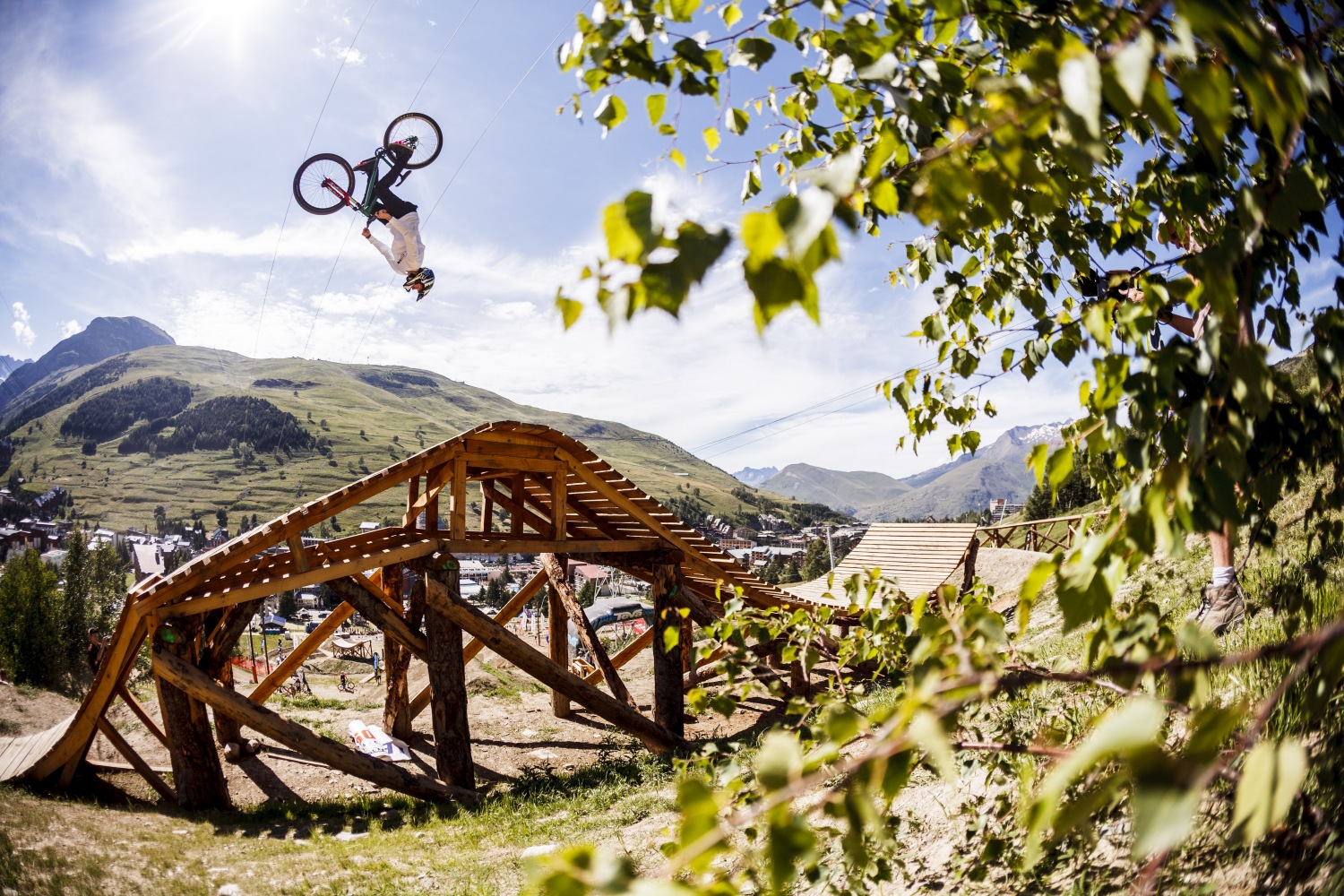 Cycling hotels in Isère
The Accueil Vélo is a national French certification that identifies tourism providers in France (tourist offices, accommodation, bike rental and repair, restaurants, tourist sites) who welcome cyclists and provide different levels of services tailored to cyclists' needs.
Labels start from a minimum level of service - such as being near a cycle route and having a secure lockup and repair kit - to a full package, such as providing specialised meals, massages, coaching and a support vehicle.
Within Isère, 75 establishments have earned the label. In Oisans, the land of cycling and one of the world capitals of mountain biking, they've come up with a local refinement, developing their own bike label Accueil Cyclo Oisans broken down into three levels: 1, 2 or 3 bikes. Today, Oisans has no fewer than 100 labelled accommodations.
Here are three of our favourites:
Hotel Le Cassini
Le Freney-d'Oisans
An Accueil Vélo base camp, run by a great couple Sophia and Maarten, who are real cycling fans. Le Cassini is a lovely little hotel overlooking a babbling mountain stream, with simple but comfortable rooms.
Breakfast gets your day in the saddle off to a hearty start, with the ultra-local honey from Freney d'Oisans sure to find its way onto your plate. Dinner is world away from standard mountain fare, thanks to Maarten's creative, tasty recipes inspired by world cuisine, but with fresh, locally-sourced produce.
BOOK IT: uk.bike-oisans.com
Auberge la Douce Montagne
Allemont
This small hotel with its own restaurant and swimming pool is ideally situated in the centre of Allemont, in Oisans. It is an ideal - and popular - base, partly because it is situated in the valley close to several famous mountain passes, including Col de la Croix de Fer, Col du Glandon, Col d'Ornon, Col de la Morte, Les Deux Alpes, and last, but not least, Alpe d'Huez. It's 'three bikes' label under the Accueil Cyclo Oisans scheme runs to a special cyclists' package, which includes an energising pasta buffet in the afternoon.
BOOK IT: uk.bike-oisans.com
L'Hôtel de Milan
Le Bourg d'Oisans
A family-run hotel in the centre of town with bags of character, the Milan dates back to 1936. It makes a great base for cyclists, with 10 bedrooms and nine apartments, and has a 'three bikes' rating in the Accueil Cyclo Oisans programme.
A generous buffet breakfast features healthy food that is mainly home-made using locally-sourced produce. There is a swimming pool to relax tired muscles for the summer, a gym with massage area, and a spa.
BOOK IT: uk.bike-oisans.com
For more information on all of the accueil velo hotels in the area, visit alpes-isere.com