Main image credit: Isère Attractivité_PJayet
We may not be able to travel abroad right now, but when we can move around more freely again there's no better way to explore the world's beautiful landscapes than to get out there on foot and let your senses soak up your surroundings - listen to the wind in the trees, feel the sun on your face, and gaze around in awe at the magnificent mountains. And whether you prefer rolling countryside routes or high mountain trails, France's Isère region has some of the best hiking terrain anywhere in the world.
Where is Isère?
You may not be familiar with the name, but if you ski you'll probably be very much aware of its nature. This region in south eastern France is home to two of Europe's biggest ski resorts – Alpe d'Huez and Les Deux Alpes in the Oisans mountain range, as well as the smaller resorts of Oz en Oisans and Vaujany. Other resorts such as Villard de Lans in the Vercors mountain range and 7 Laux and Chamrousse in the Belledonne range are also fantastic destinations for skiers.
And, of course, in summer, these landscapes adored by skiers are embraced by hikers and bikers. Alpe d'Huez, in particular, is famous for the epic climb up to the resort, which regularly features as one of the toughest stages of the Tour de France, pushing the peloton through 21 vertiginous hairpin bends.
Isère is very much in the heart of the French Alps, surrounded by dazzling mountain peaks, carpeted in green pastures, threaded with rivers and streams and dotted with historic cities and towns, including the region's capital Grenoble. This is the third biggest mountain region in France, spanning four massifs – Chartreuse, Vercors, Belledonne and Oisans.
If you're coming by car, Grenoble is about an eight-hour drive from Calais, and by train it's a three hour journey from Paris, but the easiest way to get here if you're travelling outside of summer is to fly to the Alpes-Isère airport in Grenoble. Ryanair and Jet2 are among the airlines offering flights here. This human-sized airport is the gateway to the region, and less than two hours from the main resort centres. Plus, there is car hire available at Grenoble Airport to make exploring the region even easier.
You'll also find year-round flights from the UK to Lyon airport, which is then just a 1 hour 20 minute car or train journey to Grenoble.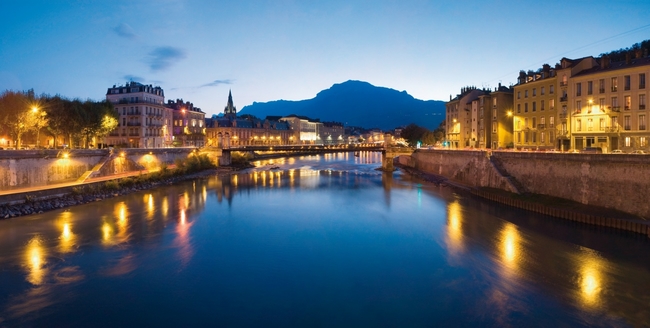 Image credit: Isère Attractivité_PJayet
Highlights of the Isère region:
Known as the capital of the Alps, and one of the most innovative European cities, Grenoble is the perfect place to experience the Iseroise culture. Surrounded by the Chartreuse, Belledonne and Vercors mountain ranges, the city is an historic walking town, overlooked by a magnificent Bastille which you can access via a gondola for outstanding panoramic views of the city and surrounding area.
With Grenoble as a base, all you have to do is choose a mountain range to explore. It's just 40 minutes by car or bus to the Regional Natural Parks of Chartreuse or Vercors, and the summit of Chamrousse, the city's closest ski resort, is even closer. Drive a little further and you'll find yourself in the breathtaking landscapes of the Écrins National Park. Established in 1973, the Écrins National Park is one of just ten in the whole of France. The heart of the park is accessible only on foot and is threaded with hiking trails.
Isère is also famed for its cuisine. The ancient city of Vienne in the west of the region is known as the cradle of modern gastronomy. Michelin-starred restaurant La Pyramide is renowned for having trained some of the greatest French chefs, including the master of Nouvelle Cuisine, Paul Bocuse.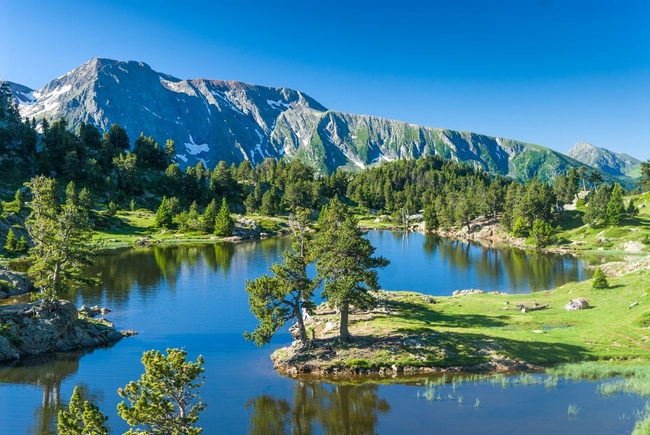 Image credit: images-reves_Isère Attractivité
What is the hiking terrain like in Isère?
For walkers, Isère is little short of paradise. With 9,000 km of well-maintained hiking trails and paths, Isère's unique mountain landscape is a magnet for hikers of all ages and all abilities. Towering peaks, dizzying footbridges, glacier trails, precipitous viewing platforms, beautiful alpine meadows, high-altitude inns serving nourishing mountain food - there is so much to explore in this wonderful region.
Choose from easy walks through fields and valleys to tough, high-altitude challenges. Escape to the great outdoors in the Chartreuse Nature Park, or the steep cliffs of the Vercors Regional Park, and enjoy the tranquility of camping in Écrins Natural Park. Take in breath-taking panoramas, and breathe deep of the clean air.
Of course, it's not all high mountain landscapes. Keen walkers should make sure they don't pass up the chance to take a walking tour of the regional capital Grenoble, or stroll around the city of Vienne, with its vast Roman amphitheatre and medieval cloisters, churches and cathedrals.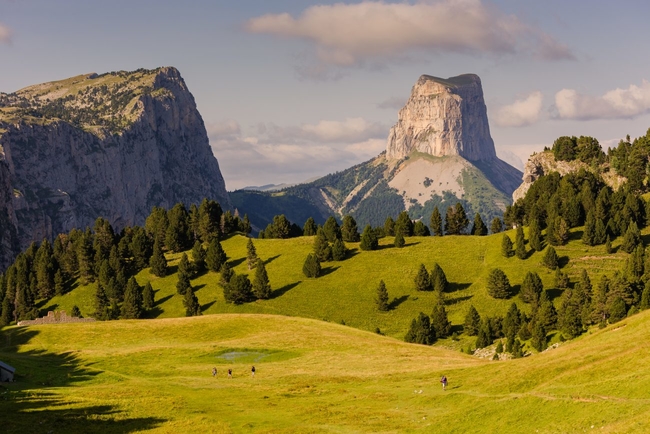 Image credit: Isère Attractivité_PJayet
The five best long-distance hiking routes in Isère:
Hiking in mountain areas provides a sense of seclusion. You can escape the crowds and head to the wide open spaces of Isère on a guided or self-guided multi-day hike through spectacular landscapes. Many of these encompass stretches of France's Grand Randonnée (GR) routes. Here are the five best long-distance hiking routes in Isère:
Hiking in Vercors: Les Grandes Traversées du Vercors
Distance: 150km
Time: 7 days/6 nights
Difficulty: moderate
With incredible wide-open scenery, vast forests of fir and spruce trees, limestone cliffs and gorges, accessible peaks and high plateaux, the Vercors Park is paradise for hikers. You'll discover the region's diverse flora and fauna, from ibex, roe deer, chamois and marmots, to protected wildflowers including martagon lilies, great masterwort, gentian and edelweiss. You can also soak up spectacular Alpine scenery. You need to be reasonably fit: the stages are long but not technically difficult, calling for 5-7 hours of walking each day, with around 350m to 1170m of elevation per day.
Tour operator, Grand Angle, offers a self-guided hiking tour of the route called The Tour of Vercors, which includes half board accommodation and transport of your baggage to each overnight stop for you. This leaves you free to travel light, and really enjoy the terrain of the vast Vercors Regional Natural Park, France's largest natural reserve.
BOOK IT: Go to grandangle.fr to book your trip, and click here for more information about the Tour of the Vercors route.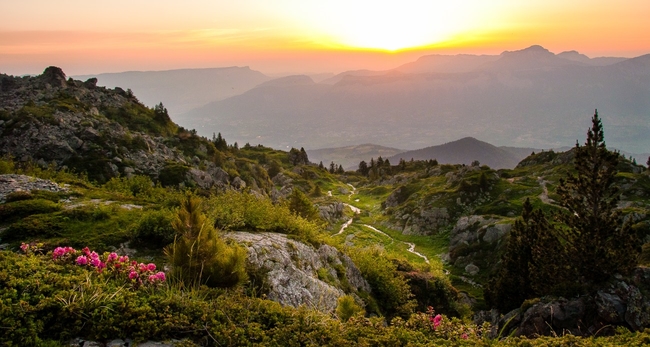 Image credit: Isère Attractivité_AGelin
Hiking in Belledonne: Haute Traversée de Belledonne Le GR738
Distance: 130km
Time: 11 days
Difficulty: Very hard
Also known as The Shepherd's Trail, this route, opened as recently as 2018, is considered to be one of the most striking, yet most challenging, hiking trails in France. The 130-km GR738 offers total immersion into a remote and wild, high-altitude mountain environment, dominated by 3,000m summits.
Crossing the Belledonne mountains' central ridge between 2,500m and 2,970m, the tough route attracts seasoned hikers ready to attack the 10,000m elevation gain. Named for the shepherds who graze their flocks here, the 11 sections include stops at mountain refuges (including the cosy Refuge Habert d'Aiguebelle) and gîtes dotted across a landscape where ibex, chamois and marmot roam.
Go to alpes-isere.com for more information on the Haute Traversée de Belledonne walking route.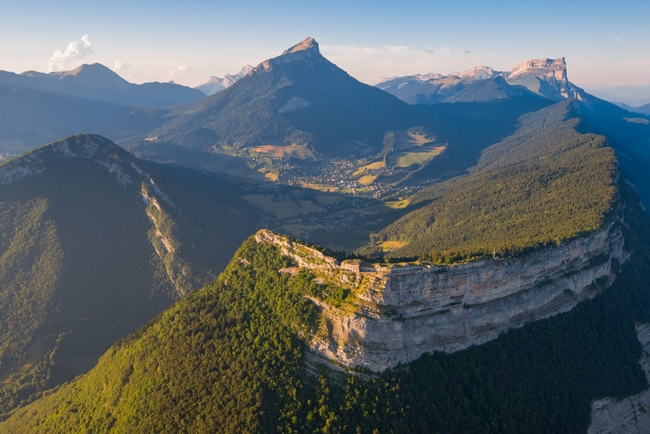 Image credit: Isère Attractivité_FPattou
Hiking in Chartreuse: The Crossing of the Chartreuse Highlands GR9
Distance: 60km
Time: 3 days
Difficulty: Moderate
This is considered the essential hike on the Chartreuse massif. Taking you through tranquil woods and silent forests, past impressive peaks and tumbling waterfalls, this self-guided 2- to 3-day hike immerses you in the wild natural beauty of the Chartreuse mountains, now the Chartreuse Regional Natural Park.
Straddling Isère and Savoie, between Grenoble in the south and Chambéry in the north, the Chartreuse massif is 45 km long by 25 km wide, with 1,450m difference in altitude from its 1,000m-high valleys to its summits of Chamechaude, the Grand Som, Dent de Crolles, and Mont Granier in the north.
Within the park is the Hauts de Chartreuse Nature Reserve, accessible only on foot, where more than 700 rare plants flourish, nearly 75 species of birds nest, and 43 species of mammal - including some very rare bats - also breed. You can spend a night in one of the villages or hamlets along the way, or out on the hills camping under the stars.
Grand Angle offers a fantastic 7-day self-guided tour in the Chartreuse region that takes you past waterfalls and picturesque villages, through forests, meadows and spectacular mountain scenery, including an assent of Chamechaude, the highest point in the Chartreuse Park. Plus unmissable views of the historic Monastery of the Grande Chartreuse.
BOOK IT: Go to grandangle.fr to book your trip and click here for more information about the route.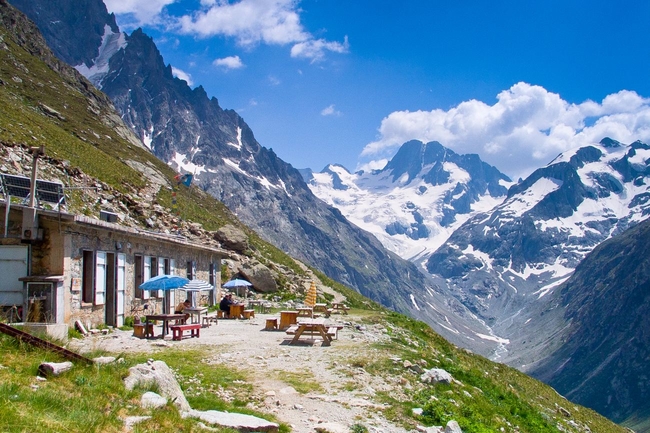 Image credit: images-reves_Isère Attractivité
Hiking in Les Ecrins: Le GR54 Tour des Ecrins
Distance: 184km
Time: 12 days
Difficulty: Very hard
Despite a reputation as one of the toughest mountain hikes in France, the challenging Tour des Écrins circuit through the Écrins massif, France's first National Park, should be well within range for anyone relatively fit. Sometimes remote, however, with high, steep sections, the 7- to 12-day loop crosses 14 cols (the highest at 2,735 m) and throws at you 12,800m of height difference.
The wild trek is renowned for panoramic landscapes across lakes and mountains, including the main peaks of the southern Alps - Barre des Ecrins (4,102 m) and La Meije (3,983 m). You'll find wonderful biodiversity, with wild flowers filling the alpine meadows, and marmots, chamois and ibex dotting the hills. Above you birds of prey, including griffon vultures and golden eagles, soar.
This is a hike to be savoured, and you can stay in one of the numerous mountain refuges along the way. There are also many variations for hiking in Écrins National Park.
One great way to explore this beautiful national park is to tour the Oisans area with Grand Angle. Offered as a self-guided, 8-day trip where your luggage is transported for you, you'll hike through truly breath-taking landscapes. Including a stop-off at La Grave, a hotspot for backcountry skiing and mountaineering, panoramic views over the mountains of Agneux, lakeside hikes and soaring mountain peaks, it's a great way to experience the rugged beauty of Ecrins.
BOOK IT: Go to grandangle.fr to book your holiday and click here for all the details about the Tour of the Oisans.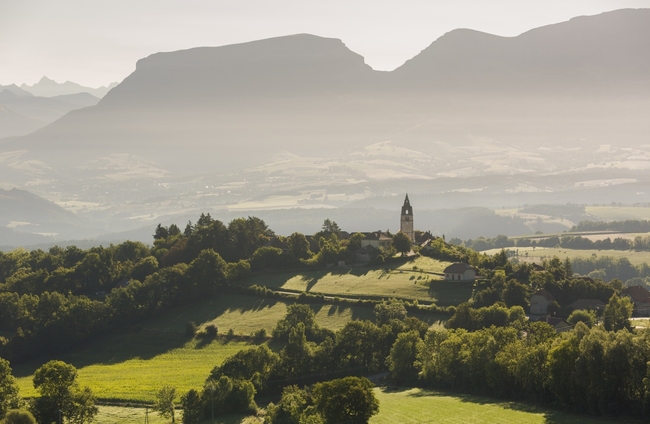 Image credit: images-reves_Isère Attractivité
Hiking the GR965: Les pas des Huguenots (The Footsteps of the Huguenots)
Distance: 146km
Time: 12 days
Difficulty: Hard
One for history buffs, this stunning walk, covering all of Isère's mountain ranges, is just part of a much longer trek that follows the historical exile of the French Calvinist protestants, the Huguenots. Driven out of France in 1685 by the Catholic Dauphiné, more than 200,000 fled on a 1,600km journey from Poët Laval in the Drôme to Bad Karlshafen in Germany.
Twelve sections of the itinerary run across Isère from the Col de Menée in southern Vercors, between Nonières in the Drôme and Percy. The route then passes via the lakes of Trièves and Matheysine, through Grenoble to the Grésivaudan, before entering Savoie near the 16th-century Fort Barraux.
Go to alpes-isere.com for more information about Les pas des Huguenots walking route.