Wales
CRIB GOCH/SNOWDON HORSESHOE, SNOWDONIA

Description: Southern Britain's finest ridge walk.

Level of Difficulty: Advanced.

How to get there: From the car park at Pen-y-Pass above Llanberis.

Highlight: Dramatic exposure and spectacular mountain panoramas.

Crib Goch (Red Ridge) is one of many routes to the summit of Snowdon, and certainly – at least as far as walkers are concerned – it's the most challenging and exciting. At its narrowest 923-metre Crib Goch is just a couple of metres wide with drop offs of hundreds of metres on either side. This may make it sound more hazardous than it actually is, but put it this way, you won't be doing it with your hands in your pockets.

There's steep scrambling both at the start of the ridge and at intervals along the way and you can make your day in the hills into an even more challenging undertaking by continuing over Snowdon's 1,085-metre summit to 898-metre Y Lliwedd and then back to your start point at Pen-y-Pass, thus completing the rightly famous Snowdon Horseshoe.

ARAN RIDGE, SOUTHERN SNOWDONIA

Description: Glorious solitude in one of the least explored corners of Snowdonia.

Level of Difficulty: Moderate.

How to get there: Park in the village of Llanuwchllyn near Bala.

Highlight: The solitude and silence of the hills.

The Aran Ridge to the south of Bala is a 15-km linear route along a 900-metre high ridge which requires you to leave a vehicle at either end (or pay for an expensive taxi journey) unless you want to retrace your steps, so it remains relatively untrodden.

Rising gradually from the start point the Aran Ridge eventually tops out on the 905-metre summit of Aran Fawddy, from where there are some of the best views in Wales. The main peaks of Snowdonia stand boldly on the northern skyline; to the west you can see the blue-green waters of Cardigan Bay; south lie the remote, rolling hills of the Cambrian Mountains; and eastwards twinkle the deep blue waters of Bala Lake.

There's a thoroughly enjoyable tramp along the tops for a couple of kilometres or so before you descend to the delightful, unspoilt Cywarch Valley, above which the hills rise steep and imposing, and the chances are you'll see no more than a handful of other walkers along the way.

England
THE MARDALE HORSESHOE, LAKE DISTRICT

Description: An invigorating tramp above one of the Lakes' least explored valleys.

Level of Difficulty: Moderate

How to get there: Park at Mardale Head at the southern end of Haweswater.

Highlight: Glorious views and golden eagles.

As you ascend the appropriately named Rough Crag just after the start of this walk keep your eyes peeled for a sighting of a golden eagle soaring above the broad shoulders of Kidsty Pike off to the north, or over the deep blue waters of Blea Water which glitters beneath the final stretch of Rough Crag as you clamber up on to High Street.

Despite a not inconsiderable elevation of 829-metres an ancient Roman road threads its way across High Street's broad shoulders and it can be almost as busy as more regular high streets on a fine day. That's largely because the views in clear conditions are mighty, taking in huge swathes of the Lakes and stretching as far as the Howgill Fells, the Pennines and the Scottish Lowlands, so take time out to drink it all whilst you're up here.

As you set off on the undulating second leg of the walk you'll find yourself back into more solitary territory, taking in the summits of Mardale Ill Bell (760 metres) and, after a stiff climb, Harter Fell (774 metres). There's a wild and lonely atmosphere up here as the sun draws down, and you'll no doubt welcome the descent down the old packhorse route alongside Gatescarth Beck and back to the car park after a day well spent amongst some of England's finest mountain landscapes.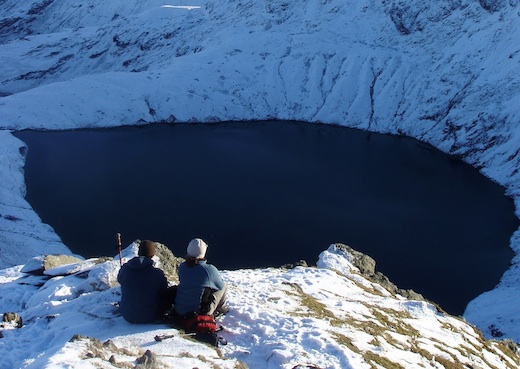 STRIDING EDGE AND SWIRRAL EDGE, HELVELLYN

Description: England's finest ridge walk – even the inevitable crowds can't take away from the drama.

Level of Difficulty: Moderate – advanced.

How to get there: Park in car park opposite Patterdale Hotel at southern end of Ullswater.

Highlight: The chance to experience England's most exciting walking route.

The fact that you're unlikely to get this walk to yourself underlines just how good it is – any hill walker worthy of the name will have Helvellyn's two edges on their 'to do' list. It's a bit of a slog to get to the first of them, Striding Edge, but it's worth it – this is in places a literally hands on ascent, passing as it does along a narrow arête which requires a good head for heights.

You'll eventually find yourself on the 950-metre summit of Helvellyn where you can stop to take in the views before continuing on to Swirral Edge for more thrilling, exposed scrambling as you retrace your steps around Red Tarn down in the cwm way below, and eventually the easy walk back down Grisedale.
Scotland
CARN MOR DEARG ARÊTE, BEN NEVIS

Description: A tough but rewarding hike on Britain's highest peak.

Level of Difficulty: Advanced.

How to get there: Park at the North Face car park just south of Torlandy.

Highlight: The highest and most dramatic mountain panoramas in Britain.

The attraction of this ascent of 'the Ben' is that it's far less busy than the regular 'tourist route' and provides magnificent views plus a definite frisson of excitement in the form of the Carn Mor Dearg arête, a narrow, rocky ridge that requires confidence in relatively exposed conditions.

You ascend initially through forests and along the bank of the Allt a' Mhuilin, and as you climb your eye is inexorably drawn across the Great Northern Corrie to the right and to the massive north face of Ben Nevis, a tremendous black crag which plunges over 600 metres from the mountain's summit and is a sight of real alpine grandeur.

A nimble dance across the arête leads you onto the final push to the Ben's summit, which you'll inevitably have to share with scores of other walkers, the majority of whom will have arrived there by the 'easy' route, but this won't detract from the spectacular views.

Don't forget, though, that you're still only half way there – you've yet to get off the mountain. The return route initially follows the well-trodden tourist path before veering off right above the dark waters of Lochan Meall an t-Suidhe to skirt around a broad shoulder and bring you back to the banks of the Allt a' Mhuilin, none of which is technical, but 900 metres of descent is hard on the legs so give yourself plenty of time.

RING OF STEALL, MAMORES

Description: A Scottish classic taking in four Munros.

Level of Difficulty: Moderate – advanced.

How to get there: Park at the head of Glen Nevis.

Highlight: Airy hiking at high elevations.
 
The Ring of Steall provides all that's best in Highland hiking – a tough but rewarding ascent, views that are never less than inspiring and a bit of excitement along the way in the form of the ridge between 982-metre An Gearanach and 975-metre An Garbhanach, along with the infamous Devil's Ridge between 1,001-metre Sgorr an Lubhair and 1,099-metre Sgurr a' Mhaim.

And there's also a thrilling start to the walk – only thirty minutes in you have to cross a wire bridge just before the lovely An Steall waterfall; it consists of three wires, one for feet and two for arms, making it far more exciting than your average river crossing.

From here there's a long, steep climb up An Gearanach after which the worst of the hard work is over and you're rewarded with several miles of glorious, high level walking.