Seven UNESCO-protected wild landscapes. 220 beaches. One mountainous national park. 250 brown bears. 50 kinds of cheese. Asturias in Northern Spain is a pretty astounding destination for adventure-lovers – but the most surprising fact of all is that this region, where you can summit mountain peaks in the morning and swim at wild beaches in the afternoon, isn't more well-known. 
Look down from the plane as you fly north from Madrid to Asturias and you'll be astonished at how green the landscape becomes – is that Ireland or Iberia below you? The rocky summits and high meadows of the Picos de Europa National Park spill straight down to the Cantabrian Sea, lined with verdant cliffs. This is Spain, but not as you know it – and Asturias' mountain communities, fishing villages and vibrant food scene have a feel – and a culture – all their own.
We start our Asturian adventure on a high. The Picos de Europa – literally Europe's peaks – National Park is the jewel in Asturias' crown, a glorious sprawl of tall limestone mountains and summer pastures. Dominating the skyline is Naranjo de Bulnes, with one of the park's tallest summits at 2,519 metres, it's revered by local climbers.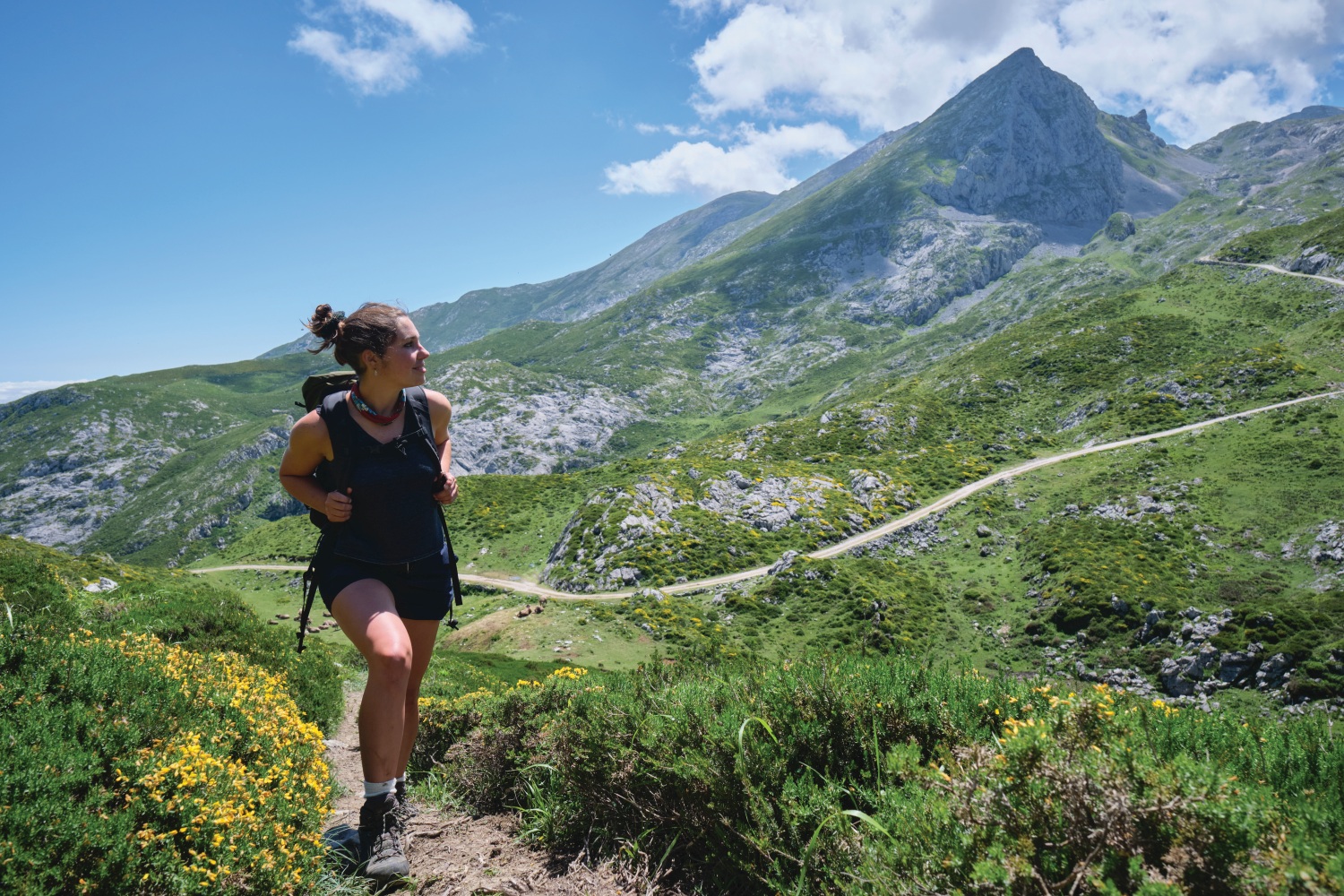 It's a hot sunny day when our guide JuanJo takes photographer Daniel and I on a five-mile hiking trail that skirts the towering peaks. Just a taste of the epic mountain routes on offer here. As we stand in the shade of Pico Boru mountain, he points out the Anillo de Picos, three linked, circular routes that ring the mountains and stop at remote refuges, with 112km of high-altitude trail in total – a tempting excuse to return for a bigger trekking challenge.
We wind our way back to Sotres, where stone cottages cluster under the eastern massif to make up the highest village in the Picos, at 1,050 metres. Like so much of Asturias, Sotres feels totally untouched. This region is the only corner of the country that was unconquered by Moorish invaders, and is where the modern nation of Spain is said to have originated, after the battle of Covadonga in 722. They do old-fashioned hospitality here, too – at Casa Cipriano we fill up on doorstep-sized hunks of bread and big bowls of fabada, the traditional bean and chorizo stew.
"We wash it down with cider – or rather sidra, a local tipple that's far fresher than its British counterpart"
To wash it down, it's all about cider, or rather sidra, a local tipple that's far lighter and fresher than its British counterpart. It's traditionally poured from a great height to aerate it, but I'd recommend having a waiter show you how, unless you fancy ending up covered in most of your would-be pint.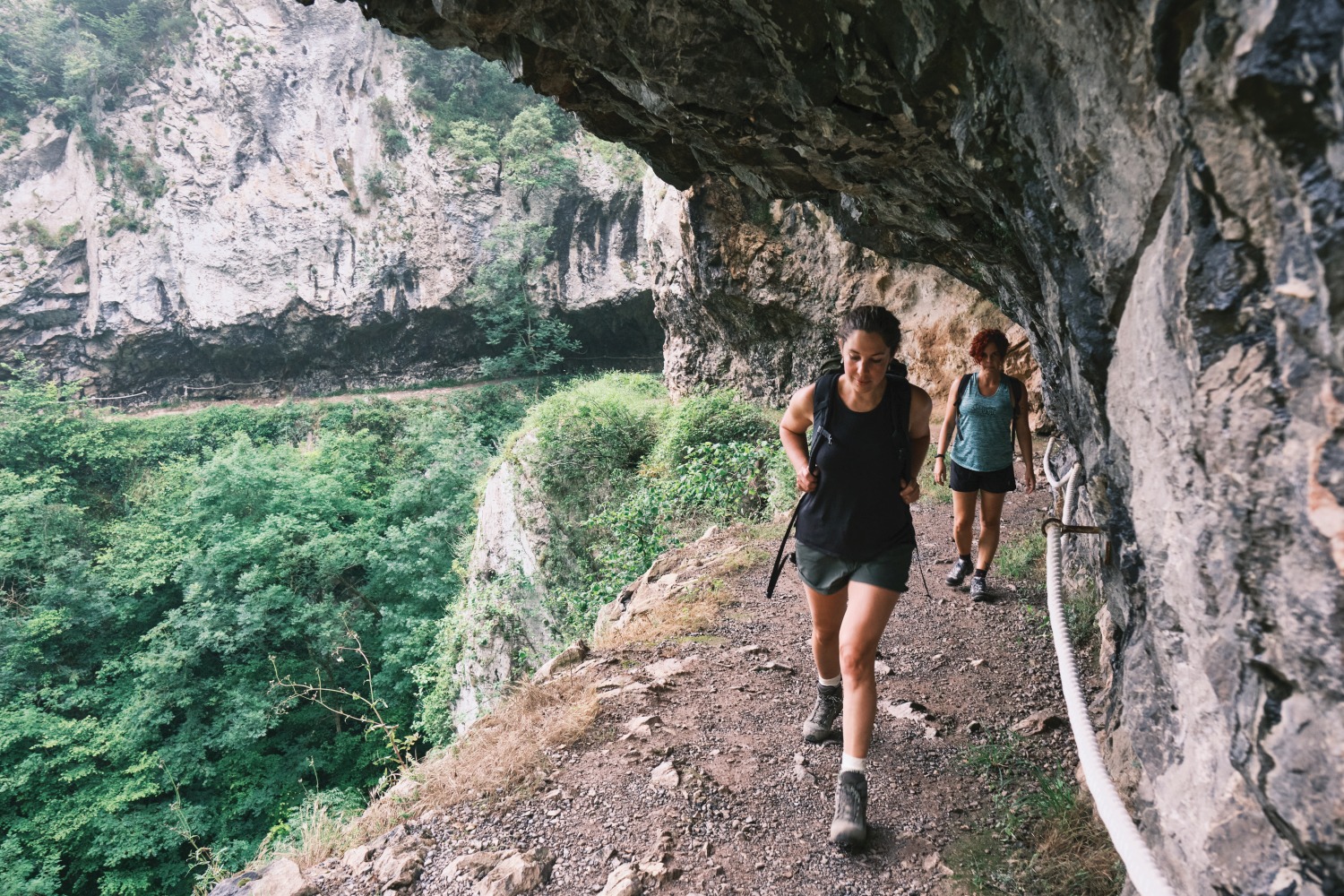 Where the wild things are
Next we head into the Valle del Oso or Bear's Valley, more forested than the rugged Picos. We pedal the easy but rewarding Senda Del Oso, a 50km bike route. This wild landscape is still home to Cantabrian brown bears – 250 of them roam wild here, usually far from the trails that humans use. But just recently, our guide Astor says, a bear broke into an horreo, one of Asturias' traditional grain stores on stilts, in search of honeycomb. We may not spot any beasts today, but it's thrilling enough to know that they're out there, and that we're pedalling on the edge of a proper wilderness.
Swapping bikes for backpacks, in the afternoon we walk the six mile Ruta de las Xanas trail, where a teeteringly narrow path snakes along the side of a stone gulley. You need a head for heights to follow this path - it literally hugs a sheer stone wall, with via ferrata-style ropes placed at points to give the wary walker confidence. It's worth the effort though for the vertiginous mountain views.
"Xanas means fairy or pixie. It's easy to imagine otherworldly beings inhabiting this rocky place,"
We're so high up that there's a cloud inversion forming in the valley beneath us. Xanas means fairy or pixie, and it's easy to imagine otherworldly beings inhabiting this wild rocky place, or living in the waterfall that rushes far below our feet. What really strikes me though is the peace and quiet – in the UK this beautiful walk would be one of the most popular hikes in the country. But we see hardly anyone else, unless you count the birds of prey riding the thermals up from the valley.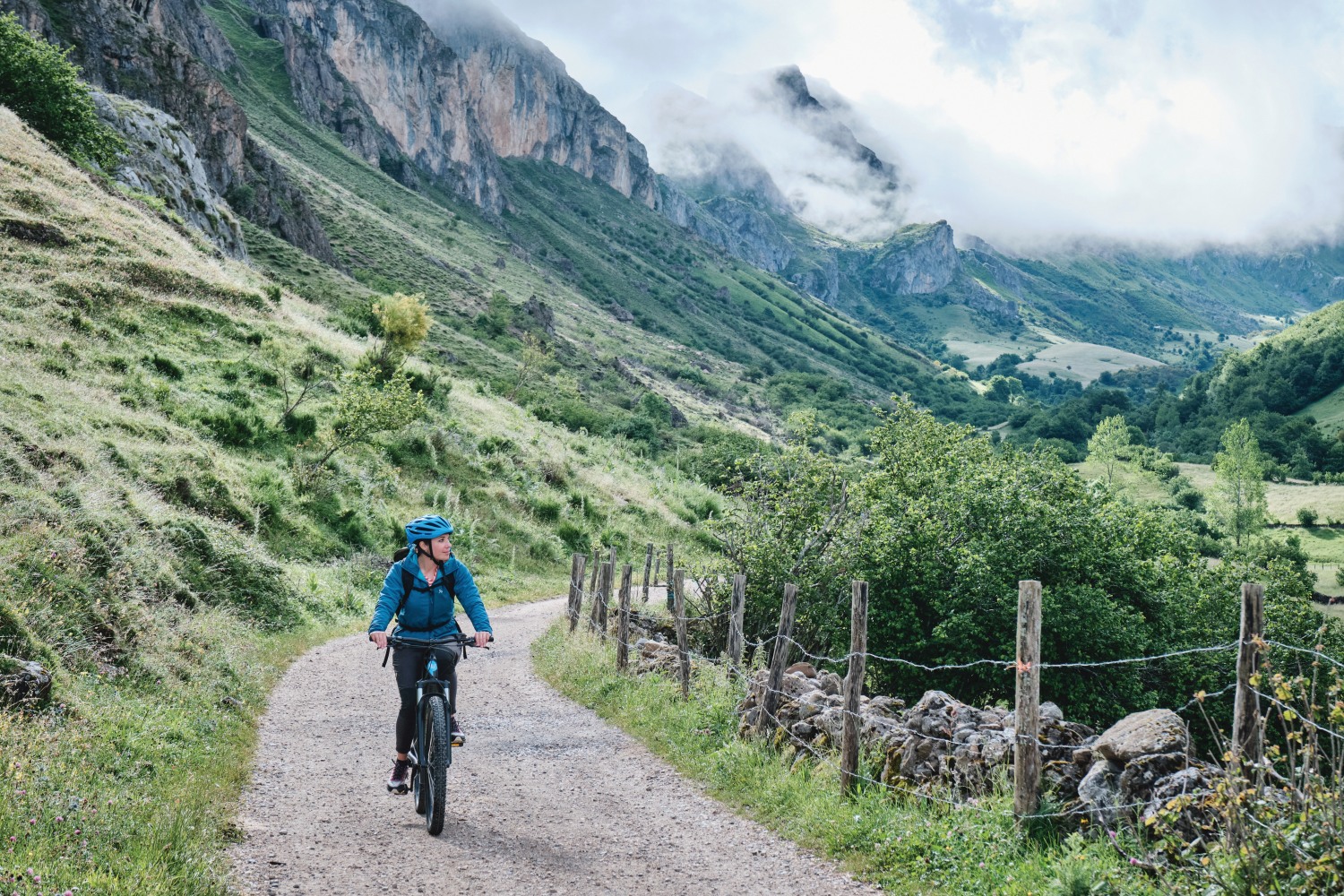 Where mountains meet the sea
The sun is still shining bright the next day – time to find somewhere to cool off. Up a steep hair-pin route to the mountain village of Valle del Lago, we grab mountain bikes and cycle a relaxed five-mile trail to reach the Lago del Valle. It's a mind-bogglingly beautiful landscape –  a deep green reservoir ringed by tall mountains and wildflower meadows where cattle graze (and even the cows in Asturias are pretty). The lake's water is cold, clear and inviting – I'm not sure I've ever swum anywhere more picture-perfect.
You're never far from water here – even Asturias' gnarliest mountains are close to the coast, and the peaks run right down to meet the ocean in some places, with miles of rugged coast path edged by sea pinks and purple heather. At the La Sobreisla hotel, picture windows look out at the Atlantic, the perfect coastal bolthole. It feels like I'm on totally different trip to this morning, when I woke up in the Alpine-esque landscapes of Asturias' mountain ranges, but it's only taken us an hour by car to get here.
This is no bucket-and-spade holiday destination, though. For starters, the coast is never crowded (despite being a favourite escape for Madrid locals craving an escape from the heat). This is partly because many Asturian beaches along what's known as the Green Coast are reached only by foot, down narrow paths lined with ferns.
The water is Atlantic-blue but often crystal clear, and when the surf's up this is a great place to catch a wave or two. You could easily spend the morning on an untouched beach and the afternoon on a mountain summit. The ocean for breakfast, the mountains for supper – the ultimate surf-and-turf adventure.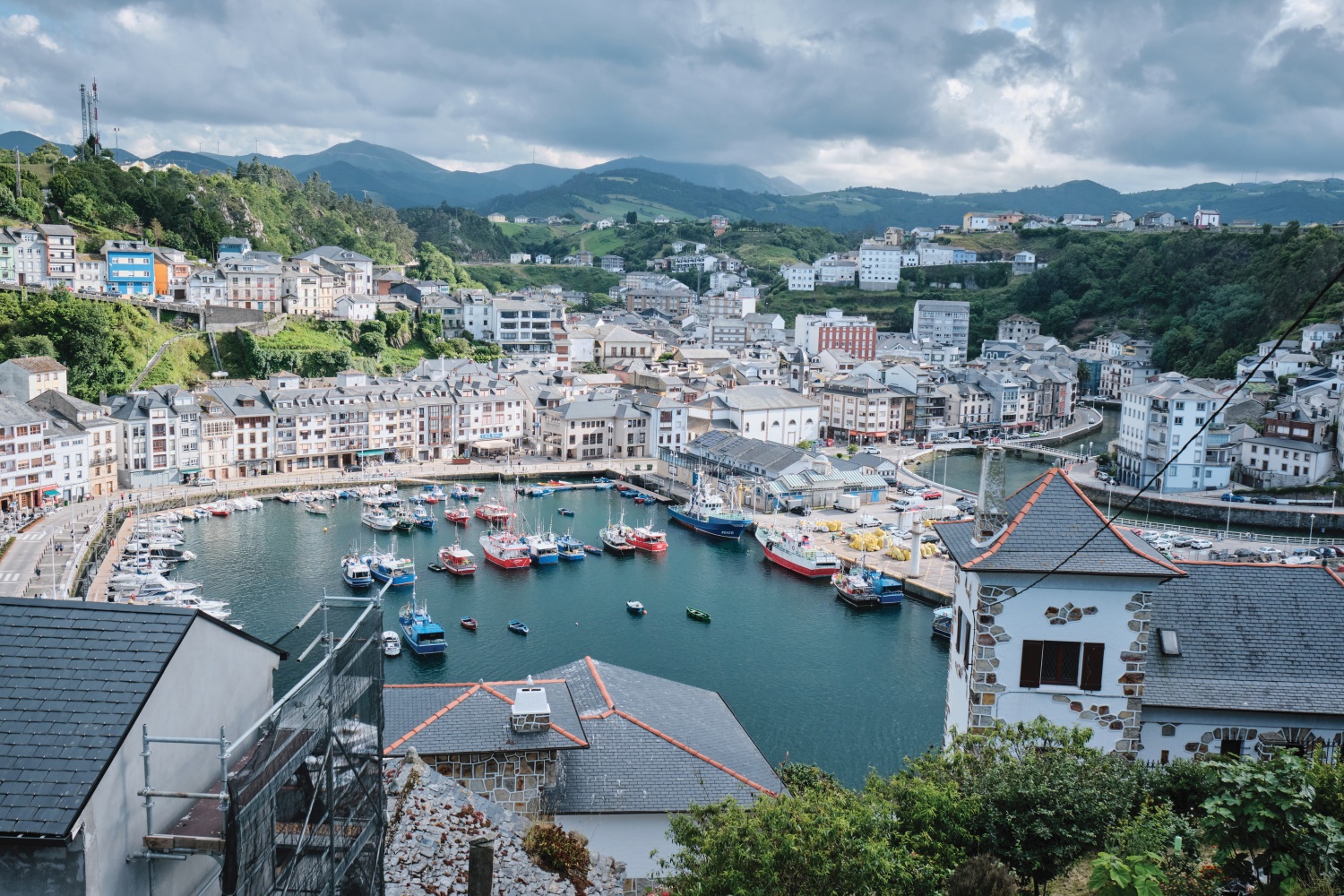 If you do find yourself wanting to be part of a crowd, Asturias' coastline is also dotted with welcoming fishing villages like Cudillero, where a jumble of pastel-painted houses crowd into a narrow harbour. The air smells like salt and the outdoor tables are jam-packed with locals pouring their sidra with practised hands and eating pinchus (small tapas-style dishes served on skewers) of fresh-caught squid or anchovies. My visit coincides with the Euros, and Spain are up against Croatia.
As the sun sets and turns the village's skyline pink, the roars of delighted football fans spill out of the bars as Spain deliver a jaw-clenching 5-3 win on penalties. Asturias is proudly its own province but it turns out Asturians are all Spanish when it's time to cheer on the players at the top of their lungs.
On our last day we finally meet Asturias' other famed local feature. After four days of glorious sunshine, the rain finally arrives – and falls in rods all morning. The region's notorious rainfall is the reason this landscape is so lush and green. "They call Asturias nature's paradise. And if you want a green paradise, you have to accept the rain," says our guide Ernesto stoically, watching the dark sky from under his jacket hood.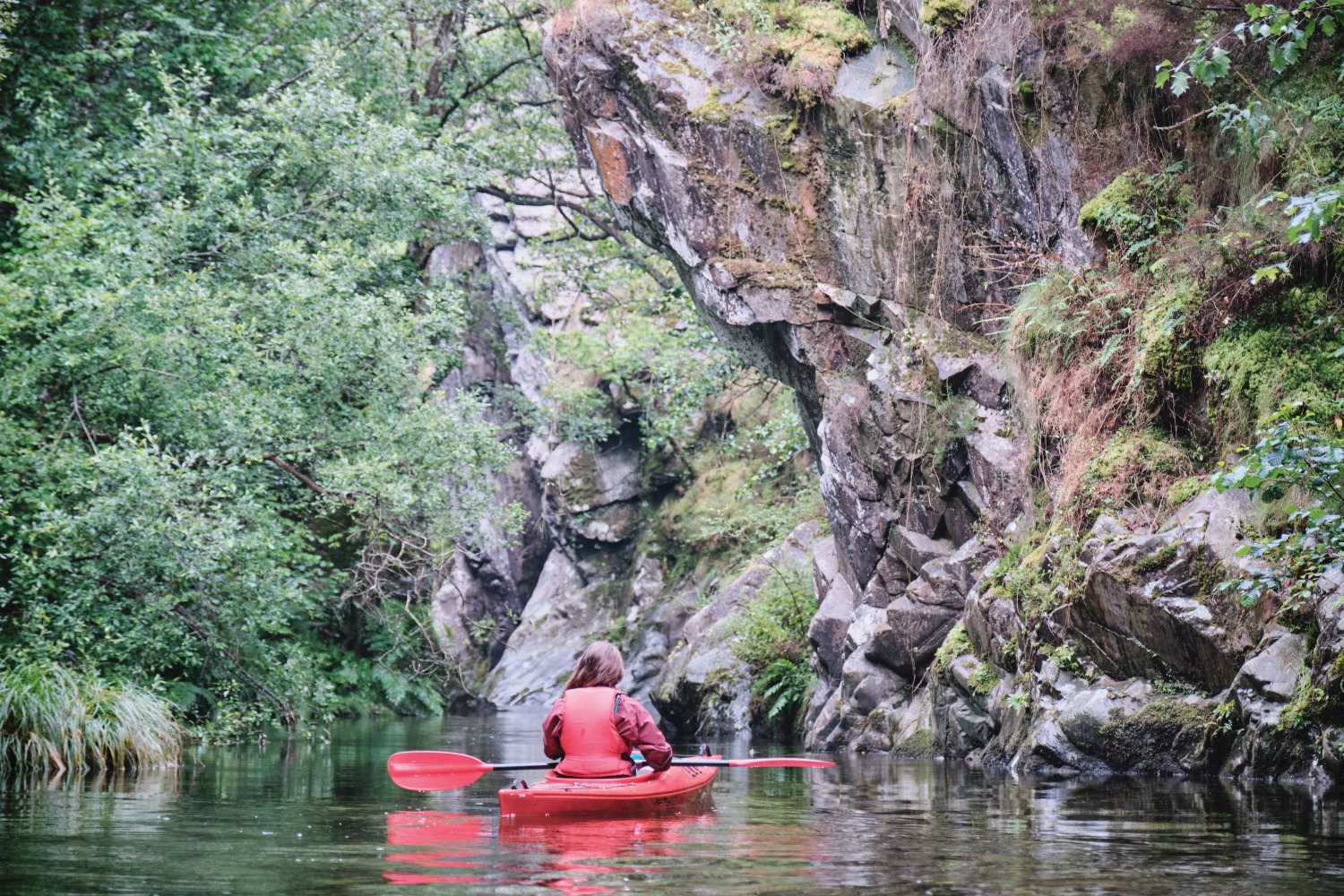 By lunchtime, though, the clouds have rolled away again, and we join kayaker Kaly on the Navia river, paddling them upstream through a deep gorge. The water is glassy clear, the river totally wild. We don't see a soul all afternoon – just the flash of kingfishers on the banks and once, a silky brown stone marten, watching us curiously from the cliffs. Upriver, a waterfall feeds into a deep pool. Dragonflies flit on the surface. It feels like an ancient, untouched landscape.  
 "It feels like an ancient, untouched landscape"
'Asturias es España; lo demás es tierra conquistada'. Asturias is Spain – the rest is just conquered land. It's a saying you hear a lot in this region, and born-and-bred Asturian Ernesto sums things up as we land the kayaks back in civilization. "We've got it all here – mountains, wild coast, trekking routes, great cycling and surfing.
You can wear your walking boots onto the plane, get off in Asturias and go straight on an adventure." He's not wrong – with its compact size and unique culture, Asturias might just be Europe's best-kept secret. All you need do is grab your hiking boots, walk onto a plane with them and discover it for yourself.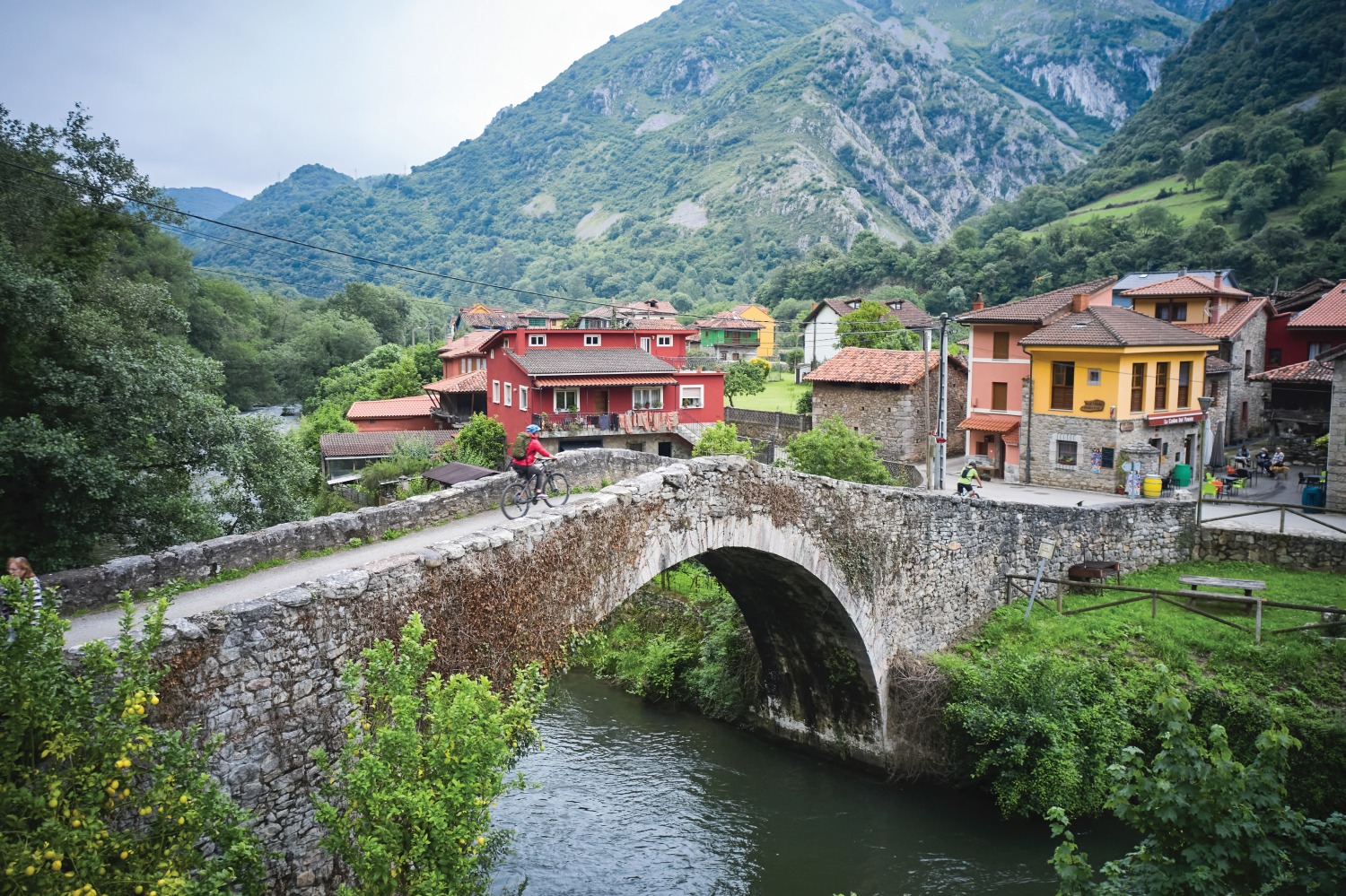 Travel info
What to pack
Pack waterproofs for Asturias' mercurial weather, plus hiking boots and your swimsuit. 
Getting there
Fly from various UK cities via Madrid with Iberia, from £176 return.
Getting around
There are local busses and trains, but hiring a car is your best option for exploring.
Food and drink
Try Asturias' iconic favourite fabada – bean and chorizo stew – washed down with local sidra, apple cider.
Where to stay    
Hotel La SobreIsla, Puerto de Vega - Expect big sweeping views of Asturias' wild coastline from this beachy boutique hotel. From £120/night.
Casa Miño, Somiedo - Simple but cosy rooms that belong to nearby Casa Miño cider bar, which serves up fantastic local food. From £64/night.
Casona de la Paca, Cudillero - An old-fashioned manor house-turned-hotel sits above the postcard-perfect fishing village of Cudillero. From £95/night.