Sponsored content
If you're looking for an adventure holiday, Slovenia is one of the best year round destinations in Europe, with everything from snow-capped mountains to steep cliffs, from wild gorges to pristine rivers and sparkling lakes, and from Karst caves to the Pannonian Plain. This is a gloriously unspoilt corner of Europe for adventure holidays - the country even celebrates a state holiday dedicated to sports and recreation every year on 23 September!
Slovenia is an exceptionally green country – in every sense of the word. As much as 60 per cent of this small country is covered by forest. And Slovenia truly cherishes its natural beauty, putting nature at the top of its list of priorities. More than a third of it is part of the EU network of protected areas, Natura 2000. A fifth of the coastline is also protected, and with more than 22,000 animal and plant species, Slovenia is one of the most biodiversity-rich countries in Europe.
Green, active and healthy Slovenia works hard to earn the accolades of sustainable tourism. Under the auspices of the internationally recognised Green Scheme of Slovenian Tourism, the country is creating a range of unique green adventure holidays. Watch out for the label Slovenia Unique Experience.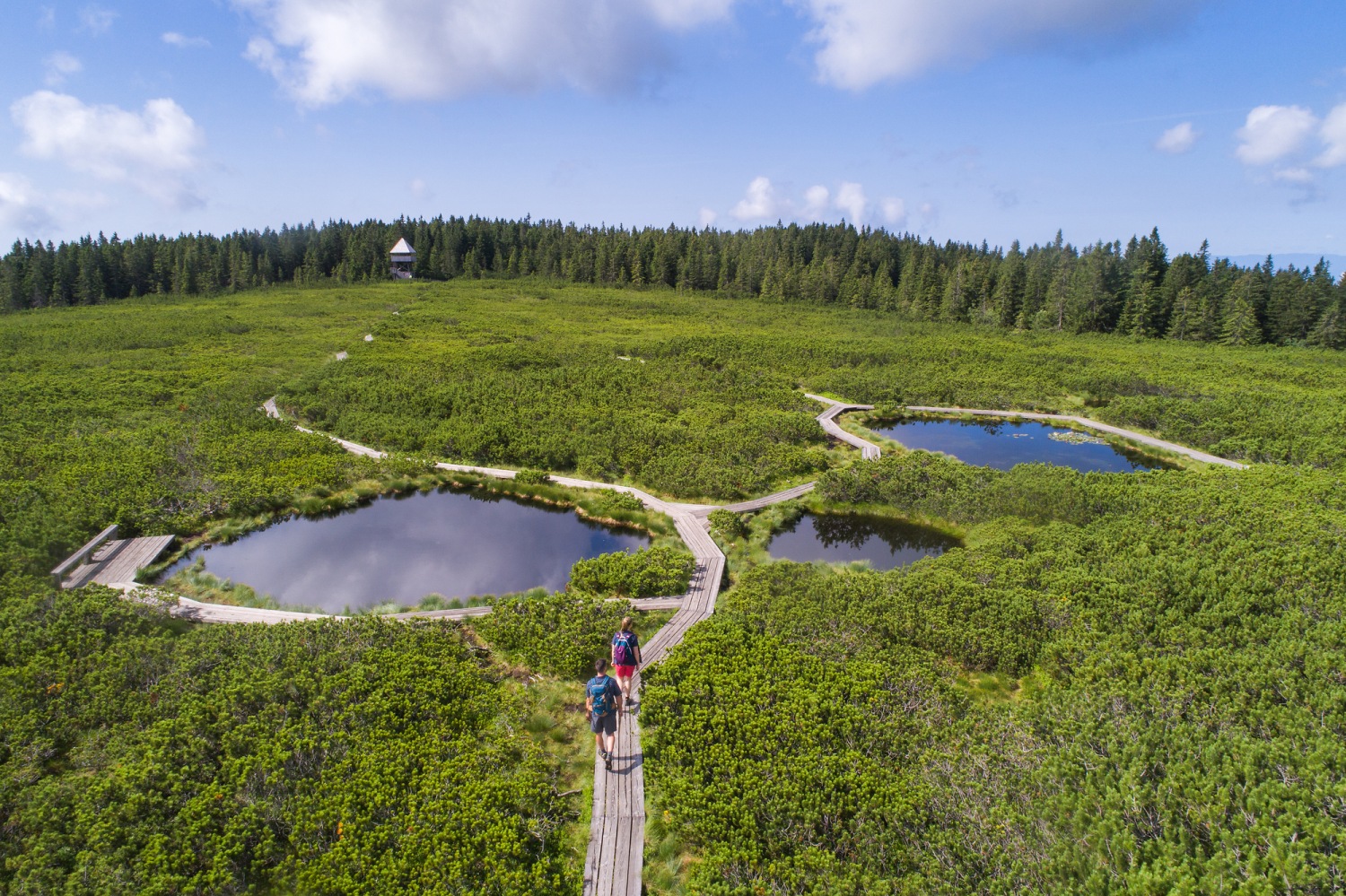 Such diverse landscapes offer an extraordinary range of opportunities for active outdoor adventures and family activity holidays. Here, you'll find hiking trails from the highest Alpine peaks to rolling hills, cycle routes galore, aquatic activities from white water rafting and kayaking on the emerald green Soča river to paddle boarding on the Adriatic sea coast or even through the capital, Ljubljana.
Hiking in Slovenia is a particular joy. Walking routes in Slovenia take the hiker through the most spectacular scenery threaded with well-kept hiking trails, from easy treks to long-distance trails and the increasingly popular challenge of via ferrata.
Plus, hikers can enjoy Slovenia in all seasons. In winter, when trails are frequently hidden under a layer of snow, and when autumn fog cloaks the high peaks, you can trek along the plains and to more accessible spots in low mountains. When the snow melts, higher routes open up with forests, pastures and attractive vantage points, while summer is the perfect time for conquering the highest peaks.
Slovenia is situated in Central Europe and borders Italy, Austria, Hungary and Croatia. It is only a few hour drive away from Venice or Vienna. Low-cost airlines Easyjet and Wizz Air operate flights to the main Slovenian international airport Jože Pučnik Ljubljana.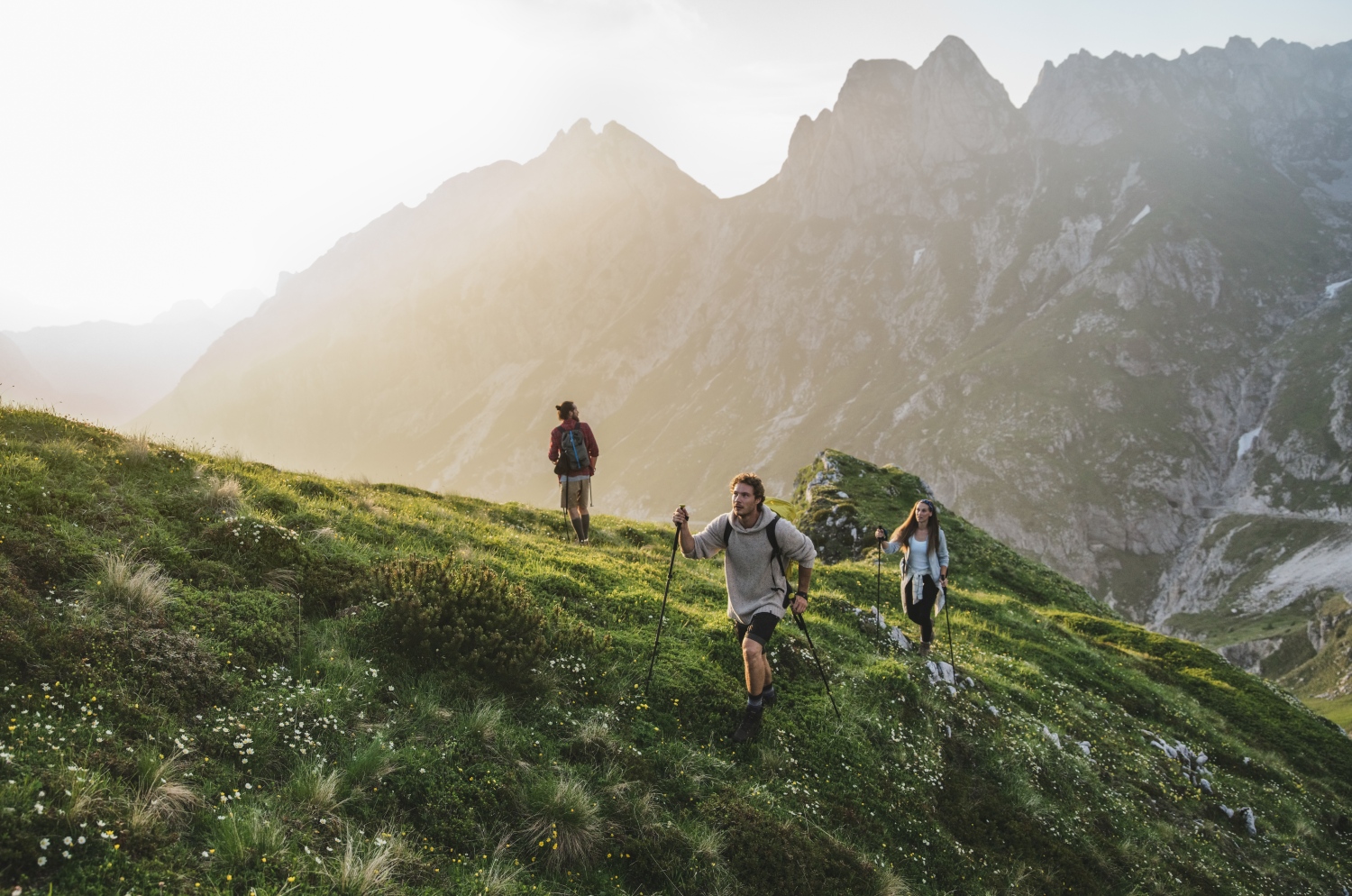 The best long-distance hiking trails in Slovenia
More than 10,000 km of marked hiking trails are well maintained by the Alpine Association of Slovenia, one of the largest sports organisations in Slovenia with more than 60,000 members. With 178 mountain huts, shelters and bivouacs, as well as more than 50 recognised accommodation providers for hikers, you can easily put together your own adventure holidays to experience on foot. And Slovenia has several great long-distance trails, all of which can be tackled in stages. Here are five of the best hikes in Slovenia:
Slovenia Mountain Trail
Distance: 617 km
Duration: 28-37 days
This is the longest and most popular transversal route, believed to be one of the oldest such trails in Europe. It starts in Maribor and leads through the most scenic sections of Slovenia's Alpine mountains and the Karst to Debeli rtič on the Adriatic Coast. Along the way hikers will pass 55 mountain huts, climb 35 peaks, including Slovenia's highest, Mt Triglav and pass through 5 towns. An unforgettable journey.
Via Dinarica
Distance: 160km (in Slovenia)
Duration: 6 days
One of the most interesting hiking trails in Europe starts in Slovenia in the Dinaric Alps and ends far to the south, passing through other countries along the Dinaric Alps. The Slovenian section leads among exceptional Karst sites: the underground world of Križna and Planina caves, Lake Cerknica and other extraordinary water phenomena, and ancient beech forests which are part of the UNESCO World Heritage.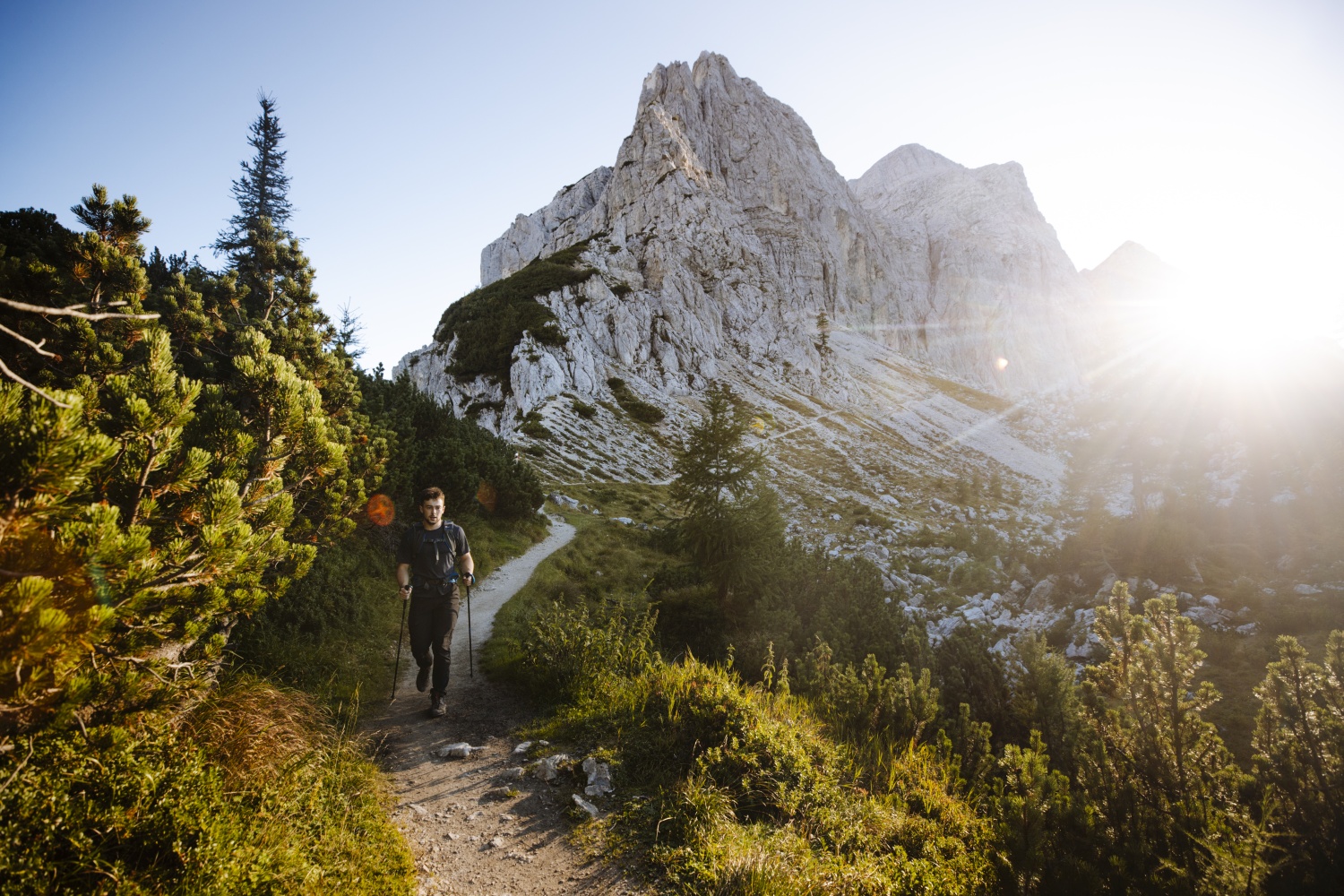 The Juliana Trail
Distance: 270km
Duration: 16 days
Rated as one the most innovative and exceptional European projects in 2020 by the British Guild of Travel Writers, the circular Juliana Trail leads you around Triglav National Park and the UNESCO Biosphere Reserve of the Julian Alps, taking walkers through green forests and blooming meadows, along crystal-clear rivers, and past historical old towns and picturesque Alpine villages. It's divided into 16 sections, each roughly 17.5 km in length. The trail covers a total of 7,163m of altitude difference, but its terrain is mostly flat, which makes it great for family outings. Indeed, selected stages are suitable for easy family trekking.
The Walk of Peace
Distance: 500km
Duration: 20 days (Slovenian legs); 12 days (Italian legs)
A unique experience, this epic route from from the alps to the Adriatic Sea traces the Isonzo Front, one of the most famous battlefields in World War I, and links natural attractions with the historical heritage of Slovenia and Italy. Along the way, the itinerary includes several World War I museums, 21 open-air museums, numerous military cemeteries and ossuaries, and you get ample time to enjoy the peace and the breathtaking views from the Alps to the Adriatic. The Walk of Peace, with its World War I heritage on the territory of Slovenia, has also been inscribed on the UNESCO Tentative List of World Heritage Sites.
Via Alpina (Red Trail)
Distance: 220km (in Slovenia)
Duration: 14 days
Another of the best walking routes in Slovenia, this trail (there is a more challenging purple one) will take you to some exceptional sites of the Slovenian heritage. It leads from the coastal city of Trieste in Italy through Slovenian Karst and sub-Alpine hills to the heart of the Julian Alps. You will pass many natural and cultural attractions on the way to the picturesque Triglav Lakes and the Soča River Valley, when climbing the Vršič Pass and descending into the Tamar Valley towards Austria.
Hiking in numbers
10,000km of marked trails
5,000km of themed trails
178 mountain huts
More than 50 specialised hiking hotels and campsites
The safety of hikers is a top priority in Slovenia, as many of the breath-taking mountain landscapes can also be dangerous for beginners and seasoned hikers alike. Take a look at this handy guide to staying safe in the mountains to find out more: slovenia.info
Five other active ways to explore Slovenia
From family activities to high-adrenalin active holidays, if you visit Slovenia, be sure to try at least one of these.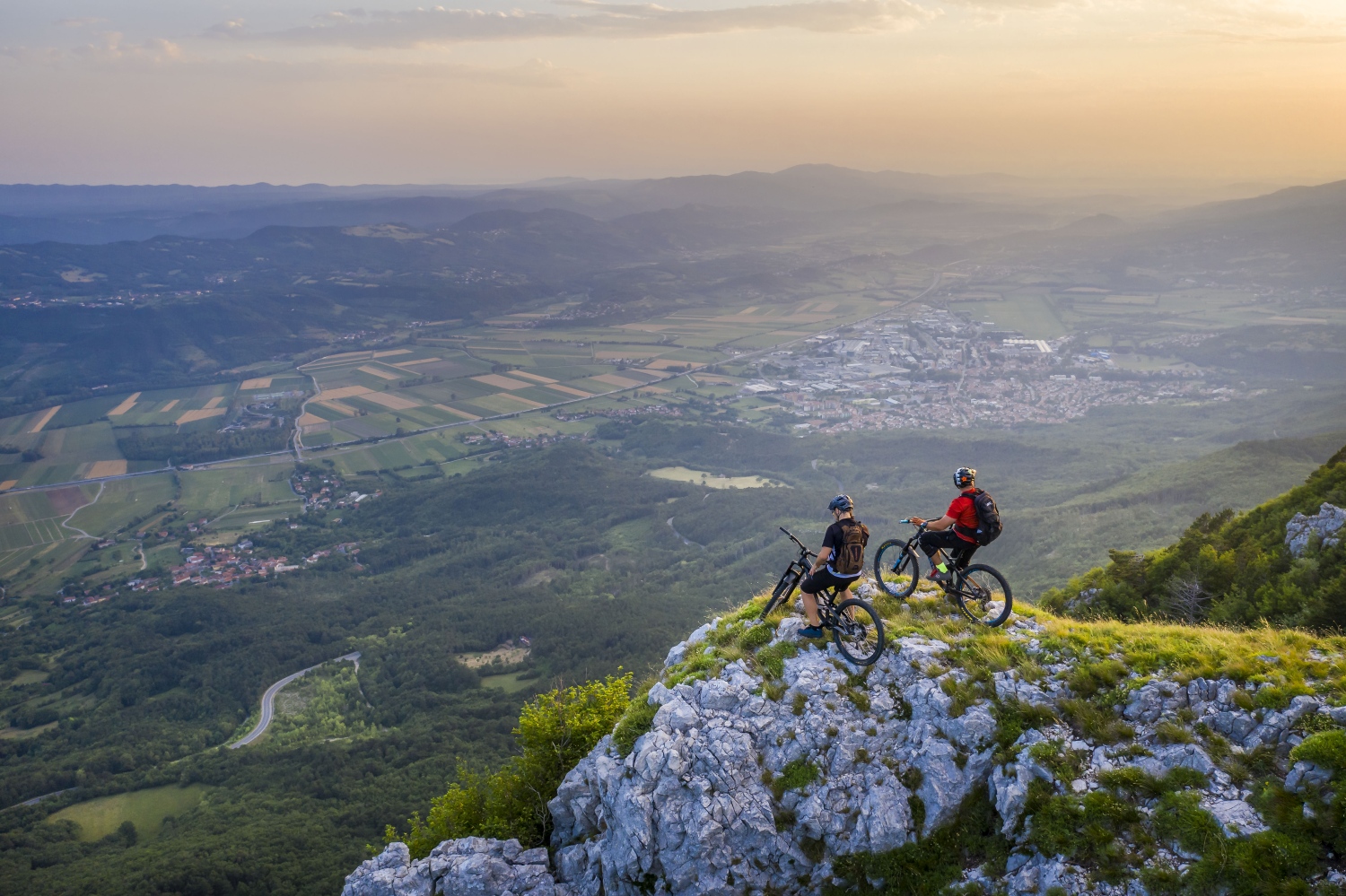 Cycling in Slovenia
The Mediterranean climate means you can go cycling in Slovenia almost all year round. With more than 10 long-distance cycling trails and 11 mountain biking parks and many adventurous single tracks, there is something here for any cyclist. You can cycle around the iconic Lake Bled with its famous picturesque island, and the Radovna River Valley between Bled and Kranjska Gora boasts unforgettable cycling trips for the entire family. 
Numerous cycling trails criss-cross near castles along the Sava River, which you can cycle on multi-day tours or short trips. Choose a route that includes a stop at castle cellars and restaurants so you can learn about the Posavje wine culture and cuisine.
Among the more than 420 km of cycle trails that explore the area of Lake Bohinj under Triglav National Park, one of the most popular with leisure cyclists is an 11-kilometre multi-purpose asphalt road that runs between the Lower and Upper Bohinj Valley. E-biking in Slovenia is also growing in popularity, lending itself perfectly to the varied landscapes you'll find here.
Three of the best bike rides in Slovenia:
Slovenian Mountain Bike Route
Distance: 1,800km
You can really get to grips with the diversity of Slovenia's regions on this route with with 50,000m of elevation difference and 109 control points at 41 stages for which GPS tracking is available. A circular route, it connects all the major Slovenian mountain ranges by means of skid trails and paths, field trails and side roads, and includes 50 mountain huts.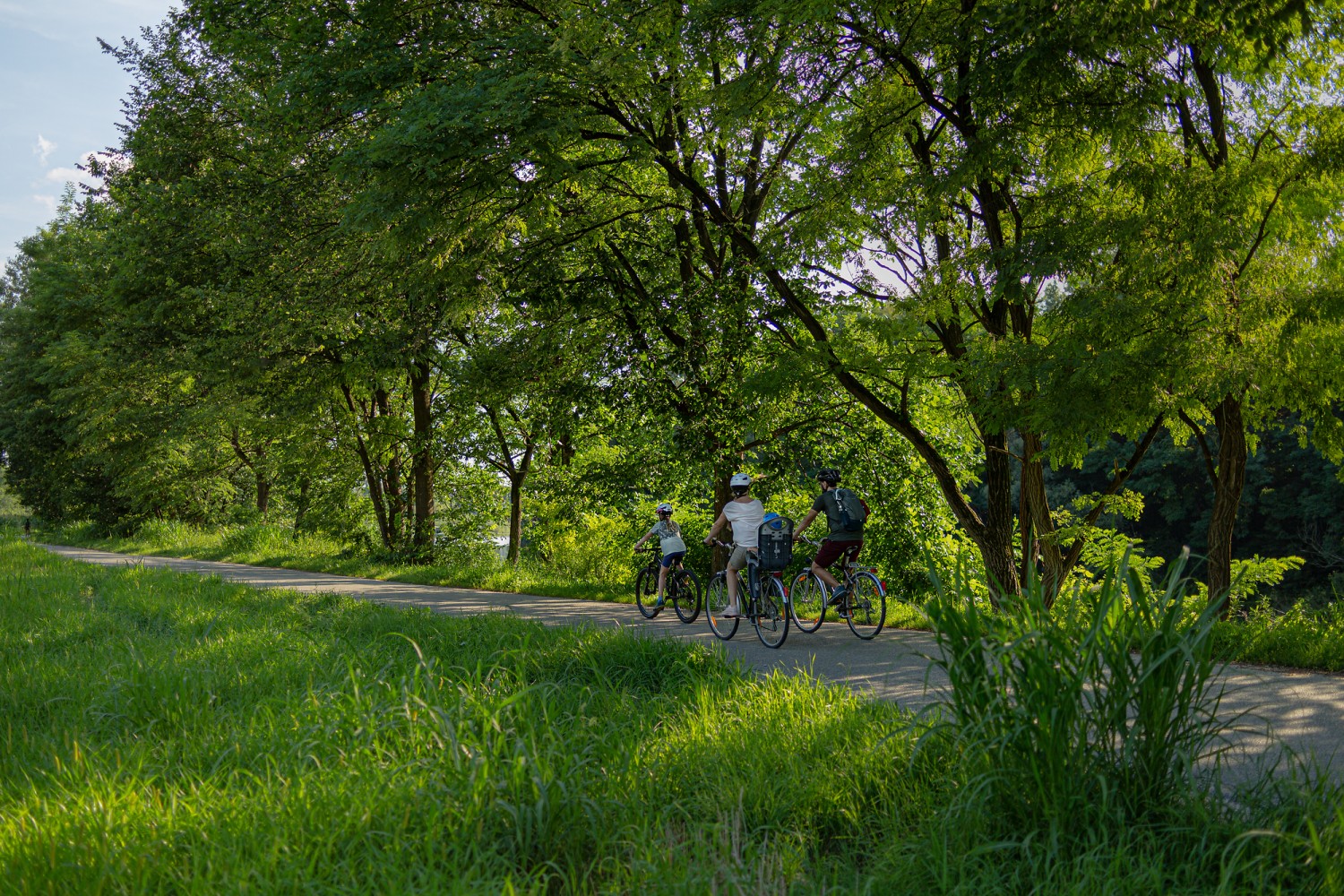 Drava Cycling Route
Distance: 710 km (145km in Slovenia)
An international trail that begins at the source of the Drava River in Italy, continues through Austria, Slovenia, and ends in Croatia. The Slovenian section provides some challenging riding for fitter cyclists, but also sections suitable for all abilities. The route connects Maribor and Ptuj with a 30-kilometre stage suitable for family trips.
Around the Kamnik-Savinja Alps
Distance: 130km
A circular trail with three Alpine passes and 2,000m of elevation difference, leading from medieval Kamnik under the Velika planina plateau through Cerklje under Mt Krvavec and the Kokra River Valley to Jezersko in the high mountains and the Pavličevo Sedlo Pass and then across the Upper Savinja Valley back to Kamnik. It's a challenging ride with some impressive mountain views.
Go to slovenia.info to discover even more fantastic bike rides in Slovenia.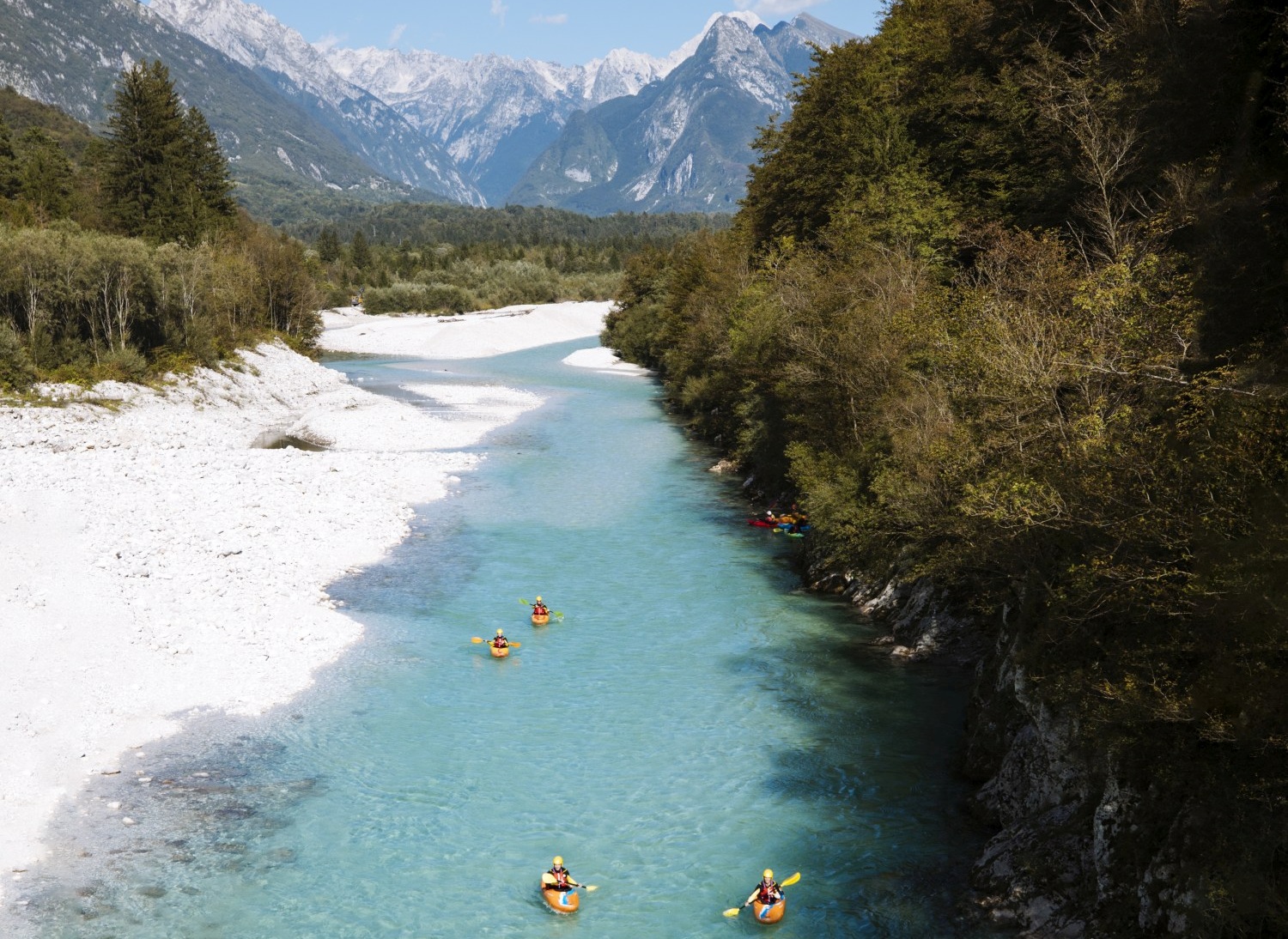 Water sports in Slovenia
One of Europe's most water-rich countries, Slovenia has more than 27,000 km of watercourses, including the emerald Soča River, Slovenia's longest river, the Sava and its two springs and the country's warmest river the Kolpa, with its natural swimming areas.
Water activities are plentiful: you can sail and surf, hop on a paddleboard or race down the river rapids by raft, kayak or canoe and discover the beauty of Slovenia's narrow gorges. Canyoning, which combines climbing, swimming, jumping into pools, some hiking and climbing natural slides and waterfalls with ropes, is a thrilling experience. The gorges near Bovec, Kobarid, Bled and those in the Upper Savinja Valley are particularly known for this type of activity.
Slovenia also has more than 1,300 lakes, including the legendary Lake Bled – the icon of Slovenian tourism. The largest Slovenian permanent lake is Lake Bohinj in Triglav National Park The largest intermittent lake in Europe is Lake Cerknica, and the lake with the longest shoreline is Lake Šmartinsko near Celje. Lake Bled boasts a superb Castle Bathing Area and four bathing sites especially popular with families. The Šobec Pond natural bathing site is in the vicinity of Bled and features a water park for children. Bathing areas at Lake Bohinj are arranged in the Fužina Bay and Ukanc. Some other lakes are popular locations for other water sports, such as windsurfing, water skiing, kayaking and wakeboarding.
Aerial adventures in Slovenia
Channel your adrenaline even further on the longest zip line in Europe across the Učja Canyon and the steepest in the world at Planica, or soar into the skies at one of 40 paragliding or hang-glider launch sites. Among the most attractive are those in the Soča River Valley, in the area of Bohinj, and in the Goriško and Vipavsko regions where the flying season lasts 300 days. The Slovenian ski slopes, such as Krvavec, Vogel, Cerkno, the Soriška Planina Plateau, Golte and the Pohorje Hills are also popular take-off sites for a tandem paraglide.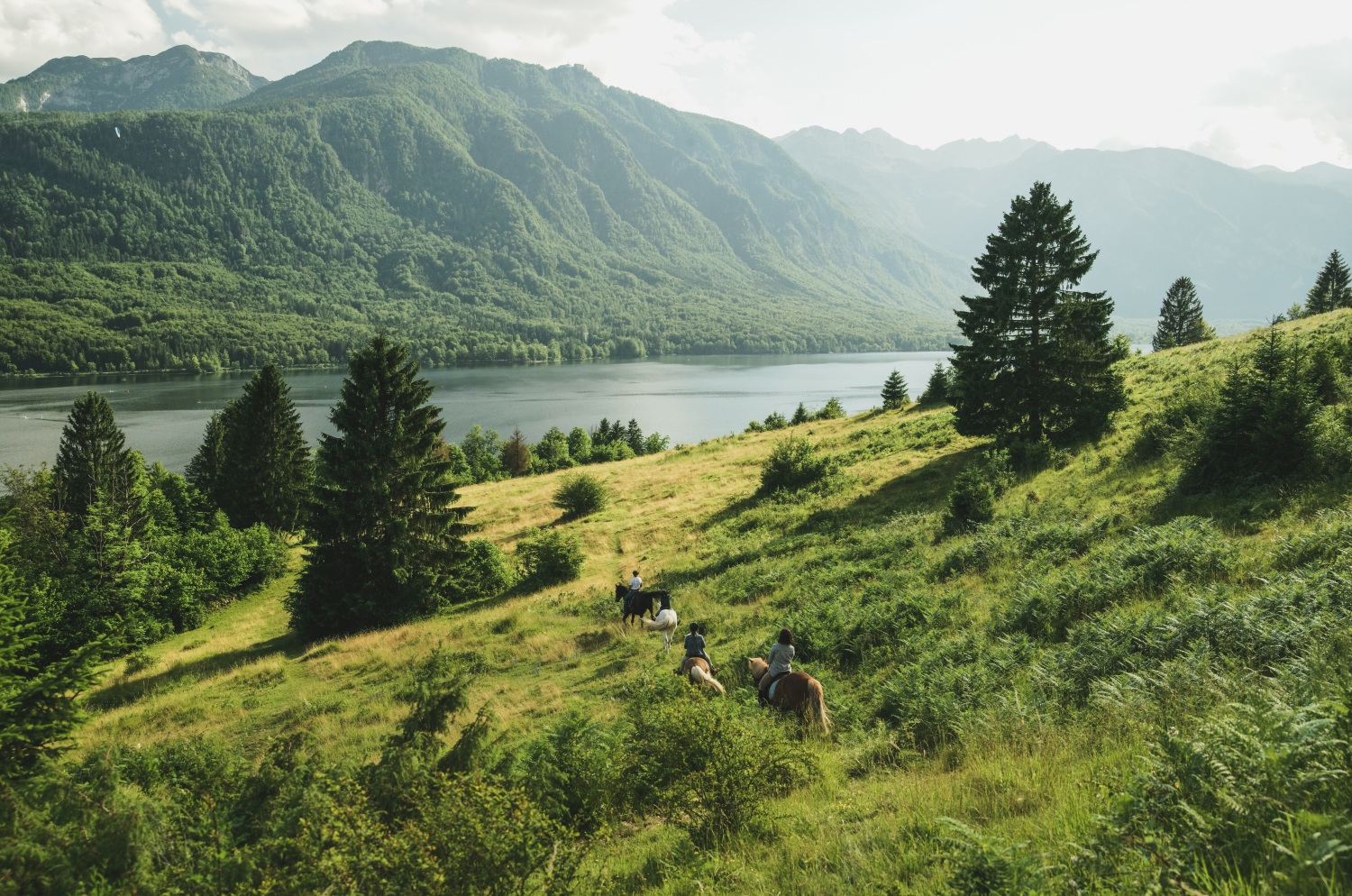 Horse riding in Slovenia
Slovenia is famous for its Lipizzan horses. Explore the countryside on horseback at the tourist farms and ranches found in all Slovenian regions, as well as equestrian clubs and in places with a unique heritage. Guided horseback riding tours are possible in many places in Slovenia and make for perfect family activities. 
You can also go riding in landscape and regional parks, and Triglav National Park. Maintained horse-riding trails can be found in Bohinj, the Pokljuka Plateau, Idrija, the Pohorje Hills, the Kočevsko, Bela krajina and Posavje regions.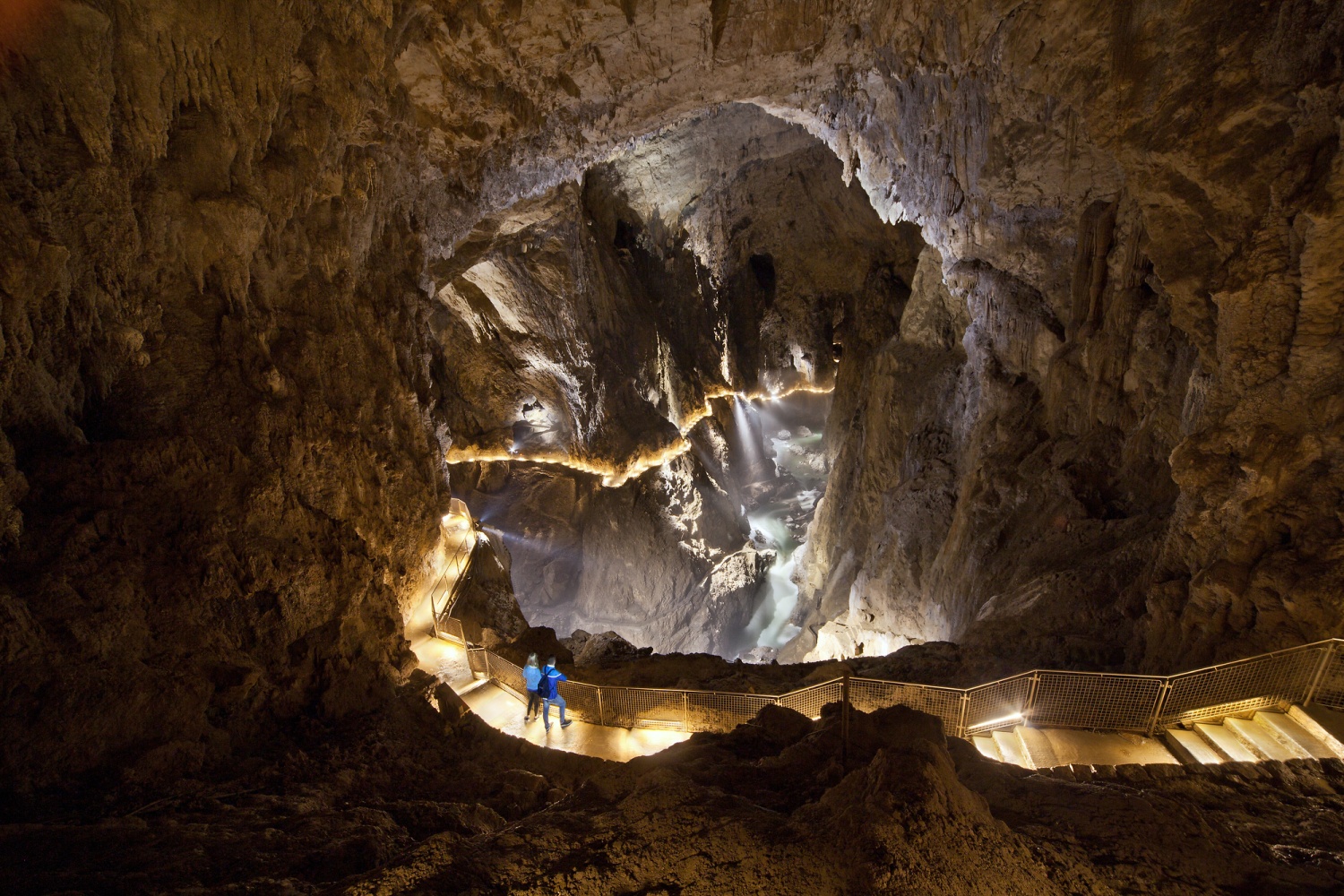 Go underground in Slovenia
With 13,000 Karst caves, Slovenia is a world of underground wonders. Visit the UNESCO Site of Škocjan Caves or Postojna Cave - the biggest in Europe. In addition to a train ride in the iconic Postojna, you can hike in the footsteps of the first cave explorers in Postojna Cave Park, an experience rewarded with the 'Slovenia Unique Experience' label. 
Or take a tour through the shafts under Mount Peca by bike or kayak. Planina Cave is the largest water cave in Slovenia, boasting one of the largest confluences of underground rivers in Europe. Predjama Castle, the largest cave castle in the world, offers an impressive four-level underground cave, which is also the second longest tourist cave in Slovenia. And you can see the highest underground waterfall in Slovenia in Pekel Cave in the Savinja Valley.
For more information about everything Slovenia has to offer active travellers, go to slovenia.info