No one cycles in the Azores. In fact, it's such a shock to see a cyclist that weather-beaten old men, who looked like they hadn't moved in 30 years, would spring from their rocking chairs to drag the entire family outside to see us ride past. You'd think that by the time they'd done this, we would be little specks in the distance, but not on Pico - not on the uphill stretches of our route, which, as always when cycling, felt like 90 per cent of it.

The Azores sit about 900 miles off the Portuguese coast in the middle of the Atlantic, and are made up of nine volcanic islands. We'd already had a week on Sao Miguel, the largest of the islands, where we'd day hiked round lush calderas, normally finishing the day with a swim in a thermal pool. Now after a short flight to Pico, we were about to get down to the main focus of our trip: cycling around this island.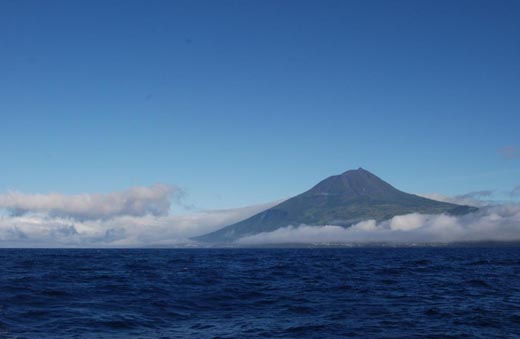 The flanks of Pico fall steeply on all sides, from its peak at 2,351m to the sea, giving this island the classic volcanic silhouette. Our plan was to cycle around Pico, only 60 miles, in six days, alternating days of cycling with rest days. Easy I'd thought, but once we started to climb out of the capital Madalena, the trailer in which my son Jacob, aged 4, sat began to feel rather heavy. Susie, my wife, had our daughter Alice, aged 2, in a more conventional rear bike seat and was also going incredibly slow. But none of this was a problem, as we only had to cover 15-20 miles a day.

Our first overnight was in the old whaling port of Sao Roque, where the cobbled streets of the waterfront made Jacob scream about it being bumpy. After 20 miles in the saddle, my backside was telling me the same thing. We found our base for the night, located in the old harbour master's house, now converted into a characterful B&B, before eating dinner on the seafront next to the old whaling ramp.

We continued our ride along the ER1, the only main road on Pico, which circumnavigates the island. As we headed east the road climbed towards its highest point, but before reaching it, we decided to drop down to the sea for a lunchtime swim. Along the coastline, villages have compensated for the strong currents and rocky coast by cleverly creating swimming pools, through walling between natural rock formations. The kids loved swimming in these pools, watching crabs scuttle away from them as fish swam around their feet.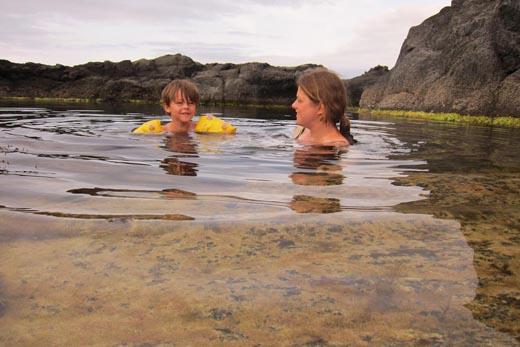 After a quick swim, we headed off to re-join the main road. The slow climb soon became a series of very steep switchbacks which were impossible to ride up, so we started to push. After nearly an hour, spurred on only by Jacob's incessant shouts of boredom, we finally made the main road. Our joy was short lived as we realised we still had another 100m to climb, but at least we could remount our bikes.

We took a well-earned rest at the top then set off on the fast, long and constant descent to the village of Piedade, on the far eastern tip of Pico. We left Susie and Alice in our wake, as Jacob and I sped downhill. It was at this point I realised it wasn't just locals who weren't used to bicycles, but the cows too. As we flew past a small herd grazing at the roadside, we started a stampede, which, with bells clanging, started down the road after us. Jacob and I were clear of it within seconds, but Susie and Alice were right in the middle of it. I could hear her screams, so I guessed she must still be alive, but I didn't fancy slowing down as I was having too much fun. I looked back to see Susie, now out in front of the cows, wearing an expression of pure fear, while Alice was leaning out of her seat, looking back and waving at the cows, who filled the road. When they'd finally stopped chasing us, I stopped and let Susie catch up.

'Wow, I never knew cows could move so quick…' I offered

'I'm bloody well going first down the next hill,' was all I got in reply.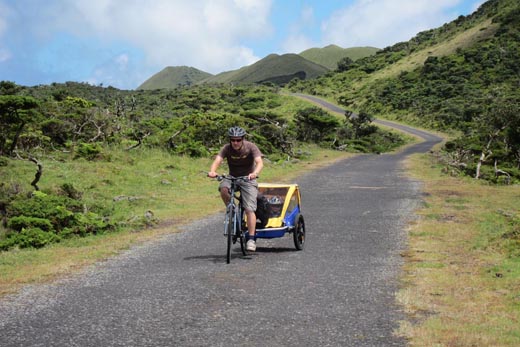 We overnighted in the French-run Zimbreiro guest house, where thankfully we were back on talking terms after the cow incident, as its hammock seating and views made it one of the most romantic places I've ever stayed. The next day a mini bus took us and the bikes up to Pico's high interior, before we rode back down on a winding single track road. The grassy pastures we passed were unusually rippled where lava had cooled, and apart from the odd cow on the road and photo stop, we sped back towards the sea for over an hour without pedalling. No shouts of boredom coming from the back this time!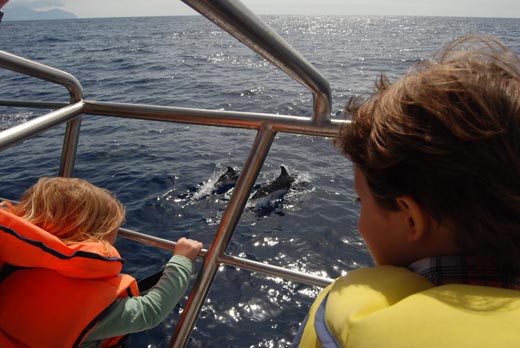 Our final overnight stop was the busy little village of Lajes on Pico's south coast, which is the island's main spot for whale watching. The kids were a little scared at first by the semi-rough sea, but once dolphins started to play at our bow they soon forgot the rocking boat and started to point and shout at each breach. Our day was made by the sighting of a pair of sperm whales, one of the resident species. The Azores is also on the migratory route for many whales including blue and humpback, best viewed in spring.

Our final day's ride back to Madalena passed through the main wine-growing area. We stopped for a last beer and swim at another swimming area just outside Madalena. Some locals were having a game of volleyball, while Jacob and Alice built a castle with the rough black rocks. Watching the sun drop towards the west, Susie and I agreed that, cows aside, it had been a wonderful ride.


Getting there:

Flight time 4 hrs from London

Airlines used

Sata Airlines

Direct Gatwick-Ponta Delgada, Sao Miguel weekly from £336

Ponta Delgada to Pico daily €72 each way www.sata.pt

When to go

April to September

Climate

Same as Portugal

Seasonal info

Spring is great time to see Blue Whales

Where to stay

Casa das Barcas, Sao Roque www.cazasdopico.com double from €90

Zimbreiro Guest House, Piedade www.zimbreiro.com double from €45

Whale'come Hotel, Lajes www.hotel.espacotalassa.com   double from €43

Tour Operators

Pete Coombs travelled with Archipelago Choice who offer tailor-made island holidays in the Azores and Cape Verde. The 7 day Pico cycle holiday, from £852. Price is per person on B&B sharing basis and includes airport and luggage transfers, bike hire, maps and route notes, three-hour whale and dolphin watching trip (Apr-Oct) or guided taxi tour of Pico (Nov-Mar), flights (Heathrow via Lisbon) and airport taxes www.azoreschoice.com

Whale watching: 3hr trip €50pp www.aquaacores.com.pt

Tourist information

www.visitazores.com