Area of Outstanding Natural Beauty
I'm feeling rather intrepid. We're cutting a path through some thick, wet undergrowth, on the hunt for a herd of longhorn cattle. The ground underneath is uneven and boggy, and we have to be careful not to tread on the numerous inch-long frogs leaping out from under our boots.
Rumour has it that the longhorns were here this morning, but now they're nowhere to be seen. The only evidence of their existence are some clumps of closely chomped grass and a lot of muddy hoofprints. But leading the hunt is their owner, Chris Salisbury, who knows how to sneak up on these notoriously shy creatures.
We're in the Blackdown Hills, a 370-square-kilometre Area of Outstanding Natural Beauty on the Devon–Somerset border – a sort of hand-shaped piece of land with a northern escarpment (the 'knuckles') connected to a number of ridges (the 'fingers') that slope down towards the south coast.
On tap
Water is a predominant feature in the area. Not just because the gaps between the 'fingers' are filled by three river valleys – containing the Otter, Culm and Yarty – but also because of the area's geology, which consists of clays covered by greensand, an olive-green-coloured sandstone. As a result, there are lots of springs, created as the rain filters through the sandstone, hits the impenetrable clay and shoots out of the hillside.
Not that the cattle mind. They're from a hardy old-English breed (once used as animal tractors before the mechanised version took over) with a propensity for roaming off the beaten track. We eventually find them in a hillside clearing, peering down at us cautiously. Despite their armed-sounding name, they're very docile and like to keep as far away from humans as they can (one of the reasons they were chosen to forage on this publicly accessible land).
They've been put out to graze in the area as part of a scheme to transform the woodlands of the AONB's northern ridge, known as the Neroche area. It was once part of a royal hunting forest ('neroche' is thought to be derived from a term for a camp where hunting dogs were kept) and contains the ruins of Castle Neroche, an Iron Age hill fort. Initially a broadleaf forest, like much of the rest of England, it was planted with conifers during the inter-war period.
'After the First World War, the Forestry Commission was created to make sure Britain was self-sufficient in timber,' explains James Maben, access and interpretation manager for the Neroche Scheme. 'Our stocks had got very low due, partly, to the huge amounts of timber needed to build the battlefield trenches.'
But now, although Britain is still largely reliant on imported timber, priorities have changed, and the Forestry Commission is looking at phasing out the conifer forests in certain areas of Britain, especially in places such as the Blackdown Hills where the geology and topography of the area make tree farming difficult, and not particularly profitable.
---
Seeing the trees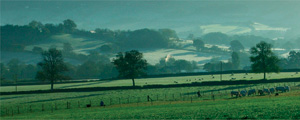 Many of the conifer forests are being clear-felled, liberating the broadleaf trees, rare plants, mire systems and Sites of Special Scientific Interest – known for their butterflies – trapped in their midst. 'The conifer forests are this dark mono-crop,' Maben says. 'There's nothing growing on their floors, just darkness and pine needles. But as soon as you get rid of them, biodiversity shoots up.'
The result is a mosaic of woodlands and woodland glades that are more attractive to wildlife and reminiscent of historical English forests. 'It's kind of what a pre-medieval landscape would have looked like,' Maben says. 'When people first started felling areas of the forests for farming, it would have looked like this: small clearings with cattle grazing.'
However, when the areas were cleared this time, some people felt the area looked more post-war than pre-medieval. 'It did look pretty barren,' Maben says. 'There wasn't much greenery, big ruts, waterlogged tracks, lots of felled trees. Some people felt it looked like the Somme. We had to say to them, "Trust us. Have a bit of foresight. Go and look at some areas that were felled a few years ago."'
The longhorn cattle are being used to stop the cleared glades 'shrubbing up' and Salisbury, their owner, is also hoping to be able to build up a business selling their meat. He goes out to check on his herd twice a day, but they are self-sufficient creatures who give birth easily. And their meat is renowned: chef Heston Blumenthal recently proclaimed longhorn steaks to be the best in the world.
'It's because it still has the fat marbling in it but the cows aren't fat,' Salisbury explains. These veins of fat running through the meat give it flavour and stop it drying out when cooked. 'That's how meat used to be before it was bred out of it.'
Salisbury and other local farmers are also hoping to provide services to the horseriders and walkers using the new long-distance 'herepath' trails that are being opened in the Neroche forest area as a new way to explore the woodlands and hopefully boost the economy. 'Herepath was the Saxon name for the old trade and communication routes between villages,' Maben explains. 'They were essentially the first phase of the road system.' Parts of these ancient roads have been incorporated into the new trail system.
Finding a way
Overcoming the geology of the area hasn't been easy. A version of the trails was originally suggested back in the 1970s, but the mushy ground made it unfeasible. 'We've had to engineer lots of paths,' Maben says. Others have tried before. 'Some of the forestry paths built to extract timber are apparently eight metres deep in places.' Maben's team solved the problem by using membranes, which they lay over the mud.
The new trail system has enabled local Ted Rook to reach the farm on which he grew up during the late '20s and early '30s. 'My grandfather was the last tenant farmer of Britty Farm,' says Rook, as he recalls a life with no central heating, a single tap for water, baths in front of the fire, an outside toilet a long way from the house ('Strengthened your bladder') and a five-kilometre walk to school.
'Most other kids had a life like we did,' he says. There was one difference: 'We always had good food'. This included snared rabbits, salmon taken from the rivers and fat pork on Sundays ('Never the lean stuff. That was too good for us.'). In contrast, some families 'came home to an Oxo cube in water for their dinner'.
Eventually, his family moved away and Britty Farm fell into ruin, but Rook's memories are now included on a new digital trail guide to the herepaths, one of which goes past his childhood home. Many of his memories involve farming (his grandfather raised dairy cows, sheep and a few pigs) and food production (his mother and grandmother made cheese and butter, which were sold at a local shop until a dairy bought their milk) but, he also recalls more haunting subjects, such as the horse-pulled gun carriage rumoured to have disappeared into one of the bogs above their farm.
---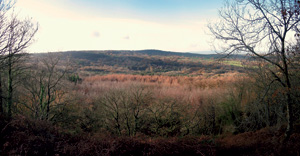 Withering Heaths
Now, Rook says, water levels are dropping. Botanist David Allen tells me that this is at least partly because the heathland areas of the Blackdown Hills are 'shrubbing up' with small trees, which are sucking up water. Grazing animals are needed to keep the vegetation down, but post-BSE regulations mean that animals must be slaughtered younger, discouraging farmers from letting their herds graze on more marginal lands because they don't fatten up in time.
We head out onto a local Blackdown Hills heathland to see what's so special about this habitat and why it needs protecting. We immediately encounter sphagnum moss – used by medics during the First World War as a type of bandage padding because of its high iodine content. And visible everywhere are the yellow flowers of the bog asphodel. This plant's scientific name, Narthecium ossifragum, means 'bone breaker', as farmers used to believe
it was responsible for their animals' frequent broken bones.
In fact, it was the lack of calcium in this low-nutrient habitat that was weakening their bones. Plants also suffer in the nutrient-poor soils. As a result, some are carnivorous, such as the round-leaved sundews, whose leaves are described by Allen as 'like a ping-pong bat with sticky tentacles'. These close over insects as the plant releases enzymes to digest their bodies. 'It's essentially a clever adaptation to crap soil.'
Allen says the biodiverse lowland heathlands that support plants such as these are under threat because 'the wet areas have scrubbed over and become tree-covered, and the areas above the springline have been "improved" and converted to agriculture or covered with conifers. Maintenance of heath is a constant battle against trees. It has a history of human intervention going back to the Iron Age – the key components being grazing and occasional burning.'
In order to try to maintain the lowland heathlands in the Blackdown area, Allen encourages farmers to put animals out to graze in them, and during our walk, we encounter a small collection of friendly ponies. But the practice isn't universally popular. 'People are very sentimental about horses,' he says. 'They think I'm mistreating them by making them stay out here in all weathers. They worry about them getting wet feet.'Elsewhere, vegetative growth of another kind is causing problems. One of the AONB's defining characteristics is its high hedgerows, and local hedge-laying competitions are still taken extremely seriously. As a result, people can easily 'drive through the area and think there's not a lot here', says Maben. It's something he's trying to change. 'We want to get people off the roads and into the landscape to show them how amazing the place is.'
LOCAL KNOWLEDGE: The best bits of the Blackdown Hills
For good food: 'The Half Moon at Clayhidon (www.halfmoondevon.co.uk). It's a fabulous locals' pub with really good food from the surrounding area, music nights and a classic Blackdown Hills view down over the Culm Valley.'
Jenny Archard, Blackdown Hills AONB local products coordinator
For good views: 'There are amazing views across Exmoor and the Quantock Hills from Culmstock Beacon. It's one of Britain's few surviving beacon buildings (part of a network that was used to warn people about the approaching Spanish Armada).'
James Maben, Neroche Scheme access and interpretation officer
For good walks: 'Staple Fitzpaine Herepath. The first of three herepath trails planned by the Neroche Scheme (www.nerochescheme.org) in the area. GPS-enabled digital trail guides will be available from the Farmers Inn (www.farmersinnwesthatch.co.uk) at the end of October, enabling people to find out more about the local history and wildlife on the 22-kilometre route.'
Nickie Moore, Blackdown Hills AONB projects coordinator
For good heaths: 'Hense Moor. It's a lovely mosaic of varied habitats – dry bits, boggy bits and woodlands – and the biodiversity has been increased through grazing and swayling (controlled burning). You'll find four species of carnivorous plant here: three types of sundew and a butterwort.'
David Allen, plant ecologist