Photography by Rob Grew
Welcome to Kitzbühel, a beautiful corner of the Austrian Alps where the locals really like hurling themselves down the sides of mountains. It was here in 1893 that ski pioneer Franz Reisch decided to strap two pieces of wood, each two metres long, to his feet and slide down the snow-covered side of the Kitzbüheler Horn, completing the first alpine ski run in Austria.
And it's to this ancient mountain town that ski nuts from all corners of the globe flock each January for the Hahnenkamm-Races, probably the most challenging alpine ski race on the planet—a rip-roaring descent down a run called the Streif (German for streak or stripe), which is widely regarded as the most demanding ever to feature on the World Cup circuit since its beginnings in 1931.
62 years later, in 1993, some bright spark must have looked down this vertiginously steep mountain side of the Hahnenkamm mountain and decided that if you can ski down it, you must be able to golf down it. And so, Golf the Streif was born. Once a year, the Hahnenkamm becomes a mecca for amateurs keen to defeat the world's most legendary downhill course with a golf club instead of a ski pole in hand.
"I'm tackling the world's most legendary downhill, but with a golf club instead of ski poles"
When it was first dreamt up, the event was called the 'Streif Attack', which tells you something about the camber of the course. It includes a whopping 860 vertical metres of drop down to the valley floor. A descent that takes skiers take just a few minutes (but golfers, thankfully, considerably longer).
Each summer since the 90s, a motley crew from the world over have descended to have a crack at this unique event. Bobsleigh champions, pro skiers and Austrian footballers have all turned to experience the Hahnenkamm from up close. Around 40 contestants in groups of four set off in stages to play 12 holes along the downhill race course, and the best-placed ball serves as a reference for the next shot. The winning team, as ever, is the one with the fewest strokes.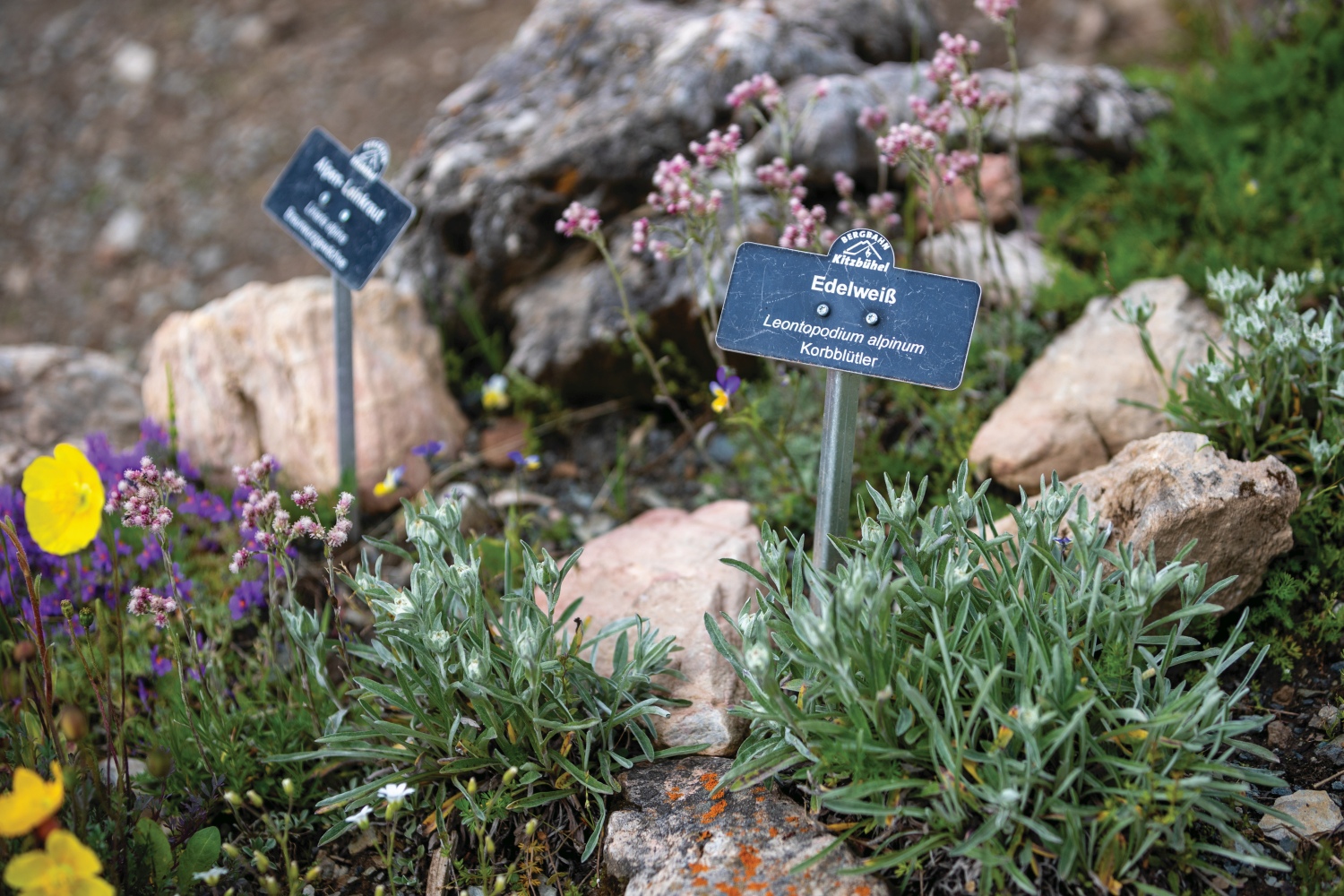 Nothing like a nice round
There's nothing, I'm told by the team I'm shadowing, like a nice round of golf—but this is nothing like a nice round of golf. We tee off from the iconic start house of the Hahnenkamm races and then hike steeply downwards to each hole—often just a speck in the distance far below.
Caddies here have to wear crash helmets to avoid getting brained by golf balls thwacked at them from up in the gods and the players aren't what I was expecting, either—some are in casual trainers, some in full lederhosen, one woman is wearing glittery pink shorts, and one man on the team I'm following down the mountain is sporting jeans and knackered hiking boots that he has to fix with silver duct tape begged from a caddy halfway along the course.
It's mountaineering meets golf, and it's also seriously beautiful, as we descend from hill passes to lush valleys of wildflowers, passing the placid emerald green waters of Seidlalm-See lake en route. Far in the distance, the Wilder Kaiser mountain range peeks out from a wreath of cloud.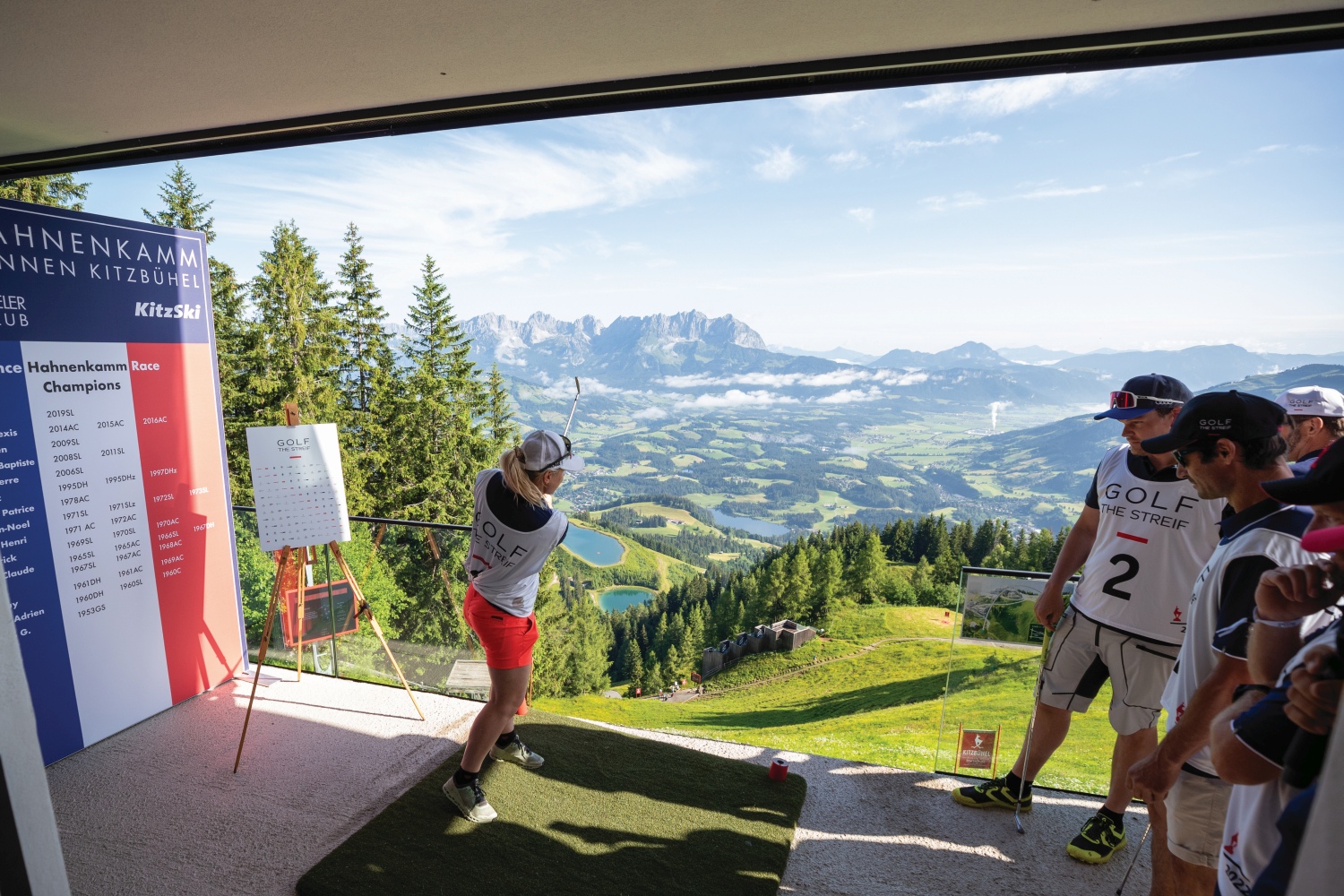 As we reach the fourth hole, Kitzbühel local Johannes Koidl kindly hands me a club and a ball and suggests I have a go—just so I can say I've played one of the most extreme rounds of the golf in the world. It's quite stressful trying to aim at the ball with four old timers watching but, reader, I hit it, and hard enough that it went singing into the void and vaguely in the right direction. So I'm pretty pleased with myself for the rest of the day.
We pick our way down past the 85 percent gradient of the Mausefalle, home to one of the most dangerous jumps in ski racing, and the team swap from drivers to wedges as we pass the Gschöss, where racing skiers can get up to speeds of around 60 miles per hour. This year, ski stars of the French National Team have turned up to tackle the course. Tessa Worley, a French World Cup alpine ski racer, watched the Hahnenkamm from among 80,000 spectators in 2020, and this year she's back to get a closer look at the Streif. "It's amazing to see the slope in the summer – I remember the turns from watching the ski race on TV, and it's just as steep and impressive in real life."
It all ends with a party at the bottom of the valley in the centre of Kitzbühel. This town is an Alpine anomaly – it's best known internationally as a ski hub, but it's nothing like the anonymously modern resorts or chintzy groups of traditional chalets that dot most of the Alps. Kitzbühel is a proper town of 8,300 people with an astonishingly lengthy history - humans have dwelled here as far back as 1,000BC.
"Kitzbühel is a proper town of 8,300 with a lengthy history"
The settlement was important enough to be ringed by tall city walls as early as 1271, when it officially became a town, and travellers flocked here for the jaw-dropping mountain scenery from the 19th century onwards. Today, it's a charming jumble of old and new, where brightly painted houses in a rainbow of colours rub shoulders with old-fashioned inns and smart modern restaurants, and girls walk by in dirndls without a hint of irony. Down in the town, life goes at a relaxed pace. But Kitzbühel hasn't finished with me yet – there's another way to get a mountain high around here.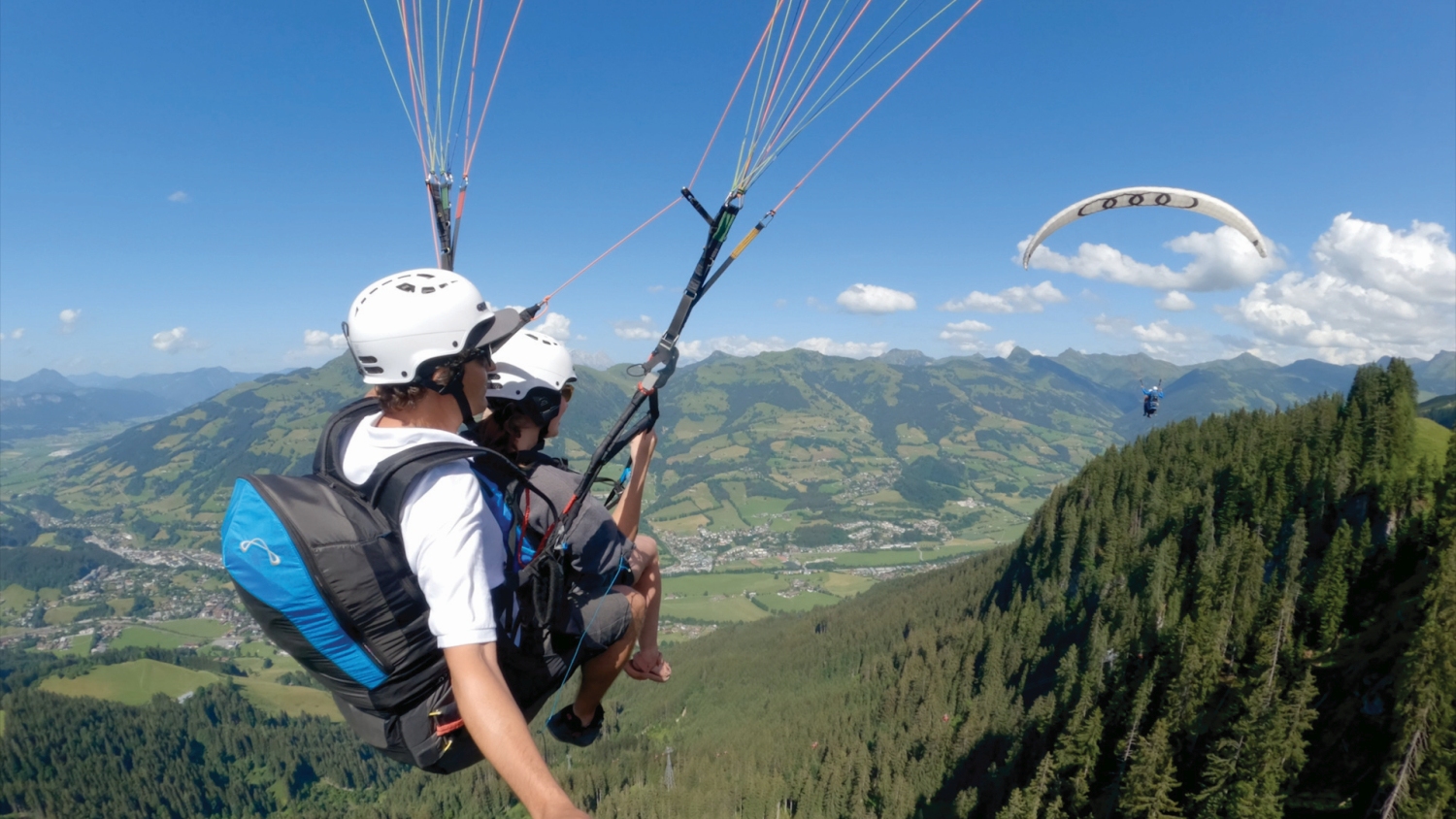 Different ways to the 19th hole
"Do. Not. Stop. Running." My guide, Thomas, is watching out for thermals. We're a few metres from the starting gate for the Hahenkamm, but today I'm going to soar higher above the peaks than any skier or golf ball has ever dared. I'm attached to a silky parachute, and as soon as it's filled with air, Thomas and I are going to throw ourselves off the mountain. The wind, faithfully, starts to gust, and before I know it we're running down the slope until my still-pedalling feet leave the ground behind. Climbing swiftly as Thomas catches a current of hot air, we get a bird's eye view of the mountains, their peaks crystal clear in the sunshine, the vertiginous Streif laid out in high definition below us.
It wouldn't be summer in the Austrian Alps without a good old mountain hike, of course, and in Kitzbühel I'm spoiled for choice, with over 600 miles of walking trails starting right from the valley floor. Local guide Carina Brunner hands me trekking poles early one sultry morning and we head out-of-doors to tackle a slice of the Gamsroas – the Nine Summits, an 11-mile ridgeline route high in the Saalbach Hinterglemm.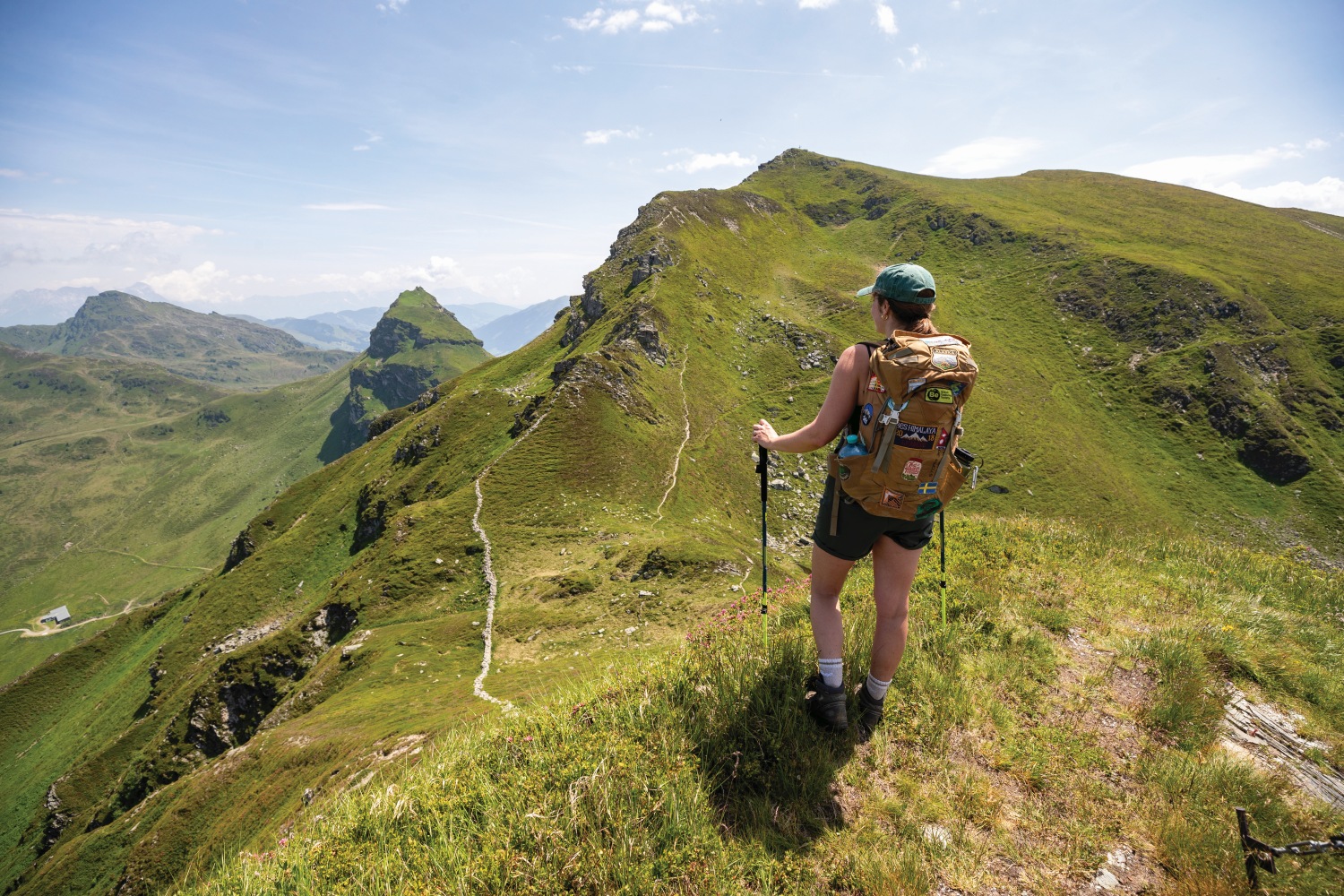 We're only taking on four peaks over eight miles - Gamshag, Kleiner Schütz, the Schützkogel and Tristkogel. But by the time we're standing tall on Tristkogel's narrow 2,096-metre peak, the ground dropping sharply away on all sides, I'm wiping sweat from my eyes and my leg muscles are on fire – this is tough trekking. The view from the peak, however, is so outstandingly gorgeous that it's all worth it – below us is a blanket of green mountains and tucked-away Alpine lakes. Every now and again, the breeze brings us the sound of distant cow bells. 
When we finally wind back down the mountain, stopping to plunge our heads under a water trough, there's a welcome sight round a bend in the trail – the Bochumer Hutte. Once used as a bunkhouse for copper miners and now offering beds for knackered hikers, this friendly mountain refuge is refreshingly simple and rustic compared to the smart foodie haunts found in the centre of town.
Chickens scratch contentedly in the yard and there's a big 'honesty fridge' well-stocked with local beers. We sit on the sunny terrace holding ice-cold bottles and the owner brings out a sight for sore hiking legs – platters heaped with local meat and cheeses, along with homemade bread and butter.
"It's Kitzbühel's home 'beach', with wide grassy banks and a diving platform"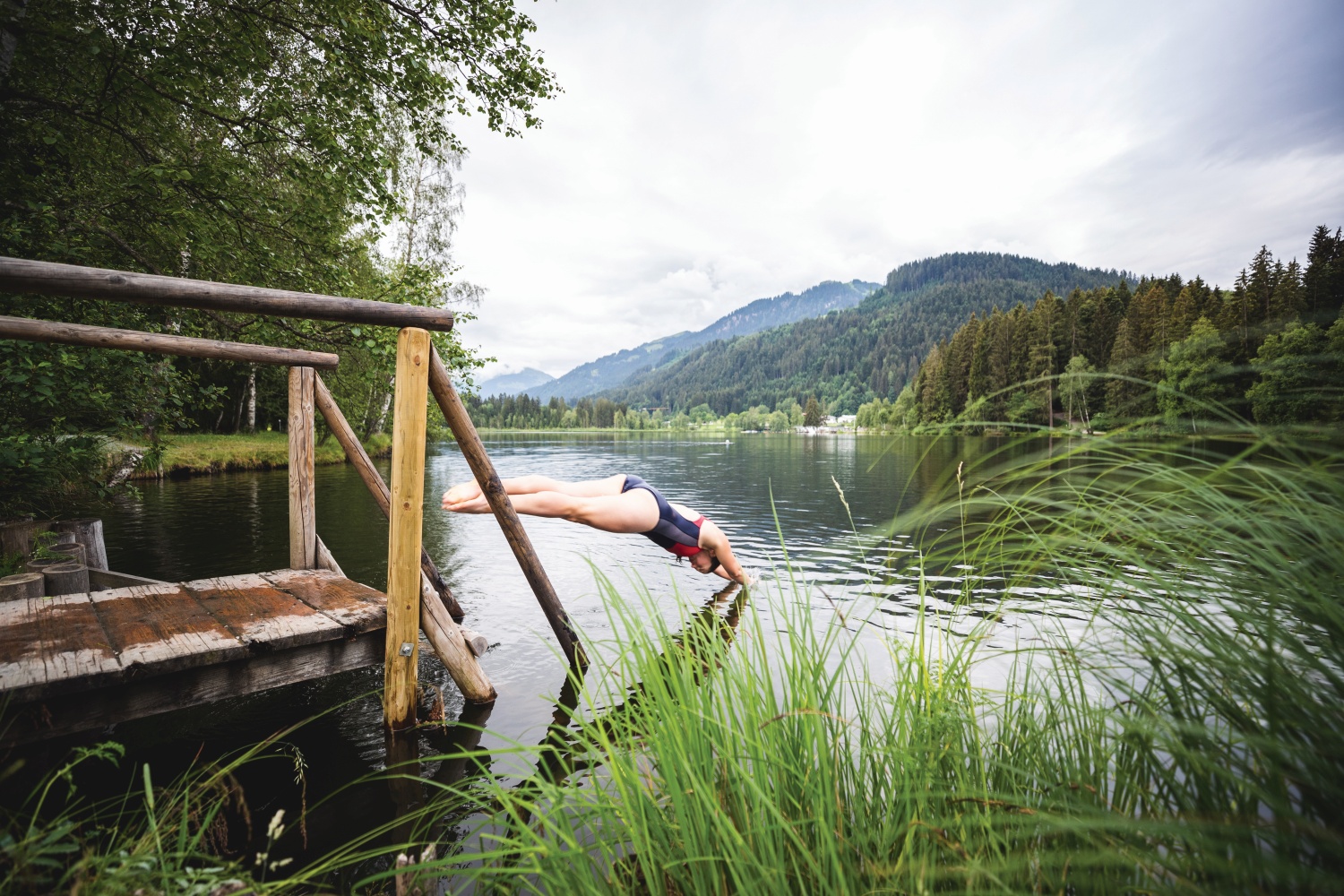 The only way from here is down, back to the valley and back to Kitzbühel. On my final day, I figure out where all the locals are escaping to in the summer heat when I join them at the town's best kept secret - Lake Schwarzsee. Its name means Black Lake, which is to do a disservice to this beautiful body of water, which is actually an inky green and surrounded by forest and reeds where dragonflies dip. 
It's Kitzbuhel's home 'beach', with wide grassy banks and a diving platform. The mineral-rich water is even meant to be good for the skin.
I can't quite believe this natural spa is so close to town – you can walk here in twenty minutes, or even better, get here by bike. Everyone seems to zip around on two wheels here, whether they're off to tackle exhilaratingly steep singletrack, want to take a more leisurely approach to the Hahnenkamm and mosey down the blue-rated Hahnenkamm-Trail, or just cycling to the pub. They just do things a little differently around here. To quote ski pioneer Franz Reisch, right after he became the first human to ski down the Kitzbüheler Horn in 1893, "come here – it's so beautiful, I have to slap you in the face!"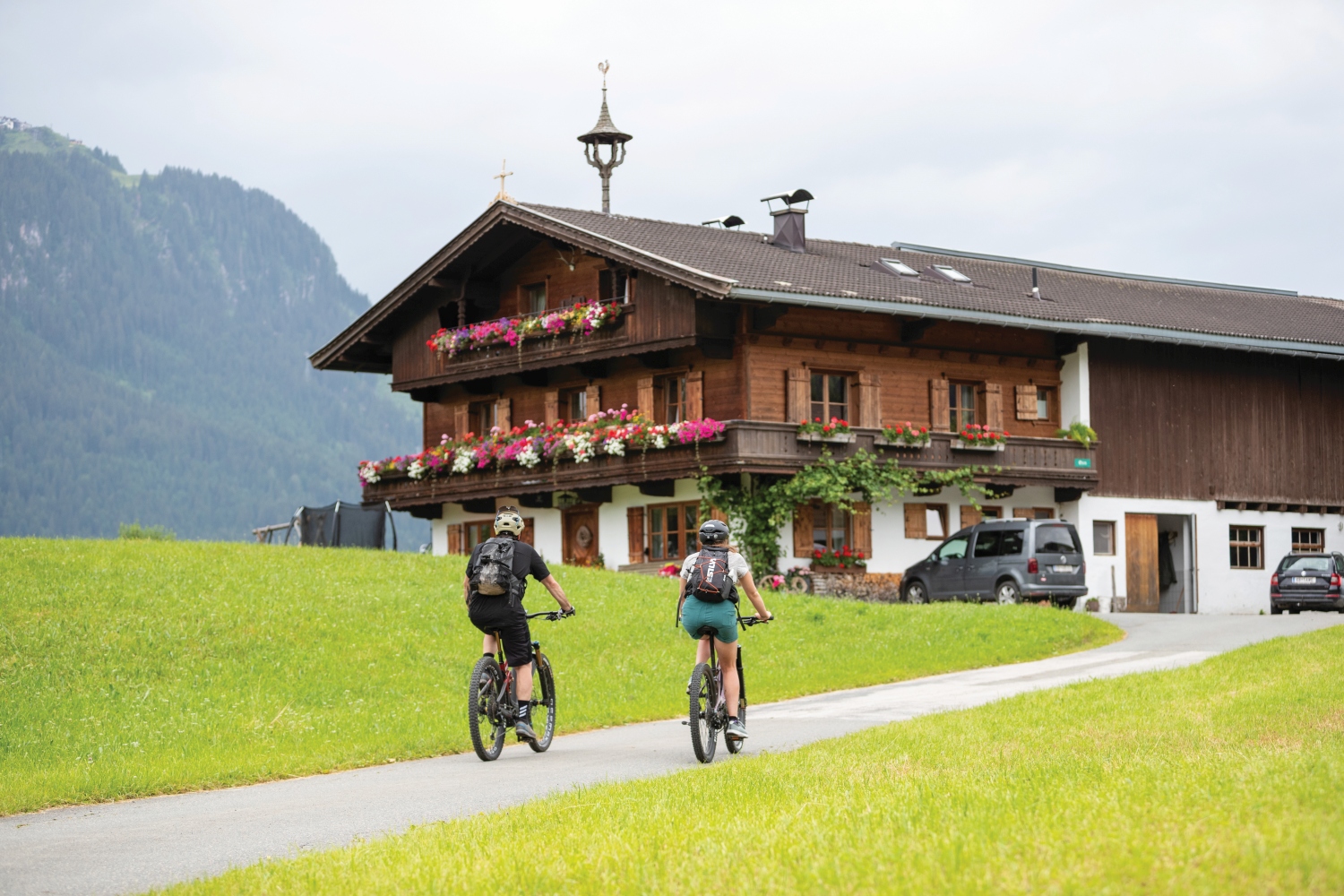 Knowhow
Health & safety
Austria is a safe and welcoming place, but mountain weather can be changeable – hikers should carry the right kit and check bulletins before venturing into high or remote ground.
What to pack
Pack waterproofs and warm layers for the mountains, comfy trainers if you fancy a spot of golf and a swimsuit for a lake swim.  
Getting there
Munich Airport is a two-hour drive from Kitzbühel – fly from London, Birmingham, Manchester and Edinburgh from £68 return, or you can also take on certain flights to Salzburg or Innsbruck. Kitzbühel also has extensive bus links, is served by taxis and has three train stations, so taking public transport is a breeze.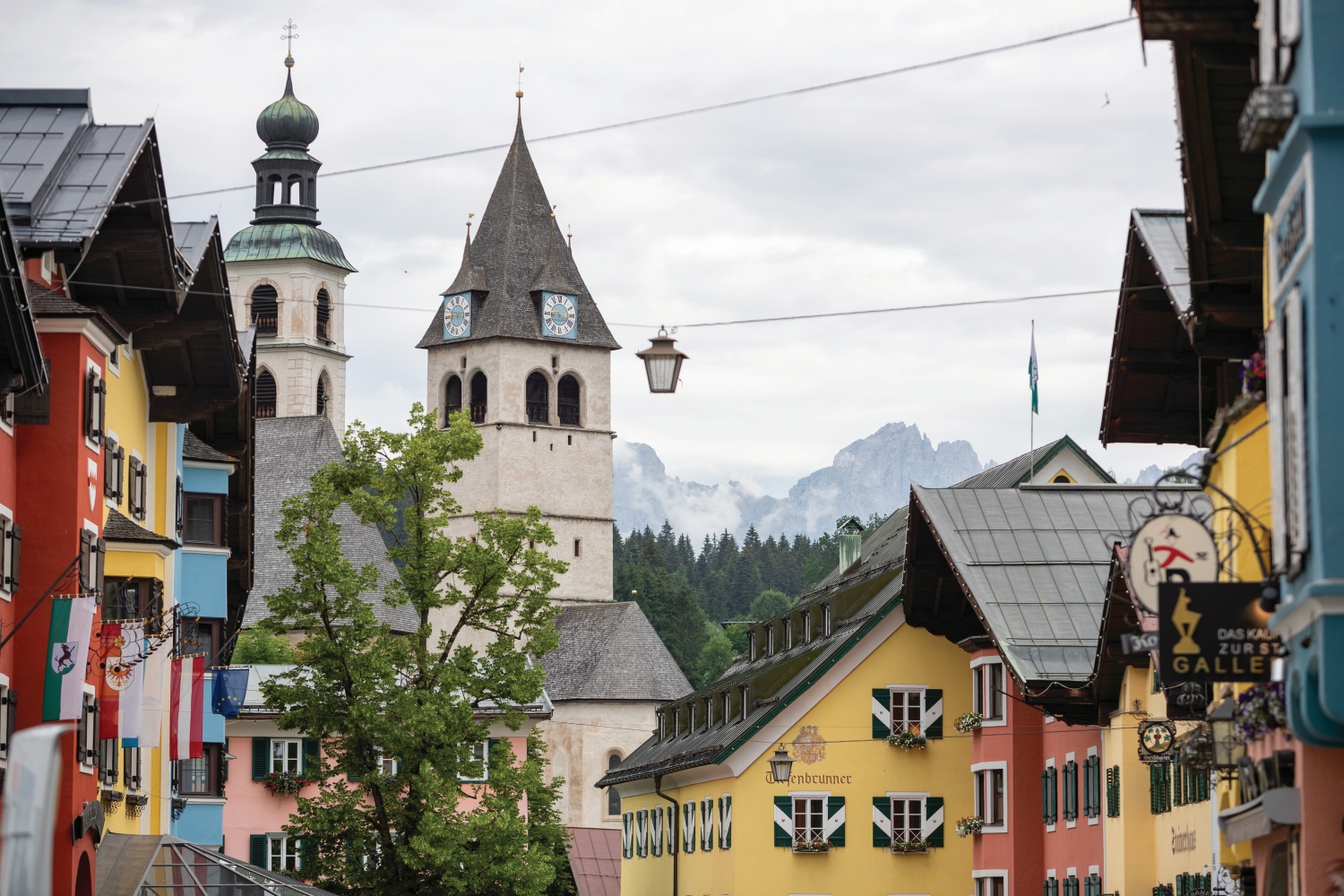 Getting around
Trains and buses make Austria well-connected, but car hire is the easiest option if you're spending your days hopping between mountain passes. 
Go to kitzbuehel.com for more information about getting to and around Kitzbühel.
Food and drink
Head up to a traditional Alpine hut to try Kaiserschmarrn, torn sweet pancakes served with jam and best washed down with homemade schnapps. 
Where to stay
We stayed at Das Reisch Hotel, a Kitzbühel favourite since 1912, when it was founded by Franz Reisch himself (it's now owned by his great-grandson). Located right in the centre of town and with a view of the imposing Streif, Das Reisch's mountain-themed bedrooms make the perfect base for skiing in winter and hiking in summer. 
For more info about visiting Kitzbühel, go to kitzbuehel.com, email This email address is being protected from spambots. You need JavaScript enabled to view it. or call +43 5356 6666-0