"Just as it begins to hurt, that's when you bow harder," comes the sadistic encouragement from Ben McNutt, of Cumbria-based bushcraft outfit Woodsmoke, and I redouble my efforts while trying not to drip sweat onto my hard-won ember. So much for a gentle introduction to bushcraft; communing with nature, a bit of whittling, brewing nettle tea on the campfire... Instead I'm frantically fighting friction as the first wisps of smoke emerge tentatively beneath the spindle of my handmade bowdrill.
Suddenly the smoke is billowing and my woodlore rite of passage is within sight; quickly and carefully I transfer the tiny black ball of smoke into a pocket of dried grass as my muscles resist spasms, and waft the whole bundle as I've been taught. I'd hold my breath but I need it to blow on the ember. Seconds later and a ball of fire ignites in my hands.
I'd expected an instant high, fist bumps and whooping, but it's not like that. The challenge of creating fire from friction has hung over our whole group for several days; despite mastering various skills during the week with Woodsmoke, it is fire that seems the greatest test and the pinnacle of woodland achievement. Instead I feel a deep and spreading satisfaction that has arisen slowly. It may be a sense of belonging.
This is Woodsmoke's ethos to a tee; not to pit oneself against nature, but to embrace it, enjoy it and utilise it. To live with nature, not in spite of it. Creating fire might be the pinnacle of the week, but by the end of it I would be struck more by the bottomless pit of learning ahead. The week-long Woodlander course is designed as a pretty wide ranging introduction, but bushcraft is a subject worthy of lifelong study. The more you learn, the more you realise how little you know. It might be disheartening and overwhelming were it not so interesting. 
Tooled up!
If the rather worthy desire to 'get back to nature' appeals to my mature side, it's the chance to wear a utility belt that excites the child in me, as bushcraft knives and folding saws are handed out and we're sent to collect wood.
Even this modest task is filled with learning. Our first goal is a pencil-sized length of young Sycamore with which to whittle a Poacher's Whistle – a tool used by Victorians to entice and trap songbirds, and a good introduction to working with a knife.
Next we are taught to fell a small Hazel using our folding saws. The green wood of the trunks will become a spoon after long hours bent to the task, and a very specific configuration of the branches will create an ingeniously simple pot hanger to cook over the campfire.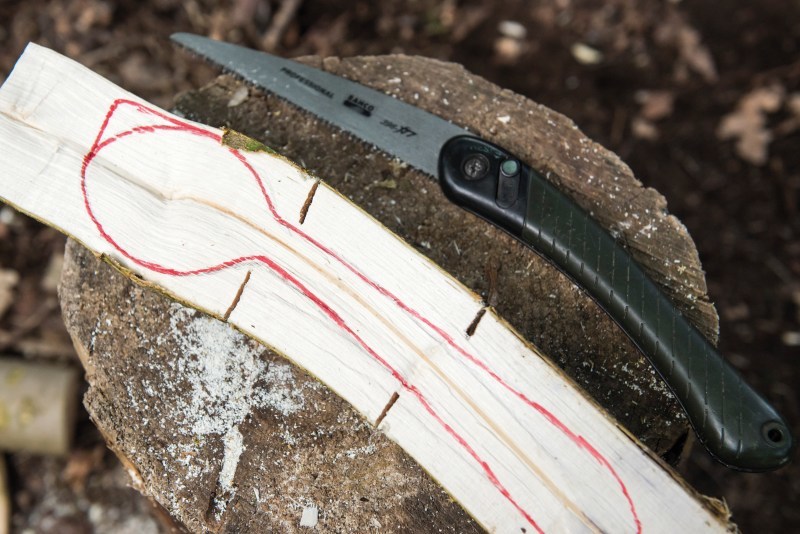 Of course we also collect standing deadwood and kindling for fires, and I begin to appreciate the diversity around me – wood isn't just wood. Instead of a pile of sticks, I begin to see an array of tools that can be identified, modified and utilised for the cornerstones of survival – food, shelter and warmth.
We spend time around the perpetually boiling kettle above the campfire, with endless tea and biscuits, while McNutt educates us on animal tracking, starlore, sharpening techniques, water purification and improvised fishing tackle, entertaining us with stories from the Earth's wildest places.
We walk in the woods, swim in the lake, clamber into caves, and laze in the sun. And eat. Really well.
The stand-out meal is Rainbow Trout, which we are taught to fillet and stretch over the fire using a hand-made wooden contraption, naturally, sprinkled with wild garlic gathered earlier in the day.
Just as I'm beginning to see the land as a resource, a task that sends us wading into a patch of chest-high nettles seems a step too far. We have been asked to collect around 30 stems each, and after 5 minutes my gloves are offering no resistance whatsoever to the stings, despite advice on how to pick them painlessly. By the time I've stripped all the leaves and hung the stems to dry, the ubiquitous stinging had coalesced into a strangely pleasant tingle.
Once dried, we turn the nettle fibres into a remarkably strong cordage. What should be a fiddly and time-consuming process is a welcome meditation. It is as addictive – and monotonous – as scrolling through Facebook but, in contrast, has a deeply fulfilling end product. I realise I left my phone in my tent a couple of days earlier. It has not been missed.
We butcher pigeon with our bare hands, pull up sphagnum roots for cordage, learn about dozens of trees, plants and their uses, build shelters, light fires and construct traps and snares. It is busy and physically demanding, but deeply relaxing and a revelation. It is unlike any outdoor activity I've tried, and it will underpin and enhance all my future adventures. Rather than 'going' outdoors, I'm being outdoors. 
Kit yourself out
We pick six bushcraft essential tools for making survival in the wild just a little bit easier…
Fixed-blade Knife
1.       A good fixed-blade knife is the single most important bushcraft tool. Prices range from hundreds of pounds for handmade beauty, to under £30 for a solid Swedish Mora knife. A good compromise is the Helle range from Norway with beauty and heritage in equal measure.

Fire Steel
2. You should also consider investing in a fire steel. McNutt swears by Light My Fire ("All other brands just break," he insists), so you may be glad to know that Light My Fire have teamed up with Mora to produce the Fire Knife - a low-cost Mora classic (£26) with a pull-out fire steel integrated into the handle
Paracord
3. The other 'must-have' (and the one thing listed here that Woodsmoke don't provide free-of-charge on their course) is paracord. Different thicknesses, quality and uses are available from countless online sources (£3.50 for 15m), but get the real US-made cord and not a cheap imitation.
Folding Saw
4. A good folding saw makes all wood work easier and quicker – whether you're cutting up standing dead wood for fires or trimming down bits for carving. And they're surprisingly light too. Buck's one has a 16cm blade, weighs 122g and costs £40.
Hand Axe
5. For advanced bushcraft, a decent hand axe is an invaluable tool. There is a very strong consensus among experts that the Small Forest Axe made by Gransfors Bruk of Sweden (c. £86), is the only way to go and is a great balance between small-enough-to-carry and big-enough-to-work properly.

Outdoor Clothing
6. One of our favourite outdoor brands is Fjallraven. Their tough Singi Jacket in green (£240) is ideal; military-meets-Scandi-style with an array of pockets to keep the most voracious of tinder-gatherers happy. Dan also tried out the Nils trousers (£115) which are an ideal summer-weight bushcraft item. Hardy of construction and comfortable too!
Take the Trip
Woodsmoke's Woodlander course is a week-long and costs from £595 per person including all food and drink, course equipment and camping fees.