You've got to be pretty old school these days not to pack a route-finding app in your virtual backpack. Navigation apps are an essential tool for adventurers, whether you're chasing down a bike trail or hiking your way through the wilderness. If you're up for an adventure, meet Komoot:
What is Komoot for?
In the simplest terms, Komoot is a route planning and navigation app for hikers and cyclists. In practice, it is much more than that. Designed and developed by six multisports enthusiasts from the Alps, it's a tool that helps people get outside and experience more of the outdoors.
• Sport-specific route-planning helps you plot a route that suits your adventure, while a Highlights feature helps you to incorporate others' recommendations (be they quirky lunch stops, a lovely viewpoint, or a fun flow trail) into your route.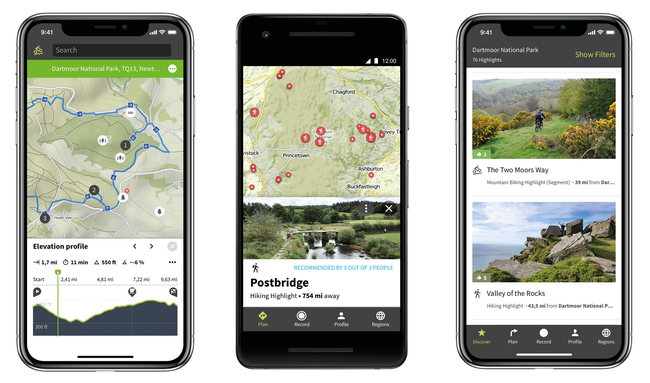 How does Komoot work?
Start at the beginning: plan your route:
• First up, select your chosen activity. Depending on how you plan on adventuring, Komoot's route planner will try to find smooth asphalt for your road bike, single tracks for your mountain bike, or peaceful trails for your hike.
• Choose your start and end points, then weak the route to suit your needs. Komoot will select a route based on your fitness level & activity.
• Interactive elevation profiles and surface type information allow you to easily visualise the route, so you won't find you and your asphalt-eating road bike on overgrown, muddy singletrack or hiking up a vertical slope for five miles when you wanted to take your toddler on a gentle walk round a lake.
If the plotted route isn't what you're after, it's easy to adjust it to something more appropriate. The Komoot app is available for iOS and Android smartphones and the most popular GPS devices. And while its main purpose is planning and navigation, it will provide you with all the performance data you'd expect – including, total metres climbed, min, max and average speed.
• Komoot has nearly 8 million users all over the world, who leave tips for each other in the form of Highlights - incorporate these into your route if you like the look of them.

On the go: en-route navigation
Offline navigation
• Download maps and save routes for useoffline, so you can head into the wildernesswithout worrying about getting a signal.
Voice navigation
• Turn-by-turn voice navigation means you don't have to keep pausing mid-track to check the map. It also saves battery power.
It's good to share
Komoot lets you contribute to the adventure community by sharing your experiences with like-minded enthusiasts. After your hike or bike ride, you can save your route as a Tour for others to try.
• Create your own Highlights by saving special places or segments of the trail that you think other adventurers would want to know about. Upload pictures of your route and Highlights that showcase their complete awesomeness.