Area of Outstanding Natural Beauty
'Here's the First World War camp,' says Anne Walker, one of the staff at the Cannock Chase Area of Outstanding Natural Beauty (AONB), as she points at a patch of heathland dotted with trees and bathed in low autumnal sunlight. 'And over in Oldacre Valley is where they had some of the practice trenches on the side of the hills,' she says, gesturing to an equally wild-looking stretch of ground in the opposite direction.
I'm not really sure what I'm looking at, but as we continue our walk along the top of Sherbrook Valley, it becomes apparent that beneath the mixture of grass, heather and scrubby trees, all bowing under the weight of a heavy morning dew, lie the tell-tale remains of two military training camps that were each the size of a small town. Astonishingly, I would probably have completely missed them had some small but significant features not been pointed out and explained to me. Already, I'm seeing this AONB in a different light.
As with so many other AONBs, the gentle topography of Cannock Chase (or 'the Chase' as it's known locally) appears natural enough, as do the plants and animals that live on them, but in truth, their arrangement is largely down to human design, initiated thousands of years ago and continuing right up to the present day.
Hunter–gatherers are known to have roamed the area as far back as Mesolithic times (6,000 BC), and a dramatic Iron Age hill fort located at Castle Ring, the Chase's highest point at 242 metres above sea level, indicates just how ancient a place this is. Through the centuries, the landscape was further shaped by human hand after the discovery of ironstone kick-started a spate of small-scale iron works. The presence of white sand and fuel for furnaces also drove early glass-making industries. Then, some time in the late 11th century, the Chase was established as a royal forest, and a herd of deer was introduced for the gentry to hunt.
Probably the most sustained industrial activity to arrive in the area was coal mining, which first began here in medieval times, before rising to a peak in around 1850, when the Industrial Revolution was in full swing. At one stage, there were 53 coal mines in the area, linked to the outside world via a network of roads, rail and canals. Although this period has left an indelible mark on the area, both physically and culturally, it's the events of the past century that have truly shaped the Chase. But, as I was beginning to discover, you really have to know what to look for to appreciate it.
Heathland Habitat
Designated in 1958, Cannock Chase AONB crams a variety of habitats in its 68 square kilometres, with heath, woodland, farmland and historic parkland estates all jostling for position within what is one of the largest areas of open space in the Midlands. The AONB's location among some of Britain's key industrial towns means that there's considerable economic and recreational pressure on it: some three million people live within 32 kilometres of the Chase.
Continued...
---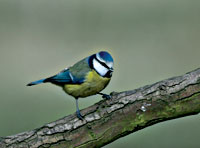 For many, the essence of the Chase is the combination of open heathland interspersed with pine woodlands. 'The Chase is all things to all people; everybody living in the area has their own idea about what "the Chase" actually is,' says Sue Sheppard, biodiversity officer at Staffordshire County Council. 'Most people, I would imagine, see it as being the open areas of heathland, which represent about a third of the whole site, and the forested surroundings, which represent the other two thirds.'
The proportion of heathland has fluctuated over time, in line with changing human activity on the Chase, reaching an all-time low 20–30 years ago. 'When we started managing the Chase in 1999, it was on the brink of losing all its heathland habitats as there was 90 per cent bracken cover across it,' Sheppard explains. 'Historically, it would have been harvested and used as animal bedding and to make soap.' But as the demand for bracken has diminished, it has flourished, to the detriment of other species.
'When bracken becomes dominant, it will choke out other species and can become a climax vegetation for quite some time,' says Sheppard. 'We've tried various methods, but herbicide spraying is currently the most successful method of controlling it.' This spraying is, unsurprisingly, a contentious issue among locals, as is the removal of trees, which is also being used to return the heathland habitat back to historical levels.
'The thing about heathland is, it isn't necessarily species-rich, but it has a unique assemblage of species, some of which are often restricted to it,' says Sheppard. 'And as well as having its own range of plants, there's the ecosystem around the heathland, which can be relatively diverse, because heathland usually occurs in a sort of mosaic in association with things such as gorse scrub and mire communities, which consist of sphagnum and cross-leaved heath, cranberry and the round-leaf sundew.
'We have to take into account the fact that this is an AONB when we want to clear trees to make way for heathland, to make sure we retain a sense of beauty, and seclusion in certain areas,' he continues. 'You have contrasting landscapes across the Chase, so we've been involved in some quite lengthy discussions with other landscape officers to make sure our plans take into account the local landscape character.
'We also work very closely with the archaeology section to make sure that when we do management works, we don't harm any archaeological features at the surface or below ground, which are obviously very important.'
War Games
While many of the AONB's 1.5 million annual visitors come to enjoy the fresh air and natural environment, the last time people descended on the area in such vast numbers was for a very different reason.
'In the mid- to late 19th century, you started to get militias practising on the Chase,' says Steve Dean, the principal archaeologist at Staffordshire County Council. 'It's a large, open landscape, it's relatively accessible and allows the movement of large numbers of troops within it, and it was under single ownership.'
Continued...
---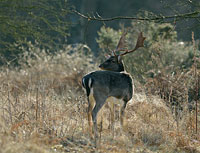 The tough heathland terrain, central location and plentiful supply of coal made it ideal for preparing soldiers for the First World War, leading to the establishment of several military encampments, each designed to house about 20,000 people. Between 1915 and 1918, around half a million men trained on the Chase. Unsurprisingly, this huge influx left its mark.
'All of the roads up here are effectively camp roads,' Dean says. 'We have hut bases, ablution blocks, some of the parade grounds survive and we also have some of the actual training features, such as the rifle ranges and practice trenches. Although you might not realise they were there.'
After the war, most of the huts were demolished, but during the Second World War, the Chase became a technical training ground for the RAF, and afterwards, thousands of national servicemen were billeted here.
While the Chase played a key role in preparing British servicemen for battle, it later became the final resting place for many fallen Commonwealth and German troops, who were buried at two military cemeteries within the AONB. Within the Commonwealth War Cemetery lie the graves of 387 Commonwealth servicemen and -women, mostly from the New Zealand Rifle Brigade, while a little further along a narrow tree-lined lane lie the remains of almost 5,000 German and Austrian servicemen in the only German military cemetery in the UK.
'We have the remains of all of the Zeppelin crews that were shot down, as well as all of the German troops – many of them prisoners of war – and civilians who died in this country,' says Dean. The remains were transferred and reinterred here between 1964 and 1966, and since the cemetery's inauguration in 1967, groups of German schoolchildren have come to Cannock Chase every year to tend the graves, learn about the past and pay their respects.
The cemetery is situated in the beautiful valley at Broadhurst Green, deliberately chosen for its resemblance to parts of Germany. The orderly rows of dark granite headstones, set amid beds of heather, lend the area a brooding, sombre feel, and provide a visible link to the Chase's military past, which elsewhere has all but disappeared.
Local knowledge - Chasing down the best spots in Cannock Chase to…
…get an overall impression of the landscape character
'The best place to see a really good view of the Chase is Fire Watch Point. You can see it at an angle that even regulars may not have seen it before – it looks completely different, wild and beautiful, and the views are fantastic.' Sue Sheppard, Staffordshire County Council's biodiversity officer
…pause and reflect
'There's a special quality to the atmosphere at the Germany Military Cemetery that's difficult to put your finger on. It's not eerie or sinister or anything like that, it's just very calm, peaceful and thought-provoking, particularly on 11 November.' Anne Walker, AONB office manager
…set up camp
'A good place for camping is Spring Slade Lodge, where there are some good camping pitches behind a very nice café that serves tea and scones with bilberries (a heathland plant species) in them . It's in the heart of Cannock Chase surrounded by pine forests, bridle paths and areas for cycling. And there's a very good chance of seeing deer.' Anne Walker, AONB office manager
…take the family
'Birches Valley Forest Centre has a range of different activities on offer. You have the arts trail, a large concert ground and good spots for a picnic. And if you're feeling energetic,
you can hire a bike.' Emma Jane Beaman, assistant AONB officer
…learn about the area's military history
'A First World War hut has been fully restored at the Cannock Chase Visitor Centre, which gives visitors an idea of what it was like living in the military camps during both world wars. You can also see the extent of the huge town that was built to house the military personnel who were based on the Chase at that time.' Anne Walker, AONB office manager
Find out more at www.cannock-chase.co.uk
This article featured in the January 2009 edition of Geographical magazine.