I had set my alarm for 6.15 but the water is so choppy, the movement already has me half awake before it sounds. I fully realise for the first time that we are on a boat and not a six-storey hotel on the sea. Disembarcation is scheduled for 7.15am, but I'm so full of expectation, I go up to the fourth-floor lounge for coffee and to make sure I see first light at the end of the world.
Four days ago I had set off from London on a sunny if otherwise mundane March day. And now I'm about to tick off what, for many, must surely be on their 'bucket list' – I'm about to place my footsteps on an isolated landmark that has for centuries been the subject of myth, apprehension and not a little fear.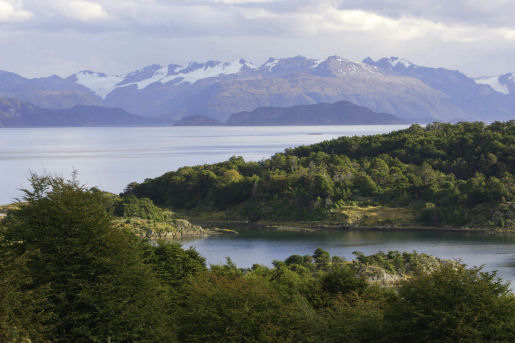 Known as 'The End of the Earth', Cape Horn or Cabo de Hornos lies at the tip of South America and at the crossroads of a dividing line between South America and Antarctica, and the Atlantic and Pacific oceans. It was for a long period the major route for sailing ships carrying goods for trade around the globe. But an estimated 10,000-plus men perished and more than 800 ships went down at the spot between its discovery by sailors in 1616 and the 20th century. The opening of the Panama Canal in 1914 saved many a life.
We early-21st-century travellers are undoubtedly privileged to be here, safe and in the skilled hands of Cruceros Australis, an expedition cruise company with more than 15 years' experience taking visitors on trips to Patagonia and Tierra del Fuego.
The Land of Fire is the main island of the archipelago off the southernmost tip of the South American mainland, across the Strait of Magellan, and is divided between Chile and Argentina. Cape Horn is one of the group of smaller islands. Located in the Cabo de Hornos National Park, this, one of the most pristine environments in the world, was declared a World Biosphere Reserve by UNESCO in 2005 – and it remains largely untouched through being wild, windswept, hard to get to and almost impossible to survive on for man.
Awesome weather fronts blow through from the Pacific, and the terrain is a mixture of flat, bumpy, rough vegetation with ancient lichens and mosses, knee-high reedy grasses which look to be growing at a slant, scrubby-looking shrubs and forests of the wind-sculpted Southern Beech. Everywhere is the thorny Magellan barberry which produces the wonderful Calafate berries. On one hike, our guide gives us berries to try and tells us legend has it that 'he who eats the Magellan barberry will return to this land'.
People are few and far between on the many islands, with exceptions such as at Cape Horn, where the Chilean Navy maintains a station. The maze of channels and waterways are a safe haven for humpback whales – particularly in the Magellan Strait – and orcas, toothed whales, dolphins and, on the coastline, sea lions and elephant seals.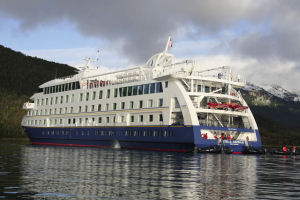 We are on an expedition cruise ship, the brand-new six-deck Stella Australis. This region does have four well-defined seasons, with my trip in March coinciding with the start of autumn. But our Captain, Oscar Sheward, tells us at our first-night briefing that in Patagonia you can get all four seasons in one day – or even a few hours. The light is bright, in sunshine blindingly so. The ozone layer here is flimsy, and in summer there can be daylight for as much as 18 hours. Add in the winds (strengthening from August to January), and you need decent clothing and skin protection.
Each day, looking out either through my huge picture-frame cabin window, or from elsewhere on the ship, the weather was always of interest, often sparkling sunshine, sometimes drizzly with pale skies, occasionally leaden, other times rain-spattered.
In our cabin is a copy of our 'Captain's Log', with details of each day's activities and what we can expect. The first afternoon aboard is taken up with introductions to the staff and crew, safety briefings, navigation briefing and a welcome dinner to round off the evening. The following morning we're assembled for the off in one of the six Zodiacs. Each boat trip has a drill. Take bottled water and camera in a rucksack, (making sure you have something waterproof for the camera). Lifejacket goes on in your room, each bearing a numbered detachable token which you hang, along with everyone else's, on a board before getting into the Zodiacs, and retrieve on your return, so staff can check that everyone gets back on board.
We navigate through the legendary Strait of Magellan and Beagle Channel, the glaciers and fjords of the Darwin Mountain Range. Absolutely unforgettable is the ancient, ice-eroded 'Glaciers Alley' in the Beagle Channel. We sail silently through 12 nautical miles of glaciers which travel downhill from the Darwin Mountain Range on our port side. Glaciers formed by the weight of layer upon layer of snow can take as little as a dozen years to form if they are temperate, such as the Patogonian examples, and up to hundreds of years if they are the cold ones in Antarctica.
Like most glaciers worldwide, those of this region are receding. For glaciers to advance, there must be more snow falling in the winter than the amount that melts in the summer. When visiting the stunning 300-metre-high Pia Glacier, we are shown how far the glacier has retreated over the past 100 years – around 100 metres. The word that comes to mind when I see my first glacier is 'astonishing!'. This is geography brought to life, with colour and sound – we notice a regular cracking noise and then a boom, like a magnified gunshot, followed by small explosions, from somewhere near or inside the glacier. It is the ice melting, and every so often we can see pieces of ice detaching themselves. In the water are broken-off chunks, like giant irregular floating ice-cubes.
One moment we spy a majestic Andean condor high in the skies above; another time we view a colony of rock cormorants; and regularly spy the Chilean skuas, aggressive birds which look like brown seagulls and prey on penguin eggs, and are known to snatch food in flight from other gulls' beaks. At Tuckers Islets, where we visit a colony of Magellanic penguins, there are some fabulous photo opportunities – even though it's forbidden to go onto the islets, as these are such fragile ecosystems, so we make an hour-long circumnavigation of the largest islet by Zodiac.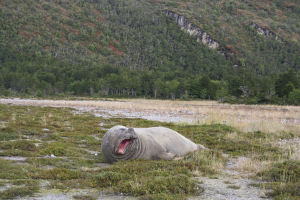 At Ainsworth Bay we're told we might be lucky enough to see a colony of elephant seals – and find one waiting for us as we step onto shore.
There are few obvious dangers, apart from slipping and falling on some of the wetter routes, or steeper paths such as at Wulaia Bay, which is why we wear hiking boots and tread carefully. At Wulaia, famous as the place where Darwin made contact with the Yaghan native people in the 19th century, we are given the choice of two routes: the easier coastal hike along the shore, or the hill hike, described as being of medium difficulty, to take in the spectacular view out across the bay. I am torn between the two – the beach walk takes in looking for shells and bones left by the aboriginal people – but opt for the hill climb. The 45-minute hike takes place in a strange silence, apart from the rustling and twig-cracking noises we make and the very occasional bird call. It is a warm and sunny afternoon and quite magical. When we reach the lookout point, after tantalising glimpses through the vegetation, we are overcome by the mesmerising beauty of the panoramic view of the bay. There are around 25 or 30 of us, including our guides. We put down our backpacks and after taking photographs, sit, in silence or whispering, for what seems like an endless moment in time, though was probably around 20 minutes. We are all in awe. I have never seen natural beauty like it.
Here and elsewhere, though, we also see extensive tree damage – dead, decaying jagged wooden poles, vertical and horizontal, laid waste by a vast colony of beavers which have overrun the islands since their introduction here in the 1940s. Now at the centre of one of the world's largest-ever eradication projects, the North American beavers numbered just 50 when the Argentine government introduced them in an failed attempt to establish a fur industry. Now there are thought to be more than 100,000 of them. One conservation watcher has likened the damage to bulldozers having 'steamed through'.
Speaking some Spanish is hugely useful for the whole trip, though you can easily get by without it. Our collection of passengers included a large group of older Americans, a large group of young Germans, a French couple and quite a few Chileans and Brazilians. All the Cruceros Australis staff in their smart uniforms of beige Chinos and white polo shirts are Chilean and speak good English as well as Spanish. The formidable kitchen team don't need much English – they know their food is superb and congratulations go down well in any language.
Meal times are great social and gastronomic occasions, with some of the best Chilean wines on offer and an array of puddings to rival a top-class hotel in any of the world's great cities.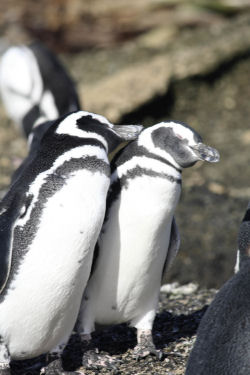 Our cabins, 100 in all, are elegant, simple and comfortable, with showers. This is surely the best way to reach all Patagonia's nooks and crannies, bays and channels. Actually, it's the only way – though at Cape Horn there was – shock, horror – another boat. Well, a super-yacht really, owned by a German industrialist. Their mainly young party was shepherded on and off the Horn by a couple of smartly uniformed Aussie crew members. But to my mind our bespoke trip is the better bet. You are travelling in style, in safety, with people who know the region well and include experts.
There are daily lectures on board, in both English and Spanish, and other languages to meet demand. Each trip off the ship (in small groups) is then chaperoned by a guide who is a specialist in the subject at hand – among those that enthralled audiences on my trip were illustrated lectures on Cape Horn, Darwin in Patagonia, glaciology in the region, the Magellanic penguin, Glaciers Alley and also an impressive illustrated lecture on the bird life. My favourite was on the history of the native peoples of the region. The islands were home to the native Selk'nam and Yaghan people, and not settled by incomers of European descent until the second half of the 19th century, at the height of the sheep farming and gold-rush booms. The natives were appallingly treated. Their language is now extinct, though there are descendants still surviving, including some of the Stella Australis crew. Their history also lives on at Wulaia Bay, once the site of the region's largest Yamana aboriginal settlements, where Cruceros Australis has transformed a 1930s radio station into an information centre, with some astonishing and evocative historical photographs.
It is at Cape Horn, though, where I feel a real sense of the past. As we wait to leave the boat for our landing at the Horn, there is strong feeling of something momentous afoot. A boatful of crew sets off first into the lessening darkness. They return after a while and we follow them in groups, according to our instructions. There is no real beach, just a jumble of huge, smooth and water-glossy black stones and then a steep incline with a somewhat rickety wooden staircase attached to it and leading beyond where we can see. We find that the crew have laid a portable safety walkway across the stones and they help us out of the boats.
Usually we leave our bulky orange lifejackets at the shore when we go for walks or hikes, tied firmly to a bush or branch to stop the wind taking them to litter the Antarctic or wherever. There's nowhere here, so we wear them. The extra padding acts as a windbreaker but the noisy, constantly blowing wind is cold and after half an hour my hands are freezing.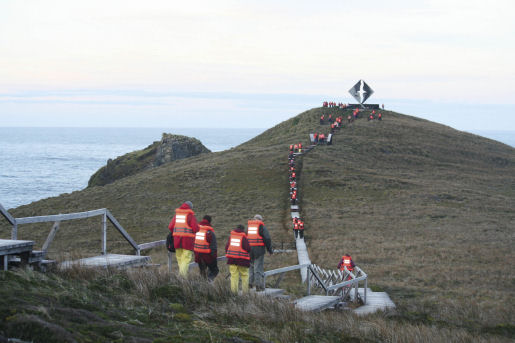 Once at the top, I find the treeless but green terrain (plenty of rain!) is stunning but not bleak. It brings to mind Scotland. The house where the Chilean military man lives with his dog is attached to the ground with special wire ropes so that it doesn't blow away. Winds, they say, can reach 160 kilometres an hour here. There is a roadway, of sorts – a long, slatted wooden walkway has been constructed across the island to the focal point looking south, a large sculpture by Chilean José Balcells featuring the silhouette of an albatross, a memorial to the sailors who died while attempting to 'round the Horn', erected in 1992. What would they have made of us, those sailors of yesteryear, a procession of fluorescent-orange-clad people making a pilgrimage to the end of the world, not to get somewhere but simply to be here.
Calafate berries or not, I hope I return to this beautiful, mystical place.
GETTING HERE
Cruceros Australis offers three- and four-day cruises from $1,258 (approx £790) per person in Patagonia between Punta Arenas, Chile, and Ushuaia, Argentina.
Cruises operate between September and April aboard two vessels, the Via Australis with a capacity of 136 and the Stella Australis with a capacity of 210 passengers. Cruises are all-inclusive and feature locally-sourced food, traditional entertainment, informative presentations to educate passengers on the surrounding region, and daily inland tours to see glaciers, trek through native forests, visit the iconic Cape Horn and observe local wildlife. Trips are bookable through all UK tour operators specialising in Latin America.
For more information and to book, visit www.australis.com  
WHAT TO WEAR AND TAKE
Lots of layers! A good waterproof but not too heavy outer jacket, waterproof trousers, gloves, thick socks (for the boat's rubber wellies) walking or hiking shoes/boots. I brought my skiwear, which was perfect. Eveningwear on the boat is smart-casual – dinner is an occasion. You also need a good rucksack, camera with spare everything, sun protection cream/lipsalve. And at least one pair of very good sunglasses.
*Thanks to Finisterre, the Cornwall-based British ethical clothing company who make active wear perfect for trips such as this, for letting us try some samples. Zephyr Leggings for women, £35, and Zephyr Vest, £30, from the Merino Body range, which helps regulate body temperature to suit the environment. Also bestselling long-sleeved women's Eddy Base Layer, £40. www.finisterreuk.com
ACTIVITIES
HIKING
• Senda Costera, Parque Nacional Tierra Del Fuego, Argentina. Four-hour coastline trek, 8km starting at Bahía Ensenada. You will spot grass-covered middens – mounds of shells left by Yaghan inhabitants, of archaeological value.
• In Ushuaia
Full-day treks with climbing and ice hiking on Clacair Vinciguerr. Also high-mountain treks and glacier camping, plus adventure and river-crossing treks www.companiadeguias.com.ar
SKIING
Just 27km north of Ushuaia, the world's most southerly ski area's season runs from late June (22 June 2012) to late September. Slopes 20 per cent beginner, 65 per cent intermediate, 15 per cent advanced. Largest resort is Cerro Castor (www.cerrocastor.com). Cross-country skiing also available, plus snowboardng, sledding, and snowshoeing.
TREKKING, KAYAKING
In Parque Nacional Tierra del Fuego, Argentina, also explore the Beagle Channel, see penguins and sea lions. Sea kayaker and guide Dany Urriza has himself rounded the Horn in a kayak! This email address is being protected from spambots. You need JavaScript enabled to view it.
CANOEING AND KAYAKING
Young, hip company Canalfun have been in business 10 years and offer National Park treks, sailing, rowing and beaver encounters. Equipment provided, including double fiberglass kayaks. Website in English www.canalfun.com.