If he pulls on that rope again, I think I'm going to lamp him. Then again, if I had any strength to hit him with, he wouldn't have to keep pulling at the rope. It was extremely cold and the wind was getting up, it had started to increase at the same time as the sun had broken the horizon, but it wasn't a problem as we were almost there, almost at the top.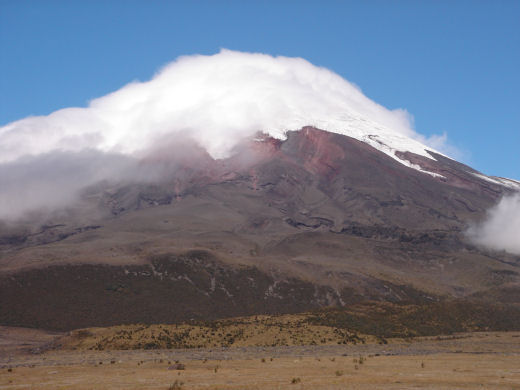 We'd started over six hours earlier, although now it felt more like sixty, at midnight. We'd left the warm refuge, which sits at 4,800m, and stepped out in to a very cold night. The sky was clear, and although the moon was on the wain, there was just enough light to walk without our head torches, under a carpet of innumerablestars. We'd done our best over the previous week to acclimatise, by sleeping and hiking between three and four thousand metres near the incredible eco lodge, The Black Sheep Inn, before failing to summit but sleeping high on the volcano Illiniza Sud.

The first part of the climb was a straight forward walk through some fresh snow to where the mountain steepened, and the glacier started. In the freezing night air I put on my crampons before helping Susie, my wife, with hers. Gregorio, our guide, then roped us together and we set off at a slow pace with Susie between the guide and myself.

The next and longest section of the climb was like walking up an unrelenting steep ice staircase for multiple hours and soon became, quite frankly, a bit of a mind game. You climb very slowly and have to take care of your foot placement on every step so as not to slip. It's easy for your mind to slip into a dark place and ask 'why am I here?' and 'god, its hard work, we could just turn back….' But, as with all the night time slogs I've been through, I put those thoughts to the back of my mind and concentrated on how good the first beer was going to be, once I'd got down from the top, and how great the sun was going to feel on my face when it comes up.

Susie has asthma, and was starting to take a few rests when struggling to catch her breath. She waved away my concerns with, "I'm bloody well going to make it to the top."

I didn't have the energy, nor the will, to argue and we were much nearer the top than the refuge, so we carried on.

At around 5.30am the sun started to break the horizon and fill us with hope that we could do this, we could make the top. We rested out of the increasing wind on a small flat section behind a huge deep blue ice tower.

"Ok we're nearly at the top, but the next section is a little tricky," Gregorio informed us.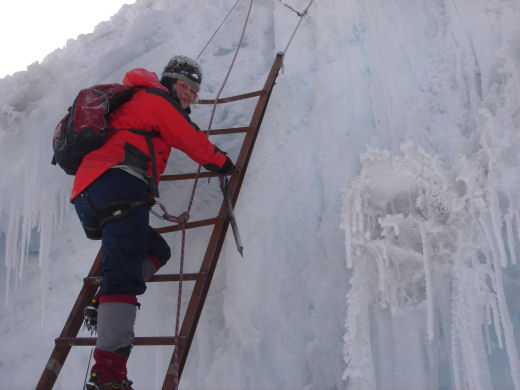 It started with a steep ice wall, where you needed to use your ice axe, which up to now we'd only used as a trekking pole. It was only a short section, but the increase in effort had both Susie and I panting for breath. The next obstacle was a thin exposed ridge, where the gusting wind made it very difficult to balance. Finally we had to climb across a deep crevasse, bridged by a wobbly aluminium ladder. All safely across it was now a straight forward walk to the summit.

It was then that the pulling on the rope started. I'd been fine for the whole climb, but after the added effort of the last section and the feeling of elation at seeing the top, my body went into melt down. I just couldn't catch my breath, and after every few steps I had to stop, bent double trying to breathe. It was ridiculous - the top was probably 100 metres away across almost flat ice, and I was seriously questioning whether it was worth while pushing on. Another few stops followed, and like a dog being dragged to the vets, I was yanked to the top of Cotopaxi - 5,897 metres above sea level.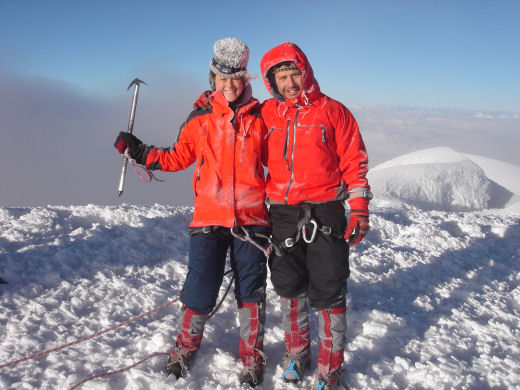 The first half of the decent went well, after the initial effort of retracing the tricky section, but then trouble struck. Susie's left crampon broke and couldn't be mended. This led to her going first, while Gregorio and I flanked her from behind while holding the rope taught. She fell more times than I care to think of, but stoically and without complaint, picked herself up and carried on. By around 9.00am we were back at the refuge, and my head was thumping - the beer and breakfast would have to wait, my bed was calling.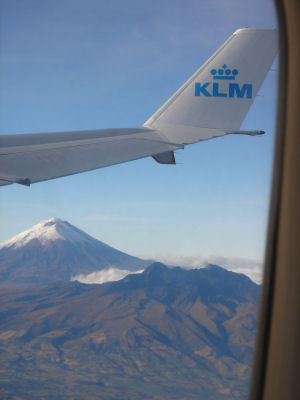 How to do it:

The nearest airport is Quito, the capital of Ecuador.

I travelled independently on local buses, but you can hire a guide at one of the many agencies in Quito for around $190 for a two day one night trip, or book online with www.cotopaxiclimbing.com.

Accommodation at the Black Sheep Inn cost from $35to $100 a night.

Jagged Globe offer a 16-day trip climbing volcanoes including Cotopaxi for £1,900 www.jagged-globe.co.uk as do www.mountainmadness.com.